News
Hedge funds outperform, but who's listening?
Page 1 of 2
Nicki Bourlioufas is a Morningstar contributor. This is a financial news article to be used for non-commercial purposes and is not intended to provide financial advice of any kind.
Hedge funds got a bad rap in the press in the years that followed the global financial crisis (GFC) and many Australian investors have steered clear of them. But according to one fund manager, retail investors' portfolios should have a decent exposure to a well-selected portfolio of hedge funds, with allocations starting in the 10 per cent to 20 per cent range.
Although the objectives of different hedge funds vary widely, in general terms most hedge funds aim to provide investors with positive returns in most market conditions and protect capital in difficult market environments.
A hedge fund is similar to a managed fund in that investments are pooled and professionally managed, but differs in that the fund has far more flexibility in its investment strategies, which are aimed at getting positive returns even when equity markets fall.
Unlike traditional managed funds, hedge funds tend not to follow investment benchmarks and they often invest across several asset classes--they have the flexibility to use derivatives, arbitrage and other strategies in order to cushion portfolios during downturns and minimise volatility.
Craig Stanford, head of alternative investments at Ibbotson Associates, says hedge funds are able to provide investors with superior returns and lower volatility compared to traditional equity managed funds.
"We use hedge funds because we believe they protect capital when markets sell off. They improve our performance during difficult periods and they make those difficult periods shorter and shallower," he says.
"On the other hand, given the way their portfolios are constructed, that means the managers aren't fully exposed to the upside as they target a lower level of risk compared to traditional, long-only equity managers."
But improved performance comes at a cost and hedge funds typically charge greater fees.
"As active hedge fund investors, we regularly have to address issues such as alignment of interests, higher fees, less liquidity, less transparency, and implementation. However, we know that if we can manage these issues successfully, we're able to take advantage of the associated benefits, which include improved portfolio risk/return characteristics, and a reduction in the severity and frequency of losses," Stanford says.
"The return after fees is more important than the fees themselves. Hedge fund programs implemented on this basis have yielded superior results to the median Australian growth superannuation fund (as the chart below shows), and we believe should be a serious consideration for any diversified portfolio that aims to generate superior risk-adjusted returns over the long term."
---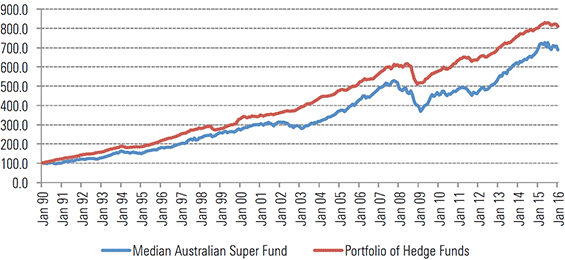 ---
Uncover winning investment ideas and strengthen your portfolio with a 4-week free trial to Premium:
Your Money Weekly Newsletter
Independent Fund Analyst Research
Portfolio X-Ray
Investment Picks
* only available to new subscribers