News
A case for quality investing
Page 1 of 4
This article was provided by Wells Fargo and initially appeared on the Morningstar US website. This is a financial news article to be used for non-commercial purposes and is not intended to provide financial advice of any kind.
If you believe the Street's consensus, market volatility could be sticking around for the remainder of 2016. However, investors don't have to view this projection as merely a pain point. Once you've accepted that volatility is a part of investing, you can uncover opportunities--you just need to know where to look for quality.
We've explored how five different investment styles have performed during periods of high and low volatility throughout history: growth, momentum, value, minimum volatility, and quality. In this post, we'll highlight our findings and explain why the quality style is best suited for volatile market conditions.
Our benchmark
To measure an investment style's performance against volatile market conditions, it helps to have a benchmark. We'll look at the historical levels of the VIX, a stock-market volatility index, since its 1990 inception. This will give us more than 25 years of history to work with. Market conditions are considered stressed and volatility is deemed high when the VIX level exceeds 20 and vice versa when it falls below 20.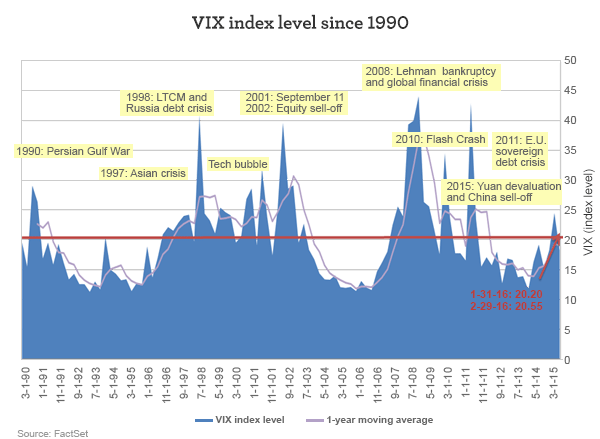 Over the past 25 years, markets have experienced a number of VIX spikes tied to various crises. Some lasted longer than others, as a spike's duration is highly dependent on the drivers of volatility. For instance, the Flash Crash of 2010 resulted in a rather brief spike, whereas the VIX remained elevated for over two years throughout the global financial crisis that began in 2008.
Looking ahead at the rest of 2016, the consensus is that volatility will exceed prior years' levels. Indeed, the markets ended both January and February with the VIX above 20. Given the fluctuation in commodity prices and the uncertainty around China, these levels were not exactly a surprise, at least not after the fact (at which point it's usually easy to tell a story about why something happened).
Let's take a look at how different investment styles have performed under high- and low-volatility periods.
Uncover winning investment ideas and strengthen your portfolio with a 4-week free trial to Premium:
Your Money Weekly Newsletter
Independent Fund Analyst Research
Portfolio X-Ray
Investment Picks
* only available to new subscribers