News
Always cry over spilt milk
Page 1 of 8
Jeremy Grantham is the co-founder and chief investment strategist of GMO, a global investment management firm. This article initially appeared on the Morningstar US website. This is a financial news article to be used for non-commercial purposes and is not intended to provide financial advice of any kind.
Six months ago I wrote a 30-page, 24-exhibit paper, which I finally realised would have a strong appeal to six or seven strategists and no one else. So, here is the summary--written last year but postponed to run after other, more timely subjects--which is long enough for admitting errors.
Summary:

• The only thing that really matters in asset allocation is sidestepping some of the pain when the rare, great bubbles break. At other times, traditional diversification will usually be good enough.
• The defining events at GMO were avoiding some or much of the pain associated with the three great bubbles of the last 100 years: The US housing and finance bubble of 2008, the US tech bubble of 2000, and the Japanese equity bubble of 1989. Exhibit 1 shows the last of these: the best example of an extreme outlier that nevertheless turned out to be an epic bubble rather than a paradigm shift.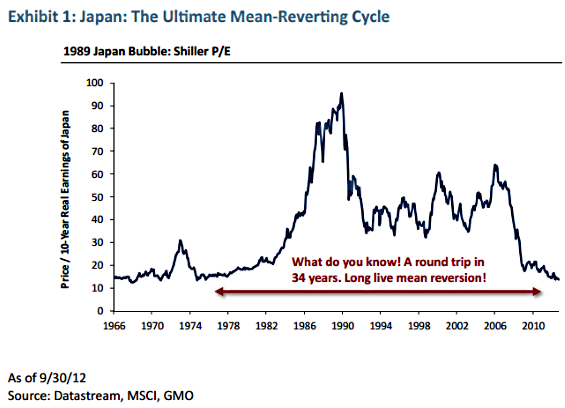 • Giant bubbles are easy to spot statistically but hard to call from a career risk perspective. It is easy to be early, and being early may lose you your job, your clients, and your credibility.
• The fear is always, "Are these new high prices permanent? Is it a paradigm shift?"
• Every major bull event is called a paradigm shift but they almost never exist. Almost never. But not never, ever.
• In 1999 we presented 28 major bubbles of the past and were able to call the score: Mean Reversion, 28; Paradigm Shift, Nil!
• To rub it in, near the 2000 peak I challenged audiences--perhaps 2000 professionals in total--to find a bubble that had not fully broken. There was not a single offer.
• Appreciated the irony, therefore, when in 2005 I offered oil as the first important paradigm shift.
• Oil by 1979 had spiked to over US$100 a barrel in today's currency. Against the previous 100-year trend of US$16 that was over a 1 in 1 billion long shot (see Exhibit 2).
Uncover winning investment ideas and strengthen your portfolio with a 4-week free trial to Premium:
Your Money Weekly Newsletter
Independent Fund Analyst Research
Portfolio X-Ray
Investment Picks
* only available to new subscribers