News
A formula for long-term investing
Page 1 of 3
Hilary Natoff is a co-portfolio manager of the Fidelity Global Demographics Fund.
For most people, the challenge of investing at the outset is to accumulate wealth over a relatively long time. The job of the investment industry is to build strategies for these investors that generate attractive returns over the long term.
While numerous studies show the value of long-term, buy-and-hold approaches to investing, these approaches clash with the short-term behaviour evident in today's equity markets. That greater focus of equity investors on the short term is shown by the decline in the average holding period for stocks on global exchanges.
In the US, the average holding period of a stock on the New York Stock Exchange was around seven years in 1940. By the time of the tech bubble in 2000, it had fallen to about one year. Now the average holding period globally is less than three months.
A key issue that feeds this short-termism is the habit of most sell-side analysts to focus on short-term earnings projections. In fact, while the overall number of analysts covering large-cap global stocks is growing, the focus remains disproportionately on near-term earnings forecasts. Few analysts covering global stocks forecast greater than three years ahead.
With the greater short-term focus of market participants and sell-side analysts, coupled with guidance from companies, the equity market has become relatively efficient at pricing near-term earnings expectations.
The corollary to this is that the market is less effective at evaluating longer-term earnings, thus neglecting the longer-term value of companies exposed to structural growth drivers. This represents a clear opportunity for investment strategies that can exploit this market failing.
Stock outperformance is driven by either superior earnings growth or a higher valuation multiple being applied to the earnings profile of a company. Over short holding periods, changes in valuation multiples are the key driver of returns since earnings expectations do not typically change by large amounts in the short term.
However, in the long run, the opposite is true. Performance is increasingly explained by changes in earnings growth and the importance of the valuation multiples at which stocks are traded diminishes, as the chart of the 500 of the world's largest listed companies below shows.
With the knowledge that earnings are more important than multiples in the long run, how should we go about assessing the long-term value of companies?
Profits (not valuations drive returns in the long run)
---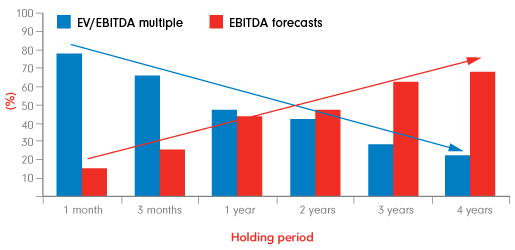 ---
Source: Goldman Sachs. Proportion of shareholder return for average stock explained by changes in valuation multiple (EV/EBITDA) vs. change in earnings (EBITDA) forecasts. Based on sample of 500 largest listed companies for which data is available since 2005. Figures do not add to 100. Holding period returns are the average of multiple holding periods between 2005 and 2010.
Uncover winning investment ideas and strengthen your portfolio with a 4-week free trial to Premium:
Your Money Weekly Newsletter
Independent Fund Analyst Research
Portfolio X-Ray
Investment Picks
* only available to new subscribers