News
A case of conscious uncoupling
Page 1 of 2
Kristina Hooper is the head of US capital markets research and strategy at Allianz Global Investors. This article was originally published on the Morningstar US website.
They say breaking up is hard to do. And one of the reasons it gets so complicated when a couple splits is that it impacts all of their other relationships.
Last spring, Gwyneth Paltrow and Chris Martin sent tongues wagging by announcing their "conscious uncoupling" wherein the two stars would gently separate to avoid disrupting the world around them.
Katherine Woodward Thomas, a psychologist and author who coined the phrase, helped explain its meaning: "Each party has brought to the dynamic a set of patterns that they've been living inside of for years" that they must recognize impacts their interactions with partners.
While conscious uncoupling commonly refers to domestic partnerships or marriages, it could easily be applied to the US economy and its trading partners.
Following the global financial crisis, many developed nations were on the same path. They faced the same problems -- high debt and low growth. Often, they fought these challenges with the same solution: highly accommodative monetary policy.
Today, the US economy is strengthening. Recent data, including an encouraging September jobs report, show a widening gap between the United States and other developed nations.
---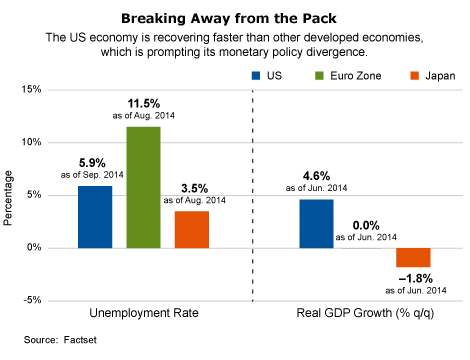 ---
How we're connected
With regard to monetary policy, the Federal Reserve has become less accommodative, with its third round of quantitative easing ending this month. While the US economy is uncoupling from other economies, it needs to do so carefully given that it remains very closely connected.
For example, one would assume that the dialing down of US monetary accommodation would result in higher interest rates, but it hasn't. That's because what we do from a policy standpoint affects other countries and vice versa. Indeed, Fed tightening has historically hurt capital flows into emerging markets.
Elsewhere, since the recovery in the eurozone has weakened, its monetary policy has become more accommodative. It appears that higher yields have prompted some investors to flock to US Treasuries as a more attractive alternative to sovereign debt, such as Germany's bund.
In addition, geopolitical crises far from American shores may also be playing a role in the popularity of Treasuries.
As the Fed mulls a move to consciously uncouple from other developed nations by tightening, it must consider the consequences for other nations.
First and foremost is the US dollar, which is rallying relative to the euro and the yen. Fed tightening is likely to drive the dollar even higher, which has obvious implications for international trade.
The rising dollar -- a "de facto" tightening of policy -- also appears to be pushing commodity prices lower. This drop in prices is alarming to some investors because it may suggest that global demand is weakening.
In addition, the Fed could see long rates continue to be held down by demand from foreign investors even when it begins to raise short-term rates. That could easily result in a flattening yield curve or even the dreaded inverted yield curve, which has been known to unnerve investors.
Uncover winning investment ideas and strengthen your portfolio with a 4-week free trial to Premium:
Your Money Weekly Newsletter
Independent Fund Analyst Research
Portfolio X-Ray
Investment Picks
* only available to new subscribers