Our Research Methodology
---
- Equities Research Methodology
- Income Portfolio Methodology
- International Best Idea Methodology
- To view additional Research Methodology fact sheets please click here
---
Fundamental Analysis
At Morningstar, we believe buying shares of superior businesses and allowing them to compound over time is the surest way to create wealth in the stock market. The long-term fundamentals of businesses, such as cash flow, competition, economic cycles, and stewardship, are our primary focus because history has shown that market sentiment is fleeting, momentum can quickly reverse, and the herd is sometimes a dangerous crowd. Occasionally, this approach causes our recommendations to appear out of step, but willingness to be contrarian is an important source of outperformance and a benefit of Morningstar's independence. The brief definitions that follow help illustrate our methodology. Extensive methodology documents are available on our website.
Morningstar Research Process for Company Analysis
---

Economic Moat
The economic moat concept is a cornerstone of Morningstar's investment philosophy and is used to distinguish high-quality companies. An economic moat is a structural feature that allows a firm to sustain excess returns over a long period of time. Without a moat, profits are more susceptible to competition. Companies with a narrow moat are likely to achieve normalised excess returns beyond 10 years, while wide-moat companies are likely to sustain excess returns beyond 20 years. The longer a firm generates economic profits, the higher its intrinsic value. We believe low-quality, no-moat companies will see their returns gravitate toward the firm's cost of capital more quickly than companies with moats. We have identified five sources of economic moats: intangible assets, switching costs, network effect, cost advantage, and efficient scale.
Fair Value Estimate
Our fair value estimate is primarily based on Morningstar's proprietary three-stage discounted cash-flow model. We also use a variety of supplementary fundamental methods to triangulate a company's worth such as sum-of-the-parts, multiples, and yields, among others. We're looking well beyond next quarter to determine the cash-generating ability of a company's assets because history has shown that the market price of a security will migrate towards the firm's intrinsic value over time. Economic moats are not only an important sorting mechanism for quality in our framework, but the designation directly contributes to our estimate of a company's intrinsic value through sustained excess returns on invested capital.
Uncertainty Rating
The Morningstar Uncertainty Rating demonstrates our assessment of a firm's cash-flow predictability, or valuation risk. From this rating, we determine appropriate margins of safety: The higher the uncertainty, the wider the margin of safety around our fair value estimate before our recommendations are triggered.
Our uncertainty ratings are low, medium, high, very high, and extreme. With each uncertainty rating is a corresponding set of price to fair value ratios that drive our recommendations: Lower price/fair values (<1.0) lead to positive recommendations while higher price/fair values (>1.0) lead to negative recommendations. Our price/fair values have proven highly predictive of future stock returns. In very rare cases, the fair value estimate for a firm is so unpredictable that a margin of safety cannot be properly estimated. For these firms, we use a rating of extreme, which indicates that nearly all investors should avoid speculating on that company's shares. Risk and volatility-averse investors should generally avoid very high and extreme uncertainty companies.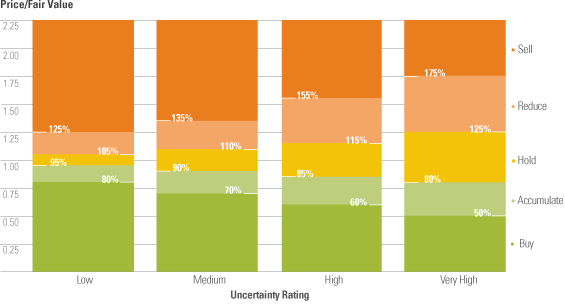 Recommendations
Our recommendations are based on the current share price relative to Morningstar's Fair Value Estimate after adjusting for an appropriate margin of safety. These recommendations are guideposts to a broad audience and individuals must consider their own specific investment goals, risk tolerance, tax situation, time horizon, income needs, and complete investment portfolio, among other factors.
Depending on the portfolio strategy employed, the ratings below can indicate different actions for different investors. For example, income investors might be best served holding a fairly valued investment with a reliable dividend stream instead of rotating into a Buy recommendation with questionable income characteristics. Nonetheless, our recommendations serve as valuable starting points for equity portfolio strategies.
Recommendations displayed in Morningstar's Australian equity research products are Buy, Accumulate, Hold, Reduce and Sell.
Buy (significantly undervalued): Our Buy recommendations indicate we believe appreciation beyond a fair risk-adjusted return (the company's cost of equity) is highly likely over a multi-year timeframe. Scenario analysis developed by our analysts indicates the current market price represents an excessively pessimistic outlook, limiting downside risk and maximising upside potential. This rating encourages investors to consider an overweight position in the security relative to the appropriate benchmark, provided the risk is appropriate.
Accumulate (modestly undervalued): Our Accumulate recommendation indicates we believe appreciation beyond a fair risk-adjusted return is likely. This rating encourages investors to own the firm's shares, possibly overweight relative to the appropriate benchmark after fully considering the security's fit with their targeted portfolio and more attractively priced alternatives, such as our Buy recommendations.
Hold (fairly valued): Our Hold recommendation indicates we believe investors are likely to receive a fair risk-adjusted return. Concentrated portfolios might consider exiting these positions completely in favour of more attractively priced alternatives, pending the availability of less expensive alternatives for a given strategy.
Reduce (modestly overvalued): Our Reduce recommendation indicates we believe investors are likely to receive a less than fair risk-adjusted return and should consider directing their capital elsewhere. Securities with a Reduce recommendation should generally be underweight and exited completely in most strategies, if less expensive alternatives with similar risk characteristics are available.
Sell (significantly overvalued): Our Sell recommendation indicates we believe there is a high probability of undesirable risk-adjusted returns from the current market price over a multi-year timeframe. Scenario analysis by our analysts indicates the market is pricing in an excessively optimistic outlook, limiting upside potential and leaving the investor exposed to substantial loss. This rating encourages investors to strongly consider exiting portfolio positions in the security in nearly all strategies.
---
Income Portfolio - Investment Methodology and Process
Income Portfolio Strategy
The Morningstar Income Equities Portfolio Australia & New Zealand is an actively managed concentrated portfolio consisting of our best income ideas in the S&P/ASX 200 Index. The portfolio is constructed with a focus on long-term fundamental value and bias toward businesses with sustainable competitive advantages (economic moats) and predictable cash flows.
Total return from the Income Portfolio will tend to be driven more by income than capital appreciation, although both are desirable. Income holdings have expected sustainable net yields greater than or equal to the benchmark using the estimates of our research team. In addition, coverage companies with above average dividend per share growth prospects over the next five years receive preference, all else equal. We may occasionally initiate a position with less than benchmark net dividend yield if the gross yield is greater than the benchmark's net yield, dividend per share growth prospects are well-above average, or to increase the portfolio's share of high quality (narrow or wide economic moat) companies. Dividend sustainability is a key consideration and is partially accounted for by not allowing Very High or Extreme uncertainty ratings into the Income Portfolio, as this reduces exposure to difficult to predict cash flows. Moreover, high uncertainty stocks are infrequently purchased. Sustainability is further tested by ensuring potential and current holdings can meet the above criteria with long-term normalised payout ratios. Preference is given to companies that can sustain unexpected shocks and still provide attractive yields.

Investment Strategy Committee Process
Morningstar's equity portfolios are managed by their portfolio managers and our eight-person investment strategy committee which comprises selected members of the equities research team. Committee meetings reinforce rigor and consistency of research methodology through collaborative debate on proposed and existing holdings. A constant feedback loop between Morningstar's research team and investment committee members leverages team strengths in vetting stock calls and portfolio holdings. This constant cycle strengthens team culture, expertise and ratings, minimising key-person risk and common behavioural pitfalls.
The committee is experienced and well-resourced, ensuring stability and succession planning. Representation from each sector team ensures cross-market expertise. Committee members have average industry experience of 17 years and average tenure with Morningstar of 10 years. We are not averse to an occasional portfolio manager change, as the driving forces behind our portfolio construction process are our bottoms-up research and investment committee overlay.
In-depth research by our large, global, and experienced analyst team is the bedrock of our portfolio management process and facilitates our high conviction investments. We have more than 100 equity and credit analysts globally, covering around 1,700 stocks and 700 debt issuers, making us one of the largest independent research teams in the world. Our 20 Australian and New Zealand-based analysts cover about 230 Australian and New Zealand stocks which includes extensive research reports, timely event analysis, actionable special reports, and deep discounted cash flow modelling on every company. This is complimented by our local credit research to help us assess the complete capital structure and preserve capital while pursing upside opportunities.
Investment Committee Feedback Loop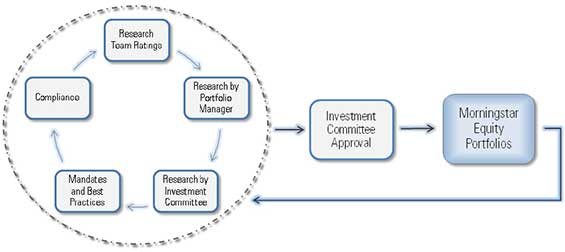 Portfolio Mandate and Typical Positioning
Income Portfolio Mandate
| | |
| --- | --- |
| Objective | Outperform benchmark over a complete cycle. |
| Typical Role in Portfolio | Core equity allocation |
| Investment Universe | S&P/ASX 200 Index |
| Benchmark | S&P/ASX 200 Accumulation Index |
| Strategy | Income Focus, High Quality, Concentrated. |
| Derivatives | Not used. |
| Min-Max Positions | 15-30 |
| Max Position Size | 20% |
| Max Cash Holding | 10% |
Typical Income Portfolio Positioning
| | |
| --- | --- |
| Economic Moat Preference | Strong preference for narrow and wide moat but some no moats allowed if opportunity is sufficiently compelling. |
| Uncertainty Requirements | Low, medium, or high; strong preference for lower uncertainty; very high and extreme not allowed. |
| Cash Strategy | 5% is generally a neutral cash weighting; cash position within 0-10% range partially driven by Morningstar's aggregate price/fair value of benchmark. |
| Typical Portfolio Turnover | Typically less than 30% annually; depends on market volatility and relative opportunities available. |
| Typical Trade Size | Trades and positions are typically at least 3% of portfolio value. |
| Trade Periodicity | Transactions can occur on any day, but we try to consolidate trades to limit fixed costs internally and externally. Trades are generally limited to once per month with even less frequency preferred. |
| Position Active Weight | Individual position active weights reflect our strong preference for quality and compelling relative valuation. |
| Sector Active Weight | Sector active weights greater than 15% relative to portfolio benchmark should receive exceptional scrutiny. At least mild diversification should be maintained to avoid excessive economic or industry exposures. |
---
This feature highlights one of the most compelling investment ideas across our coverage universe. The best idea is chosen from the Morningstar Best Stock Ideas Special Report that we publish monthly. We'll typically choose high quality firms with an economic moat, lower risk, and trading at an attractive price at the time of publication. Our intention is for these best ideas to be actionable in most investor portfolios and produce excess returns in the long-term. The "Role in Portfolio" graphic provides a starting point for portfolio application but investors must consider their individual investment objectives.
Role in Portfolio graphic
---

---
International Best Idea Methodology
This feature highlights an attractively priced, high quality investment idea from Morningstar's global team of 100+ equity and credit analysts covering around 1,800 stocks. We will typically choose large cap companies with economic moats and limited risk. Our intention is for these ideas to be actionable for most investors seeking international exposure and to produce excess returns in the long term. The "Role in Portfolio" graphic provides a starting point for portfolio application but investors must consider their individual investment objectives.