News
The investment outperforming gold bullion
Page 1 of 2
Arian Neiron is the managing director of Van Eck Global/Market Vectors ETFs Australia. This is a financial news article to be used for non-commercial purposes and is not intended to provide financial advice of any kind.
The resurgence of interest in gold bullion and its price rise over the past two months caught many investors by surprise.
With equity markets starting 2016 with heavy falls, gold bullion rose, indicating its four-year bear market may be over. Gold started 2016 at US$1060 per ounce, rising 18.87 per cent in the two months to the end of February.
However, there is another investment that returned more than twice that over the same period--gold equities.
Shares in gold equities, which until December were suffering along with the rest of the commodity sector, jumped 43.35 per cent in the two months to the end of February, outperforming all other equities sectors (as measured by NYSE ARCA Gold Miners Index).
As a result, the world's largest gold equities exchange-traded fund (ETF), which has over A$8 billion in assets and trades more than A$1 billion a day, is by far the best-performing ASX-listed ETF this year. The Market Vectors Gold Miners ETF (GDX) invests in the 36 largest gold miners in the world including the likes of Barrick, Newmont, Goldcorp and even our own Newcrest (NCM).
Chart 1: GDX vs bullion price
---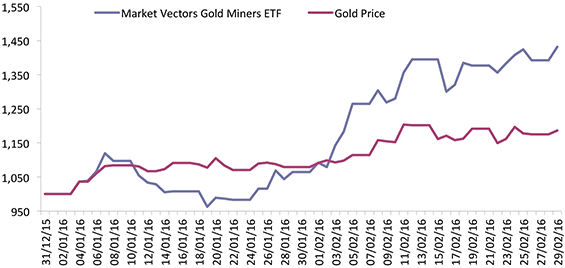 ---
Source: Morningstar Direct™
Many investors fear they have missed the boat. However, there is reason to believe that gold equities could continue to outperform bullion.
From 2010 to 2015 gold equities retracted nearly 80 per cent, surpassing the previous deepest bear market from 1996-2001 when gold equities fell 71.87 per cent. These were measured by the Barron's Gold Mining Index (BGMI), which dates back to 1938.
If we look at the BGMI relative to the gold price over the last 78 years it shows the gold price to bullion ratio remains well below its World War II low. Despite the recent rally, the gold equities to gold bullion ratio is still close to its lowest levels in recorded history.