News
China Weekly Update
Page 1 of 1
Top news of the week
July PMI slipped to 17-month low
China's official PMI for July was 51.2, the lowest since February 2009 and the third consecutive monthly decline this year. While the data still point to expansion in the manufacturing sector, momentum slowed considerably in the past few months, as weakening export demand and tightening policies took their toll on the sector.
Of the 11 sub-indexes that track key factors such as export orders, orders backlog, and inventories, all but one fell in July. Several sub-indexes including order backlog, imports, and raw-material inventories dipped below the 50 mark, indicating lower confidence from both buyers and manufacturers of industrial goods. A significant portion of imports into China is for processing and assembly before eventual export, so import levels are a good gauge of manufacturer confidence too.
The downward trend of the PMI data was consistent with that of year-over-year industrial output growth comparison, which showed notable deceleration in recent months, dipping to 13.7 per cent in June. That was the second lowest point in 2010 after the seasonally weak January-February period when factories shut down for Chinese New Year holidays. China will release July economic data in the week of Aug. 9. We think the PMI trends serve as a good indication of where July's industrial output growth rate will end up on the chart.
Monthly PMI and industrial output growth year over year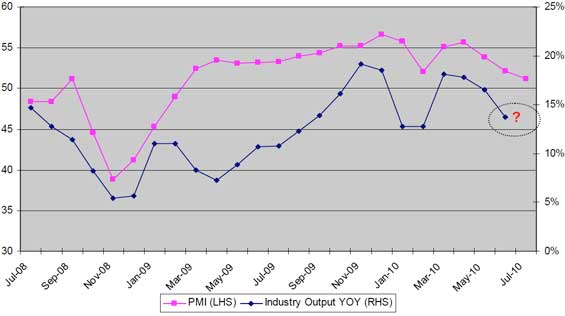 Source: National Bureau of Statistics, Morningstar
Market recap
The stock market was under pressure this week as July PMI data pointed to slowing growth in the manufacturing sector, and concerns of price inflation grew after natural disasters disrupted food supply in various provinces. The negative news was offset by new regulations allowing insurers to deploy more capital in the stock market and strong first-half results from companies that reported during the week. Both the Shanghai and Shenzhen indexes ended the week up slightly.
| | | | |
| --- | --- | --- | --- |
| | As of Aug 6 | Weekly Change | YTD |
| Shanghai | 2658.4 | 0.80% | -18.90% |
| Shenzhen | 10942.9 | 1.50% | -20.10% |
Source: Shanghai and Shenzhen stock exchanges, Morningstar
Macro and industry updates
Gold demand set to rise after new policy announcement
In a policy released earlier this week, China made gold purchase much easier and more accessible for the Chinese consumers by (1) allowing more commercial banks to import and export gold; (2) allowing foreign bullion suppliers to participate in the Shanghai Gold Exchange; (3) streamlining the current gold transaction system by improving the purchase, transportation, and storage of gold products.
As the world's largest producer and the second-largest consumer of gold, China's appetite for gold has grown by more than 25 per cent each year for the past two years. With domestic production only growing at an average of 6.7 per cent per year for the past five years, domestic supply can no longer satisfy its demand. Allowing more supply and a bigger exposure to the global market, this policy will not only bring better balance to the domestic gold market, but also reduce price-arbitrage opportunities. Moreover, this should offer a new investment vehicle to investors looking to diversify from stocks and real estate, or to hedge against inflation. Since the groundwork is already laid by this policy, we believe it's very likely that a domestic gold ETF will be launched soon this year.
Speed bumps for auto sales in China
Although July is a seasonally slow month for automakers in China, reports of lackluster monthly sales and climbing inventory raised concern about a slowdown in the industry. In July, sales volume declined by 6.7 per cent sequentially, the third consecutive decline since May. Meanwhile, inventories climbed to an average of 58 days, up from 55 days in June. Less optimistic about its outlook, Shenzhen-based carmaker BYD recently slashed its 2010 sales forecast by 25 per cent to 600,000 cars.
While subsidies for auto purchases from 2009 remained in place, and recent announcements of substantial subsidies for hybrid and electric cars injected some vigour into the market, we believe consumer demand for cars was largely tapped over the past 18 months when carmakers had their party. The recent tightening in the property sector to some extent damped demand for cars as well, in our opinion. Many consumers put off their plans to buy a new house and, hence, their plans to buy a car for commuting.