News
Welcome to Morningstar.com.au - Quick Start Guide
Page 1 of 1
Your free 4 week Premium Membership trial
Have a good look around the website and familiarise yourself with the many great features. Get started with some of the great content and features available only to Premium Members:
Forecast 2016-17
Brexit, the US elections and domestic upheaval has raised the level of uncertainty and investors must adopt a cautious and prudent approach, Morningstar's Peter Warnes says. Read now »
Morningstar Model Income Equity Portfolio
Published in the second newsletter of every month, you'll get detailed commentary, performance and transaction updates. Click here to access our newsletter archive. You can read our methodology here.
Morningstar Stock Screener
Search for stocks with our Stock Screener tool, by sector, market cap, and key criteria including performance figures and valuation ratios. Click through the results to our Morningstar Stock Reports - company profile information on more than 2,000 stocks. Try it now.
Other important information

Your Money Weekly
YMW is electronically published every Friday afternoon. We will notify you by email when it is available.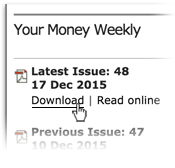 Many customers prefer to receive a printed newsletter, mailed every Friday and generally arriving Monday/Tuesday in metropolitan areas.
Once logged in, you'll find the latest newsletter under the Stocks tab where you can "Download" a PDF. Recently published issues can be found under "Newsletter Archive" located in the left-hand side menu.

Independent Fund Analyst Research
Previously available only to professionals. Morningstar Australia qualitative fund research is now directly available to individual investors.

Portfolio X-Ray
Ensure your portfolio is properly diversified to meet your financial goals. This easy-to-use tool tracks and offers comprehensive analyses to show how your investments are helping or hindering your portfolio.

Screening Tools
Easy-to-use, pre-set Premium Stock and Fund Screeners, featuring multiple fields in which you can insert your own criteria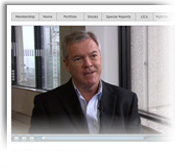 Commentary
Get a level-headed perspective on the market with Morningstar articles, opinion and video reports from market commentators including Peter Warnes. Morning and evening emailed reports summarise key events in the financial markets, both domestic and international, as well as providing links to our latest research reports.
---
Manage your account
If at any stage you do not wish to receive any of our emails, you can simply click here, and you can change your email correspondence options.
For quick and easy access to Morningstar, add www.morningstar.com.au to your "Favourites folder" (Select "Favourites" from the toolbar and "Add to Favourites").
If you have any questions do not hesitate to contact us at help.au@morningstar.com or call 1800 03 44 55.
Sincerely,
The Team at Morningstar