News
Some long-term Buying opportunities
Page 1 of 8
The views expressed in this report are those of Lesley Beath and may differ from Morningstar's views.
Covered this week
Please note: before making an investment decision, Morningstar recommends you read the fundamental research available on these stocks.
Disclaimer: To the extent that any content in this report constitutes advice, it is general advice that has been prepared by Lesley Beath without taking into account the particular investment objectives, financial situation and particular needs of any individual investors. If necessary, you should consult with a licensed investment adviser or dealer in securities such as a stockbroker before making an investment decision. Opinions expressed herein are subject to change without notice and may differ or be contrary to the opinions or recommendations of Morningstar as a result of using different assumptions and criteria.
---
The Australian banking stocks snapped out of their recent doldrums last week, bouncing from support and underpinning an impressive week for the broader market.
As discussed on many occasions over the past few months, they have been a drag on the All Ords and they were the greatest risk to the potential for a year-end rally. So this bounce, from significant, and somewhat critical, support, combined with the All Ords bouncing from its 200DMA, suggests that last week marked a significant turning point.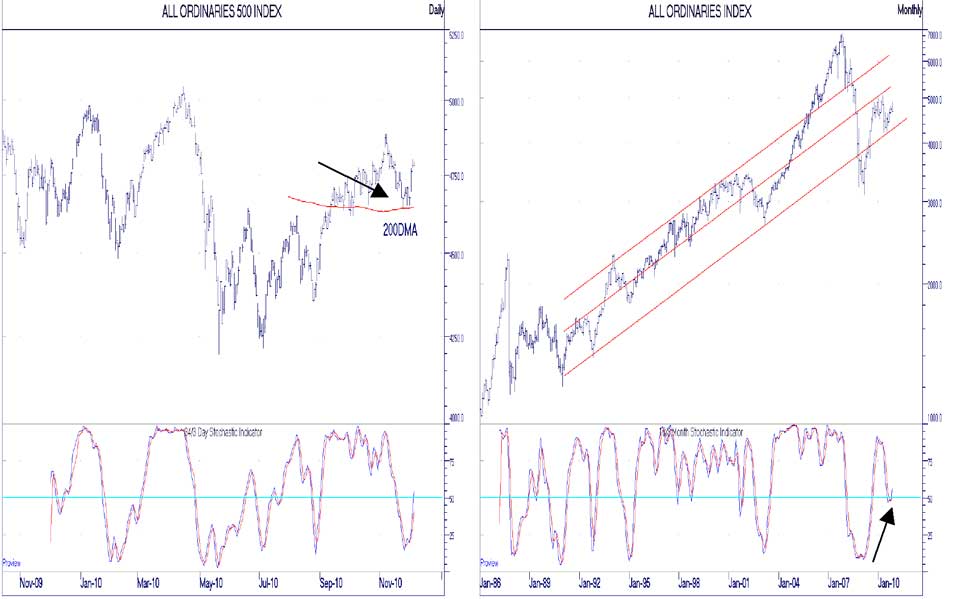 (click image to enlarge)
Although at this stage there is still some doubt as to the likelihood of a strong rally over the next few weeks and it may well be that upside is muted. But this is within the context of expectations for a respectable upside move over the next three to six months.
Fine-tuning of the week to week fluctuations can be difficult at times and markets can throw up some decoys; this certainly happened last week and this latest burst to the upside came as a bit of a surprise. But if we take a look at the signs that were highlighted last week, to suggest that a rise in risk aversion could be imminent (the T-Bond / S&P ratio, the VIX, and the US dollar), they were all noteworthy and needed to be discussed.
Let's see what happened to these indicators last week.