News
All Ords encouraging
Page 1 of 8
The views expressed in this report are those of Lesley Beath and may differ from Morningstar's views.
Reviewed this week
Please note: before making an investment decision, Morningstar recommends you read the fundamental research available on these stocks.
Disclaimer: To the extent that any content in this report constitutes advice, it is general advice that has been prepared by Lesley Beath without taking into account the particular investment objectives, financial situation and particular needs of any individual investors. If necessary, you should consult with a licensed investment adviser or dealer in securities such as a stockbroker before making an investment decision. Opinions expressed herein are subject to change without notice and may differ or be contrary to the opinions or recommendations of Morningstar as a result of using different assumptions and criteria.
---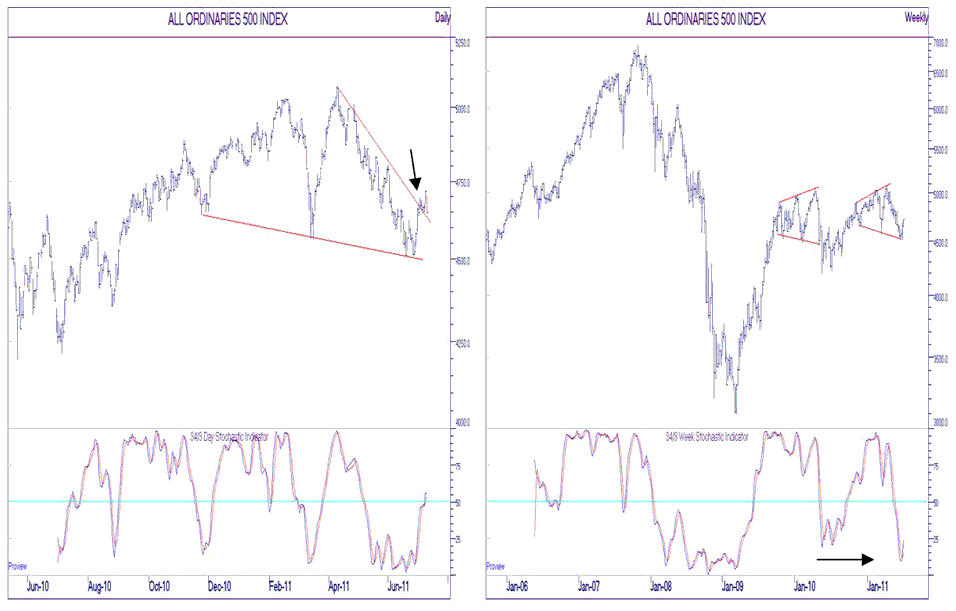 (click image to enlarge)
The ASX Materials index posted solid gains last week, pushing higher by 3%. The index was featured in the last report and the bounce from support, and improvement in momentum, noted. Potential for outperformance was also highlighted, and the index did just that, gaining in excess of the 1.45% advance in the ASX 200 and the flat performance in the Banks. A new Buy signal has been confirmed.
This is all good action and as noted last week "although there is scope for some sideways range trading, downside risk is slowly abating".
But it was not just the Materials index that looked impressive last week - there were also some notable performances in some of the sectors that have taken a beating over the past 12-18 months. Consumer Durables, Consumer Discretionary, and Retail are the standout examples. The latter was highlighted a few weeks ago, with the comment "there is one sector in the Australian market that is showing some interesting developments. It is the Retail sector, and given the current difficult environment, that comes as a surprise. But the fundamentals are always at their worst at significant turning points, and although . . . by and large, I think it is still too early to add to exposure, there are some improving situations that warrant a mention".
The larger stocks, David Jones (DJS) and Harvey Norman (HVN) were yet to show any positive developments, but JB Hi-Fi (JBH), Billabong (BBG), and The Reject Shop (TRS) were reviewed, and positive ratings put forward. They didn't do too much after the recommendation, but last week JBH and BBG finally showed some positive action, advancing by 5.4% and 5.8% respectively. TRS remains constructive, but has not yet broken to the upside by 5.4% and 5.8% respectively.
The Retail sector was one of the best performers last week, sitting up there with Consumer Durables, and the Small and Midcap Resources. The index posted a 4% gain and registered a weekly 'key reversal'; this comes after a 36% decline from the November 2009 high. It's too early to say that the bear market in this sector is complete and there is hefty resistance at current levels for DJS and JBH, but key reversals warrant attention and unless last week's lows are violated, risk in the short term has shifted to the upside.