News
China: another false start or a turn at last?
Page 1 of 8
The views expressed in this report are those of Lesley Beath and may differ from Morningstar's views.
Reviewed this week
Please note: before making an investment decision, Morningstar recommends you read the fundamental research available on these stocks.
Disclaimer: To the extent that any content in this report constitutes advice, it is general advice that has been prepared by Lesley Beath without taking into account the particular investment objectives, financial situation and particular needs of any individual investors. If necessary, you should consult with a licensed investment adviser or dealer in securities such as a stockbroker before making an investment decision. Opinions expressed herein are subject to change without notice and may differ or be contrary to the opinions or recommendations of Morningstar as a result of using different assumptions and criteria.
---
After disappointing the week prior, the Chinese equity market was one of the best performers last week, with the Shanghai A Shares Index rising by 2.9 per cent.
As noted in recent reports, the index has been flirting with support associated with the lower limits of the trend channel that has been in place since 2009. Price bounced from that support two weeks ago but then broke to new bear market lows on 20 September.
It extended those losses last Tuesday and Wednesday but bounced sharply on Thursday and Friday, ending the week with a "key reversal".
This is encouraging, and although there needs to be further follow-through, we are, I believe, getting close to a medium-term turning point. This comes after a three-year bear market and a 42 per cent decline.
Regular readers will be aware of what a "key reversal" is. But for those who are uncertain, a weekly "key reversal" occurs when price, after a significant decline, makes a new low, below the low of the week prior, but then closes above the high of the previous week.
In a strong market, the "key reversal" occurs when price makes a new high, above the high of the previous week, but then closes below the low of the previous week. Key reversals can also occur on a daily or monthly timeframe.
These patterns often mark a significant turning point.
The key reversal in the Chinese equity market comes as base metal prices continue to improve, along with the resource side of the Australian market.
This improvement in Australian resource stocks has been discussed in recent reports and I have suggested these stocks should outperform the broader market, even if the reversal stage takes some months to complete. That view still stands.
If we look at the ASX Materials Index and the ASX 100 Resources, both hit solid resistance the week before last and pulled back last week. From the previous week's high to last week's low, BHP Billiton (BHP) retreated by 5.4 per cent and Rio Tinto (RIO) declined by 9.4 per cent.
This forms part of the basing process and could continue for another month or two. But from a medium-term perspective, I continue to believe the worst is behind.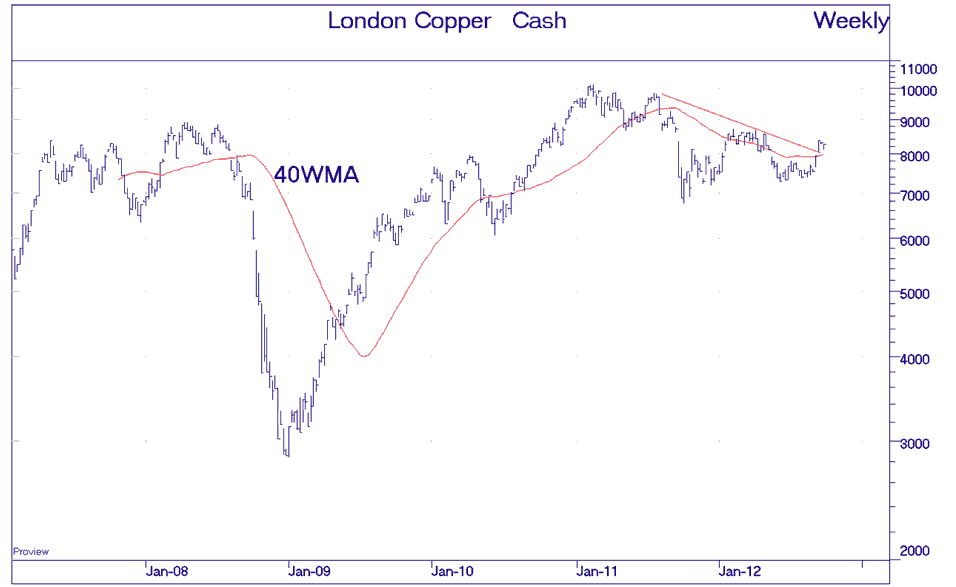 (click image to enlarge)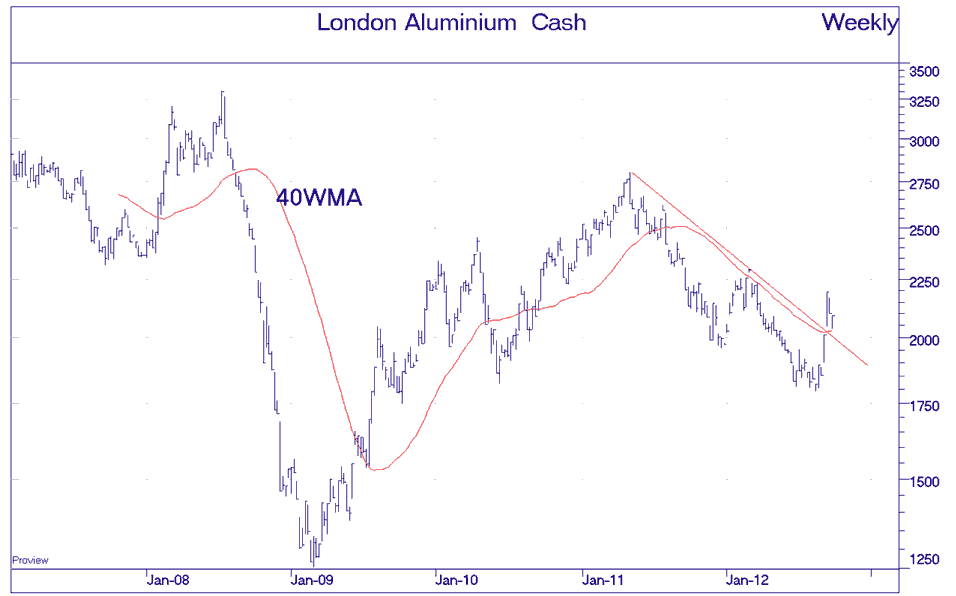 (click image to enlarge)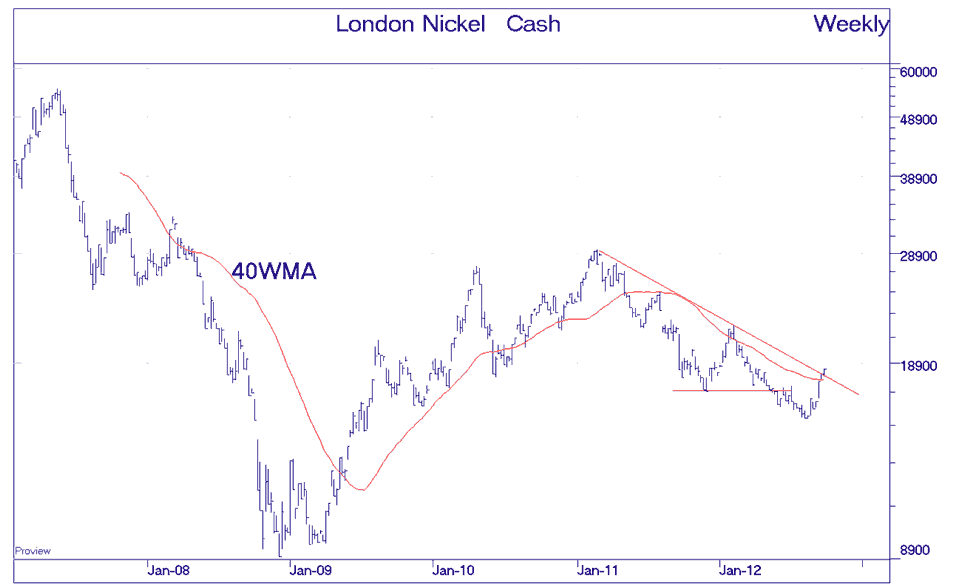 (click image to enlarge)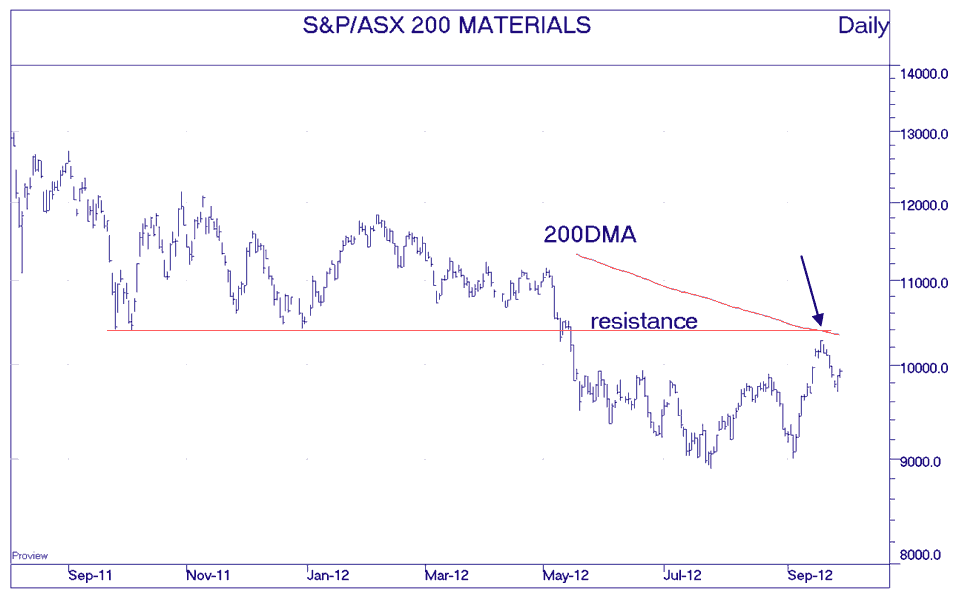 (click image to enlarge)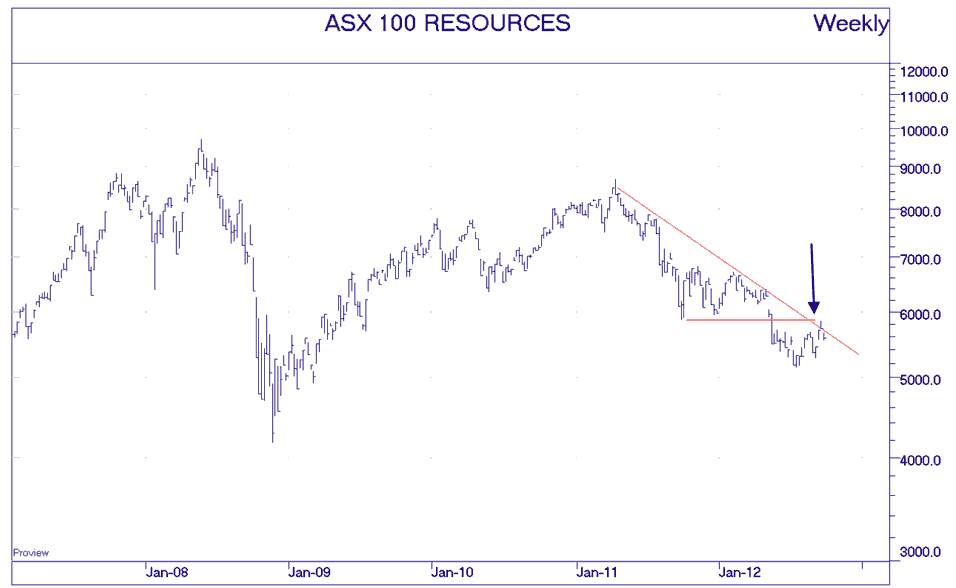 (click image to enlarge)
The ASX Small Resources Index remains below the declining 40WMA and is also within the downtrend from the 2011 high, but the action is encouraging and some of the stocks present a very bullish profile.
I noted a few months ago the resource side of our market, including some of the smaller, more speculative stocks, bottomed in late 2008, well ahead of the low in the broader market in 2009 and that there was a high probability that that could happen again.
I continue to believe there are some good buying opportunities out there, and not just in the gold stocks. For instance, I reviewed Mirabela Nickel (MBN) a couple of weeks ago, placing a Buy recommendation on the stock, with a $0.48 target.
It continues to impress, and after retesting the breakout point last Wednesday, its price surged by almost 15 per cent on Friday. It remains a Buy.
Other stocks such as Aditya Birla Minerals (ABY) pulled back sharply after testing resistance, but remain constructive. This stock looks ready to take off once again.