News
Australian market rally
Page 1 of 8
The views expressed in this report are those of Lesley Beath and may differ from Morningstar's views.
Reviewed this week
Please note: before making an investment decision, Morningstar recommends you read the fundamental research available on these stocks.
Disclaimer: To the extent that any content in this report constitutes advice, it is general advice that has been prepared by Lesley Beath without taking into account the particular investment objectives, financial situation and particular needs of any individual investors. If necessary, you should consult with a licensed investment adviser or dealer in securities such as a stockbroker before making an investment decision. Opinions expressed herein are subject to change without notice and may differ or be contrary to the opinions or recommendations of Morningstar as a result of using different assumptions and criteria.
---
Last week, for a change, the Australian market was among one of the best performers. There is no evidence to suggest this is anything more than a short-term blip, but the improvement in the Chinese market is encouraging.
I suggested in late January that China may begin to outperform the US and that would be a bonus for the resources side of our market. We haven't seen too much outperformance as yet, but I still believe China has the potential to improve, relative to the US market.
The Shanghai Composite Index broke above the April 2011 downtrend in early February, but it was only last week that the move gathered pace. At this stage, China appears less vulnerable than the US, with the latter at risk of a short-term pullback.
Unfortunately, after moving in tandem with the Chinese market since last April, the ASX Materials Index has diverged over the past few weeks, declining as China advanced.
It's a hard slog out there.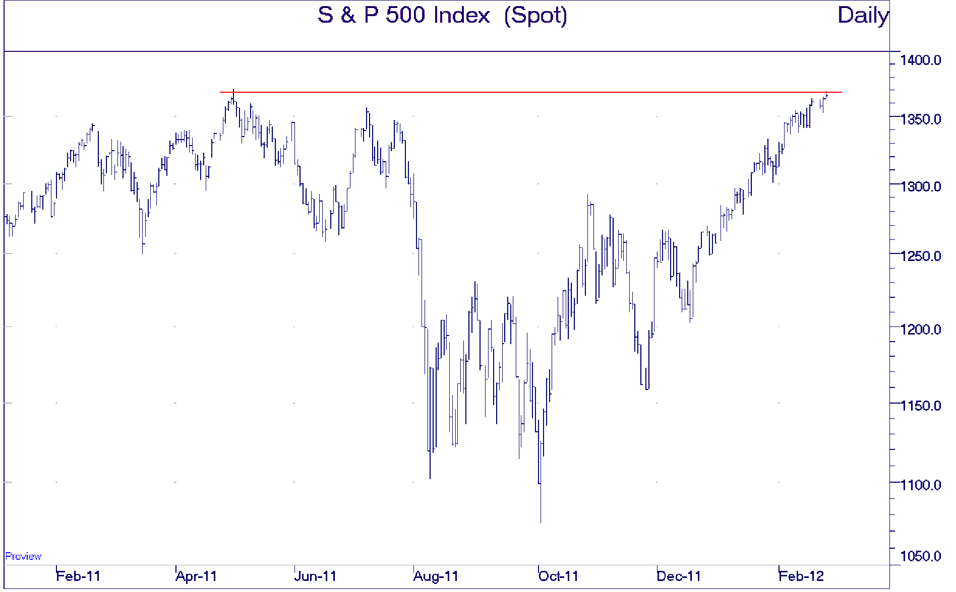 (click image to enlarge)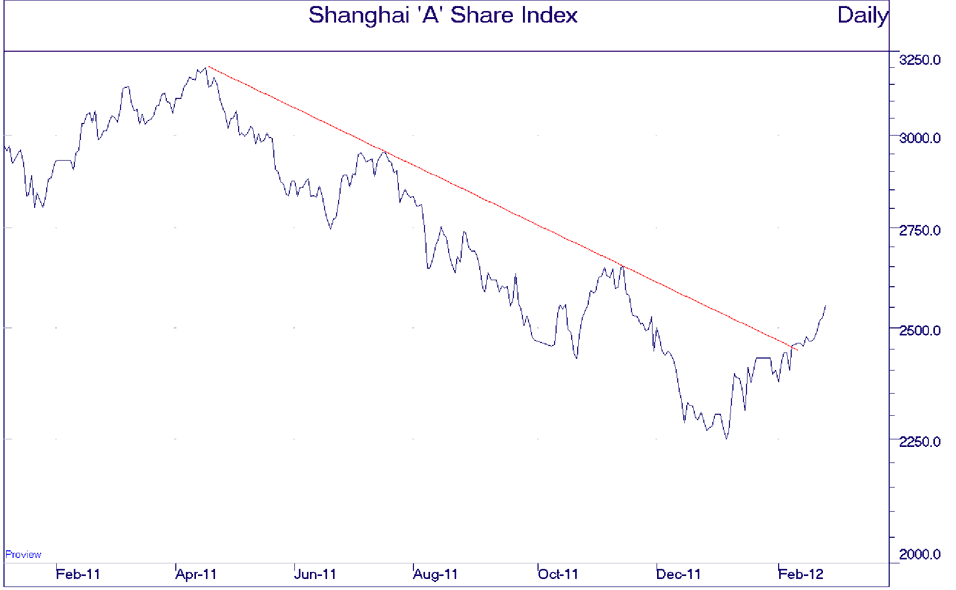 (click image to enlarge)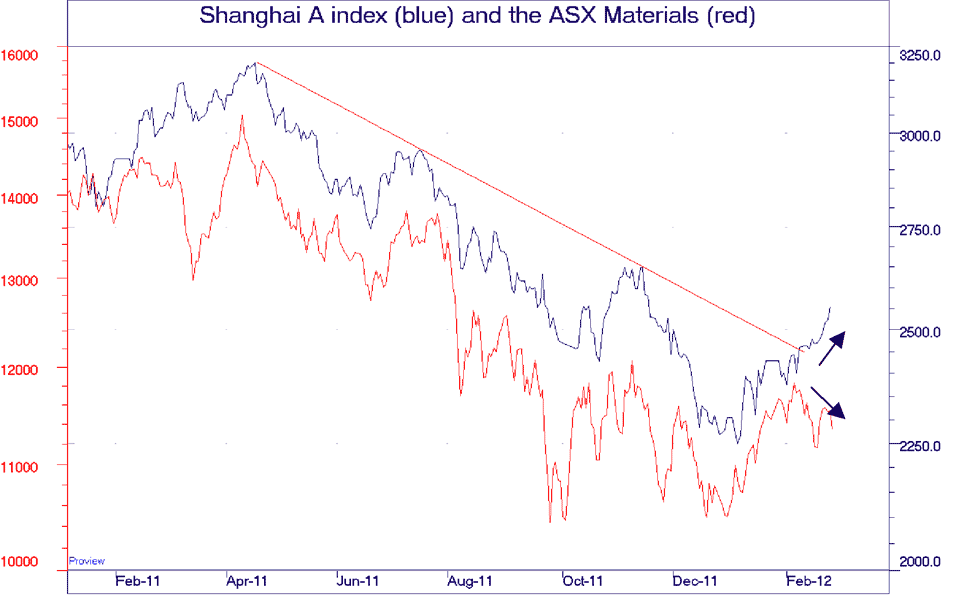 (click image to enlarge)
I have spoken about the potential for a pullback in the S&P 500 for the past month or so, and it has continued to power ahead. But it is overbought, and with the VIX hovering at long-term support, risk remains to the downside.
A bit of caution is warranted here. Hopefully, our market will be more focused on China. However, it is unlikely that any pullback in the US would fail to have a negative impact here.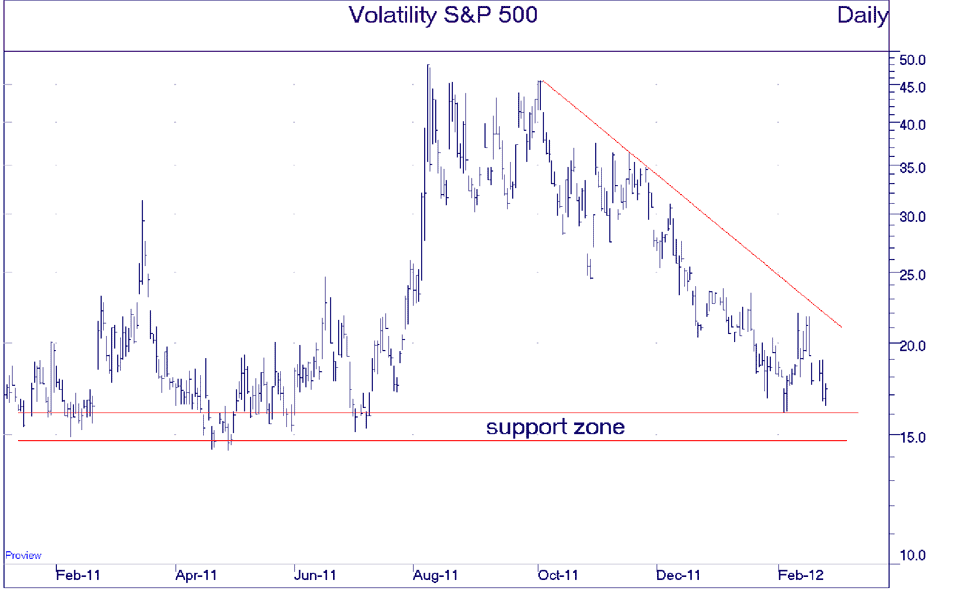 (click image to enlarge)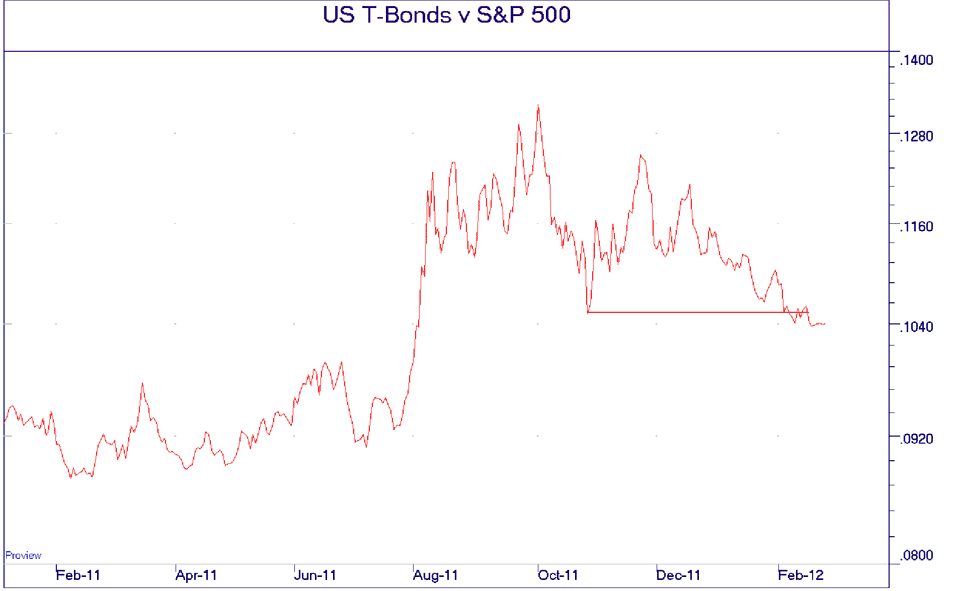 (click image to enlarge)
In the US, the T-Bond/S&P 500 ratio has broken marginally below the support of the October 2011 lows, but there has been no real follow-through. If the ratio pushes much higher over the next week or so, it would be another sign that caution is warranted.
Commodity markets
Precious metals had a good week, with gold up 3 per cent. But silver and platinum outpaced that move, advancing by 6.4 per cent and 5 per cent, respectively. So, what's next?
Well, platinum finally pushed above the resistance of the March and July 2011 lows - this barrier was always going to be a real test, not only for platinum, but for the sector as a whole. So this is good news.
But there are still some barriers in place. I talked about the factors that are taken into account when analysing the gold price at the end of January, and readers can go back to that report for a quick refresh, but one of the things we look at is whether or not gold is rallying in non-US dollar terms.
It has since the beginning of the year, but it is now facing the resistance of the 2011 highs when measured in Swiss francs, Japanese yen, and the euro. If those can be overtaken, then the gold price has the potential to move sharply higher, with a quick test of the September all-time highs.