News
Banks appear ready to pause
Page 1 of 8
Reviewed this week
Please note: before making an investment decision, Morningstar recommends you read the fundamental research available on these stocks.
Disclaimer: To the extent that any content in this report constitutes advice, it is general advice that has been prepared by Lesley Beath without taking into account the particular investment objectives, financial situation and particular needs of any individual investors. If necessary, you should consult with a licensed investment adviser or dealer in securities such as a stockbroker before making an investment decision. Opinions expressed herein are subject to change without notice and may differ or be contrary to the opinions or recommendations of Morningstar as a result of using different assumptions and criteria.
---
The Australian market rose by 1.4 per cent last week, as resource stocks finally managed to post some solid gains. The Small Resources, the ASX 200 Resources and the ASX 200 Materials advanced by just on 5 per cent.
This came as some of the defensive sectors pulled back sharply. Telecom was the hardest hit, down by 6.3 per cent, followed by Utilities, down 2.9 per cent.
Some of the small resource stocks rebounded significantly, with stocks such as Integra Mining (IGR) (+30 per cent), Elemental Minerals (ELM) (+29 per cent), Guildford Coal (GUF) (+29 per cent), Aquila Resources (AQA) (+24 per cent), Azumah Resources (AZM) (+22 per cent) and Beadell Resources (BDR) (+20 per cent) leading the advance.
The big miners, BHP Billiton (BHP) and Rio Tinto (RIO), were also impressive, rising by 4.4 per cent and 8.5 per cent, respectively.
Unfortunately, this improvement in the resource side of the market comes as the banks appear ready to pause. This has been a feature of our market for some time now and I have spoken about it often.
And until we get to a stage where both of these sectors can move higher together, the outlook for the Australian market remains mediocre.
Last week, I highlighted the key resistance levels on the ASX 20 Leaders and the ASX 50 Leaders, suggesting that those levels could be tested in the near term, but that with the resistance on the All Ords quite a bit higher, it was unlikely the latter would push above the 4500 level.
The 20 Leaders tested resistance on Thursday, but the 50 Leaders sits just below its key barrier. I think with the banks overstretched in the short term, a topside break is unlikely.
But if the defensive sectors such as Telecom, Utilities, Consumer Staples and Healthcare were sold off last week, and riskier sectors were strong, doesn't that suggest investors are moving into a less-defensive mode that could push the broader market higher?
I must admit that last week's action is interesting, but until BHP and RIO break convincingly above resistance, there is still the threat of another sell-off to mark the final low.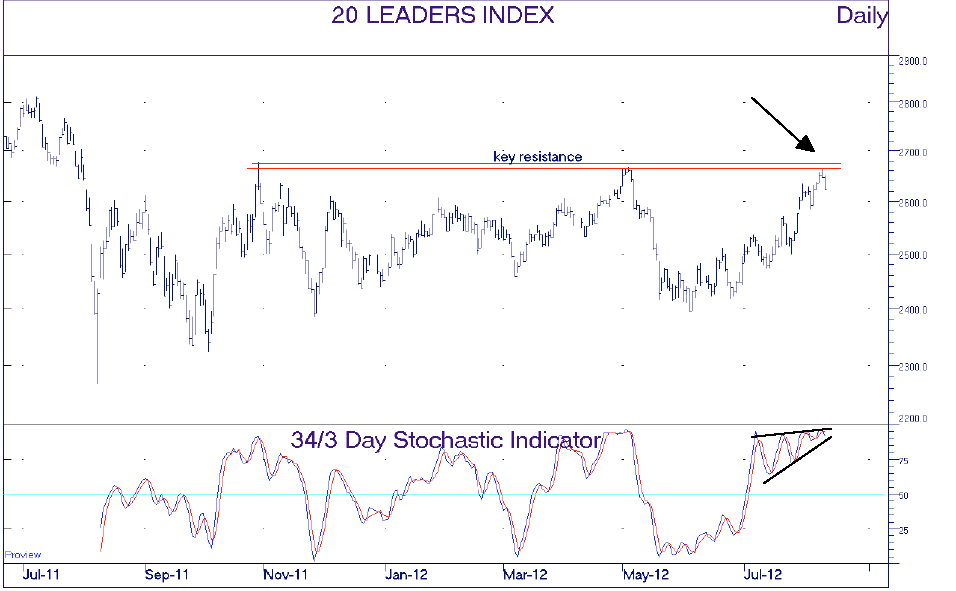 (click image to enlarge)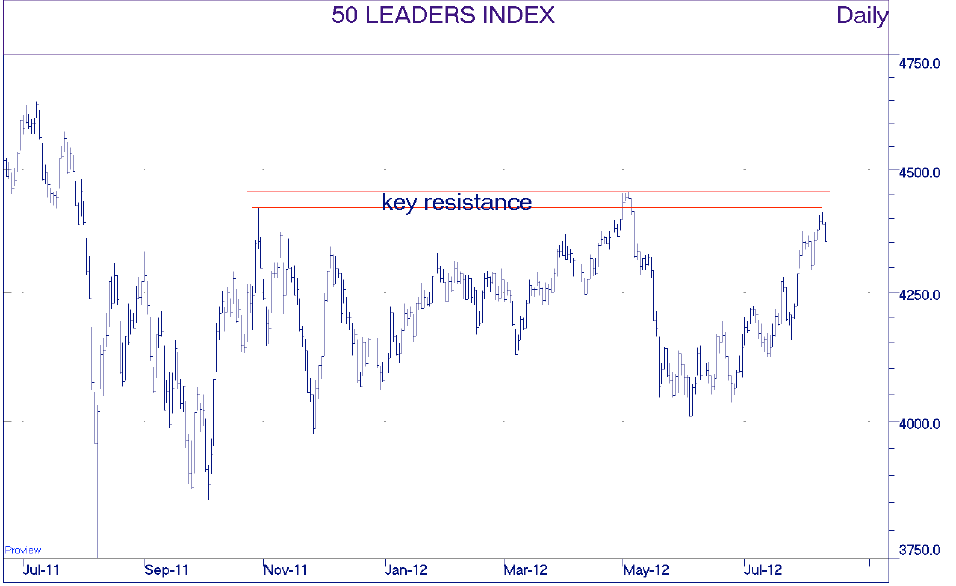 (click image to enlarge)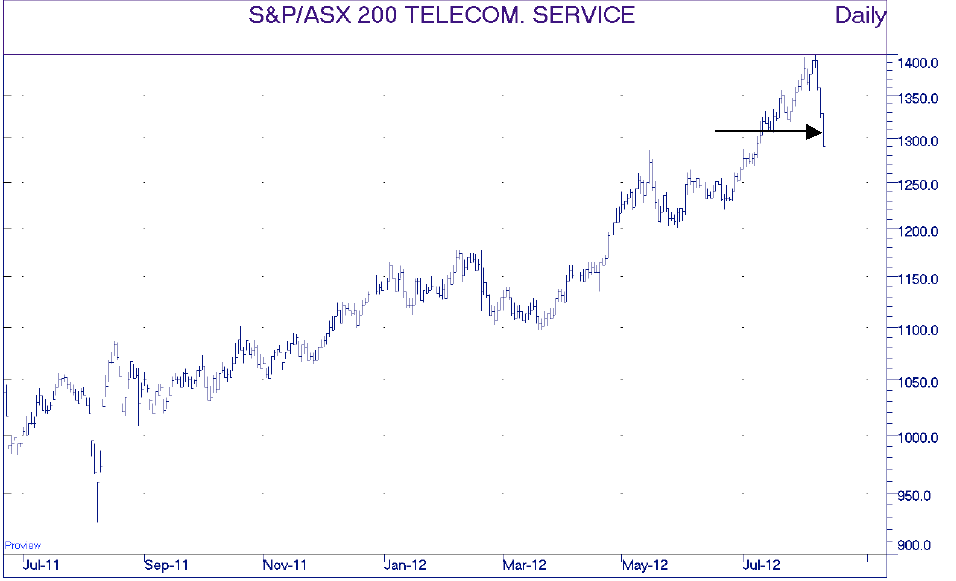 (click image to enlarge)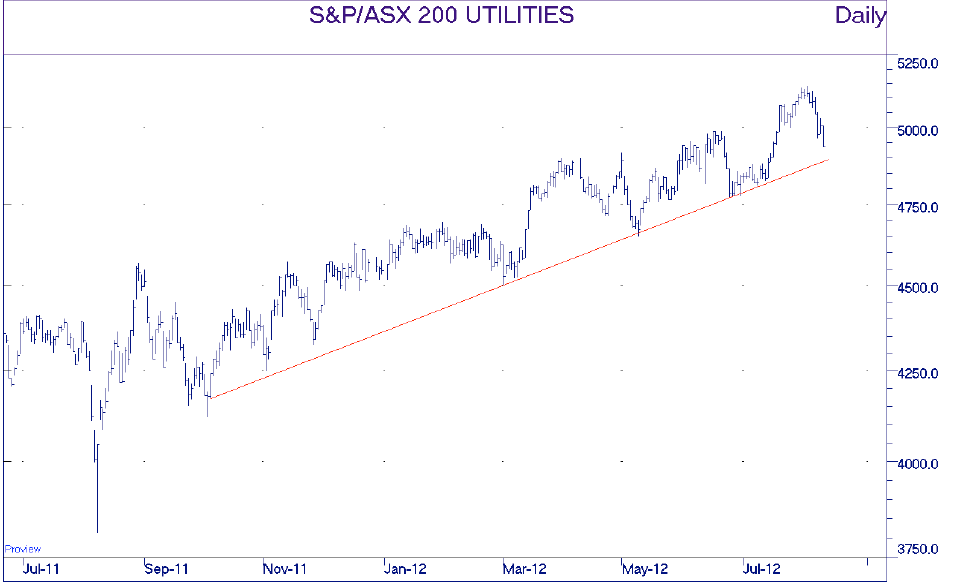 (click image to enlarge)
(click image to enlarge)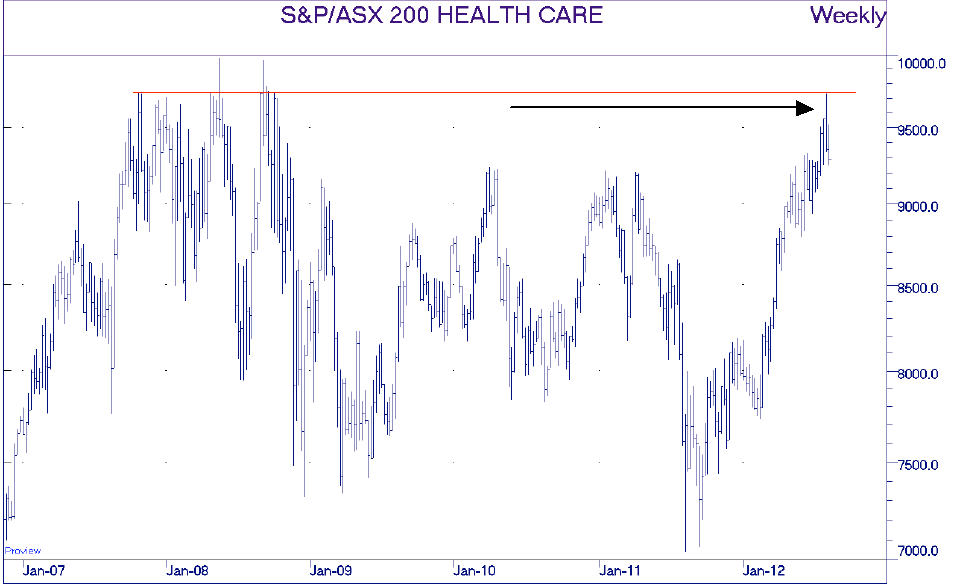 (click image to enlarge)