News
Gold appears ready to take off
Page 1 of 8
The views expressed in this report are those of Lesley Beath and may differ from Morningstar's views.
Reviewed this week
A selection of gold stocks. Plus Commonwealth Bank – to give some insight.
Please note: before making an investment decision, Morningstar recommends you read the fundamental research available on these stocks.
Disclaimer: To the extent that any content in this report constitutes advice, it is general advice that has been prepared by Lesley Beath without taking into account the particular investment objectives, financial situation and particular needs of any individual investors. If necessary, you should consult with a licensed investment adviser or dealer in securities such as a stockbroker before making an investment decision. Opinions expressed herein are subject to change without notice and may differ or be contrary to the opinions or recommendations of Morningstar as a result of using different assumptions and criteria.
---
Precious metals starred last week as the US dollar continued its retreat from the resistance which has been outlined in the last couple of reports. This helped Australian resource stocks, and small resources were among the best performers in the All Ords, yet again.
But it wasn't a broad advance in resources, as BHP Billiton (BHP) was relatively flat and the five worst performers of the week were small resource stocks.
The ASX Gold Index rallied by 4.8 per cent, led by a 6 per cent gain in Newcrest Mining (NCM). The US Philadelphia Gold & Silver index gained 8 per cent.
Both remain below a declining 200DMA, but new Buy signals have been registered. We could be at that stage in the cycle where the gold stocks are about to outperform the gold price.
The S&P ASX Gold index/gold price ratio is now at a similar level to what it was at the October 2008 low (remember that resource stocks bottomed in October 2008, ahead of the March 2009 low in the broader market).
At that time, gold was trading at US$730 or A$1172 in Australian-dollar terms. It is now at A$1626. Newcrest is obviously the largest component of the S&P ASX Gold Index, with a weighting of 57 per cent.
The top 10 stocks make up 73 per cent of the index and include in order of weighting: Newcrest, Regis Resources (RRL), Perseus Mining (PRU), Evolution Mining (EVN), Medusa Mining (MML), Kingsgate Consolidated (KCN), Resolute Mining (RSG), CGA Mining Limited (CGX), AngloGold Ashanti (AAG) and St Barbara Mines (SBM).
Regis Resources has been the star performer in the index, while the others have lagged. Another notable performer is Troy Resources (TRY), which hit all-time highs last September and has since consolidated in a bullish triangular pattern. More on that later.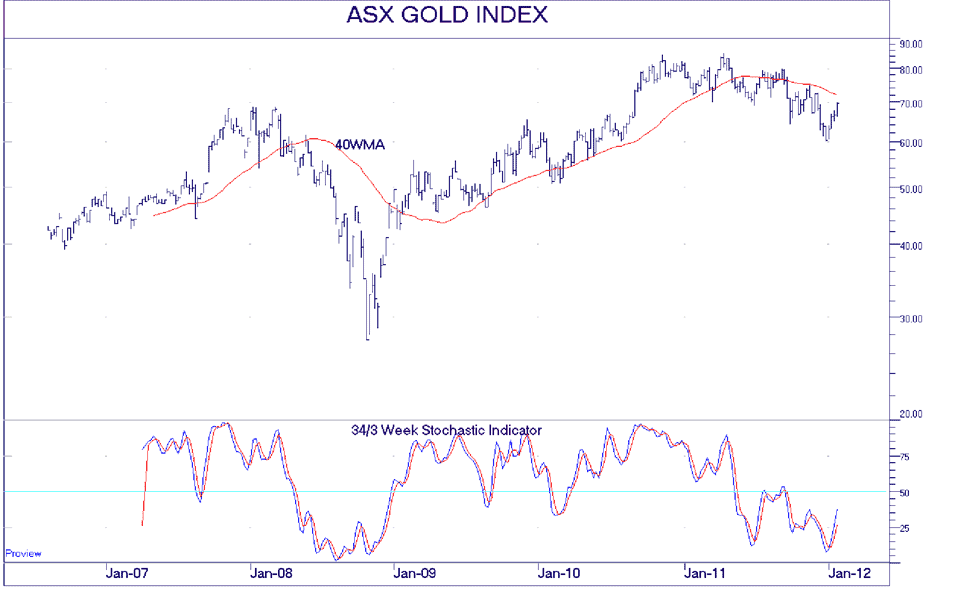 (click image to enlarge)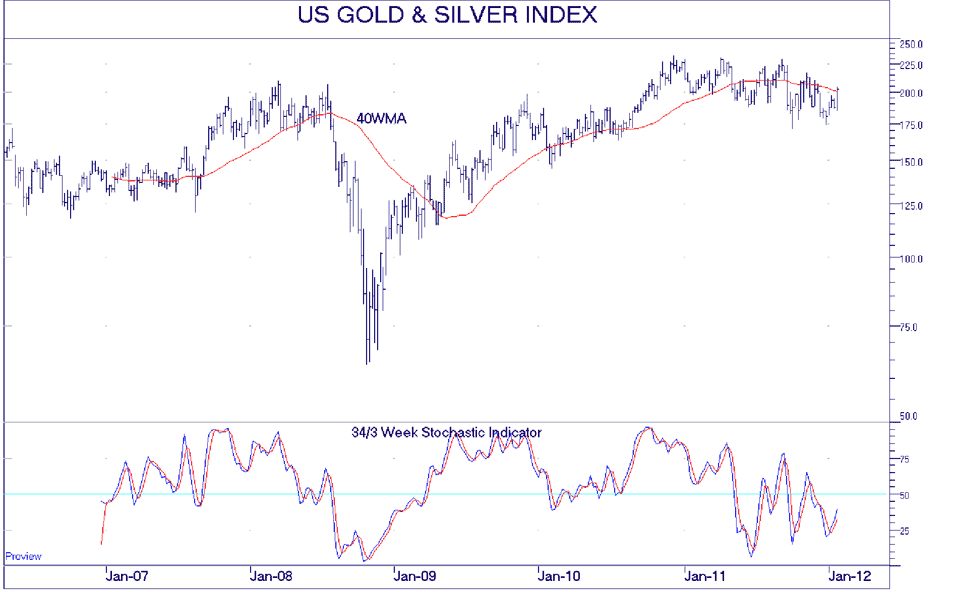 (click image to enlarge)
(click image to enlarge)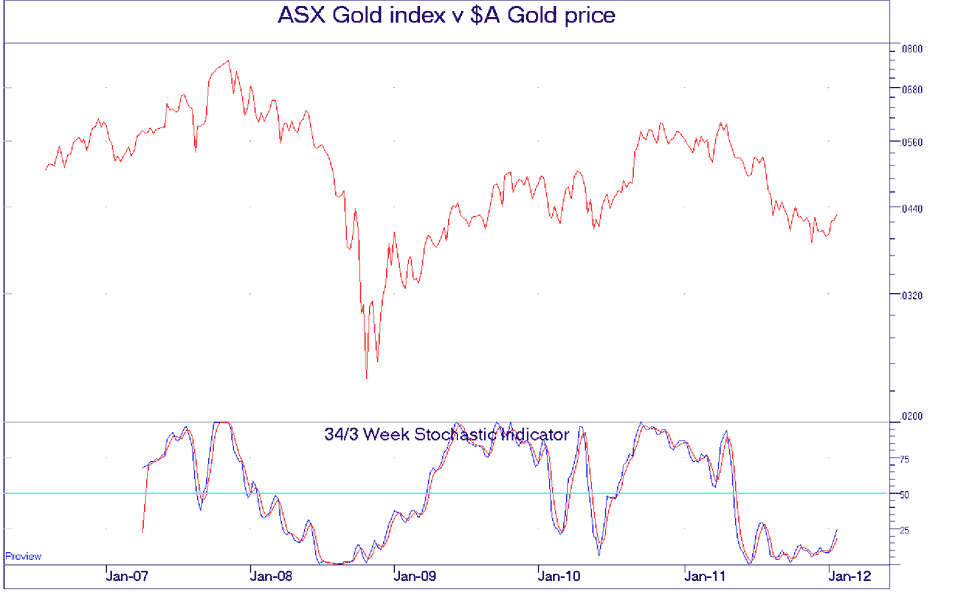 (click image to enlarge)
So what's happening to the gold price?
Gold broke above the September 2011 downtrend last week, after rallying by almost 11 per cent over the past month. Silver has gained 21 per cent over the same time. Copper has risen by 13 per cent and nickel by 18 per cent. No wonder the small miners have been doing so well.
The initial advance in these commodities came ahead of the decline in the US dollar, so now that the latter is retreating, after what appears to be an important peak, metal prices should continue to push higher.
They are overbought in the short-term and can pull back, but it appears as though they have completed a significant reversal.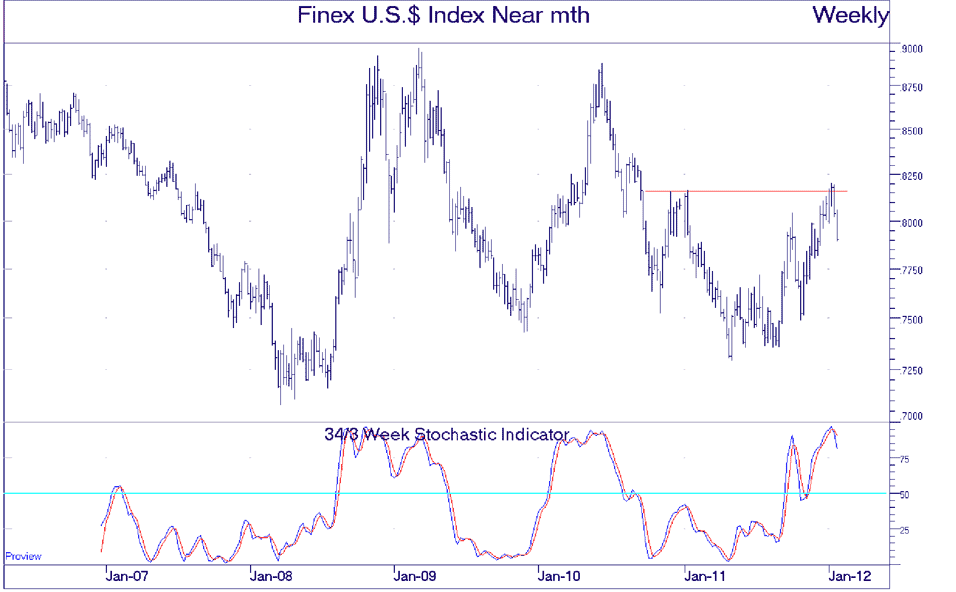 (click image to enlarge)