News
Resilience only tentative at this stage
Page 1 of 8
The views expressed in this report are those of Lesley Beath and may differ from Morningstar's views.
Reviewed this week
We take a look at some situations where market depth, that is the number of Buyers and Sellers, is skewed to the Buy side by a significant margin.
Please note: before making an investment decision, Morningstar recommends you read the fundamental research available on these stocks.
Disclaimer: To the extent that any content in this report constitutes advice, it is general advice that has been prepared by Lesley Beath without taking into account the particular investment objectives, financial situation and particular needs of any individual investors. If necessary, you should consult with a licensed investment adviser or dealer in securities such as a stockbroker before making an investment decision. Opinions expressed herein are subject to change without notice and may differ or be contrary to the opinions or recommendations of Morningstar as a result of using different assumptions and criteria.
---
A couple of interesting developments, but nothing to change the outlook.
A strong performance on Thursday and Friday pushed the US market higher by close to 2 per cent last week. Unfortunately, this has done nothing to ease concerns over the next couple of months.
That said, there were a couple of developments of note and they are important.
Firstly, the US dollar. As noted on a number of occasions, the US Dollar Index has spent the past couple of months pushing at a key resistance level (0.8367). That level is important, as a topside break had the potential to push the dollar significantly higher.
And as the US dollar has been perceived as a safe haven in times of trouble in the equity markets, a topside break could imply that equity markets were about to come under pressure.
But as mentioned on previous occasions, the dollar and the equity market do not necessarily have to move in opposite directions, but in instances where the US equity market was nearing a potential turning point, action in the dollar has given guidance.
I suggested last week that "as the dollar appears ready to break topside, and the equity market is losing upward momentum, in this instance I think that a breakout in the dollar would signal an increase in risk in global equity markets".
Well, the good news is the US Dollar Index pushed above resistance early in the week, but then reversed sharply. It is too early to determine whether this is a meaningful peak, and we need to see what transpires over the week; but it does give a short-term reprieve.
This pullback in the dollar comes as the CRB Index is also hitting resistance. This resistance on the CRB is the May 2011 downtrend. That is obviously an important barrier and a topside break there, in conjunction with a deeper pullback in the US dollar, would bode well for commodity markets.
As regular readers will know, I am of the opinion that, in all likelihood, gold and oil have put in medium-term lows, and the grains remain robust given the weather conditions in the US.
But base metals are still sluggish and there are no obvious signs to suggest a reversal is imminent.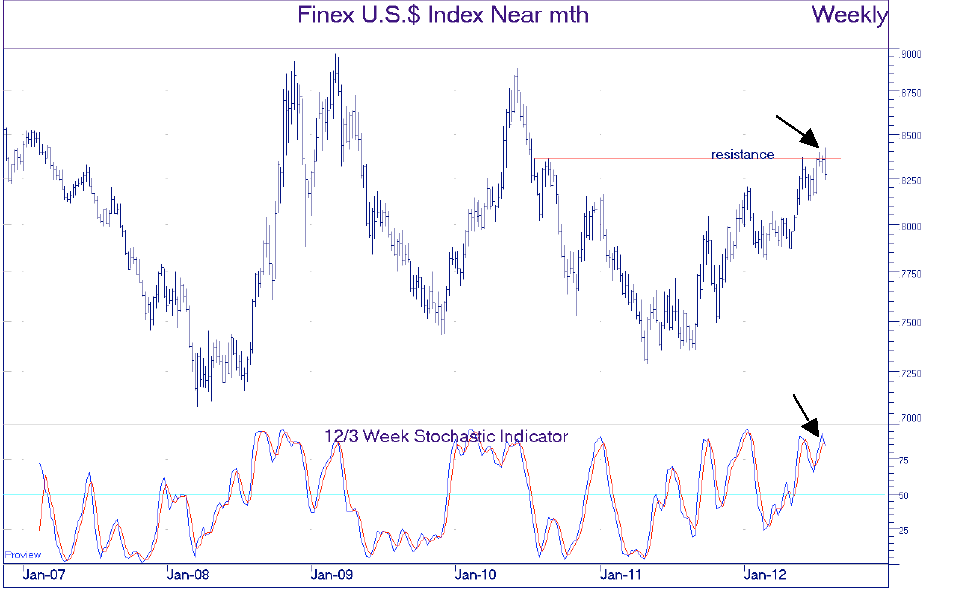 (click image to enlarge)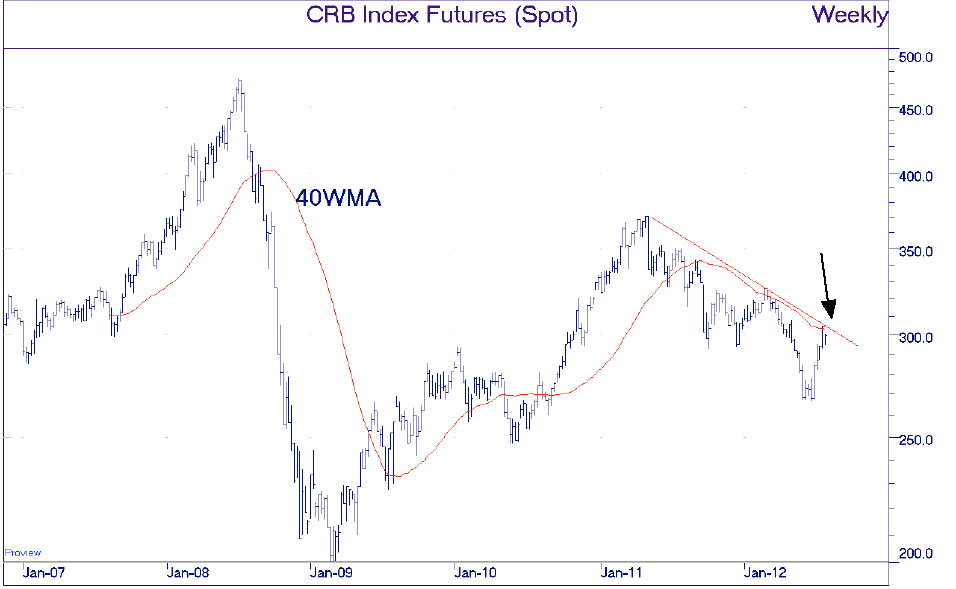 (click image to enlarge)
The other development of note was the action in the US T-Bonds. Prices have been pushing steadily higher since mid March, and as noted on numerous occasions, T-Bonds are trading at the upper limits of their secular trend channel.
This channel dates back to 1986–1987 and rallies to the top of the trend channel have always been followed by significant pullbacks. In the current instance, price has held up at elevated levels longer than on previous occasions, and second guessing this market is a dangerous exercise.
But there is a slowing of momentum and the good thing is that a weekly "key reversal" was registered last week. This warrants attention given that it occurred as price was deflected from a significant resistance level.