News
US could be faced with capitulation phase
Page 1 of 8
The views expressed in this report are those of Lesley Beath and may differ from Morningstar's views.
Reviewed this week
Please note: before making an investment decision, Morningstar recommends you read the fundamental research available on these stocks.
Disclaimer: To the extent that any content in this report constitutes advice, it is general advice that has been prepared by Lesley Beath without taking into account the particular investment objectives, financial situation and particular needs of any individual investors. If necessary, you should consult with a licensed investment adviser or dealer in securities such as a stockbroker before making an investment decision. Opinions expressed herein are subject to change without notice and may differ or be contrary to the opinions or recommendations of Morningstar as a result of using different assumptions and criteria.
---
Despite the recent anxiety in the US, the US equity market has not broken any key support levels. But there are some worrying signs and although a debt deal has been reached, pushing Australian stocks and US futures sharply higher in Monday trading, there is still cause for caution.
In Australia, the All Ords violated the June lows last Friday but today's sharp reversal is encouraging. This must be sustained in coming days as a breakdown here would push the index back into a defensive mode.
And if that break was followed by a downside break in the US, then we could be faced with a capitulation phase. The likelihood of this has been averted in the very near term, but the situation is still too finely balanced to enable a strong opinion; it could still go either way.
The tightness of the situation is illustrated by the action in the US T-Bond/S&P500 ratio, the position of the S&P's 200DMA, and the level of the VIX. And in Australia, by the action in the Banks and Materials.
Let's take the Bond/S&P ratio first.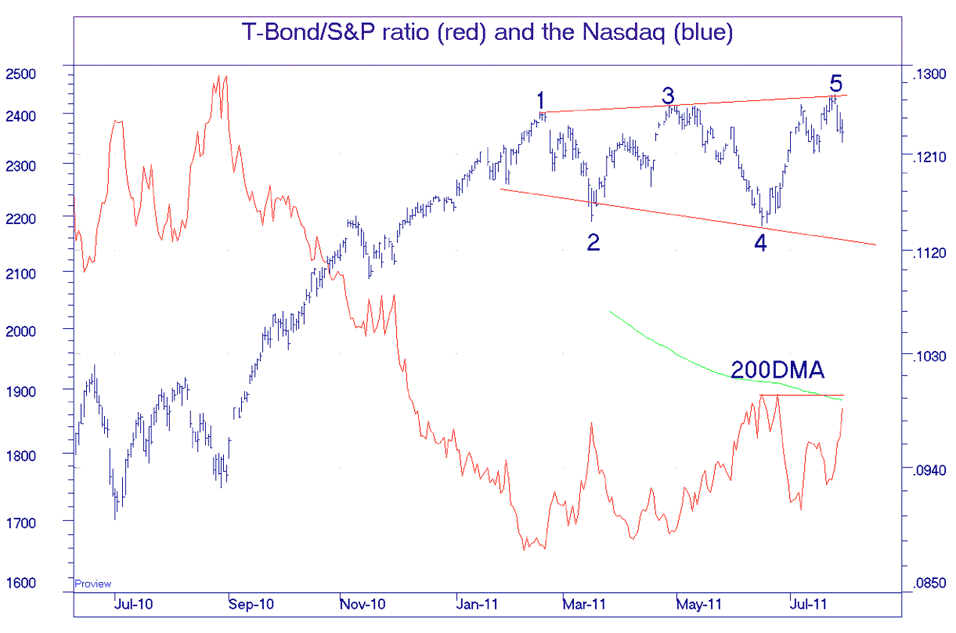 (click image to enlarge)
In the last report I noted that the "ratio continues to trade within a broad range, and the upside breakout which occurred in June has been aborted. The ratio will not give any major guidance until it breaks beyond the limits of the range, or there are some clear signs to suggest that a breakout is imminent". Well a lot can change in a short space of time, and last week's 6% reversal in favour of bonds has pushed the ratio up to within striking distance of the June highs - this now coincides with the 200DMA. Momentum indicators are moving back into positive mode suggesting that risk is once again skewed to the upside. The odds are now moving in favour of a topside break, which would be negative for the equity market.