News
US remains constructive
Page 1 of 8
The views expressed in this report are those of Lesley Beath and may differ from Morningstar's views.
Reviewed this week
Please note: before making an investment decision, Morningstar recommends you read the fundamental research available on these stocks.
Disclaimer: To the extent that any content in this report constitutes advice, it is general advice that has been prepared by Lesley Beath without taking into account the particular investment objectives, financial situation and particular needs of any individual investors. If necessary, you should consult with a licensed investment adviser or dealer in securities such as a stockbroker before making an investment decision. Opinions expressed herein are subject to change without notice and may differ or be contrary to the opinions or recommendations of Morningstar as a result of using different assumptions and criteria.
---
Last week was a good one. The banks came to the party, bouncing from critical support. It was suggested last week that they held the key to the performance in the broader market and they certainly didn't let the side down. The Banking index gained almost 5%, the largest rise since last July. National Australia Bank (NAB) was the standout, advancing by close to 8%.
This performance was replicated in the US, with the S&P Banks index rising by 5.6%.
The past few weeks have been marked by a struggle between the bulls and the bears, as they fight for dominance. I suggested two weeks ago that risk was reversing to the upside, and despite the setback the week before last, this still appears to be the case.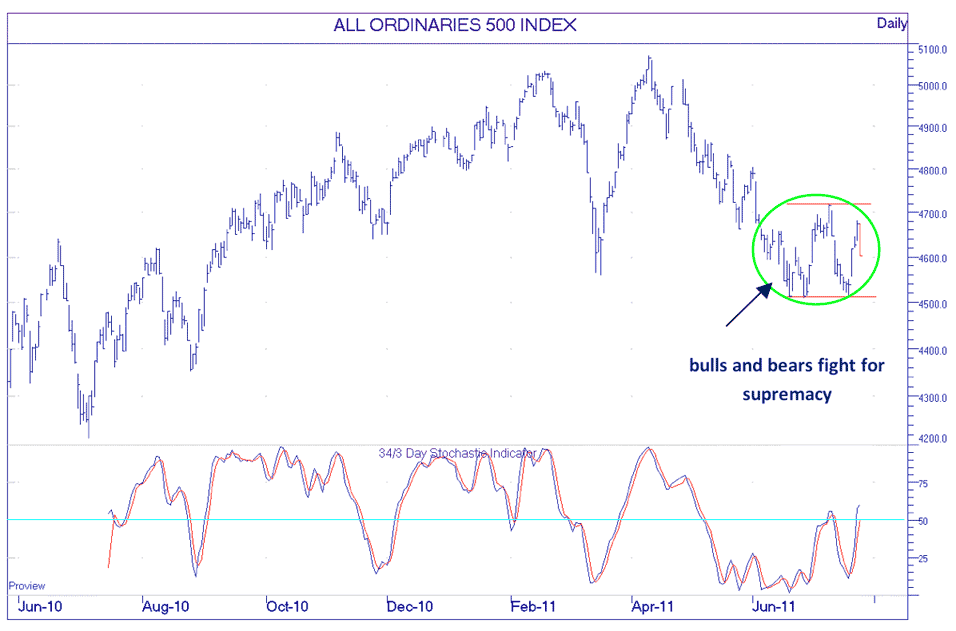 (click image to enlarge)
In Australia, the bounce in the banks has removed the biggest risk, as the resource stocks have been improving for the past month or so. And although the gains of last week in the banks could be pared back, for the time being they have avoided the potential for a quick spike lower.
As for the US, I noted last week that the pullback which had sent ripples of fear across global markets had not done any major damage to the improving profile. A medium-term Buy signal was in place and no important support levels had been broken.
The structure remains positive and the Nasdaq pushed to new recovery highs last week.