News
Gold gains may cushion hard landing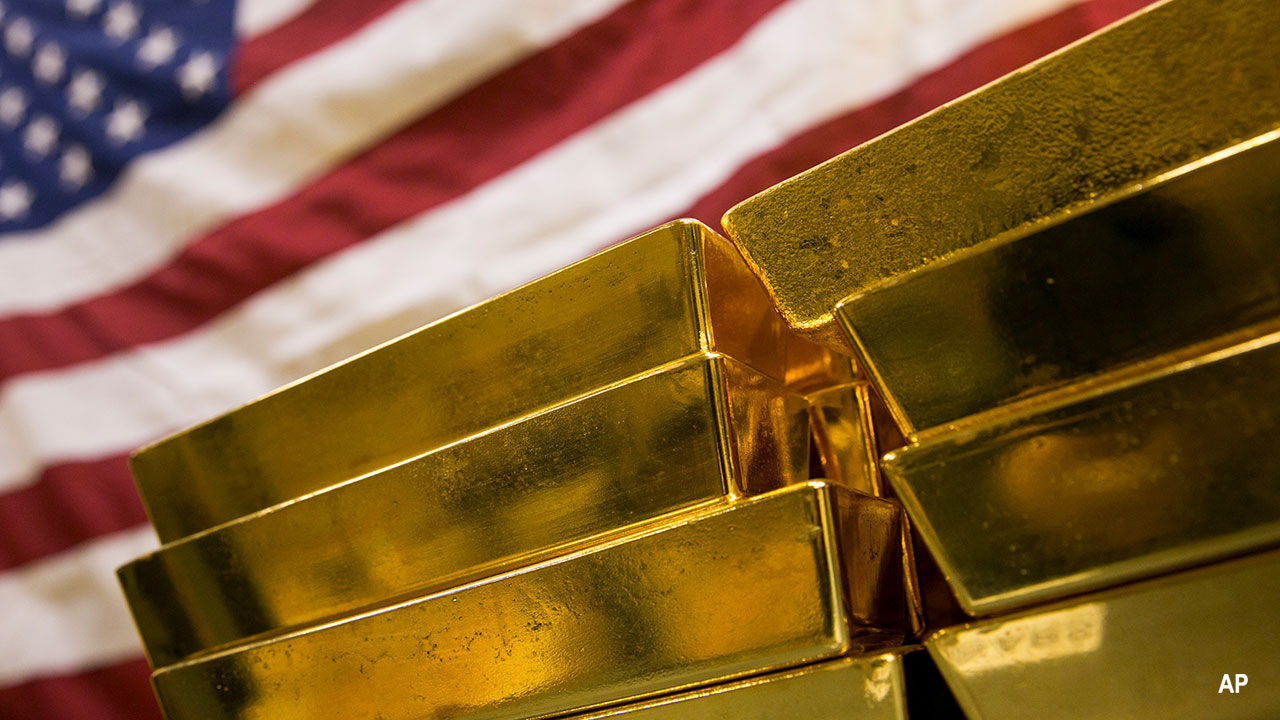 It has been an impressive year for gold and further gains in its price can be expected as investors pile into the precious metal renowned as a safe haven asset, writes VanEck's Arian Neiron.
The popularity of gold should rise further still, amid slowing global growth and a possible hard landing for the US economy.
In June, gold blew through two formidable technical barriers.
The first was US$1,365 on 20 June, followed by US$1,400 the next day.
Then, on 28 June it reached a six-year high of US$1,439, ending the month at US$1,409.55 for a gain of US$103.97, or 8 per cent.
Gold has since hovered above US$1,400 in July, well out of its long six-year range of between US$1,200 and US$1,300 per ounce.
Gold stocks have also come to life, as prices of several ASX gold stocks have run to all-time highs in recent weeks.
'Race to the bottom'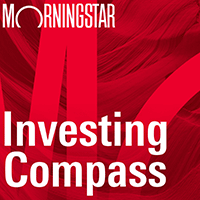 Listen to Morningstar Australia's Investing Compass podcast
Take a deep dive into investing concepts, with practical explanations to help you invest confidently.

There were several fundamental drivers that enabled gold to break out in June. Gold saw gains early in the month from continuing US-China trade tensions, as well as comments from US Federal Reserve officials voicing concerns over the US economy.
Throughout the month, there was a steady stream of weakening manufacturing data from the US and Germany.
Chinese authorities were also reportedly trying to contain the fallout from the failure of Baoshang Bank, as brokerages and asset managers sought to restrict trading due to possible counter-party risks.
Then the European Central Bank indicated rate cuts are likely in the absence of any improvement in the economy.
Markets later became convinced the US Fed would also cut rates in the second half of 2019 following the June 19 Federal Open Market Committee statement and press conference, which expressed a more dovish outlook.
VanEck chief economist Natalia Gurushina characterised the situation as "a race to the bottom among major central banks." All of this created a consensus shift in investor sentiment and outlook for weaker growth, hence increasing risks.
Lower interest rates also supported gold prices, as five-year US Treasuries now carry a real (inflation adjusted) rate of 0 per cent:
Ten-year German bunds fell to a record low of negative 0.3 per cent.
The US dollar weakened, with the US Dollar Index falling through near-term support levels.
Australian 10-year bond yields have also hit historical lows.
Hard landing can't be ruled out
Gold is consolidating its strong gains, as China and the US agree to resume trade talks, and the S&P 500 touched new all-time highs.
The gold market is now transitioning from a six-year sideways price trend. We expect to continue consolidating at around the US$1,400 level for most of August, before a new trend develops.
Heading into 2020, we see one of two scenarios playing out across the markets:
1. Soft landing
Manufacturing has been weak and on the verge of recession in China, Europe and now the US. A soft landing would occur if the global stimulus widely expected from central banks is able to keep a manufacturing recession from morphing into a broader recession across the entire economy. Averting a recession would be bullish for the stock market, interest rates would find a bottom, and the US dollar would likely stabilise or strengthen. This might limit the upside for gold. In this scenario, we might see gold establish a new price range, supported by geopolitical risks and central bank demand.
2. Hard landing
A hard landing occurs if the current manufacturing recession transitions into a broader economic recession, causing central banks to suffer a loss of confidence. US rates would likely fall to zero or less, and the stock market might enter a correction, while financial risks escalate. Central banks may restart quantitative easing (QE) or initiate other more radical policies. In this scenario, gold would probably form a positive price trend as a safe haven investment.
Last December, the US Fed likely completed a rate hiking cycle that lasted three years. The current expansion is now the longest on record, as is the bull market in stocks.
Since 1950, a recession has followed 10 of 13 hiking cycles, while three ended in a soft landing.
The chart below shows the last US recession started three months after the Fed's first rate cut in September 2007, while the S&P 500 peaked in October 2007. The prior recession started two months after the first rate cut in January 2001.
Historical US rate hiking cycles and recessions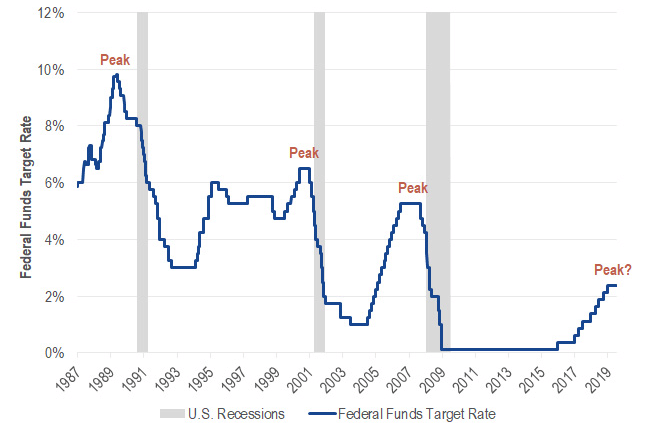 Source: VanEck, Bloomberg
While we are hopeful of a soft landing for the US economy, a hard landing cannot be ruled out.
The market is expecting a new cycle of US Fed rate cuts beginning in the second half of the year.
Most people take out insurance on their houses, spouses, boats and cars, and the history of hard landings suggests it might be time to think about financial insurance.
UBS found that over the last three decades, gold gained in four out of five periods when the Fed was cutting rates.
Dangerous debt levels may favour gold
Recessions aren't necessarily gold drivers; however, the financial stress that often accompanies recessions can bring a bull market for gold and gold stocks.
Debt or overleverage is usually the culprit, as was seen with subprime mortgages in 2008. The chart below shows the household debt bubble of the last cycle has been replaced by a sovereign debt bubble and also a possible corporate debt bubble.
US debt to GDP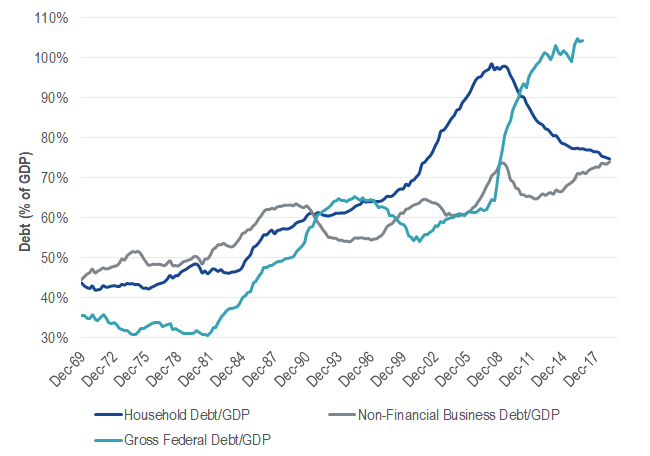 Source: VanEck, Bloomberg
As a percentage of GDP, the chart shows corporate debt has now surpassed the peak of the last cycle in 2009. The key risk in this cycle is lower credit standards.
The amount of triple-B rated US corporate debt – the lowest category of investment grade – has more than doubled since the crisis. It now accounts for 55 per cent of the investment-grade market.
Morgan Stanley figures that in a downturn, more than US$1 trillion of this debt is at risk of being downgraded to junk status. Many funds unable to hold junk debt would be forced to sell.
Another source of risk is the US$1.3 trillion leveraged lending market, which are often packaged into collateralised loan obligations (CLOs). We estimate around 80 per cent of corporate leveraged loans have weak debt covenants, up from 6 per cent in 2006.
While banks are in better financial shape than during the crisis, 85 per cent of leveraged debt is held by non-banks. This suggests that significant systemic risk now rests outside of the banking sector.
As gold advocates, we focus on the risks to the financial system that may impact investment portfolios. In our view, it seems the potential for a hard landing is growing. Meanwhile, we believe debt and poor credit quality have reached levels that may bring another financial crisis.