News
There's a meme for that!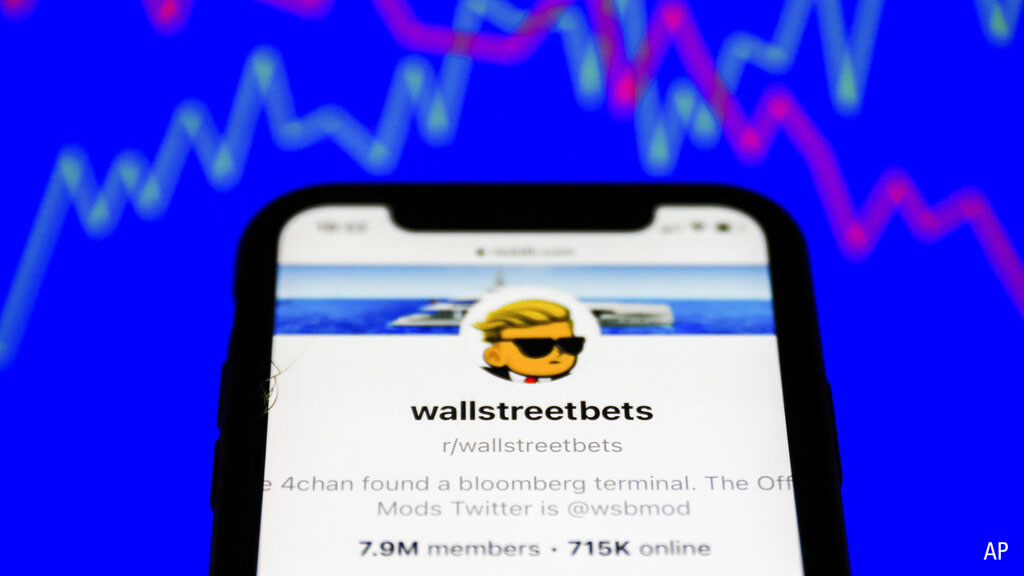 Ferris Bueller said, "Life moves pretty fast. If you don't stop and look around once in a while, you could miss it." Well, it is already September 2021. Almost 18 months have passed since Covid-19 sent global markets into a tailspin. Throwing money at the problem kept asset prices afloat, while the continuation of that strategy has ensured the everything rally continues unabated.
Meanwhile, Federal Reserve chairman Powell and his band of merry Federal Open Market Committee (FOMC) members continue to strut the speaker's catwalk, with increasing levels of dissent amongst members particularly notable. In the Middle East, an unfortunate turn of events in Afghanistan has heightened geopolitical risks and served another timely reminder that event risk always turns up uninvited.
What the rally giveth, hath not taketh away… yet
Having started my financial markets career in 1999, I have never seen such a sustained increase in so many asset prices simultaneously with traditional correlations breaking down. Though we have had sharp drawdowns, particularly in March 2020, the snapback was unprecedented in size and speed. The reasons behind this have been discussed ad infinitum, so there is little new I can add on that front. But it might be a good time to remind ourselves of Ferris' advice. Perhaps it is time to stop for a moment and look around, because no party goes on forever.
Exhibit 1: 10-Year Annualised Total Returns to 31 July 2021

Source: Morningstar Australia, BondAdviser
Don't confuse a bull market with your inner Warren Buffet
Chairman Powell reassured global markets that although taper is coming, rate rises aren't—at least anytime soon. Not quite sure how this was a surprise to anyone but like most news these days, markets loved the dovish tone accompanying the message and continued their march upwards. Equities trended higher, commodities held their ground and bond yields fell. Are bond markets underestimating tapering risk? Quite possibly.
Exhibit 2: Global Balance Sheets Going Vertical (USD, trillion)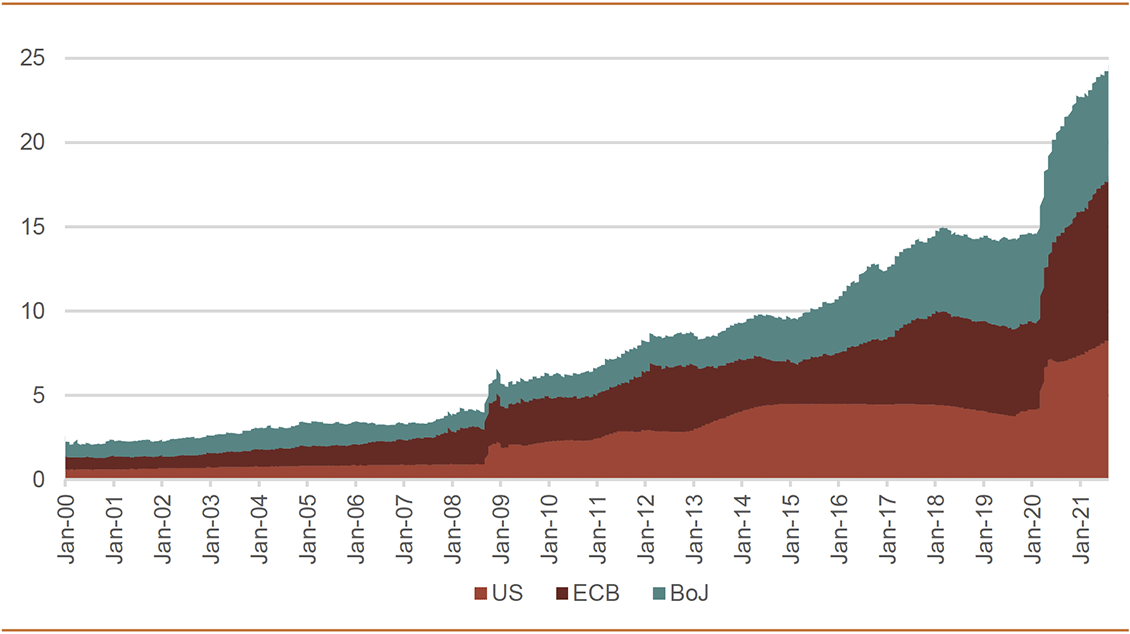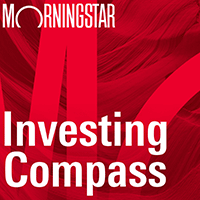 Listen to Morningstar Australia's Investing Compass podcast
Take a deep dive into investing concepts, with practical explanations to help you invest confidently.

Source: FRED, BondAdviser
The combined balance sheets of the US Federal Reserve, the European Central Bank and the Bank of Japan have exploded from about USD 2 trillion in 2000 to about USD 25 trillion. Over a ten-fold increase. On a per-person basis, based on the population of the US, EU and Japan, this is worth about USD $27,800. Furthermore, prolonged low interest rates globally have pushed cost of capital off the cliff and encouraged disproportionate risk taking as the search for yield intensifies. Suddenly, in the spirit of Linda Evangelista, many investors won't get out of bed for anything less than a ten-bagger!
This continued accommodative approach of central banks has unleashed a new battle on the front lines of financial markets—overconfidence. I must confess, it does concern me when I hear some portfolio managers boast of trailing 12-month outperformance being entirely attributable to skill and the best models on the street. I'm pretty sure I have heard that song before, and it goes by "When Genius Failed". Perhaps they would also like to talk me through their maximum drawdown in March 2020.
Like many, our performance has benefited from the technical tailwinds of the liquidity unleashed upon the global system, especially since April 2020. To ignore this when explaining our performance suggests we have also fallen into this age-old behavioural trap. In the words of Abraham Simpson when asked by the FBI if he was trying to stall them or was just senile, "a little from column A, and a little from column B". Most likely the answer is a little bit of skill and a little bit of luck.
With markets at long-term highs and increasing pockets of irrationality appearing, now might be a good time to pause and ask ourselves, are we falling into this trap? Overconfidence comes in many forms. The most common tends to be overtrading, using more leverage or simply not undertaking usual levels of due diligence. Fortunately, there's a number of potential ways to minimise this risk. Review your assumptions, talk to industry veterans about previous cycles and experiences or reflect on previous mistakes. Perhaps best of all, lean over to a colleague and simply ask, "am I a genius?". You'll likely find your answer there.
Exhibit 3: Are you though?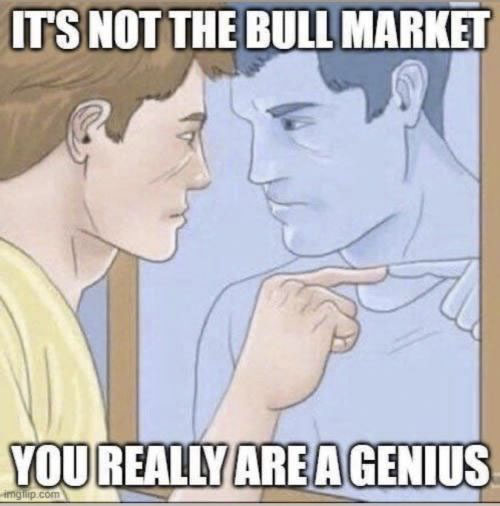 Source: The Metaverse
Neglect risk management in a bull market at your peril
I liken a disciplined risk management process to a sporting team's defence—often the key to success. Most attacking forays start from the back and when processes break down further up the field, a strong defence lowers the risk of conceding. Similarly, a robust and disciplined risk management process provides a cushion to a potentially irrational or harmful decision elsewhere along the decision-making chain. Making decisions on the fly without any such risk mitigation strategy is a recipe for disaster.
The seemingly never-ending liquidity taps have driven a stake through the heart of equity and bond market volatility. While investors watch assets trade at or near long-term highs, it is easy to be seduced by the search for yield while allowing risk management standards to slip. A quick look at Exhibit 4 highlights how expensive much of the AUD financials credit universe is currently trading relative to history. Granted, rates are low, and a relative valuation argument can be made with respect to different parts of the capital structure. However, the spectre of higher-for-longer inflation or an underestimation of tapering risk could undo this rapidly.
Another key risk that continues to build in global markets is geopolitical risk. The current geopolitical environment displays levels of potential instability that should present concern to risk managers. This might be the long-term fallout from the situation in Afghanistan. Or it might be a fracturing of relationships between Russia, China and/or the United States. Perhaps it might be cybersecurity related. Regardless, the lack of volatility in markets following the Afghanistan scenario should not create a misplaced sense of confidence all geopolitical risks would be treated equally by markets.
Maybe the risk that does catch out the debt markets is one we have been eyeballing for so long. Chairman Powell's suggestion of looming tapering last week could be one of those moments we look back on and say to ourselves, "we should have taken some risk off the table". When the Fed threatened to take away the stimulus punchbowl in 2013, financial markets embarked on the now famous taper-tantrum where equities sunk and bond yields rocketed higher. The embrace of the transitional inflation narrative, the expectation of no rate hikes for years to come and a drip feed approach to tapering might explain the more favourable market response to Chairman Powell's most recent comments. But dissent within the FOMC is growing, and that should not be ignored.
Exhibit 4: AUD financials credit—sub asset class box plots (trading margin)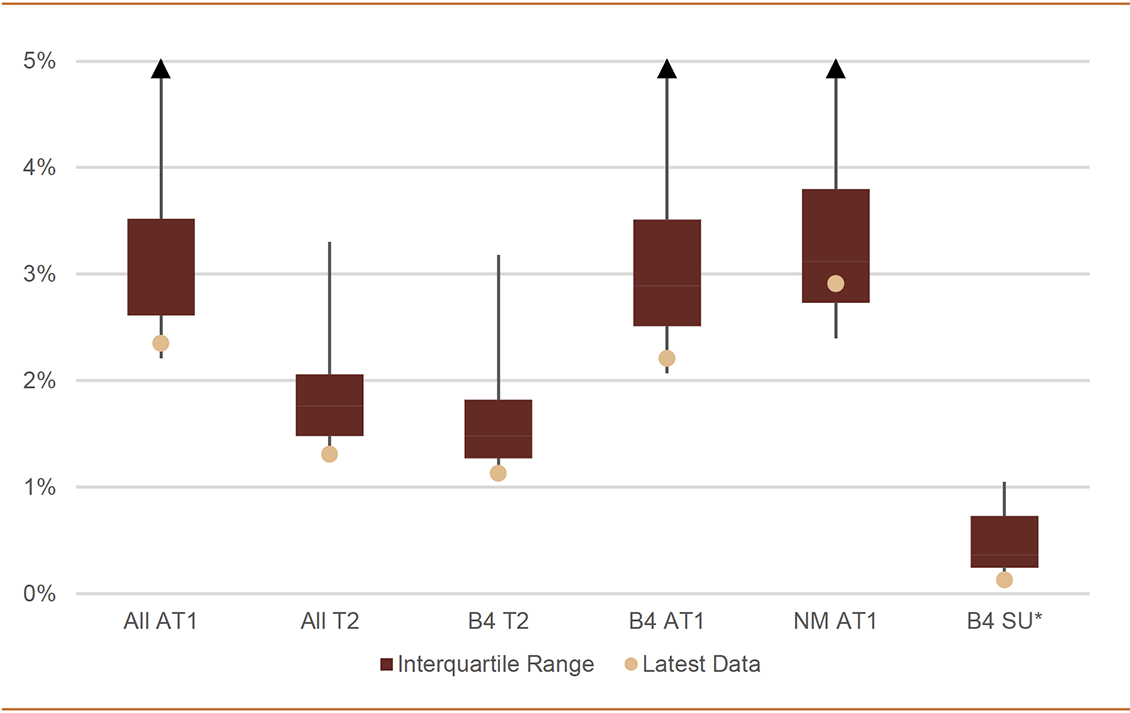 Source: BondAdviser Index Platform. As of 26 August 2021. Trading Margin data.
* Data from January 2015 onwards, others from January 2013 post Basel-III.
Investment observations
The asymmetrical risk of holding duration in this market is one we are not willing to embrace. As the tailwinds of recent years slow and the shadow of inflation looms large, there is a real risk of rising interest rate expectations coming. We also see the scenario whereby the "transitory" nature of inflation is longer than the market is pricing in—while not discounting the risk of a more prolonged period of inflation thereafter. As such, we continue to remain underweight duration, preferring floating rate note exposure.
BondAdviser's research driven, bottom-up investment process means we generally remain agnostic along the capital structure. We firmly believe attractive opportunities exist across all stages of the market cycle. Currently, we think the more illiquid domestic high-yield opportunities bring with them more attractive premiums and as a long-term holder of positions, comfort with credit risk is key to our positioning. So get comfortable, or don't go near it.
Cash optionality also remains important in these times of market ebullience. While the opportunity cost of holding too much cash for too long can be a drag on performance, we saw the inability to liquidate positions in March 2020 prevent many from being able to seize upon alternative opportunities. Attractive outliers will present themselves; they always do. Sometimes we may just have to wait a little longer than we are used to. Remember, rushing into decisions is often the manifestation of overconfidence.
We, like most, don't know what will happen tomorrow, and we are happy to put our hands up and say that. That only highlights the importance of maintaining an internal investment process built on robust risk management where key assumptions are regularly tested. As Mark Twain said, "It ain't what you don't know that gets you into trouble. It's what you do know for sure that just ain't so."