News
Ukraine brings our own democratic values into focus - Firstlinks newsletter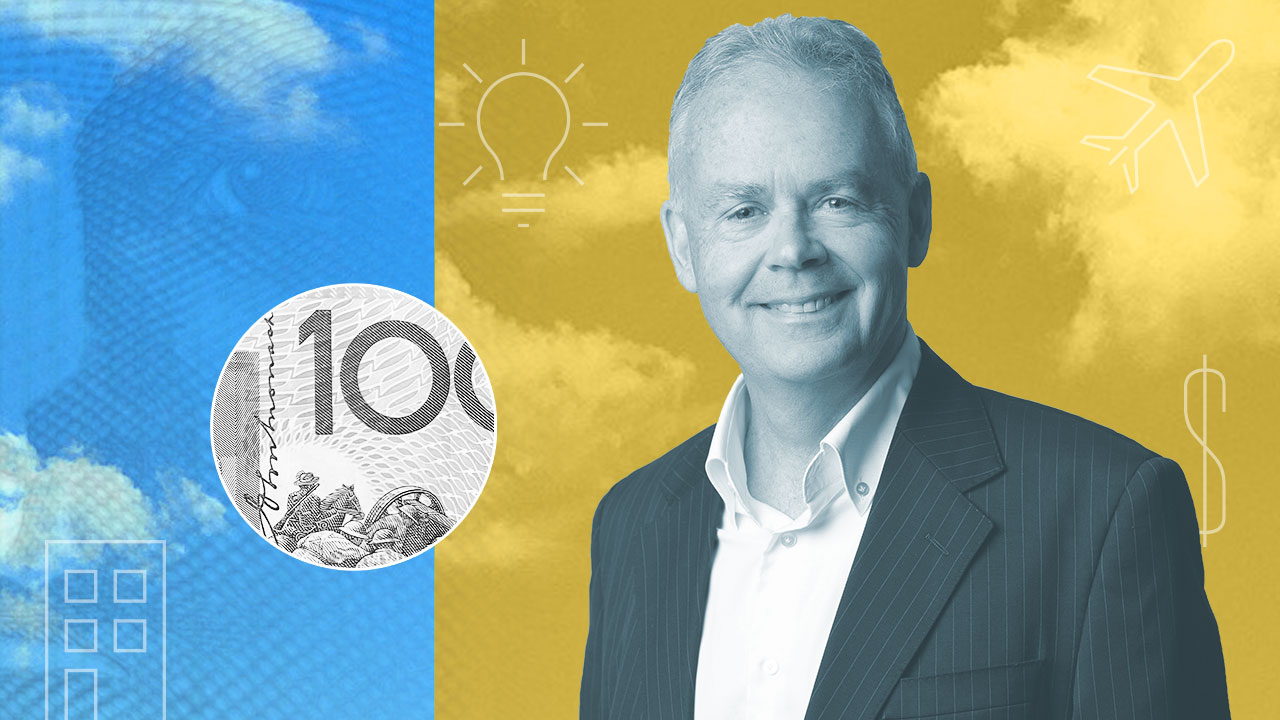 In early 2020 as Covid-19 hit, investment analysts suddenly became specialists in virus diseases and epidemiology because 'I don't know' is unacceptable. Now, our market experts are guessing what goes on inside the head of a megalomaniac who rules his country with an iron fist, when 'I don't know' would again be more accurate. Few if any expected Russia to launch a full-scale invasion of Ukraine. Do Vladimir Putin's ambitions extend further afield?
However, we do know what life is like under a dictator in Russia: innocent people arrested and jailed, no meaningful political opposition, corrupt institutions and closure of the free press. Despite its enormous natural wealth, Russia's per capita GDP is less than countries such as Romania, Turkey, Latvia and Hungary.
We also know one of the reasons Vladimir Putin wants to take over Ukraine is to remove the threat of an emerging democracy as a neighbour. Ukraine's political processes are far from ideal but a nearby functioning democracy could undermine Putin's power base if Russians want the same.
In Australia, we tend to take our democratic processes for granted. It's a pity at this time, especially with an Australian election looming, that the Museum of Australian Democracy (MoAD) in Old Parliament House is closed following the fire at the front doors. I visited MoAD shortly before it closed, and it's an important reminder of how we need to work to retain the values and features of our democracy.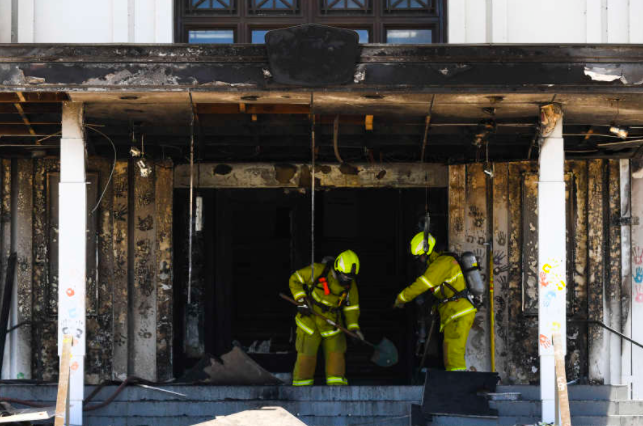 MoAD includes a terrific exhibition called Truth, Power and a Free Press on the role of the media in exposing corporate crime and government scandals. It's hard to avoid the irony that such a museum exists in a place like Old Parliament House at a time when there are more doubts than ever about the truth we are hearing from our politicians up the hill. Much political discourse has become divisive, insulting and sloganeering, the opposite of what MoAD calls for.
The exhibition includes this explanation, which large sections of our mainstream media prefer to ignore: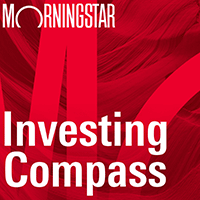 Listen to Morningstar Australia's Investing Compass podcast
Take a deep dive into investing concepts, with practical explanations to help you invest confidently.

"News needs to be trustworthy. Facts need to be reported as accurately as possible ... sometimes it means confronting those who wish to prevent the publication of facts that are in the public interest. Without a shared basis of fact, trust declines and democratic debate withers."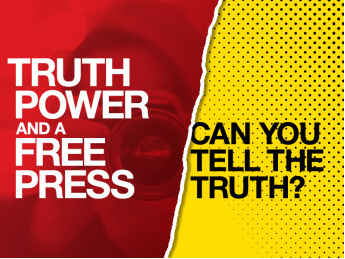 We cannot take our special democracy for granted, as Daryl Karp, a Director of MoAD wrote about a new exhibition called Democracy DNA:
"Australia's democracy is a unique amalgam of institutions and practice adapted from the UK, USA and elsewhere. It's something we've built. It is not innate, nor simply inherited, nor is it fixed in time. It reflects our pragmatism, our mistrust of authority and our willingness to work together. When completed, Democracy DNA will occupy the core, three central spaces in Old Parliament House, encouraging Australians to value our democracy, to understand how it works, see themselves as part of the story; consider how they engage with it, and what they expect from their representative and government." (my bolding)
The coverage of the war in Ukraine reminds us how lucky we are to live in Australia, and we need to focus on keeping it that way. In the book, How Democracies Die, the introduction says:
"Is our democracy in danger? Harvard professors Steven Levitsky and Daniel Ziblatt have spent more than twenty years studying the breakdown of democracies in Europe and Latin America, and they believe the answer is yes. Democracy no longer ends with a bang - in a revolution or military coup - but with a whimper: the slow, steady weakening of critical institutions, such as the judiciary and the press, and the gradual erosion of long-standing political norms. The good news is that there are several exit ramps on the road to authoritarianism."
Most Australians probably think our country is a bastion of democracy, but as this recent chart from The Economist shows, we are not top notch (light blue instead of dark blue). For example, compared with New Zealand, Australia is considered inferior on 'functioning of government', 'political participation' and 'civil liberties'.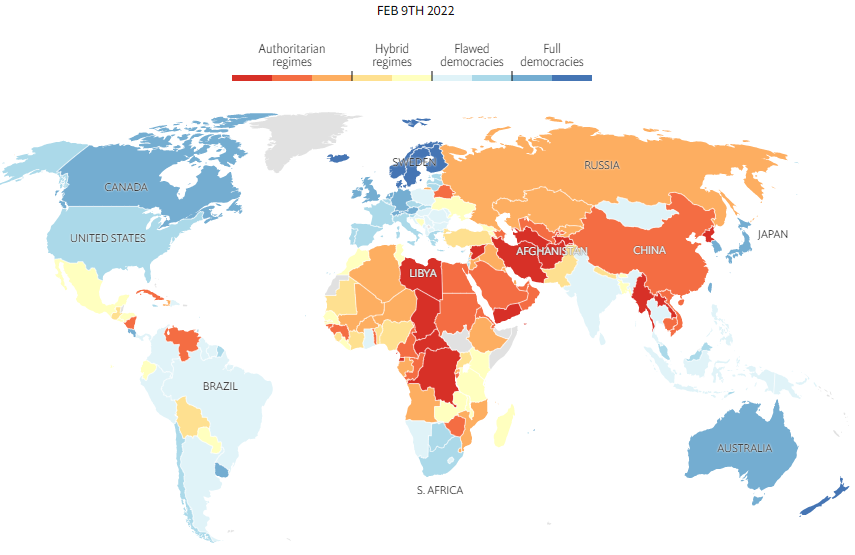 MoAD is an important place which shows what brave journalism can achieve, and why both mass media and politicians should encourage a democracy which unites rather than divides and allows a constructive discourse without lies. With an election inside 90 days, and plenty of 'national interest' scaremongering to come, I'm not holding my breath. It's a pity the terror of Ukraine's fight does not bring a reality check to our meagre domestic politics.
On to our articles ...
The superannuation industry is undergoing the most profound changes since the introduction of the Superannuation Guarantee 30 years ago. Most of our readers hold super in their SMSFs, but many (and particularly their children) are affected by the consolidation of the large funds. This week saw the largest-ever merger with the $130 billion QSuper and $97 billion Sunsuper merging into the $230 billion Australian Retirement Trust (ART). It is now second only to AustralianSuper in size. Greg Bright looks behind another merger between Cbus Super and Media Super in a short journey down memory lane. He makes the good point that the 'craft' funds often had a special relationship with their members.
Then four articles with a focus on investing.
February is a busy reporting season for fund managers and analysts as companies present their results, and Jun Bei Liu and Max Capetta report on six stocks in their portfolios which delivered pleasing results.
Andrew Parsons addresses opportunities in global real estate in a climate of rising rates and inflation, and shows the sectors he particularly likes in a global sector few Australians include in their portfolios.
'Smart beta' funds are a personal favourite as I introduced the concept to the Australian retail market in 2008. Arian Neiron describes their role as somewhere between active and passive investing, and how they can work well in a portfolio of different styles to reduce the overall cost.
Andrew Macken and his team have been doing serious research on Artificial Intelligence, or AI, and have come to the conclusion that it represents a turning point for many industries. He identifies the three companies who will dominate its adoption globally.
Then two articles with a lighter theme after all this serious stuff. Continuing on from last week's article that investing is a 'colossal waste of time', Ben Johnson argues that most investors will benefit from having part of their portfolio assigned to 'fun', as a relief valve to reduce tinkering with the main book.
And lawyer Donal Griffin looks at the new House of Gucci movie for lessons for family businesses and succession planning. None of the Gucci family is now involved in the business so maybe they could have planned better.
A final comment on taking care reading market commentary on the Russian invasion because there are so many moving parts and they change every day. We saw an extraordinary day last week where the NASDAQ swung from down 2.6% to up 3.4% in a range of 6%. ONE DAY. It prompted an analyst to write:
"If you're looking for signs of a bottom, the good news is that this is how they happen. The bad news is that this type of volatility is also what you see before things get a lot worse. At every major market bottom over the last decade, we saw heavy buying off the lows. But we also saw this activity on the way down before a floor was reached. 2008-2009, 2011, and 2020 all experienced multiple failed rallies along the way."
In other words, he has not got a clue what will happen and he is in the majority.
Gold is on the minds of more investors following Russia's invasion. This week's White Paper from Perth Mint looks at the prospects for gold, including when faced with inflation, and gold's role in portfolios, especially SMSFs.
Lots of good comments and large view numbers last week for Peter Thornhill's article on long-term investing in equities. Many of you have developed solid principles along the same lines where you live off dividends which do not normally fluctuate as much as share prices. For example, this Comment of the Week from Antoine:
"I agree. A similar philosophy has worked well for me for the last 30 years.
Suggestions: It's time to retire when the dividends more than cover living expenses. Then the growth in dividends means it's highly unlikely any shares will have to be sold to provide cash. Thus the volatility in the market becomes meaningless. End of worries. In 1993 I constructed a portfolio to mimic the All Ords by buying the dozen largest companies, weighted by market cap. It followed the index close enough for years with no fees, taxes or any middlemen."
Anyone adopting this strategy needs to accept the volatility in the value of the assets as a cost of tapping into growing dividends.
Finally, congratulations to the Winners of the 2022 Morningstar Awards: