News
Who doesn't like free money! - Firstlinks newsletter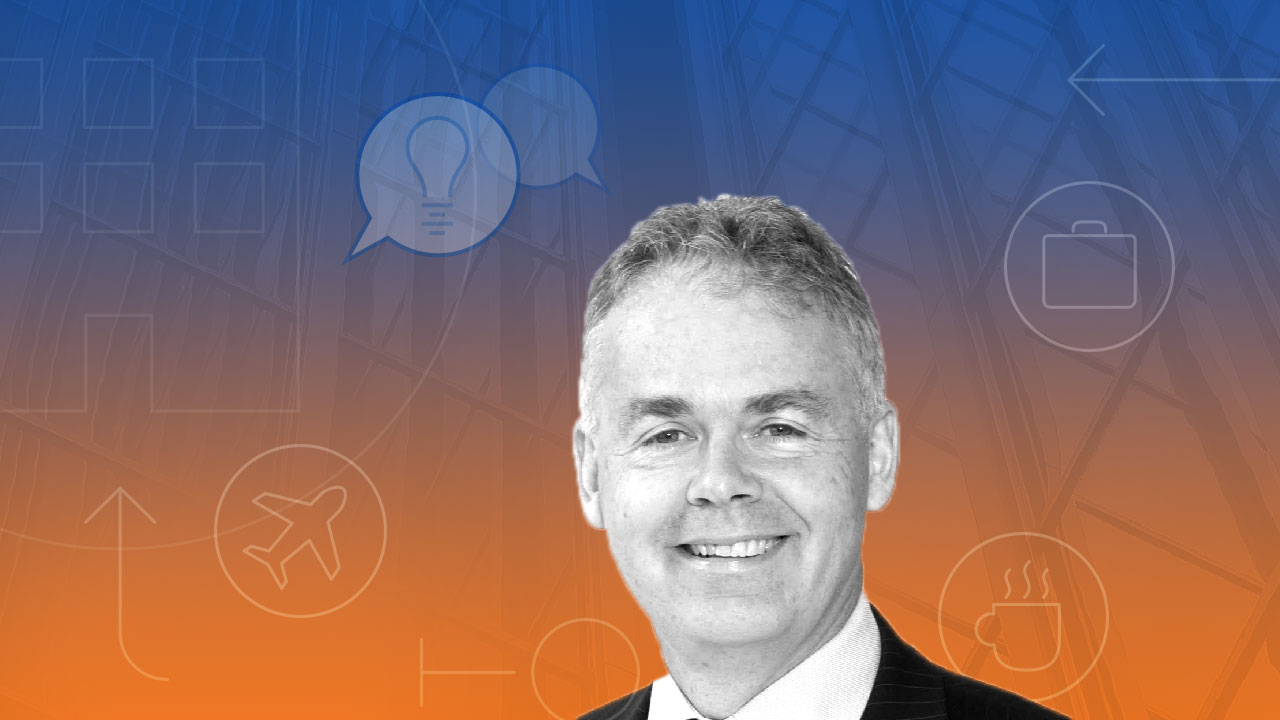 Treasurer Josh Frydenberg is loving it. Two years ago, the budget was Back in Black, now it's Simply Red and the politics works well both ways. This year, he's a sugar daddy as the Hot Chocolate references are flowing thick and fast. ABC TV declared 'Everyone's a winner, baby, that's the truth'. The Australian featured 'I believe in miracles' on the front page, from 'You Sexy Thing'. I'm old enough to own Hot Chocolate's Greatest Hits (and I saw them live in London) and the album includes other suitable songs such as 'You'll Always Be a Friend' and 'Don't Stop It Now'.
As Laura Tingle said in 7.30's coverage of the budget:
"There have been three prime ministers and three treasurers in the eight years the Coalition has been in power. But until very recently there has just been one overwhelming idea driving its management of the federal budget: debt and deficits."
The momentum in Australian politics is to big governments, spending over restraint and acceptance of deficits as the new doctrine. A popular test, as shown below with Labor in red and the Coalition in blue, is the ratio of spending to GDP. In the John Howard years, it was always below 24 per cent but now 26 per cent to 27 per cent is accepted, a level the Coalition criticised Labor for when 'debt and deficit' mattered.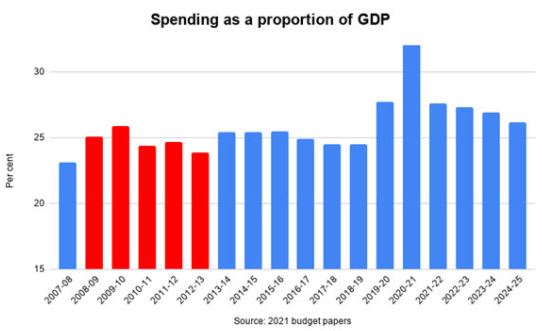 The political policy shift is global. In the US, the balanced budget rhetoric died decades ago, but Donald Trump took deficits to another level with corporate tax cuts and military spending. President Biden is going even further as the public loves the stimulus cheques even if some higher taxes are threatened. Who doesn't like free money!
This week, we focus on major consequences of governments believing there are few limits to their spending. With the assistance of Liam Shorte and Lewis Jackson, we summarise the major budget changes and differentiate between the superannuation measures for FY2021 and FY2022. Note that this week's changes need legislation and are some way off.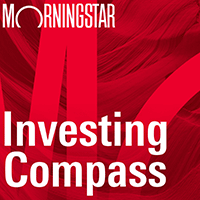 Listen to Morningstar Australia's Investing Compass podcast
Take a deep dive into investing concepts, with practical explanations to help you invest confidently.

Then we examine Australia's love of residential property investing, especially the willingness to buy into an off-the-plan dream in a building that will not be completed for three years. It's a leap of faith and few people know the big risks they are taking on future defects.
Meanwhile, we are seeing a tech price correction with major falls in Australia and the US. Thousands who borrowed to invest 'to the moon' are realising debt needs to be repaid. As Charles Mackay recorded in Extraordinary Popular Delusions and the Madness of Crowds:
"Men, it has been well said, think in herds. It will be seen that they go mad in herds, while they only recover their senses slowly, and one by one."
We are seeing in cryptocurrencies, especially Dogecoin, where months of favourable Twitter posts by Elon Musk drove up prices, that precipitous falls happen simply when he calls it "a hustle". In the first quarter of 2021, the IPOs of 300 Special Purpose Acquisition Companies (SPACs) raised US$100 billion, making a few people wealthier than they ever dreamed.
Australian share investors are far more restrained on leverage than Americans. Based on Reserve Bank data in Table D10, Australian margin lending into shares totalled only $16 billion in December 2020, compared with a high of $41 billion just before the GFC.
However, in the US, margin debt balances are at all-time highs, as shown below, boosted by easy-to-access loans and cheap trading platforms.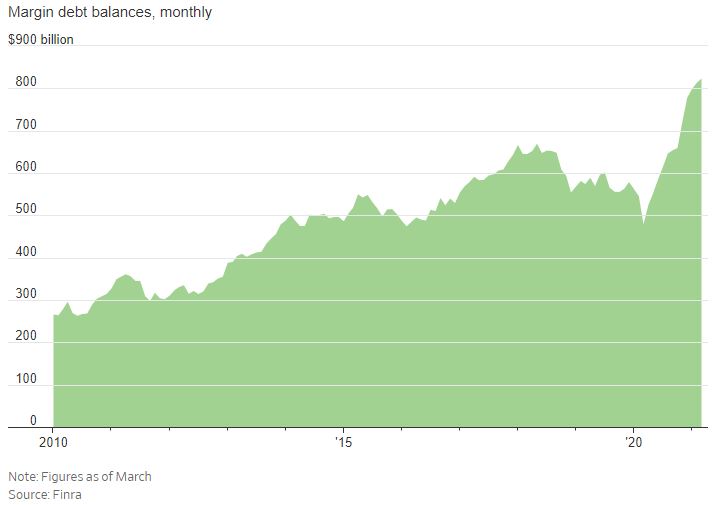 All this asset optimism makes assumptions about the favourable future course of inflation. The CPI data released in the US overnight showed prices rising by the most since 2008 due to supply chain issues and a rise in demand as the economy opens. The annual increase to April 2021 is 4.2 per cent, higher than the consensus. While the Fed remains sanguine, the S&P 500 dropped 2 per cent and the NASDAQ another 2.7 per cent.
In Australia, do you feel prices are rising but we don't see it in the CPI? Jesse Imer explains how this happens, and it's not that prices are steady, it's the way the statisticians measure inflation.
Don Stammer draws on his decades of experience to answer one of investing's most important questions. Is all this stimulus, spending and money printing likely to have inflationary consequences? Inflation is becoming a big deal for all markets.
We then publish a surprising reveal, written anonymously but from a trusted source. The crooked Bernie Madoff came very close to signing a distribution deal with a major fund manager in Australia, which could have destroyed the savings of thousands of Australians. A lucky escape based on some final compliance checks avoided massive brand damage.
Although the growth of ETFs has taken them well past Listed Investment Companies (LICs) in recent years, there are about $53 billion worth of LICs on issue. Claire Aitchison explains one advantage LICs hold, the ability to sustain their dividends, and shows which specific LICs cover many years of future payments.
Then Craig Day describes how to use the higher contribution caps and a reserving policy to make extra contributions this financial year based on a little-known strategy. The detail is complex but the basic idea is simple.
This week's White Paper section includes additional budget news from Shane Oliver of AMP Capital with a broader coverage of the details and a short video from nabtrade's Gemma Dale identifying her highlights.
Favourite Comment of the Week came from David, who argues the impact of index funds is overstated because most people think they can outperform:
"There will always be people out there who think they can beat the market. just a few will and most won't. But just those few will inspire others to think they can do it when clearly they can't. I would say then that the number of people who clearly know they can't beat the market would be extremely small, so the impact of index funds will probably never be that great as there is a natural tendency of humans to think they far better than they actually."
Now I'm off to play the Hot Chocolate album I haven't listened to for 20 years, hoping to channel the happiness that the Treasurer is feeling this week. He's suddenly realised he has the money to keep everybody happy.