News
Why the market thinks interest rates are too Lowe - Firstlinks newsletter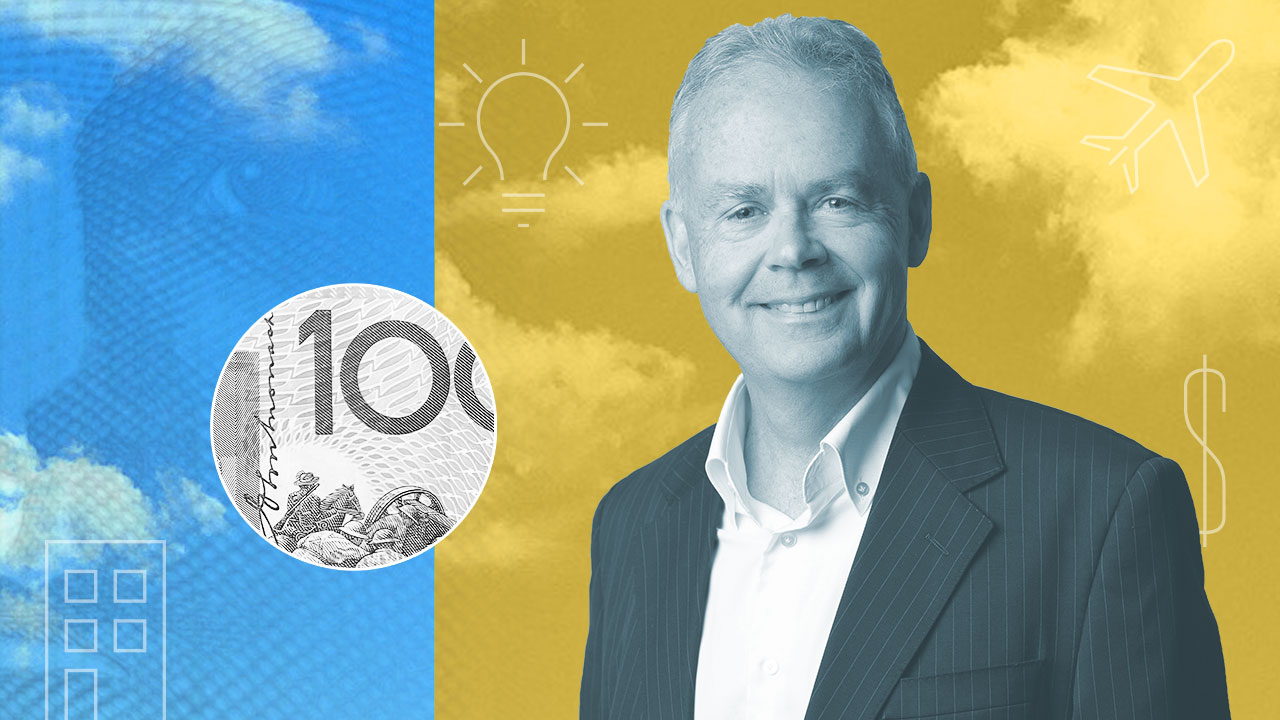 The Reserve Bank Governor, Philip Lowe, received his Bachelor of Commerce (Hons) at UNSW in 1985. It's the same degree I collected in 1980, in the graduate class with two of Australia's most prominent economists, Ken Henry and Warwick McKibbin. Lowe had joined the RBA in 1980 in a clerical role after growing up in a large family in Wagga Wagga, and he completed his degree part-time at night with an RBA scholarship. I had a university scholarship with the Commonwealth Bank and went straight from university into the investment department.
That's where most of the similarities end. I went off to make money for CBA and myself without a public duty bone in my body, while according to Ian Saines, who I worked with at CBA, Lowe was cut from finer cloth (to mix my metaphors):
''He could have pursued job offers in the private sector that would have potentially been much more lucrative but he has a strong, altruistic sense of public duty and a sense that he can make a contribution to the national interest.''
And so fast forward a few decades and Lowe's voice is the most influential on interest rates in Australia. He controls how much it costs to finance a business, borrow to buy a house and earn on deposits. So let's take two quotes from his career, also decades apart, to see what he thinks.
In 2002, he was working for the Bank for International Settlements (BIS) in Basel, Switzerland (where I worked with Swiss Banking Corporation in 1985), when he wrote a paper on monetary policy and asset prices. A lot has happened in 20 years but it could hardly be more relevant today. Quoting from the paper:
"This paper argues that financial imbalances can build up in a low inflation environment and that in some circumstances it is appropriate for policy to respond to contain these imbalances ... In particular, sustained rapid credit growth combined with large increases in asset prices appears to increase the probability of an episode of financial instability. The paper also argues that while low and stable inflation promotes financial stability, it also increases the likelihood that excess demand pressures show up first in credit aggregates and asset prices, rather than in goods and services prices. Accordingly, in some situations, a monetary response to credit and asset markets may be appropriate to preserve both financial and monetary stability."
'A monetary response' means higher interest rates, but Lowe has changed his targets, as he said on 3 August 2021: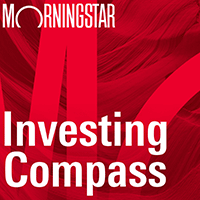 Listen to Morningstar Australia's Investing Compass podcast
Take a deep dive into investing concepts, with practical explanations to help you invest confidently.

"the Board has said that it will not increase the cash rate until actual inflation is sustainably within the 2-3% target range. It won't be enough for inflation to just sneak across the 2% line for a quarter or two. We want to see inflation around the middle of the target range and have reasonable confidence that inflation will not fall below the 2-3% band again. Our judgement is that this condition for a lift in the cash rate will not be met before 2024."
Lowe and the RBA have set a very high bar. It no longer seems to matter what happens to asset prices, despite his 2002 paper saying: "Rapid credit growth combined with large increases in asset prices appears to increase the probability of an episode of financial instability." And "... a monetary response to credit and asset markets may be appropriate to preserve both financial and monetary stability."
Financial markets disagree on his 2024 outlook. These two charts from Curve Securities show dealers can make a lot of money backing against Lowe's forecast. The cash rate futures curve has pushed out to about 0.75% by early 2023, a big rise in the last month. The current cash rate is 0.1%. Like ... wow, that's a significant difference!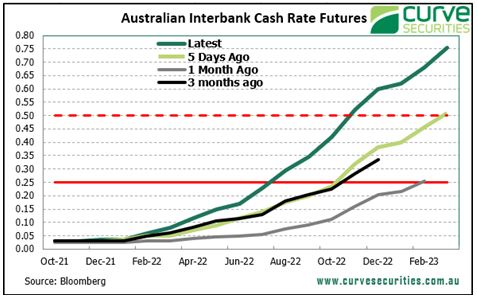 This feeds into the bank bill futures rate against which many business loans and other borrowings are priced, pushing over 2% by late 2024. It's 0.75% before the end of 2022. Only one of Philip Lowe versus the market will be right.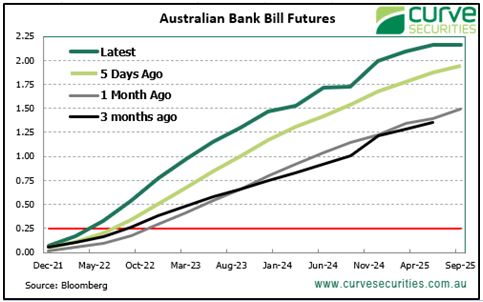 Much of the rate and inflation outlook hangs on whether current trends are indeed 'transitory'. Even the word itself can mean 'lasting only a short time' or 'not permanent' which leaves a wide range of outcomes. Roger Montgomery is on the side of inflation staying under control, and he identifies two themes and two companies his funds are backing strongly at the moment.
There has been extensive coverage of the $1.2 billion the Federal Government paid to five consulting firms in FY21, especially after cuts to public servant numbers. That's serious coin. We take a look inside the guidelines of a consulting firm to learn how they bill for their assignments. The document might help anyone who deals with a professional who charges by the hour.
We read a lot about life expectancy but do we understand what it really means? In financial planning, it is often used as the time period to cover until your money runs out. Don Ezra says this is a fundamental misunderstanding likely to lead to an incorrect outcome.
As threats to supply chains force many companies to reassess how their goods are produced, questions are asked about whether globalisation is dead. Vanguard assembled its senior team to respond to investor concerns.
Two articles relating to financial advice. Rodney Horin questions the outdated definition of 'sophisticated investor', where rising stockmarkets and house prices have created millions of wealthy people who are far from sophosticated. And Cecilia Storniolo looks at ways to lower the high up-front cost of financial advice, because many people who need assistance are missing out while advisers are buried in paperwork.
Finally, Satyajit Das examines the favourable conditions that have supported the funds management industry for the last few decades, and asks whether a golden era is coming to an end. When I mentioned some fund manager success stories to him, including highlighting the coming IPO of GQG partners which was only established five years ago and will float with a value of about $6 billion, he quoted economist Rudiger Dornbusch:
"Things take longer to happen than you think they will, and then they happen faster than you thought they could."
This chart from the GQG prospectus shows estimates by Boston Consulting on which asset classes are likely to grow to 2025 and the margins charged (which are gradually reducing). So while this offers support for active management, another chart supports one of Das's arguments about the switch to passive, in the chart following.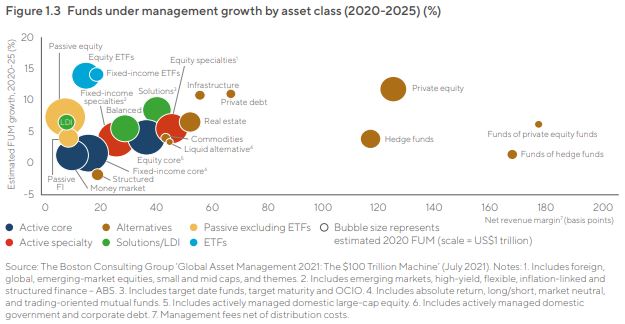 Amid many success stories, other fund managers are struggling, as described in my article from a couple of years ago.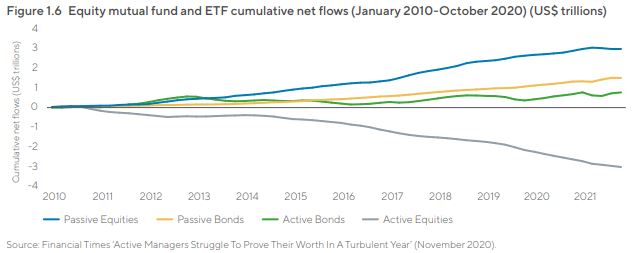 This week's White Paper from Epoch Investment Partners (one of the GSFM fund managers) looks at the new businesses formed during the pandemic, especially the record number of unicorn births in fintech and biotech.
And the Comment of the Week comes from Stephen, who wrote on the house price article:
"I suspect that we might find out in twelve months that the RBA has been fighting the last war in its effort to raise wages and inflation and that its indication/promise that the cash rate will not rise until 2024 was unwise. It has set the scene for it to be boxed in on these issues, which will limit its ability to change policy."
The latest updates below include the September 2021 ETF Review from BetaShares, confirming record flows into ETFs and reaching another all-time high of $125 billion.