News
Will your kids inherit your home and your loan? - Firstlinks newsletter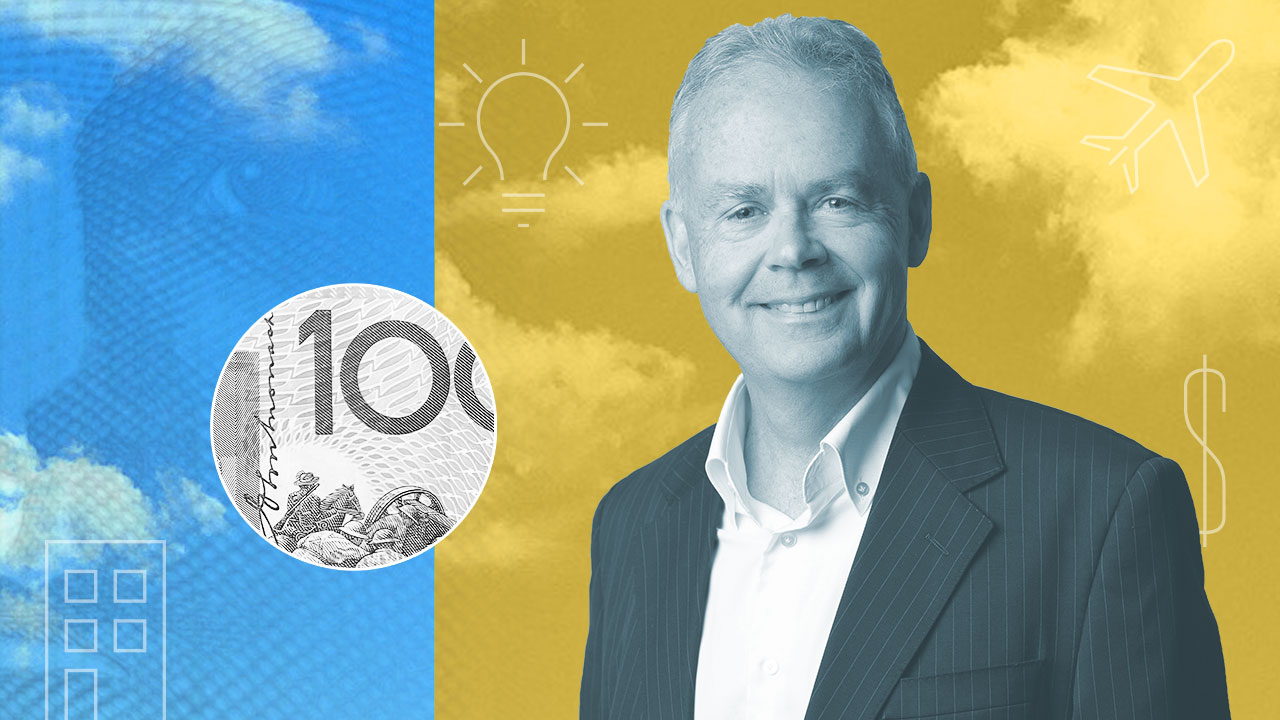 Headline writers reaching for superlatives to describe the rise in Australian house prices in the last 12 months (up 19.3% on the CoreLogic 5 Capital City Aggregate) make regular references to 'the fastest increase in 33 years'. So what happened in 1988? In only one quarter, June 1988, residential property prices rose 9.6%, but that's where the similarities end.
Between September and November 1987, the ASX All Ordinaries price index fell 50%, prompting a big asset switch to the security of property, both commercial and residential. Kicking it along, the cash rate fell 1.5% between September 1987 and June 1988.
Cash rates down, money flowing into property ... sounds like 2021, right? Wrong. The cash rate fell from 15% to 13.5%. Such rates would bury current day borrowers financing at 2% with debt to income ratios of 2021. And the current flows to property are not a switch from equities, which are themselves experiencing major inflows. The 2021 property boom is more funded by the ready availability of debt.
According to the Australian Prudential Regulation Authority (APRA), 22% of new mortgages in the June 2021 quarter went to borrowers with debt-to-income (DTI) ratios above six. Some banks allow up to nine times. Since 1988, the ratio of house prices to household debt has risen from 2.5 to over 5.5.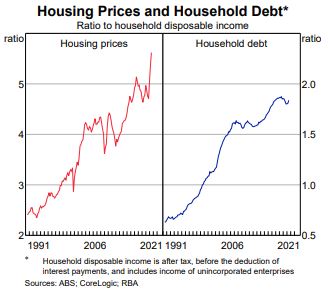 Here's a major difference between 1988 and 2021. Back then, while paying a mortgage at 13.5% was tough, inflation was also high and wages kept pace with rising prices. Over the years, the debt was inflated away, such that most people had paid off their mortgage when they entered retirement.
Now, inflation is low and the debt retains its current value for longer into the future. If someone takes a loan for say nine times their income, while they can service the interest repayments due to low rates, they make little inroads into the principal. Inflation no longer fixes the debt burden, and far more people will enter retirement with large mortgages.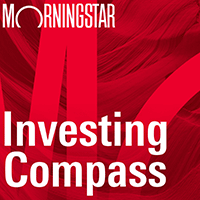 Listen to Morningstar Australia's Investing Compass podcast
Take a deep dive into investing concepts, with practical explanations to help you invest confidently.

It has long-term consequences, neatly summarised by MacroBusiness economist, Leith van Olselen. He says it's as if the banks have adopted a subscription model for the clients to buy homes. It's similar to Microsoft switching to an annual subscription fee rather than selling their software upfront. The banks now collect annual interest payments but many borrowers never pay off the debt. It works fine as long as interest rates do not rise too much, especially when house prices are rising, except it leaves the owner with a mortgage to service in retirement when work ceases.
Often, the superannuation is used to pay the debt, or Australia will move to intergenerational mortgages, as they have in Japan, where they have 100-year mortgages. A house becomes 'ancestral' and is passed with the loan over multigenerations.
And what happened after the house price boom of 1988? Heavy falls through 1989 to 1991 with many quarters of prices down around 1.5%. In November 1990, Paul Keating called out 'the recession we had to have'.
Susan Thorp tackles this issue by looking at the failures of policies to adequately link home ownership with retirement income. The family home is the largest asset for most retirees but it's least likely to be used for retirement income. Susan rates the current system a poor 'D'.
Continuing the home focus, we have extracted charts and predictions from the work of Alan Oster and his economics team at NAB to give a state of play at this critical point. Price rises are slowing and eventually rates will rise, even if only slightly, but there are reasons for market resilience.
We have documented previously how RBA Governor, Philip Lowe, and the market are differing on rate and inflation expectations, with further evidence in this week's CPI release. It showed a jump in the trimmed mean, RBA's preferred measure of inflation, up 0.7% taking the annual increase to 2.1% which is within the RBA target range and the highest since 2015. The recent rise in bond yields means the Bloomberg AusBond Composite index is likely to produce its first negative return for 20 years in 2021. It presents obvious challenges for defensive portfolio allocations, so watch those 60/40 funds.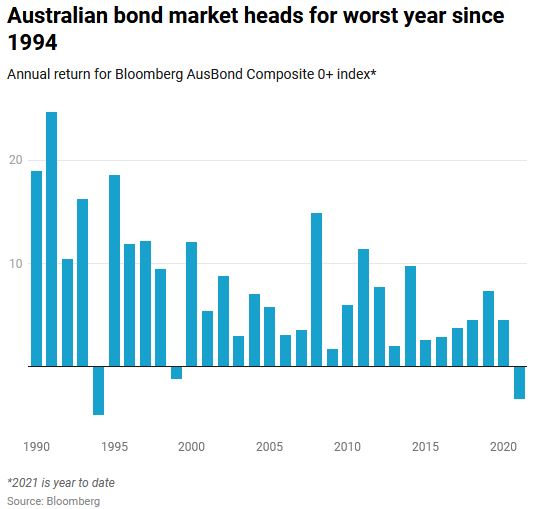 Investors in the Bank of America Global Fund Manager Survey report their most underweight exposure to bonds since the research began in 2001. Professional investors have voted with their money and this is putting further upward pressure on long-term rates.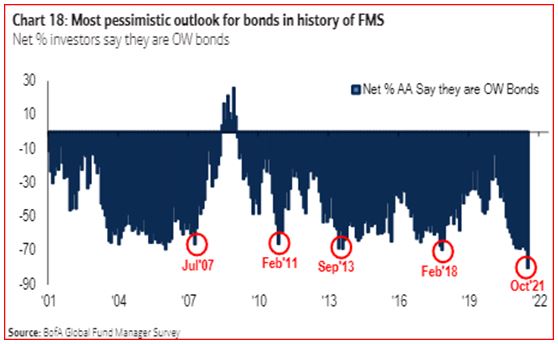 The White Paper this week from Sage Capital looks at inflationary consequences for portfolios, and how to invest with this threat not seen for many years, transitory or not.
Still on housing, Michelle Morgan and Norman Derham take the view that the balance sheets of banks and the vast majority of borrowers are far more robust than those worrying about 'financial instability' claim. It's a challenge to the popular view gaining momentum.
Back on bonds, even if there is a modest rise in rates, the returns will not satisfy investors needing income to live on. With a Government Inquiry reporting this week on how to open the corporate bond market to more investors, beyond the current 'sophisticated' definition, Matthew Macreadie checks some unlisted opportunities at different points of the risk spectrum.
Andrew Mitchell then gives some excellent examples of four mental biases that undermine our investment success, and ways to cope with potential mistakes and turn them into opportunities. It's all in the mind.
In the short term, there are many factors which drive stockmarkets, but Damien McIntyre looks through the recent expansions in Price/Earnings ratios which have driven popular growth stocks to high prices to show where returns really come from over the long term. Cash flow is king.
Emerging markets are increasingly on investor radars, and Valeria Vine reports on 10 trends that will guide the destiny of these newer market opportunities.
This week's Comment of the Week from Billy was in response to the article on how financial advice is changing, where many people described that the role of advisers has moved well beyond picking investments.
"I once received a financial plan that (amongst other things) had four pages which showed that in certain times "growth managers" performed better than "value managers" and at other times the opposite was the case. They presented a nice graph to prove their point, and recommended a "blend" of managers, some growth and some value. Dah! I could produce an almost identical graph that showed that at some times a manager who's name commenced with the letters between A and L produced better returns than managers that commenced with the letters M to Z and at other times the opposite. Four pages wasted, which took time to produce and time for me to read, but didn't add value. The average return of the "value" and "growth" managers? Same as the index, but with higher costs. All for "compliance" reasons. Adding cost, but not value."
This week, the Government announced some changes to superannuation rules effective from 1 July 2022.
Removal of the $450 per month income threshold under which employees do not have to be paid the superannuation guarantee by their employer.
Eligibility age to make downsizer contributions into superannuation will reduce from 65 to 60 years of age.
The maximum amount of voluntary contributions that people are able to release under the First Home Super Saver Scheme (FHSSS) will increase from $30,000 to $50,000.
Finally, I will be taking a two-week break and for the first time in nine years, turning on my OOO and trying to switch off completely. Leisa will be assisted by Guest Editor, Harry Chemay, best known as the co-founder of Clover and his years at Mercer. Harry recently gave this talk on housing (un)affordability if you want to put a face to the name.