News
Zooming in on a treatment for the corona crisis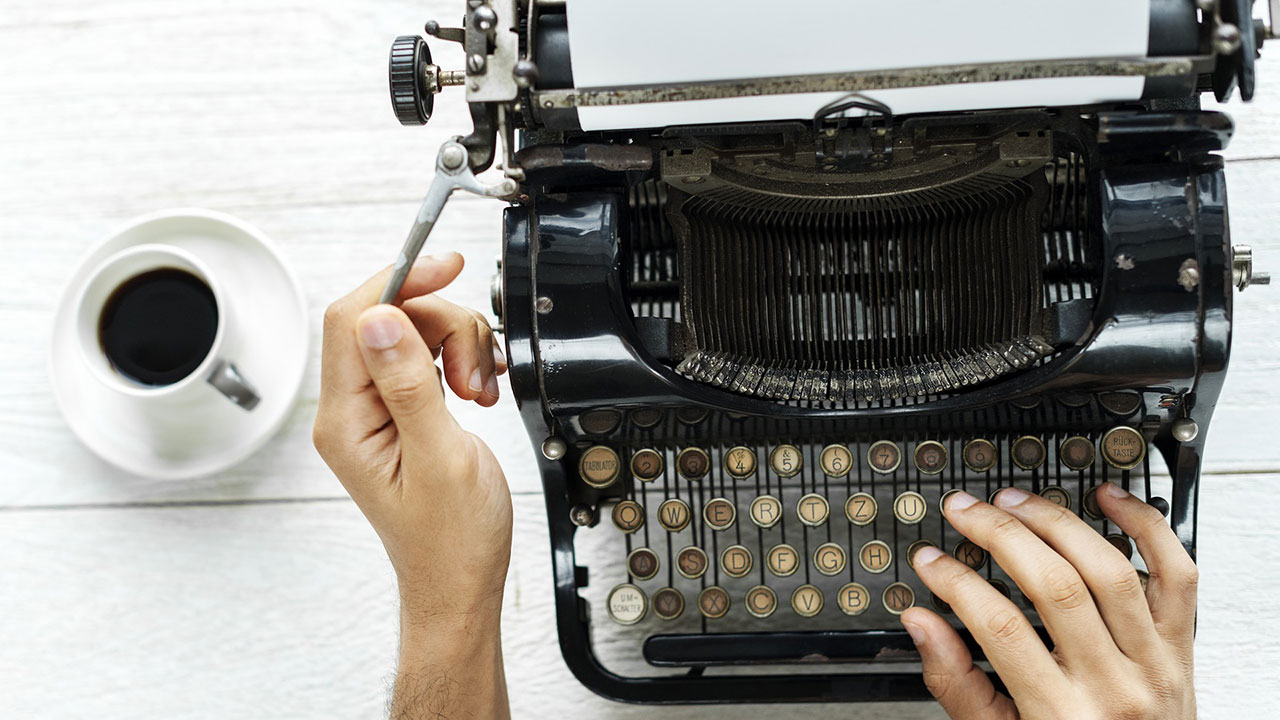 April has only just begun and there is already a stream of contenders for word of the year. "Covid-19" is the obvious frontrunner, and it has spawned a host of other irritating neologisms, the most egregious being "social distancing".
Newer, more exotic, and more useful words are, however, entering the lexicon. One is "remdesivir". Another is "kevzara". The first is a potential therapy for the coronavirus; the second is an arthritis drug, which is also being trialled as a treatment for the virus. Remdesivir, manufactured by California biotech Gilead Sciences, is the leading hope for an effective treatment, according to Morningstar equity analyst Karen Andersen. So far there have been some encouraging, but not definitive, signs of its effectiveness. And data is expected later this month from controlled studies in China. Andersen puts redemsivir's chances of approval at about 70 per cent. "We're waiting for these studies that have a control arm to give us more indication," she said this week.
Meanwhile, Sanofi and Regeneron are leading global clinical trials to see if kevzara, a treatment for rheumatoid arthritis, can help covid-19 patients. And Johnson & Johnson is, of course, working on a vaccine which it expects to trial in September for potential release early next year. As Andersen puts it, we will have waves of the virus and additional social distancing in the second half of the year, but not at the level we're seeing now, given the future availability of treatments.
Speaking of annoying new words, have you been "zoombombed" yet? As the boss of video-calling app Zoom Technologies, Eric Yuan, is now painfully aware, zoombombing has become so serious even the FBI is worried. Zoombombing, as the Urban Dictionary reliably informs us, is "a method of trolling in which the zoombomber uses Zoom's screen-sharing feature to interrupt an online meeting with a potpourri of violent and pornographic images that can leave a lasting impression on the meeting goers." Zoom's share price has soared this year, but the zoombomber threat has caused some high-profile users, like Elon Musk and New York City schools, to hang up. Morningstar analyst Dan Romanoff this week shared his screen to assess the company's prospects.
Another effect of the virus has been the hit to dividends. Central banks have urged lenders in the UK, Europe and New Zealand to stop the distributions. And Australia is following suit, as Morningstar banking analyst Nathan Zaia tells Glenn Freeman.
Also this week, Anthony Fensom examines why government and corporate bonds with top credit ratings couldn't dodge the corona rout. In doing so, he spoke to Morningstar's director of manager research Tim Wong who argues such bonds still form an essential part of a diversified portfolio.
Meanwhile in China, there are signs the country has checked out of sick bay and is getting back to work. China's 380 million millennials are earning and spending more than their parents ever did, notes Aberdeen's Nicholas Yeo, who examines the prospects of the Middle Kingdom in the wake of the coronavirus and singles out some sectors tipped to blossom.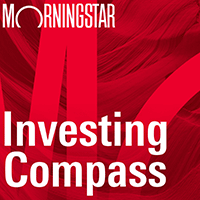 Listen to Morningstar Australia's Investing Compass podcast
Take a deep dive into investing concepts, with practical explanations to help you invest confidently.

Elsewhere, Peter Warnes explains why self-managed super fund trustees are being hung out to dry in this crisis. And in Firstlinks, Graham Hand hears from Hamish Douglass. Magellan's chief stock picker explains why he sees a long recession ahead and lists some questions investors should be asking. "Will there be a fundamental shift in consumption patterns? Will people dine out in restaurants less frequently? Will there be less conspicuous consumption? Will people change their hygiene habits enough to lead to higher demand for cleaning and hygiene products? Will there be a change to how people work? Will this lead to increased demand for software like video conferencing? What will happen to the savings rate? Will people delay renovations to their homes?"
And on that note, if you're wondering what your neighbours have planned for the Easter lockdown, this chart courtesy of analytics consultancy AlphaBeta and credit firm Illion gives you an idea.
Weekly index of consumption per person. Normal weekly average = 100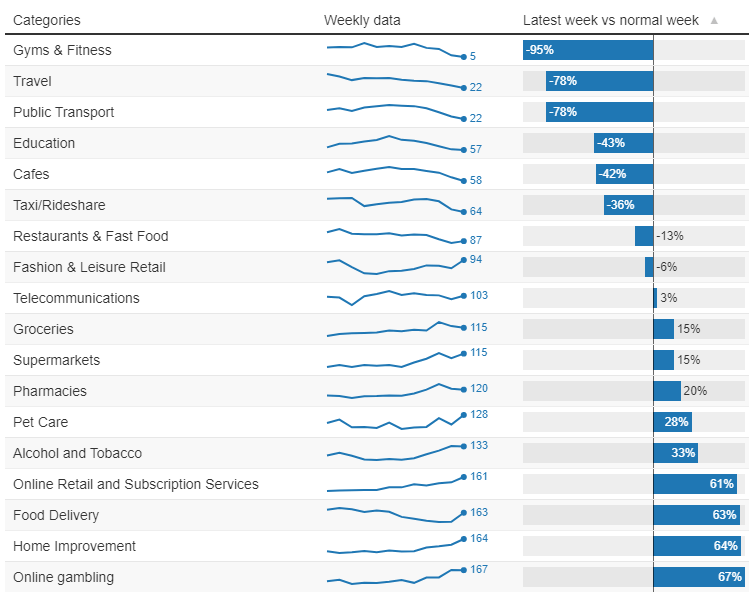 Based on a weekly sample of the transactions of c. 250,000 Australian consumers. Source: Illion & AlphaBeta (part of Accenture)