News
Investors embraced sustainable ETPs during the pandemic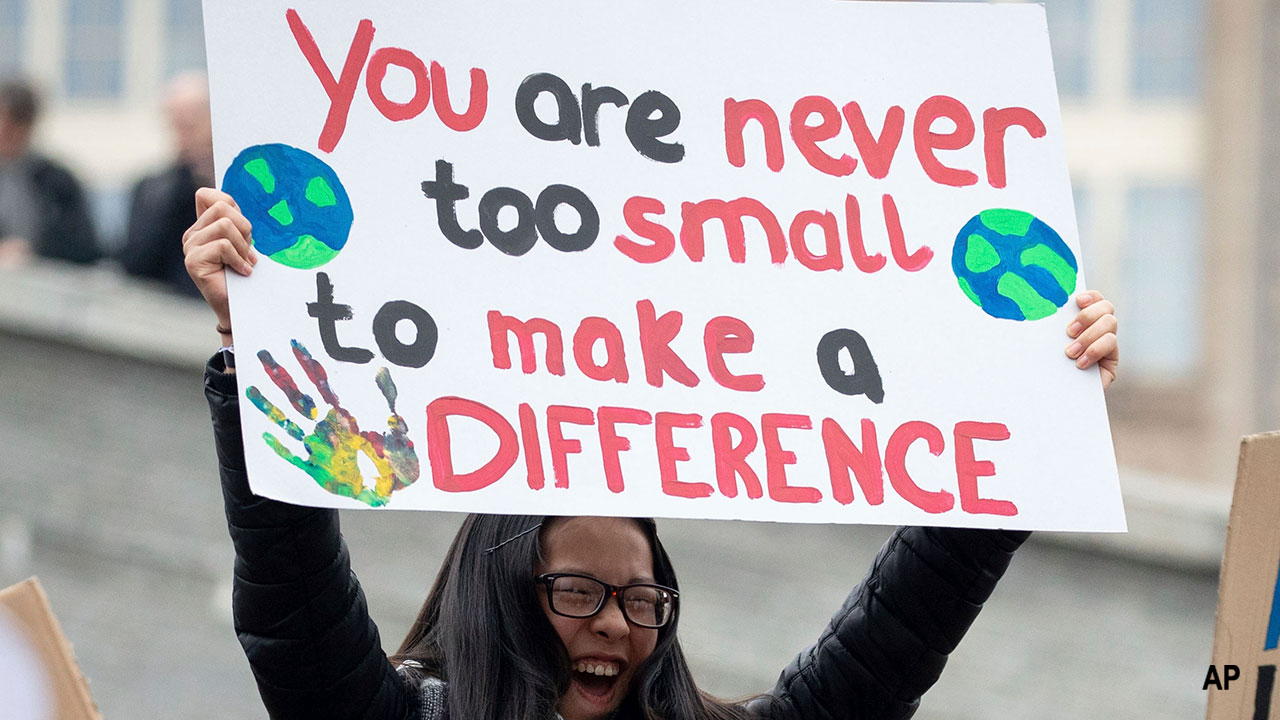 Slowly but steadily, sustainable funds are taking a larger slice of Australia's exchange-traded product market as investors align their values and investments.
Investors poured around $1.2 billion into sustainable ETPs in 2020, more than doubling flows from the year prior ($517 million). Flows were relatively muted in the months following the Feb/March covid-19 market crash but recovered strongly in the second half of the year.
Sustainable funds, as identified by Morningstar, now hold around 3 per cent of Australia's $100 billion ETP market, with approximately $3.2 billion in net assets across seventeen products. Just four years ago they held $105 million across three products.
Total assets have been steadily rising since the sustainable first product was launched Russell Investments in March 2015.
Sustainable ETPs | Net Flows, Net Assets, since April 2015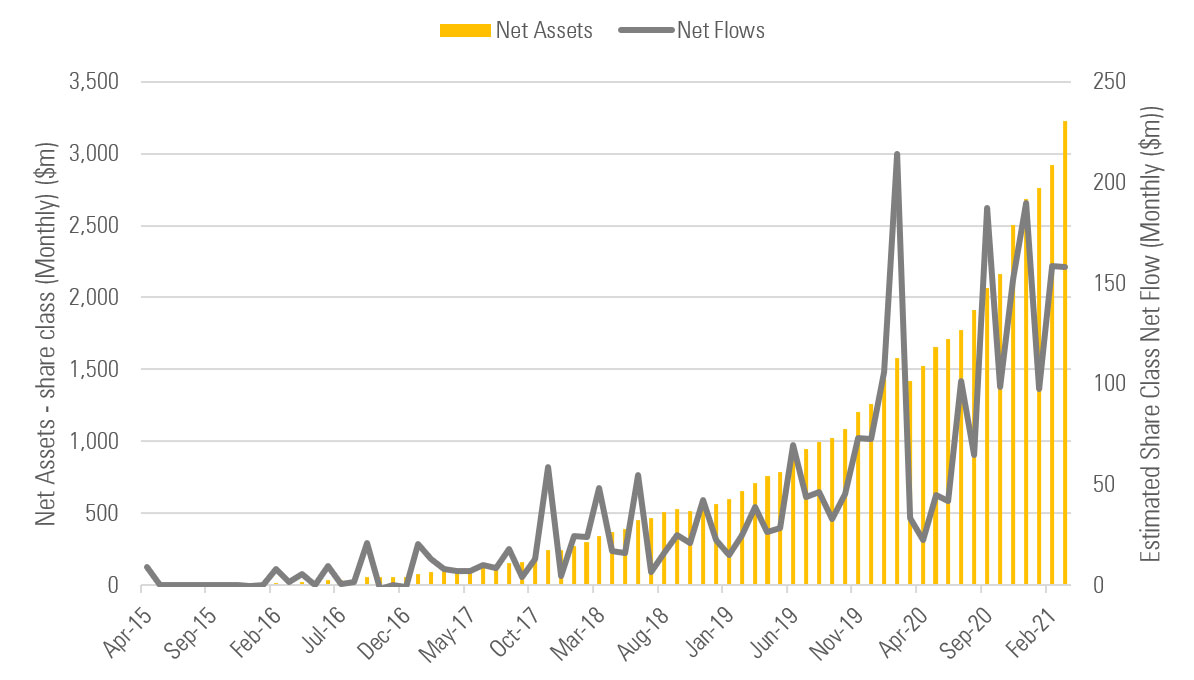 Source: Morningstar. Data as at month-end March 2021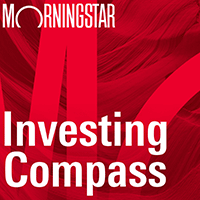 Listen to Morningstar Australia's Investing Compass podcast
Take a deep dive into investing concepts, with practical explanations to help you invest confidently.

Morningstar director, manager research, Grant Kennaway says sustainable investing was on the rise even before the pandemic, but that it seemed to hasten the trend.
"Given the volatility of global markets during the pandemic, it seems investors are increasingly committed to sustainable approaches," he says.
BetaShares chief executive Alex Vynokur draws a link between the growth of socially responsible investing and growing concern around the environment and global warming. He expects interest in these products to continue as the global economy emerges from the covid-19 pandemic.
"As economies open up again, investors will have a chance to look for portfolios and companies whose practices align with their ethical values, including less reliance on fossil fuels, stronger corporate governance and, partly as a result of the pandemic, increasing awareness of 'social' (the S in ESG) factors," he says.
"We expect ethical ETFs will continue to set a strong pace in 2021, with more ethical products to be launched to tap into investor demand."
Morningstar's head of sustainability research Jon Hale says the pandemic also generated wider appreciation for the importance of the "social" dimension of ESG analysis.
"Company policies and treatment of workers, customers, and communities is what the "S" in ESG is all about," he says.
"By putting the spotlight on a company's treatment of workers, customers, and communities, the pandemic is helping advisers and their clients understand that sustainable investing extends beyond environmental considerations."
Demonstrated resilience
Popularity has also been born from proof of resilience in a downturn. For most of 2020, the types of stocks that sustainable equity funds prefer—those of companies with better ESG profiles and that are aligned with the transition to a low-carbon economy—outperformed. In conventional terms, many of those tend to be quality-growth stocks.
Recent performance has been muted. As Morningstar's Katherine Lynch writes: "As laggard value stocks leapt to the lead, richly valued growth stocks faded, energy stocks bested all other sectors, and technology stocks landed in the unusual position of worst performers". ESG screens tend to favour growth over value, and technology over energy.
Long-term, Morningstar strategist Dan Lefkovitz says there are reasons for investors to be encouraged about the prospects of ESG investments in their portfolio. "We have found that ESG screens have led to resilience in down markets, even in brutal downturns since as March 2020," he says.
"Morningstar and Sustainalytics have documented links between ESG and factors like corporate quality and financial health."
Growth $10k | ETHI v MSCI World Ex-Australia, 5-Yrs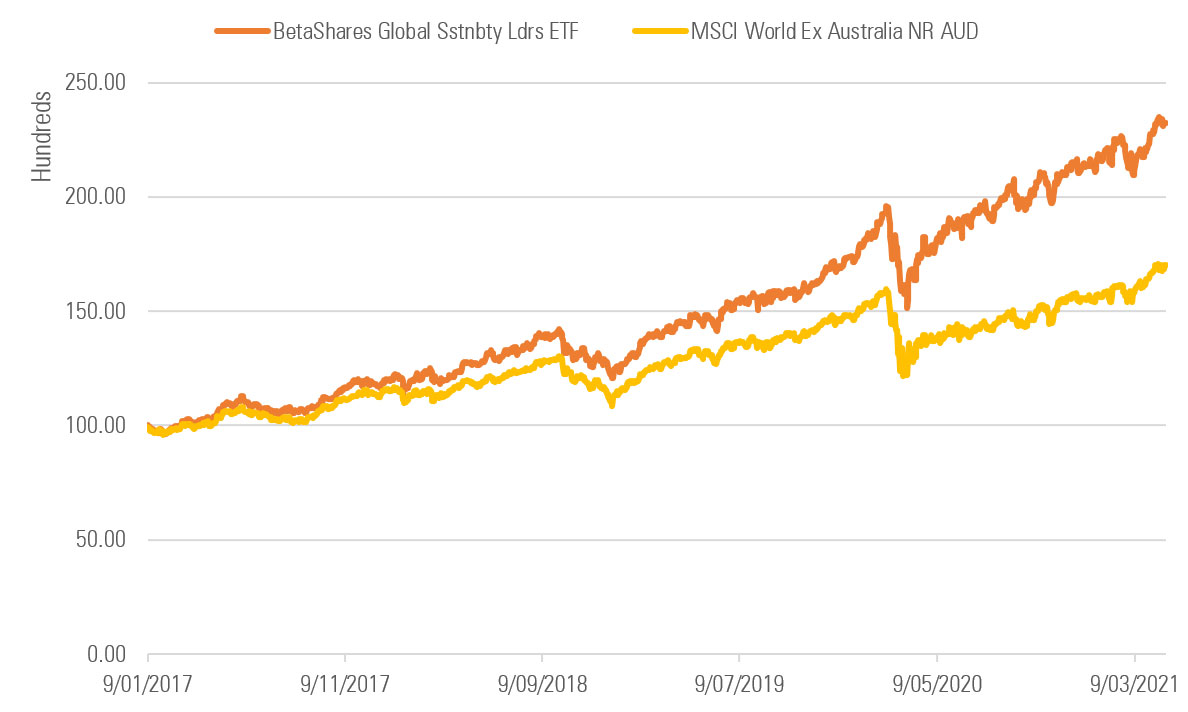 Source: Morningstar
Morningstar classifies funds as "sustainable investments" if they explicitly indicate any kind of sustainability, impact, or ESG strategy in their prospectus or offering documents.
ESG Funds incorporate environmental, social, and governance (ESG) principles into the investment process or engagement activities.
Impact Funds seek to make a measurable impact with investments on specific issue areas like Gender Diversity or Community development alongside financial return.
Environmental Sector Funds are non-diversified funds that invest in environmentally oriented industries like renewable energy or water.
March classifications show seventeen "sustainable investment" ETPs listed on the ASX or Chi-X (sorted by inception date):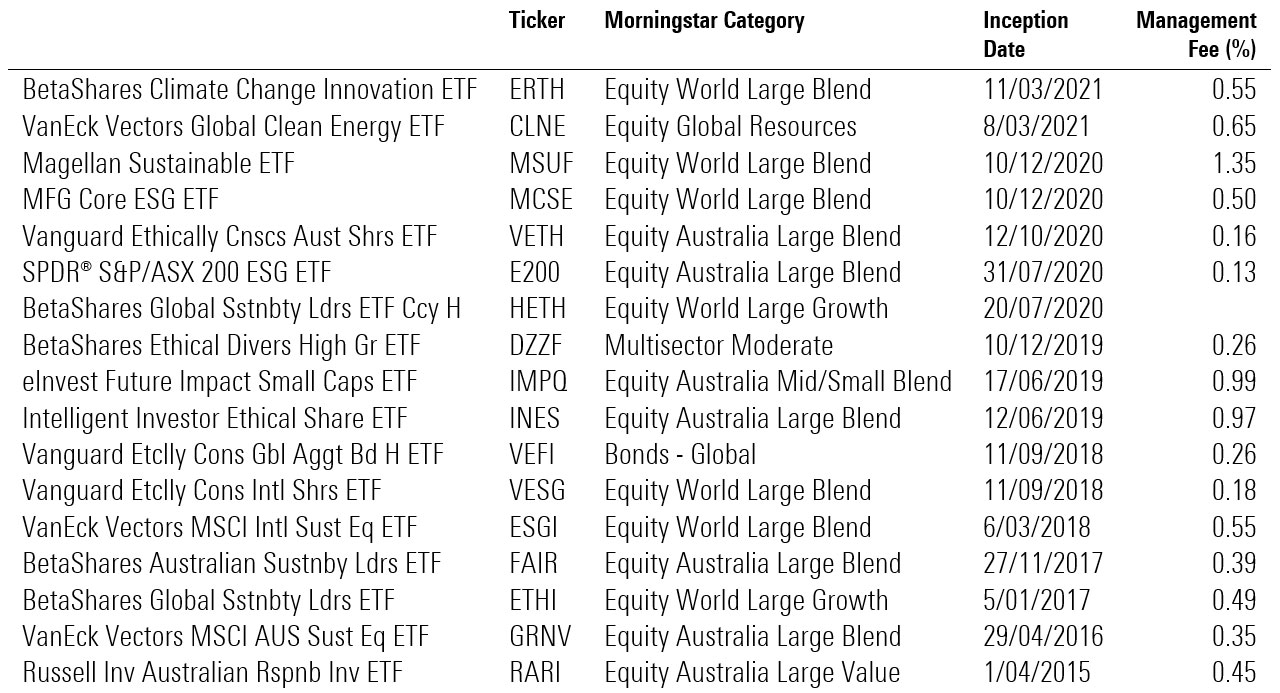 Source: Morningstar. Classification: Sustainable Investment = Yes
The largest fund on this list – bronze-rated BetaShares Global Sstnbty Ldrs ETF (ETHI) – has surged in popularity over the last year. The fund, which tracks the Nasdaq Future Global Sustainable Leaders Index, received $500 million in new money in the 12-months to March 2021, making it the seventh most popular ETP for the year.
Interest in search term 'ASX ETHI' – 5 Yr (Week)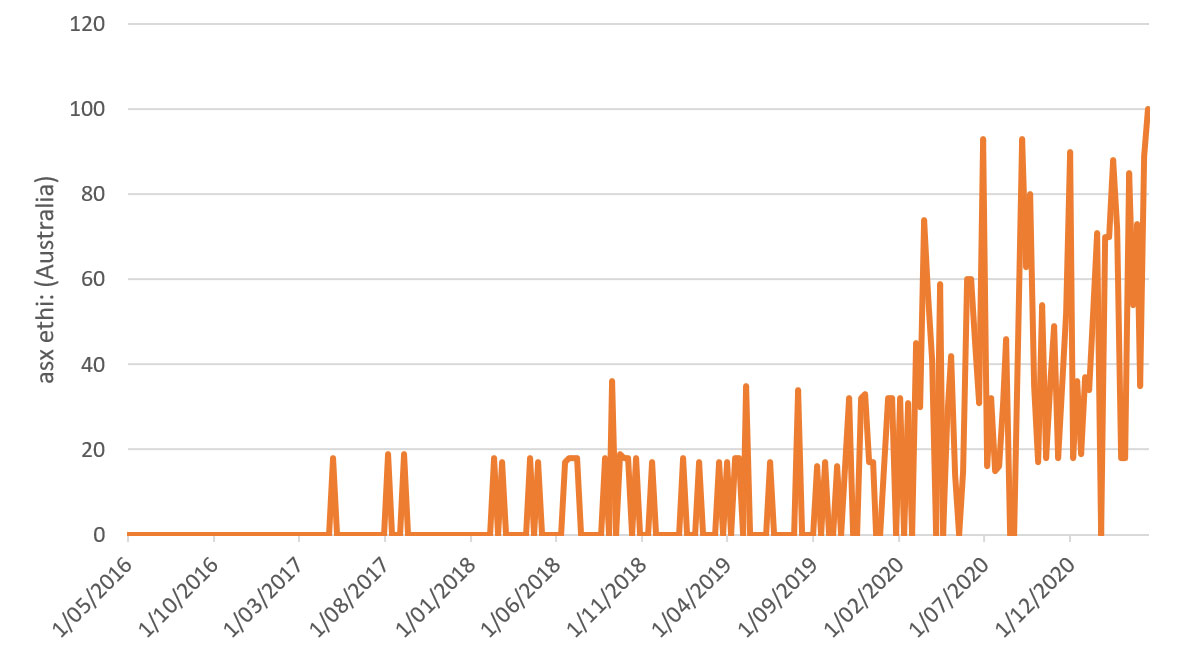 Source: Google Trends. Country: Australia
ETHI is now the eighteenth largest ETP in Australia (of 232), with $1.3 billion in net assets.
Australia ETPs | Top 10 Net Flows (Mil), 1-Yr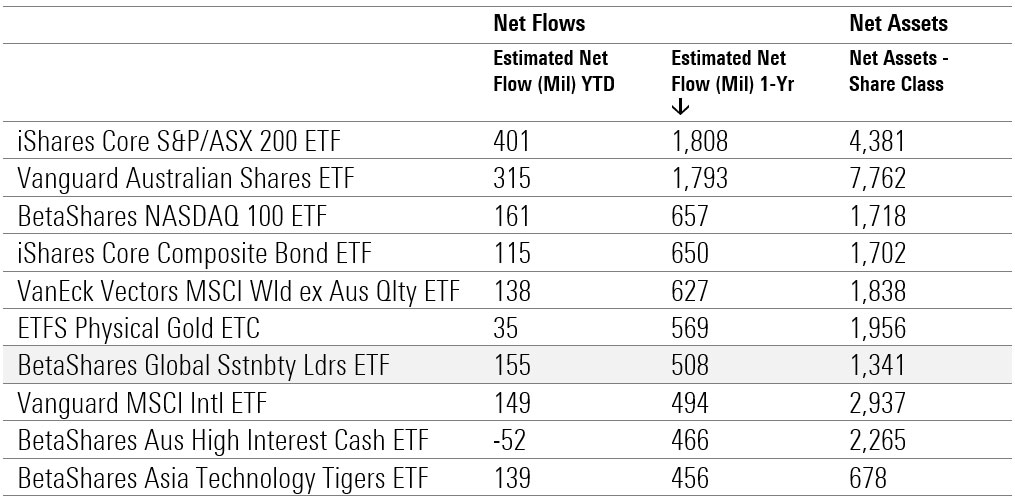 Source: Morningstar. Data as at month-end March 2021
BetaShares leads boom
Asset managers have sought to tap into this trend and sustainable ETPs are appearing on both exchanges. On a firm level, BetaShares commands the vast majority of the listed market across its five products, followed by Vanguard and Russell Investments. Sustainable products are typically higher fee and less commoditised than traditional market-cap index tracking ETPs.
iShares is absent from the list despite achieving incredible success overseas with its range of ESG listed products. BlackRock Australia head of iShares Christian Obrist says the firm is still working on its range of products for the local market.
"It's something we are looking at and investigating, in line with Larry [Fink's] letter and commitment around doubling the amount of products that we offer in the ETF space around sustainability," he told media last year.
"I'll leave it to you to come to a conclusion with what we're going to be doing there, but it's a priority for the firm."
Chi-X welcomed Magellan as a new sustainable player last December, with the listing of the Sustainable Fund (Managed Fund) (MSUF). The fund operates within a framework that considers ESG risks.
"We have had considerable interest from retail investors and advisers in making our sustainable investment strategy available to the retail market in Australia," Magellan chief executive Brett Cairns said.
Sustainable ETP Net Assets via Firm Name, Growth since April 2015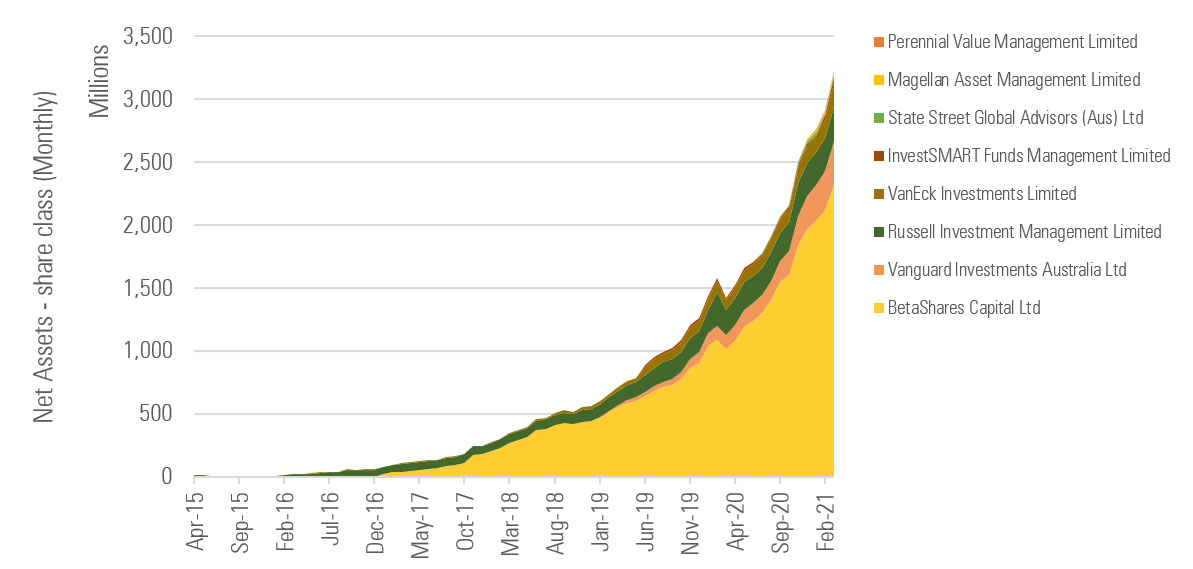 Source: Morningstar