News
State Street closes fee gap as ETF investors chase value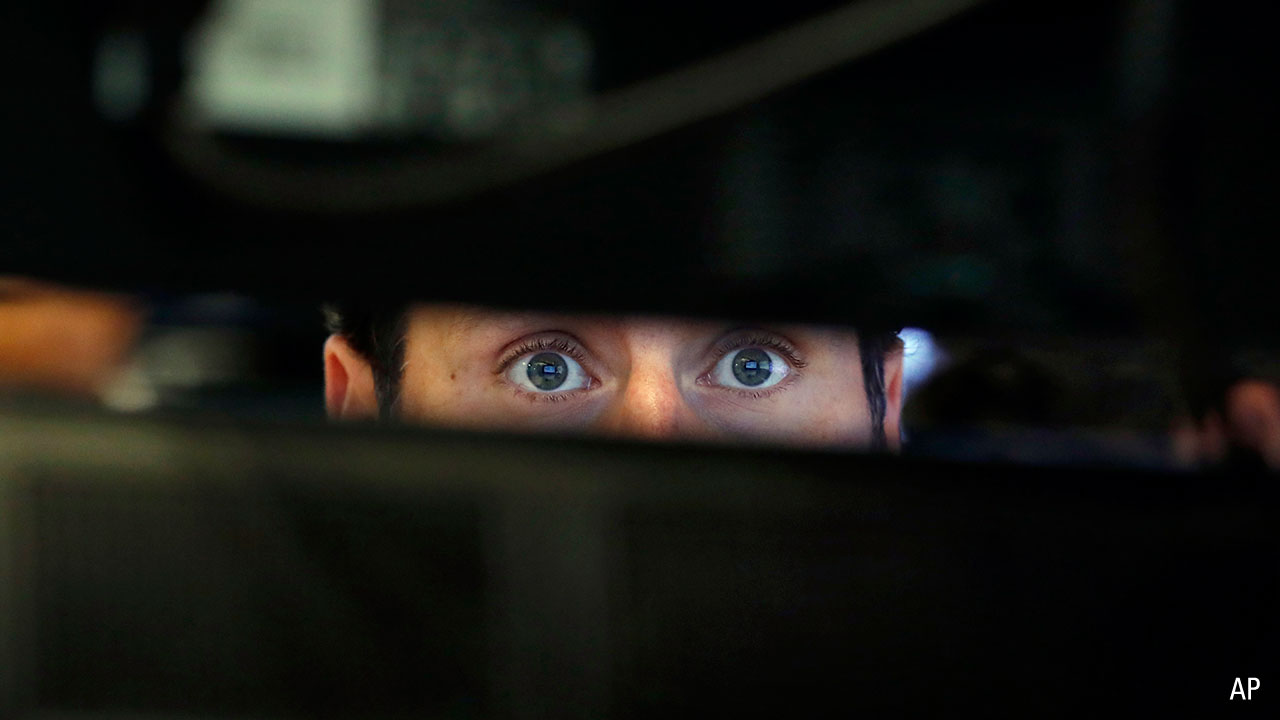 Global ETF giant State Street Global Advisers has bowed to fierce competition by slashing fees on its once industry-leading Australian shares fund.
The asset management arm of Boston-based State Street Corporation (NYSE: STT) announced on Monday it had cut by 6 basis points the annual fee on its ASX 200 ETF.
The fee on the SPDR S&P/ASX 200 Fund (ASX: STW) will fall from 0.19 per cent to 0.13 per cent, effective from 2 March.
The fee cut – the second in five years – comes after a tough year for STW. Investors pulled over $200 million from the fund in 2019, making it the most redeemed fund for the year.
The outflows led to a changing of the guard for the broad indexing tracking Australian shares ETFs, as Vanguard Australian Shares ETF (ASX: VAS) took the top spot from the long reigning STW.
The new and lower management fee for STW now sits slightly above fees from major rivals including iShares and Vanguard.
Fee race to the bottom, management fee %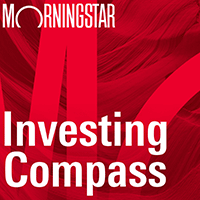 Listen to Morningstar Australia's Investing Compass podcast
Take a deep dive into investing concepts, with practical explanations to help you invest confidently.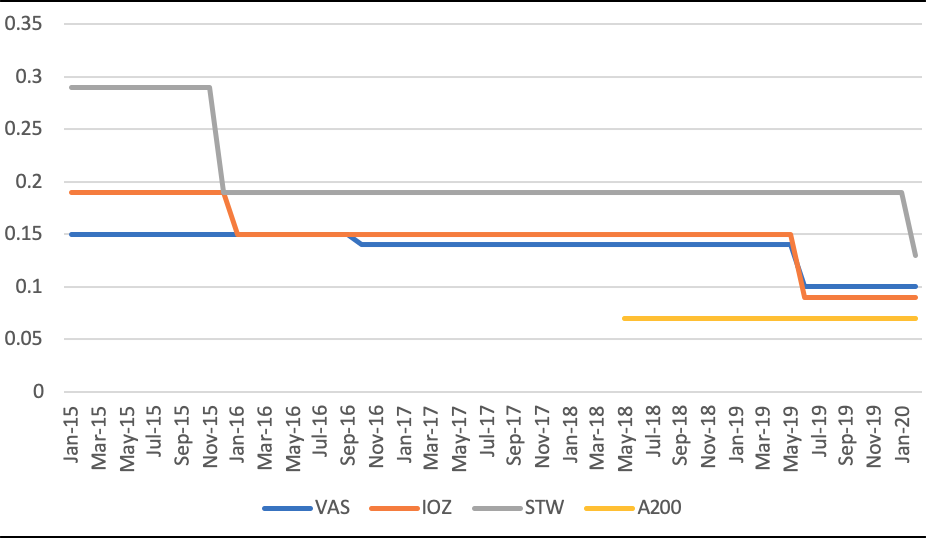 Source: Morningstar DatAnalysis, ASX Announcements
STW holds a Bronze rating from Morningstar fund analysts. Fund analyst Edward Huynh welcomed the fee drop, saying investors can only benefit.
"In an environment where fees are increasingly dictating flows, STW's fee reduction is a positive for investors," he says.
"But it's unlikely to move the dial as competitors still have cheaper offerings."
Fees drive flows
Competition for investor money is fierce among the four largest providers of Australian ASX200-tracking products. In May 2018, homegrown ETF provider BetaShares rocked the core Australian ETF market with the launch of the BetaShares Australia 200 ETF (ASX: A200) with a fee 0.07 per cent. At the time, this was half the cost of its nearest Australian equity index rival.
A year later, iShares Core S&P/ASX 200 ETF (ASX: IOZ) and Vanguard Australian Shares Index ETF (ASX: VAS) slashed their fees – IOZ from 0.15 per cent to 0.09 per cent, and VAS from 0.14 per cent to 0.10 per cent.
STW slashed its prices in 2015 from 0.29 per cent to 0.19 per cent but kept them steady throughout 2019.
In a highly commoditised product such as an index-tracking Australian shares ETF, where there is little to separate the providers beyond index and liquidity advantage, price is a key consideration for investors.
Investors placed "low cost" as their second highest consideration behind diversification when asked why they use ETFs, according to the latest BetaShares/Investment Trends ETF.
Meaghan Victor, who has recently been appointed head of SPDR ETF Asia Pacific distribution, said the fee reduction was a milestone for the product.
"The fee reduction will result in a realignment in the total cost of ownership of STW, which we believe is one of the primary indicators ETF investors should look at, along with liquidity profile and the quality of the tracking index," she said.
"This fee change reflects our ongoing commitment to offer clients value without compromising on quality."
Launched in 2001, STW aims to replicate the S&P/ASX 200 Index, a free-float-adjusted, market-cap-weighted index.
STW has only cut prices once before in its almost two decades of trading. In December 2015, SSGA dropped the price from 0.29 to 0.19 per cent. STW charged a management fee of 0.286 per cent in 2001 at the date of listing.
Largest ETFs, effective date 31 December 2019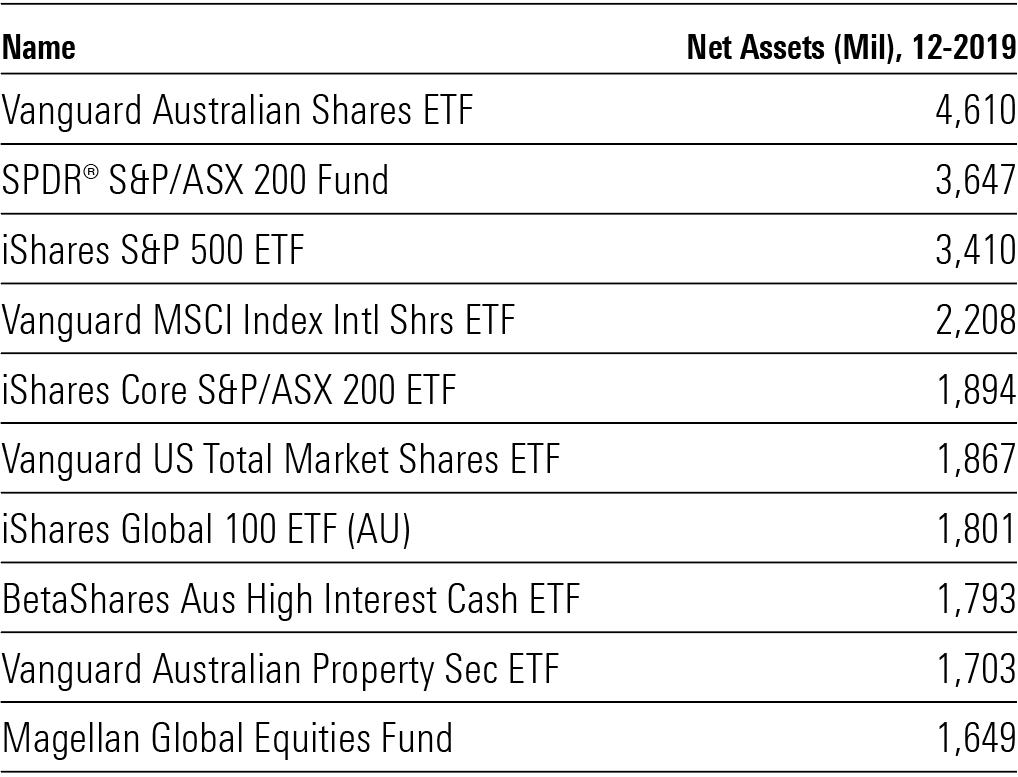 Source: Morningstar Direct, Asset Flows
Despite the fee reduction to 0.13 per cent, STW remains the most expensive of the four products, albeit by a narrow margin. The new management cost equates to $13 for every $10,000 invested in STW.
Between 2010 and 2019, STW grew its total net assets by 41 per cent, from $2.5 billion to $3.6 billion. In comparison, VAS grew assets from $196 million to $4.6 billion in the same period. The ETF market has now excelled to $62 billion in total net assets.
SSGA remains the fourth largest ETF provider in Australia by total net assets under management. But it fell behind home-grown rival BetaShares for the first time this year in total net assets, dropping from third place.