News
Thematic funds balloon in Australia: 5 charts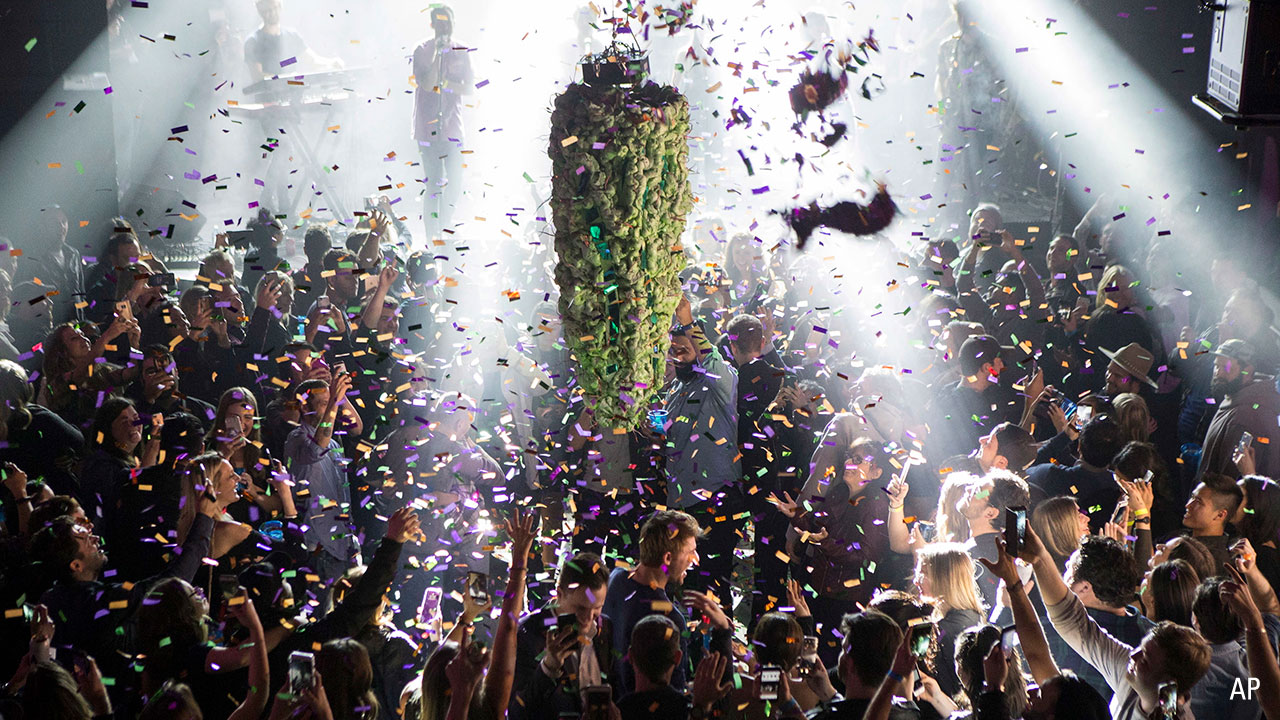 Investors are pouring more money than ever into thematic ETFs, hoping to be the beneficiaries of "global megatrends" like robotics, electric vehicles and clean energy.
Annual net flows into thematic ETFs jumped from 2 per cent of total flows into equity ETFs in 2016 to 15 per cent in 2020. Morningstar data shows. This year alone, the category, which includes just 16 funds, has gathered 27 per cent of total equity ETF flows.
Thematic funds focus on specific investment trends such as clean energy, robotics, or gene therapies that have yet to fully play out.
Growth of annual net flows (share class) to Thematic ETFs v Other Equity ETFs - by Year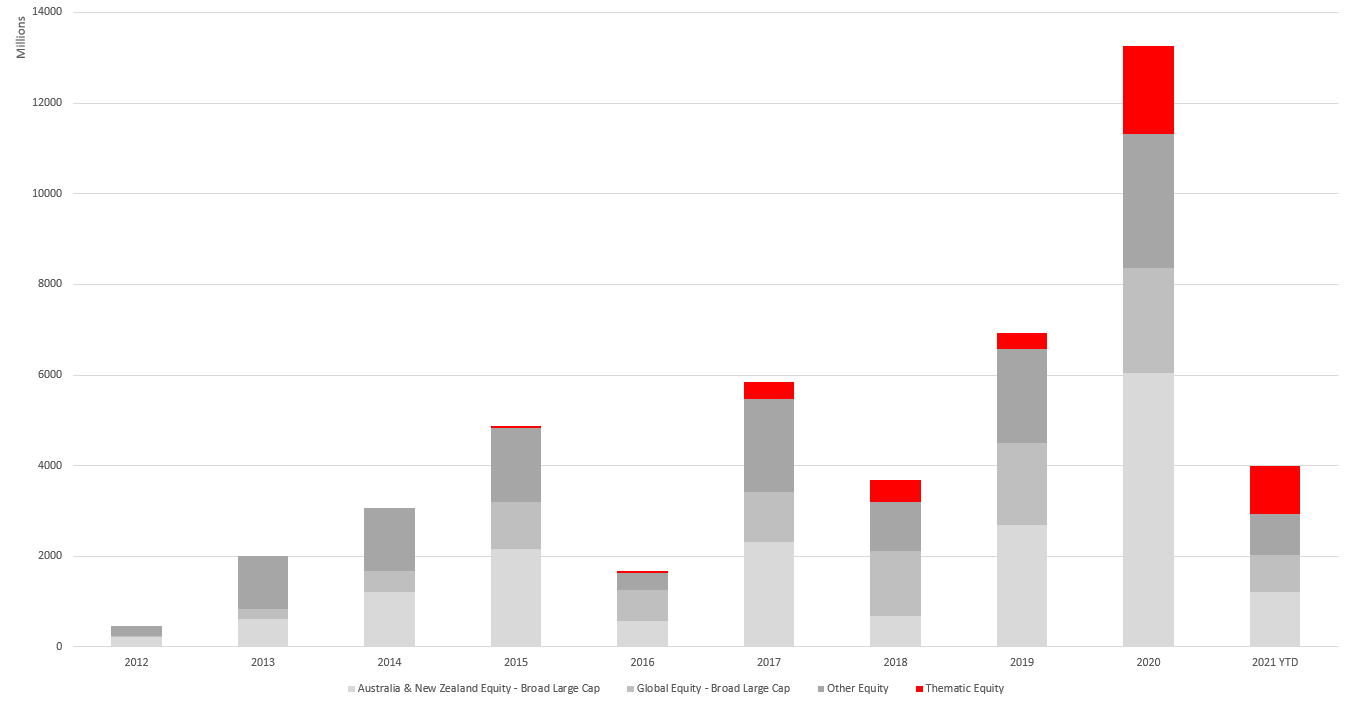 (Click to enlarge) Source: Morningstar, Provider websites. Includes historical flows from obsolete ETFs. Global broad category group = Equity

Category growth last year was driven by significant increases in flows to three BetaShares thematic ETFs – BetaShares Asia Technology Tigers ETF (ASX: ASIA), Betashares Global Sustainability Leaders ETF (ASX: ETHI) and Betashares Nasdaq 100 ETF (ASX: NDQ). ASIA, which aims to track the performance of an index comprising of the 50 largest technology and online retail stocks in Asia, grew its annual net flows from $43 million in 2019 to $315 million in 2020 – or a 632 per cent increase.
Listen to Morningstar Australia's Investing Compass podcast

Take a deep dive into investing concepts, with practical explanations to help you invest confidently.

MORE ON THIS TOPIC: Five facts about the Nasdaq 100 index
Thematic ETFs, annual net flows - share class (sorted via 2020 flows)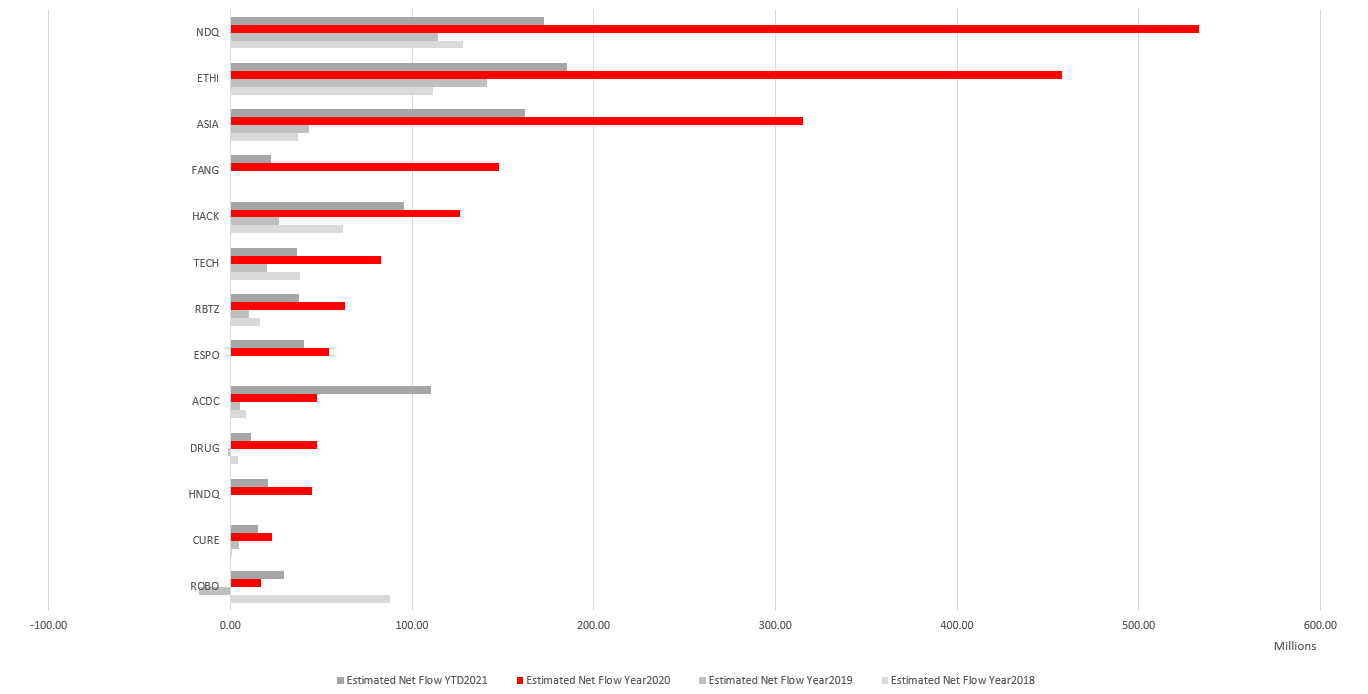 (Click to enlarge) Source: Morningstar, Provider websites
Several products have also reported spectacular 2021 growth. ETFS ROBO Global Robotics and Automation ETF (ASX: ROBO) and ETFs Battery Tech & Lithium ETF (ASX: ACDC) have both seen more flows in the first four months of 2021 than they did over the whole of 2020. This growth is off the back of exceptional 2020 performance. ACDC returned 63.11 per cent to investors in 2020, making it the top performing Australian ETF for the year. The fund exposes investors to the "energy storage and production megatrend, including companies involved in the supply chain and production for battery technology and lithium mining".
More flows into these thematic ETFs so far this year than all of 2020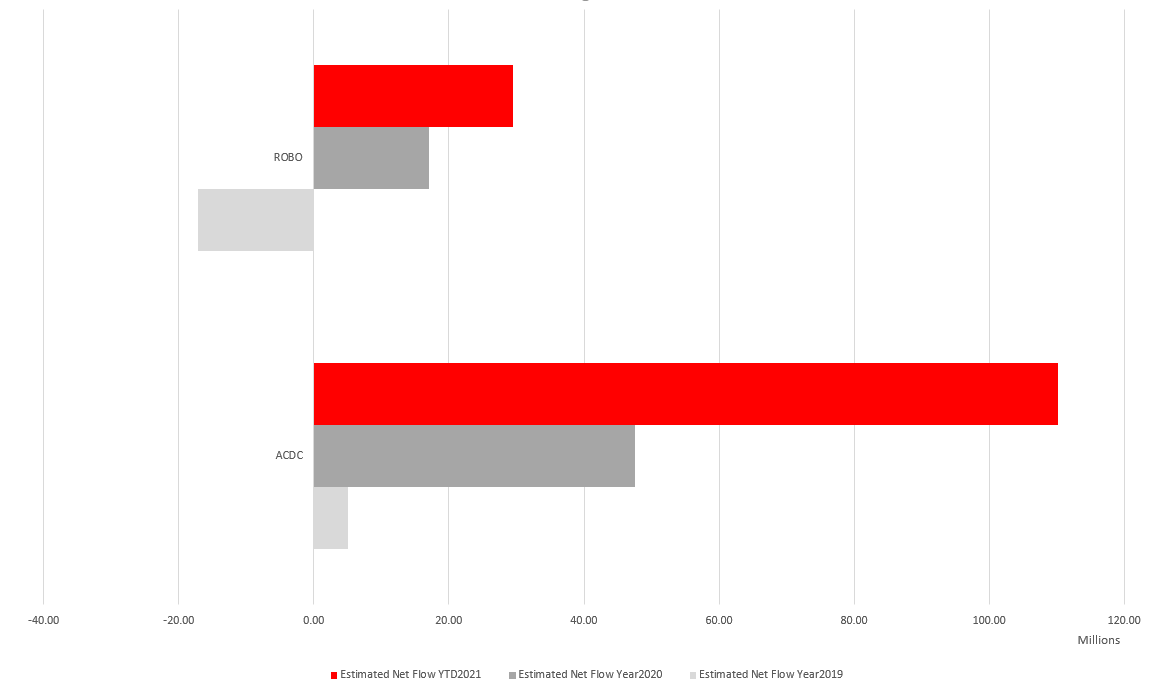 (Click to enlarge) Source: Morningstar, Provider websites
Kings among the thematics are the three BetaShares funds – NDQ, ETHI and ASIA. These fund collectively make up 65 per cent of the market (by Net Assets – Share Class)
Net Assets in Thematic ETFs, by fund - at 04/2021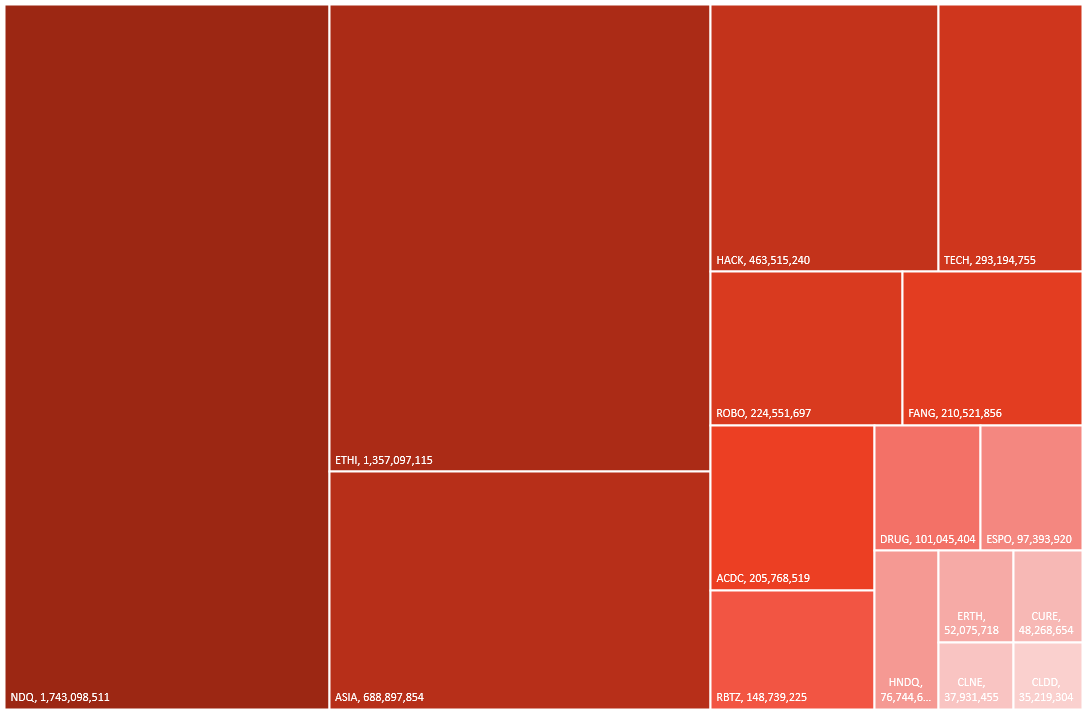 (Click to enlarge) Source: Morningstar, Provider websites
MORE ON THIS TOPIC: Under the hood of Australia's largest sustainable ETF
The Australian market is far from alone on this rising trend. Thematic ETFs have similarly ballooned in Canada, Europe and the United States. Cathie Wood's hot Ark Innovation ETF captured investors attention in 2020 with an annual return of 150 per cent.
Which thematics have the largest market share?
Whether or not flows will continue is anyone's guess. Flows have dropped off their February 2021 highs mirroring the worldwide slump in technology stocks. Concern is mounting that commodity and stimulus fuelled inflation will prompt central banks to tighten monetary policy, denting the appeal of stocks whose valuations often hinge on earnings prospects far into the future.
VanEck chief executive and managing director - Asia Pacific Arian Neiron predicts that the acceleration of thematic ETF flows "will push thematic funds under management (FUM) to $10 billion by the year's end".
"This is the next chapter for the ETF market, the growth of thematic ETFs which is underpinned by sustainable long-term trends in which momentum is building," he says.
Net Flows (Share Class) to Thematic ETFs- by Month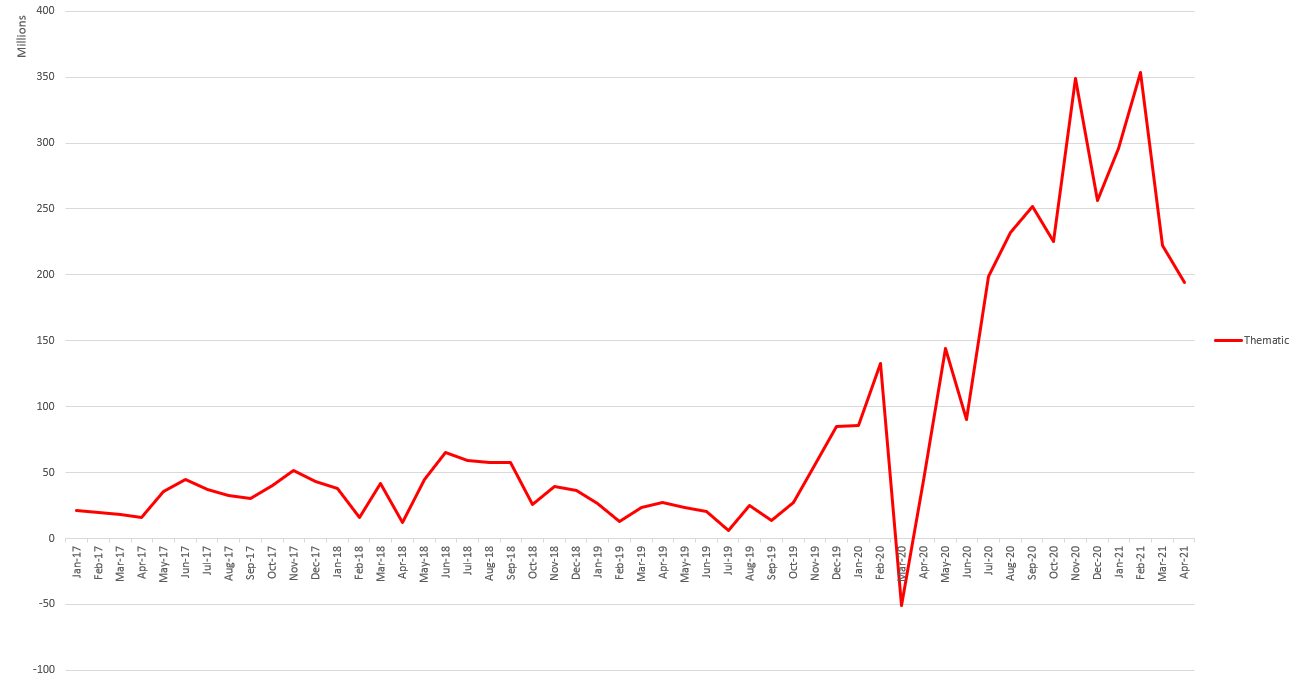 (Click to enlarge) Source: Morningstar, Provider websites
Morningstar portfolio specialist Amy Arnott says these types of funds have been popular with investors party because they have a storyline that's easy to understand that "they're investing in new technologies that have a lot of growth potential".
"They've also attracted a lot of attention because of their strong performance over the past year or so," she says.
Thematic ETFs, trailing returns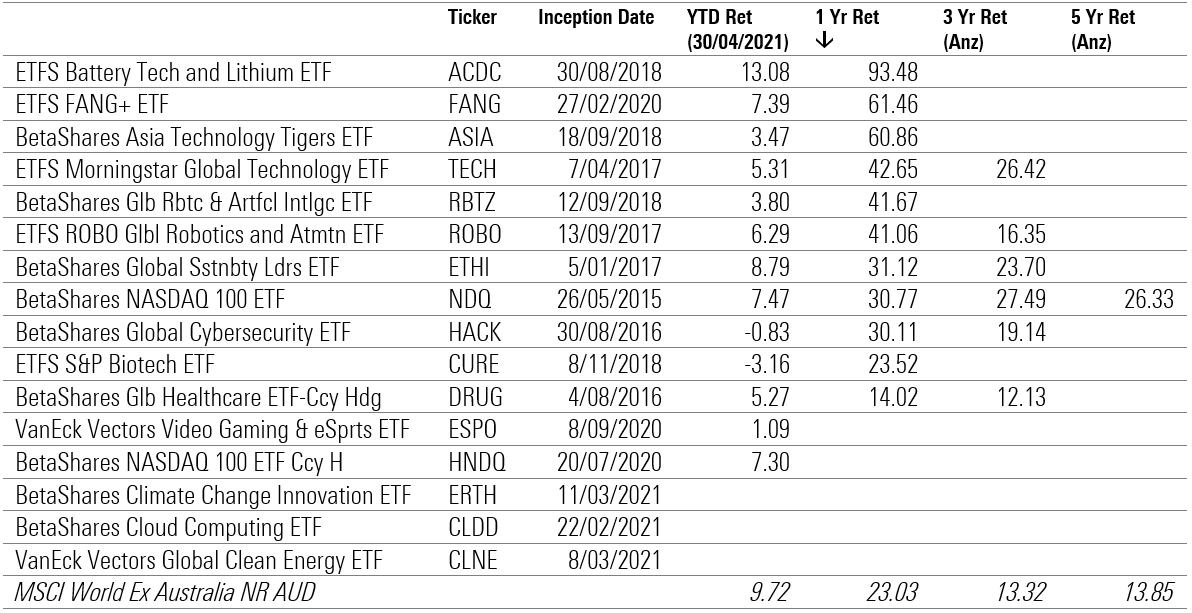 (Click to enlarge) Source: Morningstar, Provider websites
Sector or thematic?
Reporting on thematic ETF growth is fraught with difficulty. "Thematics" aren't a distinct category in Morningstar Australia's database or the ASX's monthly product report. For the purposes of this analysis, we've deferred to the providers' own definitions of their thematics – BetaShares, VanEck, ETFS. This is however less than ideal. While 'ETFS Battery Tech and Lithium ETF' passes the pub-test, 'ETFS Morningstar Global Technology ETF' is up for debate. Sector or thematic? With such strong flows, marketing a fund as a thematic clearly has its benefits.
VanEck, who produced similar thematics research this month, told Morningstar that their identification process sought out strategies that "focus on and provide access to long term structural changes and/or trends". It also included a "sense check".
"They are usually single sector ETFs, but not always," a spokesperson said.
"For this reason, our identification process also includes a 'sense check'. For example, our Clean Energy Leaders ETF is a thematic and focuses on a single sector. However, our Global Gold Miners ETF also focuses on a single sector but is not a thematic."
VanEck's research similarly concluded that "funds are pouring into thematic ETF sector".
MORE ON THIS TOPIC: Thematic ETFs: why knowing how to spot one is half the battle
Should you get in?
Arnott warns investors to think twice before they stake their retirement savings on thematics.
"If you look at longer term returns, they've actually lagged the world market benchmark over the past five and 10-year periods by at least two or three percentage points. The long-term performance isn't really that impressive," she says.
Arnott adds that it's also difficult for investors to identify themes that are going to pay off, but also the best companies to invest in to take advantage of that theme.
Another issue is that this area is prone to a lot of hype and speculation that can often translate into high stock valuations, which can lead to a lot of volatility as well as weaker returns for investors.
MORE ON THIS TOPIC: Thematic ETFs: short-lived trend or long-term investment?
If you are considering thematics, Morningstar analysts Ben Johnson and Kenneth Lamont say some thematics, when used at the margins of a portfolio, can be used to reduce portfolio risk. "For example, alternative energy funds can be substituted for core energy holdings to reduce carbon risk," they say. However, they adviser that allocations be limited to avoid undue volatility.