News
10 lessons from Black Monday
7. Reinvest your dividends. The chart below shows the performance of the UK stockmarket since the 1987 crash - the lower line reflects just the capital growth while the second includes the compounded benefit of putting dividend income back to work in the market.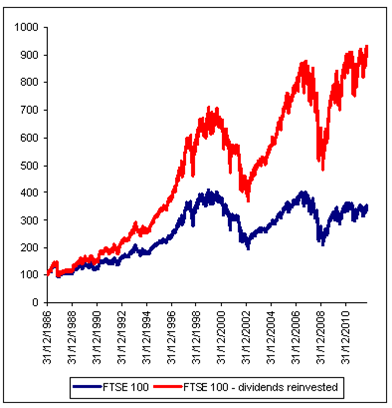 8. Keep some of your powder dry. Crashes happen, and when they do you want to have some ammunition ready to take advantage of them. It may be frustrating to have even a small proportion of your savings earning next to nothing in cash when shares are rising, but so too is being unable to capitalise on bargain basement prices when periodically they appear.
9. Beware of buying high and selling low. Remember that the stockmarket is the only market in the world in which we prefer to buy when prices are high and are put off by low prices. Think about how you would buy fruit and veg at a street market. You would behave in exactly the opposite way.
10. Watch costs but worry more about value. The difference between the charges on an actively managed fund and a tracker might be 1 per cent a year. If you back the right manager, however, that might be the best 1 per cent you ever invested.