News
Sustainable equity ETFs cut Tesla, Microsoft, and Netflix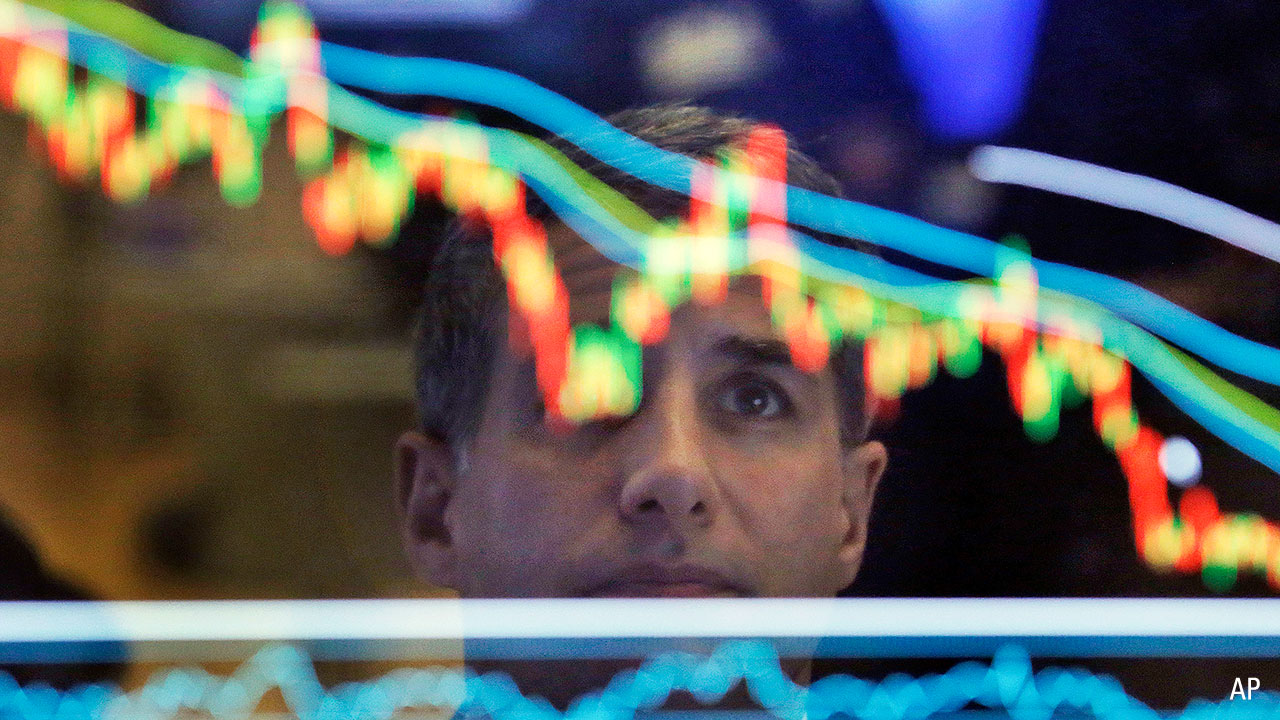 Global technology giants Tesla (TSLA), Microsoft (MSFT) and Netflix (NFLIX) have been removed from two of Australia's largest sustainable international equity ETFs after failing ESG screens.
BetaShares Global Sustainability Leaders (ASX: ETHI) divested a 6.1 per cent chunk consisting of Tesla and Netflix in a rebalancing last month. At the same time, VanEck Vectors MSCI International Sustainable Equity (ASX: ESGI) removed a 5.8 per cent position in Microsoft.
Microsoft was pinged in a regular screening because of its "carbon emission intensity score", says Russel Chesler, head of investments and capital markets at VanEck.
Carbon emission intensity measures emissions relative to market capitalisation. The score is relative and companies who rank in the top 25 per cent are removed. Microsoft had moved into this quartile.
BetaShares also removed Netflix over emissions, after the streaming service failed the fund's "climate leadership" screen.
The test measures emissions relative to revenue and selects the top third of firms per industry or those who have been actively involved in avoiding emissions elsewhere.
Meanwhile, Tesla fell foul of controversy screens, says Louis Crous, chief investment officer at BetaShares.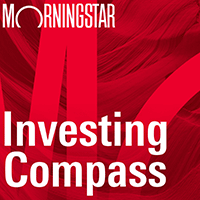 Listen to Morningstar Australia's Investing Compass podcast
Take a deep dive into investing concepts, with practical explanations to help you invest confidently.

Among the issues, the electric vehicle maker reopened a US production facility contrary to government covid orders and faces scrutiny over the environmental impact of a German production facility and possible forced labour issues in its supply chain.
Tesla was cut after refusing to publicly respond to the matters or engage with BetaShares' responsible investment committee.
Australia's second largest international "ethically conscious" equity fund, Vanguard Ethically Conscious International Shares ETF (ASX: VESG), continues to hold Microsoft, Tesla and Netflix.
A Vanguard spokesperson said the three companies had not failed any of the negative screens applied by the index.
These differences illustrates why its important to understand how the index your sustainable fund tracks selects its investments. Sustainable and ethical investing varies in practice, and often hinges on the composition and maintenance of the indexes being tracked.
Morningstar examines the three funds and how index construction impacts their holdings.
Fund performance (YTD/1-yr/3-yr)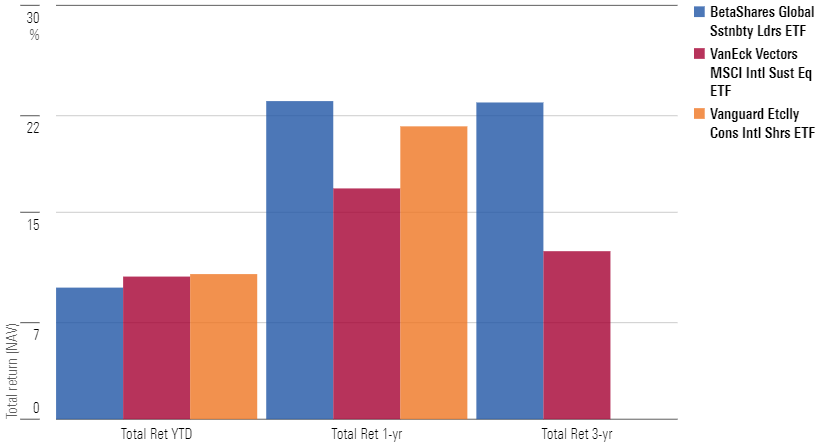 Source: Morningstar Premium.
Total returns (NAV) ending 31 May. ESGI is less than three years old.
Making a sustainable global equity fund
A passive ETF tracks an underlying index, and to make a sustainable or ethically conscious index, providers use a combination of negative and/or positive screening.
Negative screens exclude companies based on involvement in particular activities, such as gambling. Positive screens then prioritise companies who meet certain criteria, such as having strong ESG scores.
Vanguard's VESG tracks an index constructed using only negative screens, while ETHI and ESGI feature both positive and negative screens.
All three indexes negatively screen for companies involved in weapons, vice, fossil fuels, nuclear energy, and certain controversies, although different thresholds apply. ESGI and ETHI also have additional negative exclusions.
ETHI excludes animal testing, involvement in detention centres, and factory farming. ESGI screens for genetically modified foods and "low nutrition and health".
Both ETHI and ESGI use positive screens to prioritise the remainder. ETHI emphasises "climate leadership" through relative emissions reduction; ESGI uses a broad set of ESG rating developed by MSCI.
ESGI additionally screens out companies with high carbon emissions intensity, measured by comparing emissions to market capitalisation.
BetaShares incorporates an additional layer of discretion at ETHI. The final inclusion decisions made by a three-person "Responsible Investment Committee", which includes two industry representatives.
Negative screens may mean fewer changes to holdings because companies would need to diversify into excluded areas or commit very serious controversies to be cut. Facebook would need to start a cluster munitions division.
Positive screeners create more latitude for changes. The everyday behaviour of companies can change their ESG scores and/or emissions levels and therefore their place in a fund. Many positive screens are also comparative, so falling behind industry standards could see a firm cut.
Sustainability ratings

*The Morningstar Sustainability Rating is a measure of how well the portfolio holdings are managing their ESG Risk relative to the portfolio's Global Category peer group. Higher ratings are better and indicate that a fund has, on average, more of its assets invested in companies that have lower ESG risk as characterised by Sustainalytics.
Sustainability ratings as of 30 April.
Source: Morningstar Premium. (Click to enlarge)
Performance and sustainability
ESGI and ETHI score highly on Morningstar's sustainability ratings. Both funds received a full five out of five rating, and were in the second and third percentile, respectively.
VESG scored three out of five, in the 32nd percentile rank.
The BetaShares fund has received a Bronze Morningstar analyst rating. Both VESG and ESGI are outside Morningstar analyst coverage.
ETHI has had the strongest performance of the three over the longer run. It posted a 1-yr return of 23.06 per cent and 22.96 per cent over the past three years.
Over the three-year period, ESGI has lagged, with a 12.18 per cent return.
Vanguard's fund comes out ahead on fees, which are about three times lower than ETHI or ESGI.
Sectoral exposure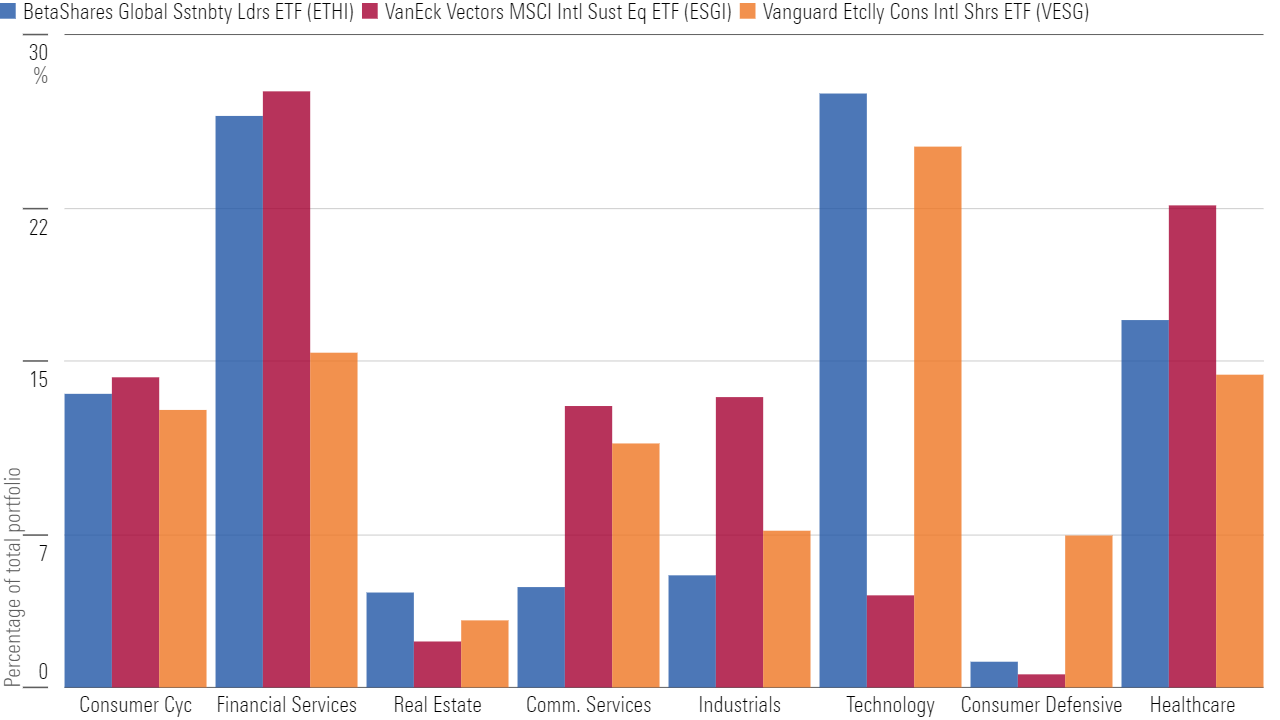 Source: Morningstar Direct; data as of 31 May 2021 for ESGI and ETHI. 31 Jan for VESG. The differences in date reflect when data is made available to Morningstar. The figures for Basic Materials, Utilities, and Energy are removed due to small size.
Sustainability and diversification
The three funds have over 50 per cent of their holdings in technology, healthcare, and financial services, in part because exclusion screens remove most energy, basic materials, and utility stocks.
ETHI has the highest concentration across tech, health, and finance, with 70.4 per cent of its holdings across the three.
For investors concerned about technology exposure, ESGI holds 4.2 per cent of its portfolio in technology, compared to the high twenties in VESG and ETHI.
For investors concerned about financial services exposure, VESG holds roughly 10 per cent less exposure the sector compared to ETHI and ESGI.
Exclusion screens may also impact diversification by reducing the investable universe. VESG stands out among the three funds with 1608 holdings, dwarfing ETHI's 200 and ESGI's 142.
This difference in holdings impacts the concentration of the top ten holdings, with 20.67 per cent of VESG concentrated in its top ten, versus around 30 for ETHI and ESGI.
Top 10 holdings across the three funds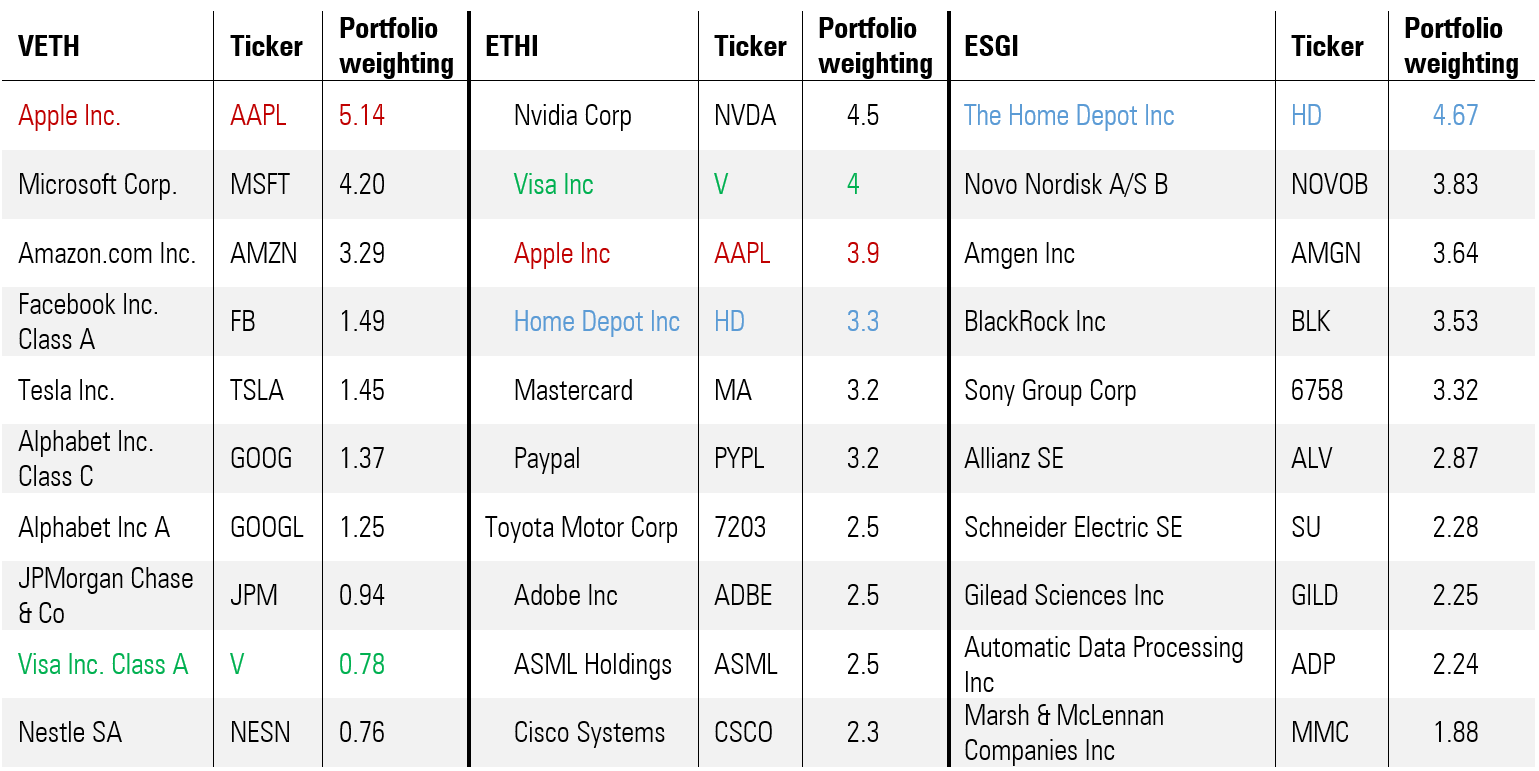 Source: Morningstar Direct; data as of 31 May 2021 for ESGI and ETHI. 31 Jan for VESG. The differences in date reflect when data is made available to Morningstar.
Investors should note that despite similar sectoral skews, no single stock sits across the top ten holdings of each fund. Only Apple (AAPL), Home Depot (HD) and Visa (V) sit across more than one fund's top ten holdings.
For example, both VESG and ETHI have large technology holdings. But while 60 per cent of VETH's technology holdings are in giants Apple, Amazon (AMZN), Facebook (FB) and Alphabet (GOOGL), of those, ETHI only holds a 3.9 per cent stake in Apple.
Instead ETHI's technology holdings include enterprise software firms, such as HR software provider Workday (WDAY), and large holdings in payment providers such as Visa, Mastercard (MA) and Paypal (PYPL).
More than other types of ETFs, it bear to read the label on your sustainable fund.
Disclaimer: The author holds both VESG and ETHI