News
Women remain locked out of top investment roles
The number of women in the ranks of the Australian investment management industry is slowly rising but there is still a long way to go, new research from industry super fund HESTA shows.
Across 70 of HESTA's investment partners, the proportion of women in investment management roles rose from 17 per cent in 2018 to 22 per cent last year.
Unlisted managers did most of the heavy listing, increasing the number of women in investment roles to 24 per cent—up from 17 per cent in 2018. For its listed managers, diversity shifted slightly, increasing from 16 to 17 per cent in 2020.
HESTA said the increase in representation largely came from growth in the number of women in mid-level investment roles. But it's at the senior level where the most work is needed.
Progress for women in senior roles at both listed and unlisted managers has stalled, the survey shows. There are still no female Chief Investment Officers at listed managers, and in unlisted managers, the proportion of women at the Partner level remains unchanged at 10 per cent.
Alarmingly, women leaving investment teams altogether at listed funds surged at the Portfolio Manager level from 0 per cent to 11 per cent in 2020.
Hiring and internal promotions also remain an issue, particularly for listed managers. Among these firms, the percentage of roles women were hired for fell at Portfolio Manager (17 per cent 2018 vs 13 per cent in 2020) and Senior Investment Analyst (33 per cent vs 20 per cent). Internal promotions were noticeably lower for female Portfolio Managers, Senior Investment Analysts and Investment Analysts.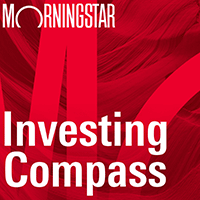 Listen to Morningstar Australia's Investing Compass podcast
Take a deep dive into investing concepts, with practical explanations to help you invest confidently.

Role-based gender distribution
Representing 70 of HESTA's domestic and international investment partners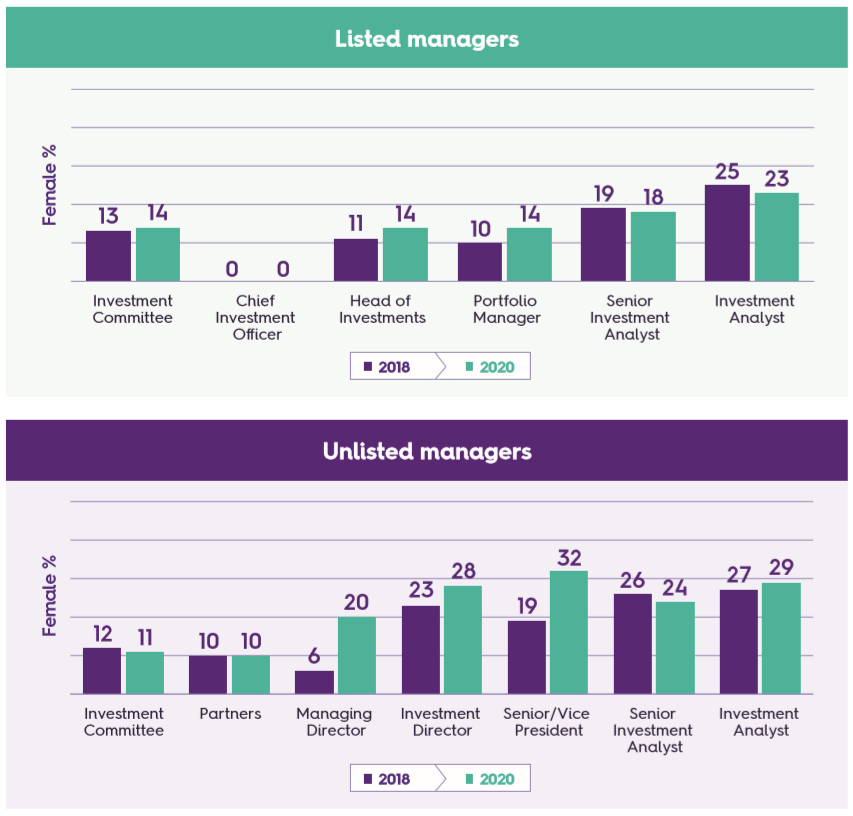 Source: 2020 Progress Report; How HESTA's Investment partners are progressing with Gender Diversity
While the HESTA research does not extend to the reasons behind the departures, anecdotal evidence points to struggles with work/life balance.
"[Portfolio management] is inherently a full-time role," Xing Zhang, an investment manager at Acorn Capital, told Morningstar last year.
"It can be structured to be part-time, but it's much harder. It's hard to take a holiday because you can put in your annual leave request, but the markets are still open, and your stocks are still moving and you're still accountable for the performance."
On advancement, Kate Howitt, lead portfolio manager for the Fidelity Australian Opportunities Fund, believes the industry must go through what she calls a "Moneyball moment', referring to Michael Lewis's bestselling book—and subsequent film—in which baseball players are chosen not because of a coach's "gut feel" but because they have consistent batting stats.
"Fidelity has had higher female representation and I put a lot of that down to the fact that we have decades of metrics quantitative metrics," says Howitt, who has been named in Citywire's list of the top 30 female fund managers in the world.
"We have a large pool of analysts around the world and we can watch the performance and qualitatively see who is doing well as an analyst and move them towards a portfolio manager role."
'Diversity dividend'
HESTA chief investment officer Sonya Sawtell-Rickson said the overall improvement was "encouraging" given the historic under-representation of women in the funds management industry. However, she says there's "still much work to be done", particularly if women are to progress to senior decision-making roles.
"There is ample evidence of the benefits of diversity in identifying the best talent and building strong, inclusive teams that consider a broad range of perspectives," she said.
"We want to ensure our members are benefiting from this 'diversity dividend' that can help drive continued strong, long-term investment performance."
The survey is part of HESTA's commitment to improving gender diversity across its internal and external investment operations. The $60 billion fund has over 880,000 members, 80 per cent of who are women. HESTA's internal investment team is 43 per cent female—up from 33 per cent in —which the fund says demonstrates that they practice what they preach.
HESTA has also led the charge for more women on the boards of ASX 200 companies, committing in 2017 to vote against directors up for election on all-male boards.
"More inclusive workplaces can improve the long-term performance of companies and provide greater career opportunities for women..." Sawtell-Rickson said.
"Our ultimate ambition is to achieve gender balance—40 per cent identifying as women, 40 per cent identifying as men and 20 per cent any identification—and eliminate gender pay gaps that may exist across our investment value chain."
The two surveys conducted with HESTA investment partners took place in 2018 and 2020, looking at the calendar years from 1 January to 31 December for 2017 and 2019, respectively.