News
AUPM Features

1. Custom Views - Over 200 Datapoints
2. Reporting Package
3. Manage Your Sell Transactions
4. Automatic Notification of Dividends and Splits
5. Cash Flow Tracking
6. Insights View
7. Cash Distributions and Dividends
8. Include Cash in My Performance
9. Export in MS Excel
10. Aggregated News
11. Expanded Tracking
12. Hide Closed Positions
13. Target Prices
14. New Import
15. New Printing
16. New Navigation Menu
17. Drag and Drop Columns
18. Adjustable Column Width
19. Static Column Header
20. Improved Contrast
21. Personalise Your Portfolio Manager
22. Portfolio Persistence
23. Renaming Portfolios
24. Rename My View
25. Portfolio Level Settings

1. Custom Views - Over 200 Datapoints
We've added custom reports so you can view your holdings against key fundamental data. Choose from any of over 200 data points in up to four different data tables. Arrange the data in the order that will allow you to best manage your portfolio.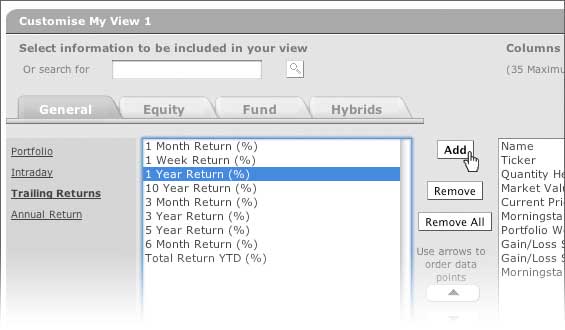 2. Reporting Package
Save yourself time and money when you export 3 new reports to your accountant. Portfolio Transactions provides a chronological summary of your buy, sell and dividend transactions. Dividends and Distributions summarises the income you have received including any franking credits. Closed Trade Summary lists the completed transactions and the associated profit or loss.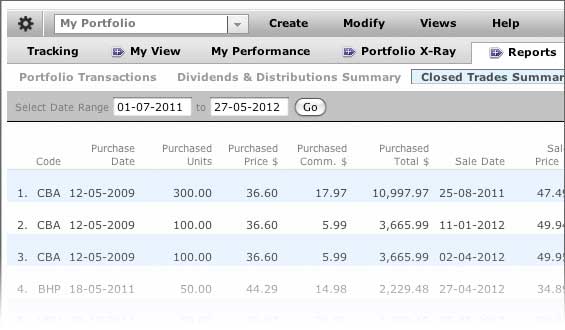 3. Manage Your Sell Transactions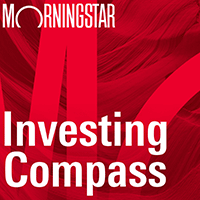 Listen to Morningstar Australia's Investing Compass podcast
Take a deep dive into investing concepts, with practical explanations to help you invest confidently.

Separate Buy and Sell tabs allow you to choose which parcel to sell. Check the profit or loss in the Preview Sell Transaction mode before optimising your sale.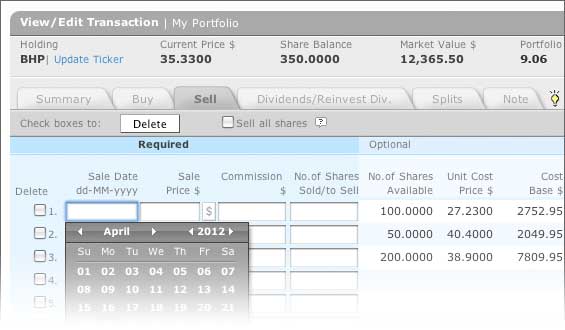 4. Automatic Notification of Dividends and Splits
New functionality automatically notifies users of dividends, distributions and splits relating to their portfolio. With 2-clicks, you can apply the corporate action to your portfolio. When recording dividends, you have the ability to "Apply All" dividends for the current holding, or individually.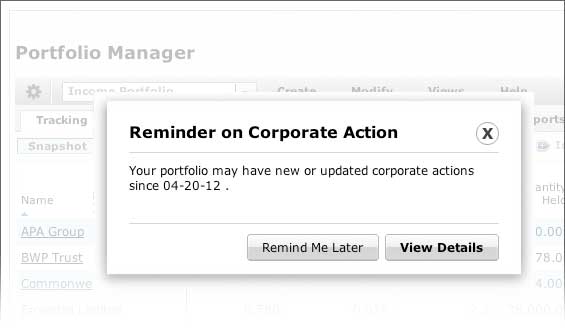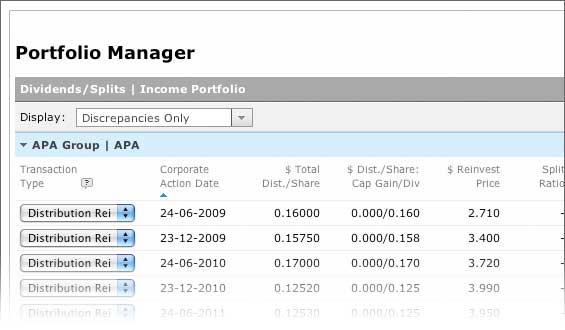 5. Cash Flow Tracking
We've added support to enable you to track cash flows in your transaction portfolio(s). You can link your transactions with your cash accounts to monitor inflows and outflows. For new portfolios, just check Track Cash Flows next to the Portfolio Name. If you want to retrofit an existing portfolio, choose Modify => Organise Portfolio from the drop down, then click to enable in the Track Cash Flows column for the portfolio(s) you choose.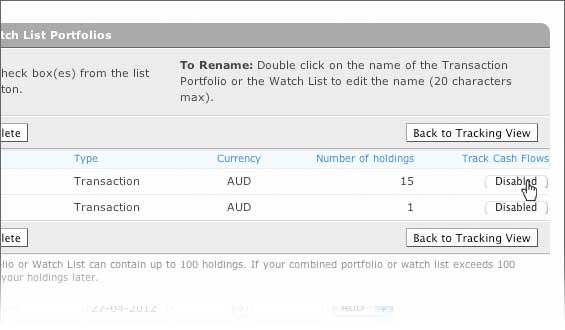 6. Insights View
We've added the Insights view in Portfolio Manager to give Premium users quick access to Morningstar's proprietary data points.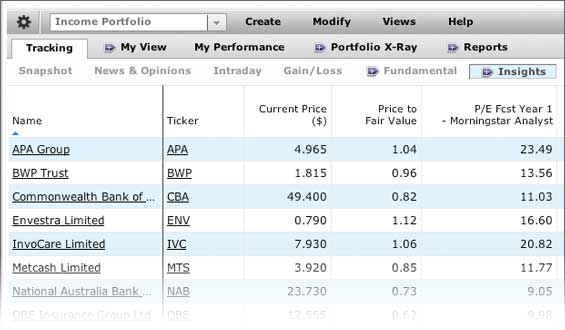 7. Cash Distributions and Dividends
You can elect to receive distributions and dividends as cash when you enable Track Cash Flows. Enable cash flow tracking via the Organise Portfolio screen. Then navigate to the Dividends/Splits page and you will be able to either reinvest dividends or receive the payments in cash and apply to your portfolio.

8. Include Cash in My Performance
Now you can include your cash holdings in the My Performance portfolio return calculations. If you've accurately tracked your cash flows, and have a positive balance in your cash account(s), click the Include Cash box to refresh the page with cash as a holding in the portfolio return calculations.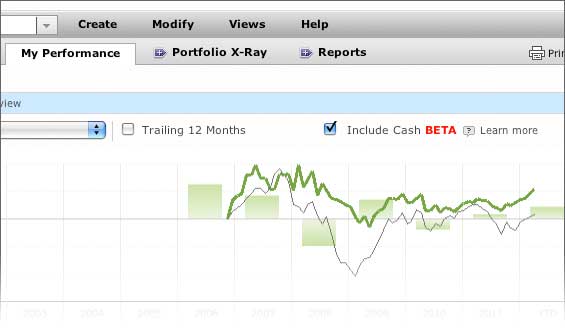 9. Export in MS Excel
One-click functionality allows you to export your data from your view pages to Microsoft Excel. This feature gives you the flexibility to be able to manipulate, format and print your reports outside of Portfolio Manager.

Just click on the Export icon or choose Create =>Export from the menu and you can export the Snapshotview.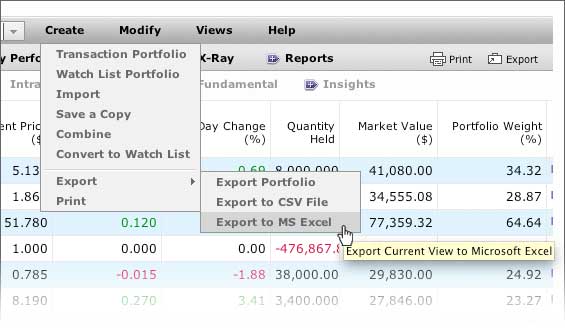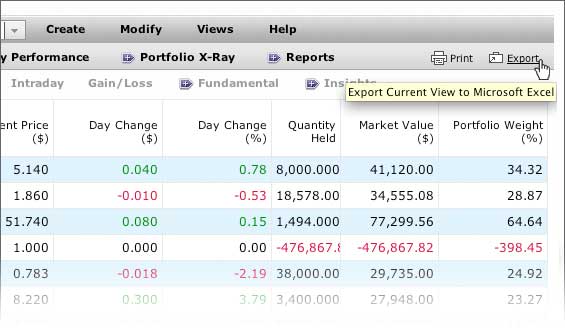 10. Aggregated News
News content is sorted by holding, date and source to make it fast and easy for you to review the news that impacts your portfolio.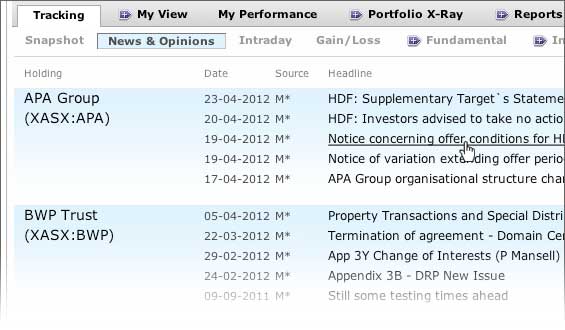 11. Expanded Tracking
Premium users can now track twice as many holdings in their portfolios. You can now add 200 securities (Funds, Stocks, Hybrids, ETFs, LICs, Warrants) and 40 cash holdings, making the overall potential number of holdings a total of 240 per portfolio.

12. Hide Closed Positions
You can hide closed positions (securities with a balance of 0) without having to delete them from your tracking views. Just choose Hide Closed Positions from the View menu on your toolbar. And since the positions are saved, you can always access them by clicking Show Closed Positions on the toolbar.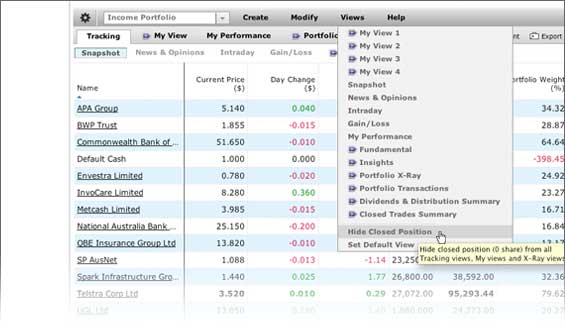 13. Target Prices
Now you can set target sell and buy prices for your securities in Portfolio Manager. In My View =>Customise My View, add the target price data point (Target Sell ($) or Target Buy ($)) to your custom view. Once added, simply double-click on the corresponding cells in the view page to set or edit your target prices.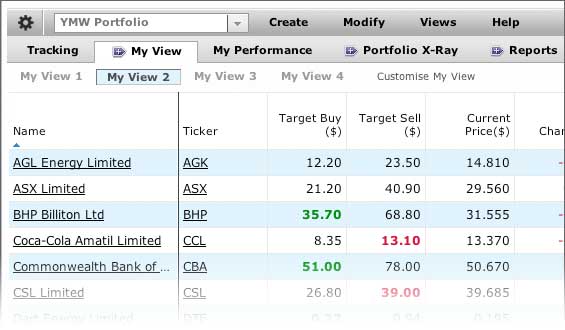 14. New Import
Whether you want to create a new portfolio or import new data into an existing portfolio, the Import wizard makes it simple.
Choose the import method that works for you:
Upload an existing file;
Manually enter the holdings data you want in your portfolio.
In just a few simple steps, you can update an existing portfolio or create a new one.

15. New Printing
One-click functionality allows you to print from all of your views pages. Just click on the

Print icon or choose Create =>Print from the menu.

16. New Navigation Menu
We've improved portfolio navigation with a user-friendly toolbar - Create, Modify, Views, and Help - to make it easier for you to find what you are looking for.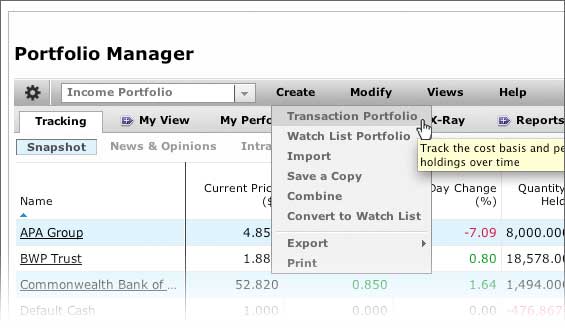 17. Drag and Drop Columns
Reorder data points by dragging and dropping the columns right where you want them.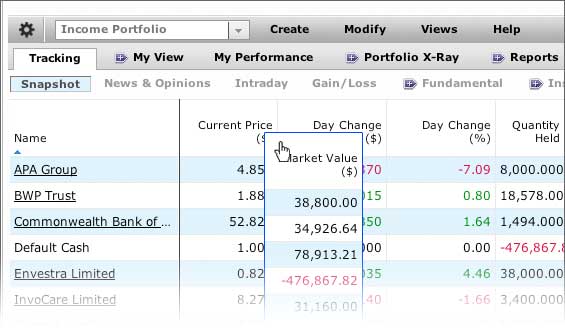 18. Adjustable Column Width
You can now adjust and save column width for every data point in your views.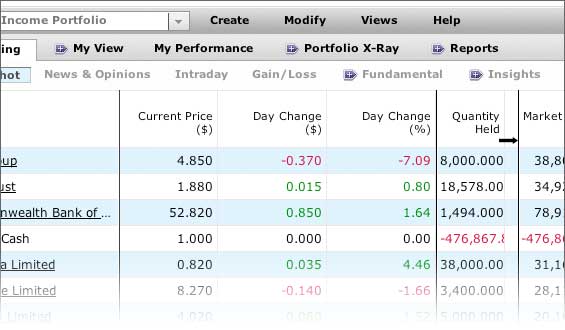 19. Static Column Header
To make it easy to manage your portfolio, the column titles are frozen on the top of the screen as you scroll down your portfolio holdings.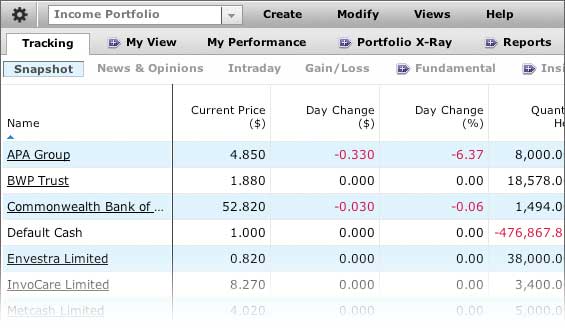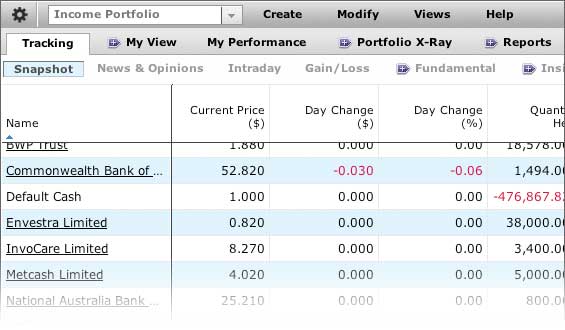 20. Improved Contrast
Design changes have improved colour contrasting in all of the following views: Snapshot, News & Opinion, Intraday, Gain/Loss, Fundamental, and My View.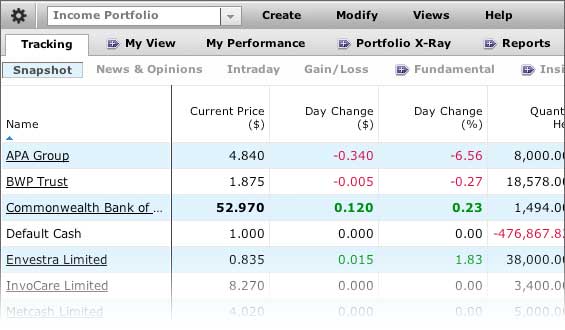 21. Personalise Your Portfolio Manager
You can now personalise your Portfolio Manager:
Font sizes can be chosen from larger to more compact;
Five choices for the row colours are available, including the classic yellow;
Choose decimal places for many of the data points;
Opt to enable or disable the corporate action notification.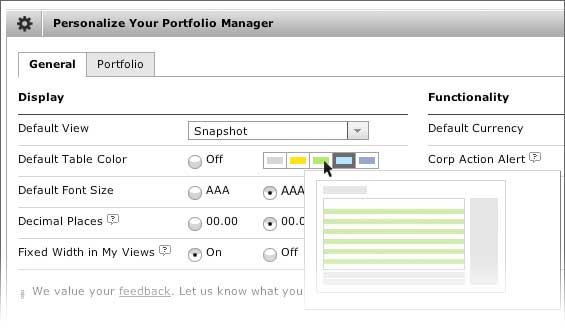 22. Portfolio Persistence
We've added new functionality to recall your preferences as you navigate through the tracking views. Portfolio Manager will now remember and preserve your:
Column sorting preferences;
Expand/Collapse preference for the Latest News section.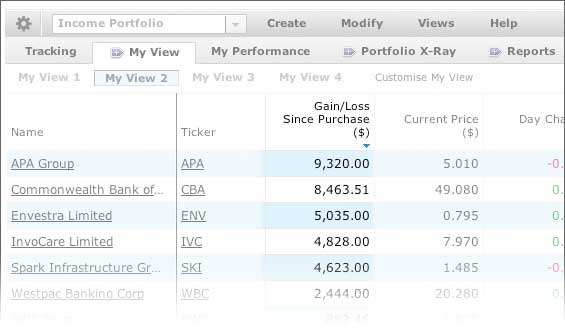 23. Renaming Portfolios
Simply double-click on your Portfolio name to make changes. Go to Modify=>Organise Portfolio and double-click on the portfolio name you wish to edit.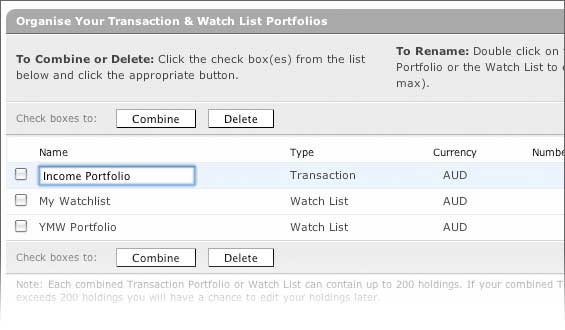 24. Rename My View
You can name your Custom Views. Once you are in any of four custom views, simply double-click on the view name to change it.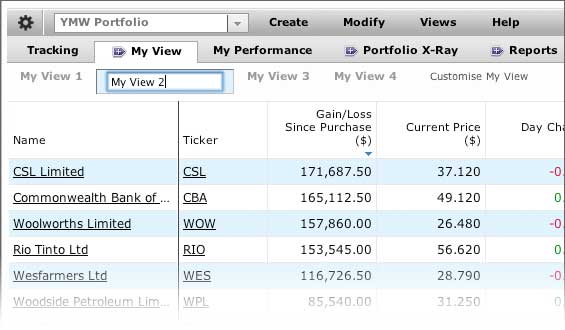 25. Portfolio Level Settings
You can set options for each of your portfolios instead of using the same option for everything:
Choose your preferred benchmark index;
Hide or show closed positions.

Portfolio Manager Classic Features
Tracking
Track the daily price changes of a wide variety and large number of securities. View the profit and loss of individual holdings at a glance.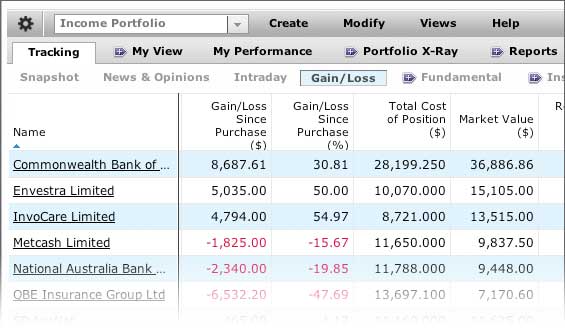 My Performance
Chart the performance of your portfolio against the index over various timeframes.
Portfolio X-Ray
Portfolio X-Ray is a sophisticated analytical tool that allows you to dissect your portfolio and gain a clear view of your holdings.

You can evaluate your overall asset allocation and sector weightings as well as uncover concentrated positions and view the stock holdings behind your managed funds.