News
Discover new investments
The Morningstar Stock Screener is a tool that can be used to search for stocks by sector, market cap, and key criteria including performance figures and valuation ratios. For premium subscribers, you can also include criteria such as our analyst recommendations, economic moat, stewardship rating, fair value uncertainty or three analyst pre-defined searches.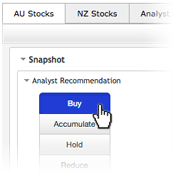 ---
The Morningstar Fund Screener is a tool that can be used to find investment trusts, superannuation funds, pensions and annuities by fund manager, category, assets, minimum investment and returns criteria. For premium subscribers we also include the Morningstar Rating as a search criteria.
---
Morningstar's monthly Global Equity Best Ideas is a compilation of stock ideas sourced from Morningstar's global equity research team. Coverage includes companies based in Australia & New Zealand, Asia, the Americas and Europe, which are currently trading at significant discounts to our assessed fair values.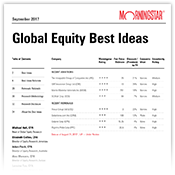 ---
Morningstar's Model Income Equity Portfolio is an actively managed concentrated portfolio consisting of stocks in the S&P/ASX 200 Index. Model holdings primarily consist of companies with greater than average sustainable net yield expectations.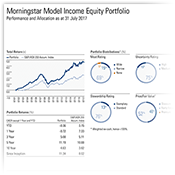 ---
Morningstar's ETF Model Portfolios are a series of diversified, model portfolios that are designed for varying investor risk and return profiles. Asset allocations have been devised using Morningstar's strategic asset allocation framework and long-term capital market assumptions. ETF selection relies on Morningstar's qualitative and quantitative ETF research.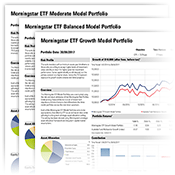 ---