News
Evaluate investments
Morningstar's Equity Research Reports provide a comprehensive view of each security that we cover. We provide an overall recommendation based on our calculated intrinsic value compared to the current price of the security. The key to our evaluation of each security is our assessment of the four key components of our fundamental analysis: the fair value estimate, uncertainty rating, economic moat and stewardship rating. Our analyst report also includes, our full investment thesis and comments on the valuation and risk of the security.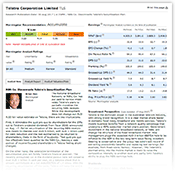 ---
Morningstar's Manager Research covers LICs, ETFs and Managed Funds. We provide our forward looking qualitative Morningstar Analyst Rating along with a detailed research reports. Our full analyst report includes our view of the role that the fund or ETF can play in a diversified portfolio as well as our assessment of the investment team, investment process and the various fees that investors are charged.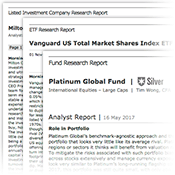 ---
Morningstar's Credit Research covers Hybrid securities. We provide full research reports including recommendations on new issues and on-the-run Hybrid securities.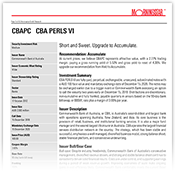 ---
Morningstar publishes a number of special reports that provide in-depth analysis of individual securities, sectors and assets classes. Our special reports include monthly reports on the credit market, small-cap stocks and ETFs and our bi-annual earnings season insights and forecast reports.