News
When I'm 64: the year traditional investing looked old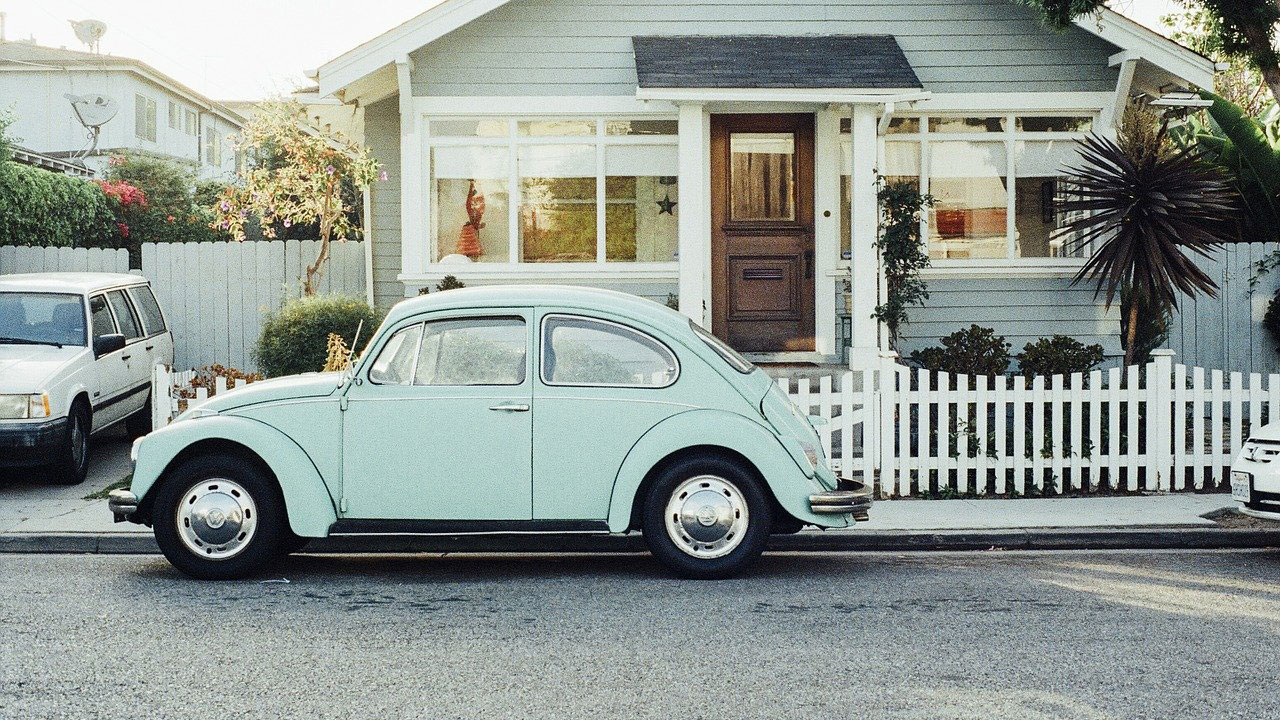 "If you are not a little confused by what's going on, you don't understand it."
Charlie Munger, Vice Chairman of Berkshire Hathaway, at the 2021 Annual General Meeting.
I turned 64 yesterday. A few years ago, at an amazing Paul McCartney concert in Sydney, the then 76-year-old explained that he was 19 when he wrote the lyrics to 'When I'm 64', and the age seemed very old at the time. Now, if he were writing the song again, he'd go for 'When I'm 84'. McCartney looked spritely enough to live well beyond 84 in his three hours on stage without a break.
Here's the 2009 remastered version from Sgt. Pepper's Lonely Hearts Club Band.
When I get older losing my hair
Many years from now
Will you still be sending me a Valentine
Birthday greetings bottle of wine
If I'd been out till quarter to three
Would you lock the door
Will you still need me, will you still feed me
When I'm sixty-four
A new era when fungible became non-fungible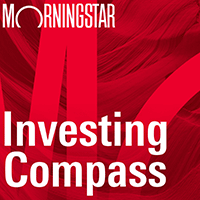 Listen to Morningstar Australia's Investing Compass podcast
Take a deep dive into investing concepts, with practical explanations to help you invest confidently.

In my 40+ years of investing, I have never experienced a year like 2021 with so many aspects of 'investing' that I cannot fathom. It feels like many of the techniques of traditional investing, such as discounting the expected future earnings to a present value, have become old, and younger generations are inventing new ways to build wealth.
NFTs, crypto, Bitcoin, memes, BNPL, eSports and don't start me on social media stonks and finfluencers.
I could be handy, mending a fuse
When your lights have gone
In my younger years, I had strong claims to working at the leading edge of financial markets innovation. They were pioneering days in Australian dollar Eurobonds, and it was great fun arranging the first zero coupon bond, the first bond with warrants attached, the first subordinated bond for an Australian borrower, and in the ultimate irony, the first fungible issue.
Yes, in a new world where 'non-fungible' tokens are the hottest properties in art, our Eurobonds were deliberately 'fungible' (interchangeable) with previous issues to build liquidity in a sector notorious for its lack of liquidity. It was a great success, bringing more investors to Australian dollar Eurobonds, but non-fungible is now the way to riches.
I even developed a term deposit product at the Commonwealth Bank, called Excel-A-Rate, where the rate increased the longer the investor left the money in the bank. Incredible to recall it was offered in a thousand bank branches on the back of a proposal written by a young kid.
I split the investments that puzzle me into two camps:
First, those I generally understand, such as the hysteria and FOMO of a Rivian IPO that makes it the second-most valuable car maker in the world when it's barely made a car. There are enough punters willing to believe the dream or hope there's a higher buyer. This type of mania has come and gone for hundreds of years.
But second, new technologies are creating investments where I have neither the time nor patience to fully appreciate the opportunity, such as NFTs and cryptocurrencies, which sell for crazy numbers. They are either scams or opportunities, with plenty of people in both camps.
History is full of tulip manias but what is different this time around is an interconnected world of billions of people, and technology can deliver leverage and long-term success in a way we have never seen before.
Doing the garden, digging the weeds
Who could ask for more
1. Bitcoin and cryptocurrencies
There's a difference between the potential of blockchain as an emerging technology and an investment in a cryptocurrency like Bitcoin and thousands of other coins. Satoshi Nakamoto wrote his original paper:
"A purely peer-to-peer version of electronic cash would allow online payments to be sent directly from one party to another without going through a financial institution ... We propose a solution to the double-spending problem using a peer-to-peer network. The network timestamps transactions by hashing them into an ongoing chain of hash-based proof-of-work, forming a record that cannot be changed without redoing the proof-of-work."
Fair enough. A new payments system will develop.
But there are now over 6,000 cryptocurrencies available, and while they can be used for speculation and trading, there is nothing fundamental to their value as a long-term investment. Coin prices can move rapidly based on no more than a Tweet from Elon Musk. When he announced recently that "Tesla will make some merch buyable with Doge & see how it goes", Dogecoin's price jumped 20%. Most commerce cannot be based on such volatility.
Yet cryptocurrencies are already valued at about $3 trillion, with Bitcoin at $1.2 trillion and Ethereum at $700 billion. That's serious coin. As shown below, a single Bitcoin, worth less than US$4,000 a couple of years ago, has a high of US$68,789, although it has dropped to about US$48,000 now.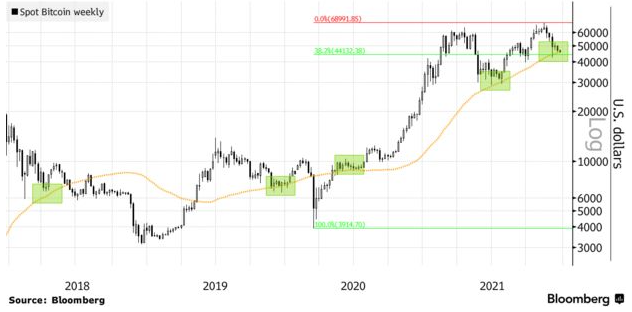 Hamish Douglass wrote this article in Firstlinks where he gave a detailed analysis and concluded:
"In our opinion, it is virtually certain that, in time, cryptocurrencies that are not backed by assets or by a central bank will become worthless."
The chart below shows Venture Capital funds have invested about US$30 billion into crypto in 2021, according to PitchBook Data, more than in all previous years combined (the technology is about 10 years old).
How can this be justified? Spencer Bogart of Blockchain Capital, one of the largest investors in the crypto industry, explained:
"We've moved beyond just digital gold. We've got financial services, art, gaming as a subcategory of NFTs, Web 3.0, decentralised social media, play-to-earn … all of that made investors think, `We don't have enough exposure.'"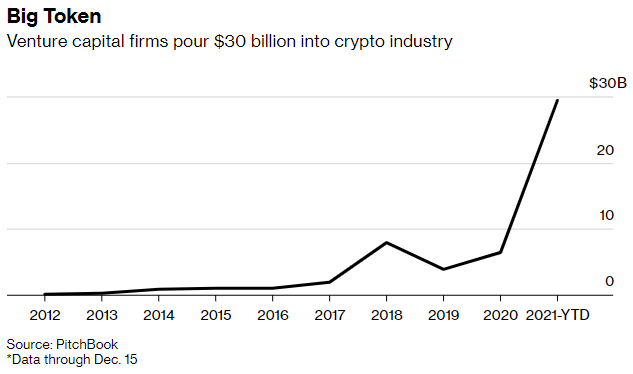 2. Meme stocks
Remember all the fuss a few months ago about the impact of Robinhood? Recall how the media was full of stories about GameStop? In the US in particular, although we had minor versions in Australia, meme stocks backed by social media trading on sites such as Reddit and TikTok delivered massive returns and losses with little based on the merits of the underlying businesses.
Here is a chart showing four leading US meme stocks and their current value versus their highs.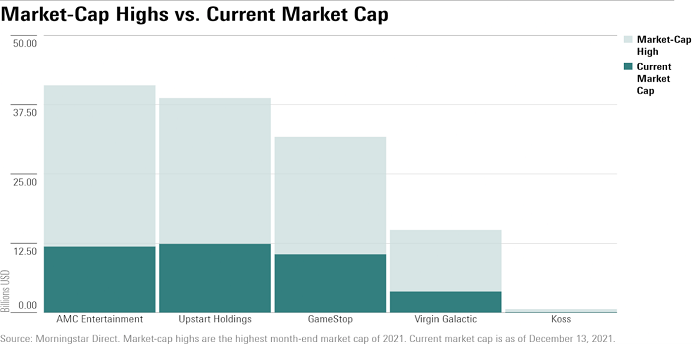 3. Buy Now Pay Later (BNPL) copycats
Afterpay hit on a great idea and redefined the way millions of people pay for goods. Their execution of a strategy was almost flawless, reinvesting capital in the business and not caring about profit while expanding globally. The business was sold at the peak for the sector in another piece of exemplary business. I wrote about my modest profits but I've been out of it since the Square offer.
What was harder to understand was the expectation that all the companies that jumped on the BNPL bandwagon would find enough market share and margins to make viable businesses. Investors bought into each new offer like crazy and have paid a severe price in most cases. The chart below shows the market highs and lows for Australia's BNPL companies, in some cases down 90%. This week, Afterpay hit a 52-week low.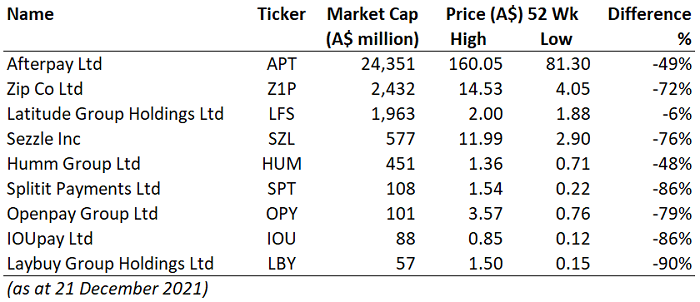 4. Non-Fungible Tokens (NFTs)
This one is an absolute cracker. At the start of 2021, the global NFT value was about $400 million, and it is forecast to reach $15 billion by the end of 2021. An NFT is an electronic image that exists in a digital form.
The craze really started in March 2021 when an NFT called Everydays: The First 5000 Days sold for US$69 million at Christie's. Much of the NFT universe is linked to popular culture and US sport, and there are now hundreds of millions of dollars of NFT sales each week via public marketplaces.
It's a new asset class, and the reason I do not fully appreciate the possibilities is that they are opening markets and businesses that I simply don't recognise or use.
Here's a rough explanation of why it works. Previously, the owner of a digital image had no clear property rights. NFT owners now have a way to prove ownership rights. The NFT is stored in a public domain on a blockchain, and because they are programmable, they can function in innovative ways. They might become tickets to events, memberships, merchandise, cards, or give access to discounts or special games. A community can be created around a popular image. NFTs create potential for royalty payments, as the owners of songs have received for decades (Bruce Springsteen just sold the rights to his catalogue for US$550 million).
But for the ultimate putdown of NFTs, check this fantastic South Park tweet, already viewed over two million times.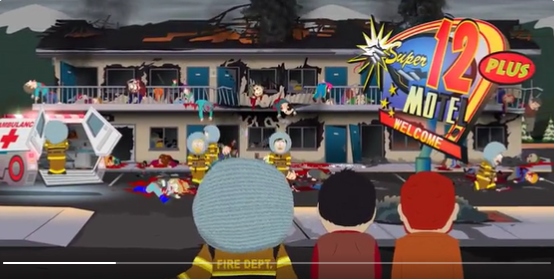 How far can this go? The Australian Financial Review reported this week that an Australian has earned almost $100,000 in six months operating a car repair shop online in a virtual city. The shop sits on:
"a multi-blockchain metaverse gaming platform that launched this year. Players can buy non-fungible tokens that represent virtual taxis, petrol stations, billboards and even motorcycles."
5. eSports and gaming
Yes, we played board games a lot in my family, and Monopoly, Cluedo, Scrabble, Trivia Pursuit and dozens more now sound so cute and innocent. More recently with my kids, a wide range of new games continued the family fun (I love Codenames).
But younger generations are big time into online gaming and stadium events. Online gaming is any video game using internet interaction with other players, who could be anywhere in the world. The eSports ecosystem will exceed US$1 billion in revenue in 2021 and it is expected to double next year.
This is a massive business that makes serious profits with genuine future earnings potential (and sales of baseball caps). Frank Gibeau, the CEO of Zynga, a global leader in interactive entertainment, claimed recently:
"Now it's (the gaming industry) bigger than movies and music combined. It's the largest entertainment form in the world. It's growing and proliferating across the world, across so many different devices and new markets."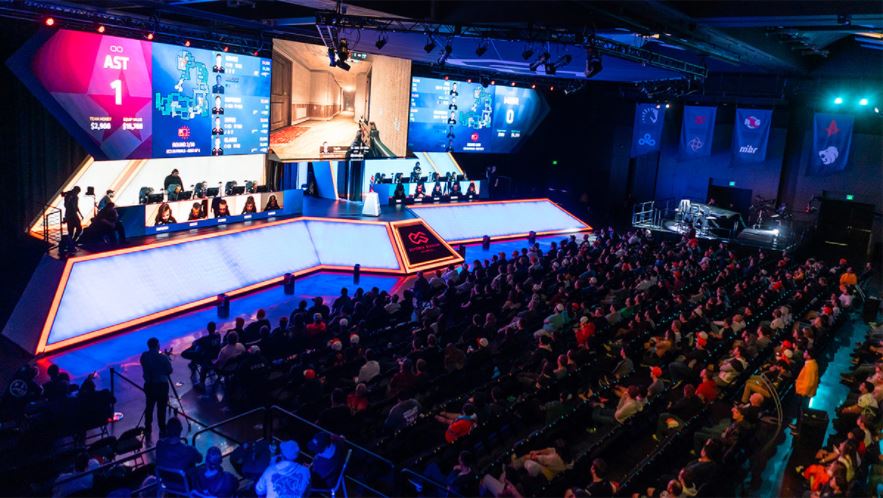 So while it's a parallel universe for me, Australian ETF providers are in on the game. For example, VanEck has launched its Video Gaming and Esports ETF (ASX:ESPO) based on:
"The MVIS Global Video Gaming and eSports Index is designed to track the overall performance of companies involved in video game development, eSports and related hardware and software globally."
6. Finfluencers
The influencer economy is worth an estimated US$22 billion a year, although a small part of it relates to investing and advice. But it's the same principle. Someone builds an audience and they are paid to influence their audience.
I'm too old and grumpy to listen to a twenty-something talk about how to invest my first $1,000, and most readers of Firstlinks are not in the target audience for #finfuencers having a giggle about investing while admitting they don't know much. Some of them have more followers than Firstlinks, as we don't play the clickbait game or 'prime our pump'.
Some financial advice comes from beautiful people on Instagram with beginner guides to investing, YouTube videos on asset management, Facebook groups discussing company share prices or TikTok on anything with dances, makeup and, yes … let's throw in investing.
They bring in the advertising dollars, which is the main game, and a social media endorsement from one of these bright young things might cost thousands of dollars, depending on the audience. Why a fund manager wants to reach someone with $1,000 and a credit card debt is a mystery. And yes, they reach clients that qualified financial advisers are not interested in, so where are young people supposed to turn? I blame the educational system for not making financial literacy as important as other subjects.
The Australian Securities and Investments Commission (ASIC) is watching social media influencers who are offering financial advice without a licence. The ASIC Chairman, Joe Longo, calls it an 'area of big concern'. ASIC reports on its website that it is:
We are engaging with social media platforms, forum moderators and financial influencers or 'finfluencers' to consider market practices, the application of financial services laws and drive behavioural change.
We are embedding tools and undertaking reviews of social media to detect unlicensed advice to retail investors.
We are enhancing our social media monitoring and network analytics capability to identify more connections, as well as coordinated activity that may harm market integrity or contribute to market manipulation.
If you can't beat 'em, join 'em. Peter Warnes and I will be back in 2022 with more seasons of the 'Wealth of Experience' podcast.
We shall scrimp and save
Grandchildren on your knee
A Day in the Life and signs of the times
There are many more examples. Companies with little potential to justify their IPO prices are listed on exchanges and soon crash (Robinhood is 74% down on its IPO price, Didi is down 63%, Rivian is off 35%). A lot of wealth has been destroyed in 2021 jumping on these bandwagons.
'When I'm 64' was the first song written for Sgt. Pepper's Lonely Hearts Club Band. The album's final track is the classic 'A Day in the Life' which includes the phrase "I'd love to turn you on". The BBC banned the song because this line could "encourage a permissive attitude toward drug-taking".
Can you imagine that happening today? Society, popular culture and entertainment have moved on. So, too, it seems, has investing, although over the long term, I expect traditional techniques will win.
BTW, what's a postcard?
Send me a postcard, drop me a line
Stating point of view
Indicate precisely what you mean to say
Yours sincerely, wasting away
Give me your answer, fill in a form
Mine for evermore
Will you still need me, will you still feed me
When I'm sixty-four