News
Whoyagonnacall? Five more risks buying off-the-plan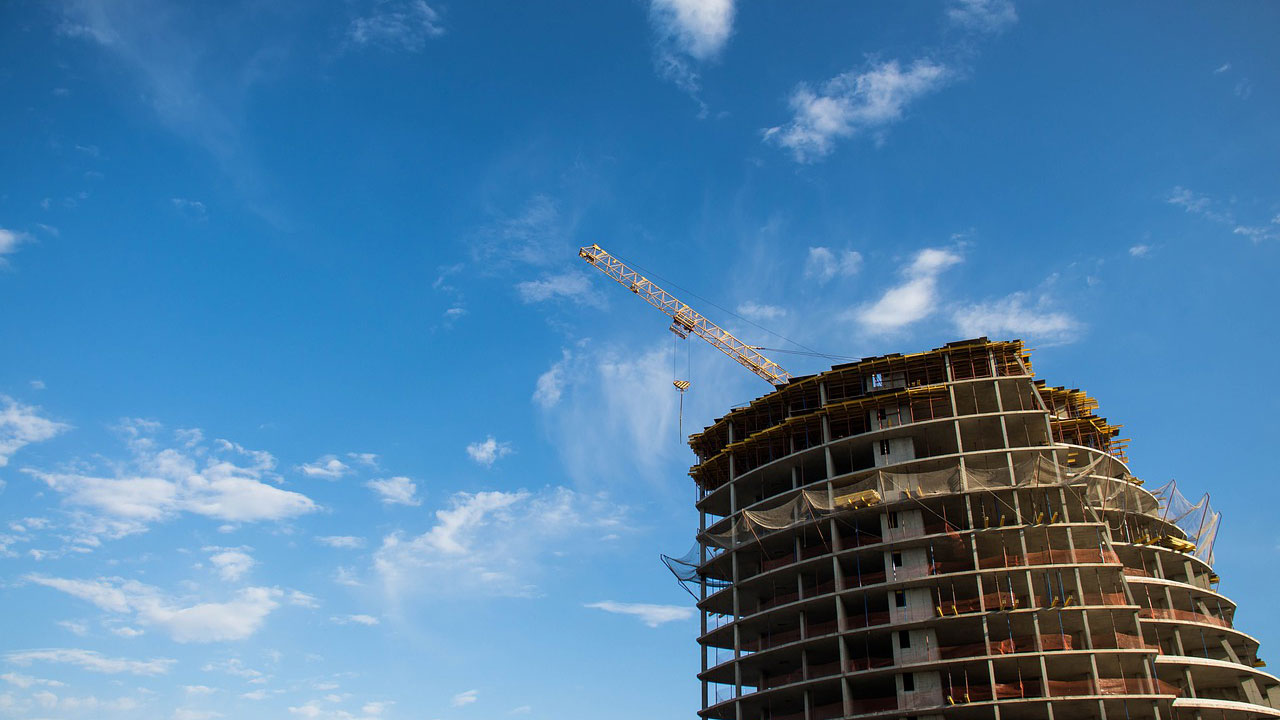 If there's something strange
In your neighborhood
Who ya gonna call? (Ghostbusters)
If there's something weird
And it don't look good
Who ya gonna call? (Ghostbusters)
If you're seeing things
Running through your head
Who can ya call? (Ghostbusters)
With acknowledgements to Ghostbusters, Ray Parker Jr, provided to YouTube by Arista Records.
***
In Part 1 on 10 off-the-plan risks, we covered identifying defects, managing the fixes, running the strata committee and getting what you paid for.
Part 2 looks at another five risks, with a focus on the drawbacks of buying when you cannot see the space, hear the noises, check the views and even sniff the smells.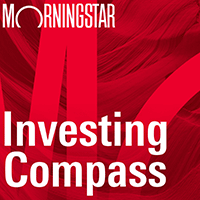 Listen to Morningstar Australia's Investing Compass podcast
Take a deep dive into investing concepts, with practical explanations to help you invest confidently.

In most cases, apartments are sold off-the-plan to enable the developer to obtain finance to begin construction. Banks often require pre-sales of 60% or more, and a project may not proceed without this early progress. Buyers will receive a refund of their deposit but they may have missed out on other opportunities while out of the market.
Buyers enter a contract and have a legal obligation to settle. Many buyers believe their worst-case scenario is forfeiting the 10% deposit but the developer may take legal action to recover other costs, such as losses or legal expenses in reselling the property. Purchase obligations are not subject to finance and the buyer may be unable to arrange a loan three years after the original purchase as their circumstances may change. A bank will only commit once the building is almost complete.
Here are five more risks:
6. What internal and external noises will the apartment suffer?
You loved those parquetry floors in the display apartment, all those years ago. Guess what! Your neighbours upstairs have the same floor. Was the sound deadening underlay installed properly? Why do they thunk-thunk around their apartment wearing hobnail boots? It goes on day and night until it drives you crazy. Whoyagonnacall?
Viewing a display apartment gives no hint of the noises inside your actual property. The sounds of traffic or trains or planes might be poorly insulated against, and even if the windows are double-glazed, you will not want to keep them closed all summer. What's that annoying noise from the air conditioning unit next door? What's with the music, this is not a party house. You're kidding me, an Airbnb. Apartment buildings are sometimes shared by hundreds of people. Don't assume they read Jane Austin each night. Australia's top-rating television programme is Married at First Sight. Those cretins you ridicule on television are your new neighbours.
Any acoustic engineer will tell you that large buildings are never silent. There is a vast amount of equipment running 24/7, including water heaters, aircon units, lifts, garbage chutes, ventilators, exhaust fans and electric shutters. Buy the apartment above the security doors to the underground garage and you will hear the opening every time you sit on the balcony. Whoyagonnacall?
And here is the irony. The noise from each piece of equipment is masking another sound. You might hear an annoying hum from a machine which the builder agrees to fix, but when that machine is silent, you hear another one. Too low a background noise level may mean you can hear other noises in the building. And you know how they say your brain switches off to repetitive noises? Don't believe it.
Some noises are there to stay so just get used to them. Or do you expect the conversation to go like this during your final inspection?
You: The agent told me there would be special thick glass to insulate against the road noise.
Developer: Oh, damn, did we use normal glass? Sorry about that. Let's put the scaffolding back up and replace all the glass in all the windows with thicker glass. That will cost about $2 million but no worries, we'll pay for it and have it done quickly with the least inconvenience to the owners.
To misquote from The Castle, you're dreamin'.
7. What are the views really like, and what's that smell?
For many apartments, the view is a critical part of the value and price, and crucial for the amenity and pleasure of a new home. A problem with the view is not like replacing a dishwasher. It might be beyond the control of your anyone on your project. For example, a different developer may have acquired land next door and it would be devastating to inspect your new home only to find another building only 11cm from your balcony.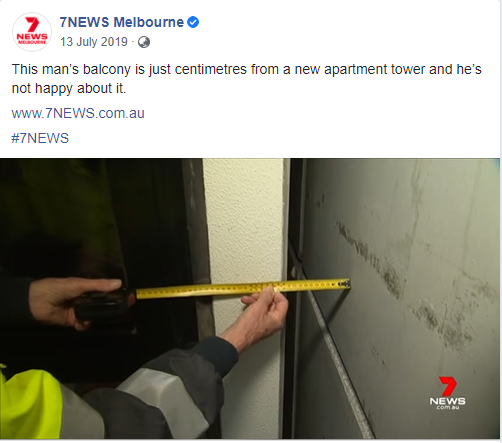 When the marketing brochures are prepared, the photographs or artist drawings often represent an image from the penthouse, the best view in the building. Pity that's where someone else lives. From your apartment, the view may be straight into someone's dining room. I recently inspected a new construction with an existing 527-unit Mirvac building blocking the harbour views below the 34th floor.
A friend inspected a high-end off-the-plan development on Sydney's north shore. The penthouse was priced at over $12 million and the quality of the harbour view was critical to the value. He was sceptical of the marketed view pictured as if the apartment were on the water, whereas it was set well back, albeit with an elevated outlook. So he hired a drone and pilot to take photographs from the actual location of the future penthouse balcony and it was a vastly inferior view over houses. He did not proceed.
A common marketing technique is to take a promotional shot through a gap, ignoring the fact that the actual perspective is 'framed' by two large apartment blocks either side of the view.
The water view? Who are they kidding? In some places, it's a tidal mud flat, and when the tide goes out, the water is 200 metres away. Maybe you like the look of mud clinging to the roots on mangroves, but what about the smell? There are suburbs with water views where the smell at low tide forces residents to close the windows.
Nobody who buys off-the-plan thinks about smells. You know that restaurant space you saw in the glossy brochure, the ground floor retail showing happy people meeting in a great community scene. Well, the kitchen exhaust is near your balcony, and each night, the smell of tandoori chicken wafts into your living room. No matter how much you like tandoori chicken, you don't want to smell it every night.
8. Why is that community coffee shop still an empty space?
Many apartments are mixed-use developments, with the ground floor devoted to commercial space, sometimes offices but often coffee shops and restaurants. The brochure shows food places full of smiling faces sipping great coffee, and buyers picture themselves meeting up with friends for a morning latte with apple danish, looking out on landscaped gardens. The sun is shining, you expect to WFH more, and it will be paradise.
But a coffee shop cannot be supported by a hundred apartments. It needs a lot of passing trade, and COVID has killed many of these businesses. Commercial spaces may lie idle for years, or forever, with owners hoping some sucker will fit out and rent a low traffic area. Eventually, the 'For Lease' signs hang down on yellowed tape, gathering dust, making the whole ground floor of the building feel sad and desolate. Try selling the promised vibrancy to a new owner. Consider the location and ask yourself whether it is likely that anyone will take the ground floor space.
9. Why can't I sell my apartment for more than I paid for it?
Agents sell a dream, you are selling a reality.
The developer spent millions of dollars on promotions and marketing, maybe $50,000 an apartment on top of agents' fees. The project appeared on the cover of national magazines with gushing articles written by compliant journalists whose other job is to encourage advertisers. The building was promoted in Hong Kong, Singapore and China, the display model was an architectural masterpiece, and there were a hundred people in the queue during your first look.
You simply cannot compete with this level of glitzy promotion when it comes to selling your completed two-bedder. And the bad news is, there are five other two-bedders for sale in the same building for the same reasons you want to sell, and all those agents' signs at the front door look really tacky.
All those things you missed or glossed over or ignored in the original frenzy are now obvious. The living area is dark and buyers notice you switch on all the lights during inspections. The balcony barely fits a decent table. The study is more of a cave than a place you want to WFH. And, oh dear, there's a solid column in the middle of your living room that was not on the original plan.
10. Is that common property or is it mine?
In many cases, it is obvious what common property is: external walls, roof, foyer, lifts, stairwell, pool and driveway. Some owners believe they are only responsible for maintaining their own apartment but common property is jointly owned by all owners through the Owners Corporation (OC). Everyone pays for its maintenance, although features such as swimming pools and gymnasiums are used by a few. It leads to disputes over the standard to which the common property should be maintained.
The strata plan usually shows common property boundaries, but it can be confusing exactly where to draw the line. The flooring in an apartment is common property but not the carpet. A pendant light which hangs down from the ceiling is not common property but a downlight installed in the ceiling is. External doors and windows are common property, which means a broken window is paid for by all owners. Some owners begrudge paying for damage in the apartment of others, such as a lifting floor tiles or a blocked drain.
Any owner who wants to modify common property must seek permission from the OC or SC. An owner with a garden space nobody else uses may ask for an 'exclusive use' by-law, which is sure to generate opposition, even from owners who have never set foot in the garden.
In mixed-use developments with commercial premises, there may be disputes over signage, customer parking and usage. Another friend has battled for years in his apartment building to prevent a 24-hour call centre moving into the commercial space with access via the main foyer, fearing the coming-and-going of strangers at all hours will change the residential nature of the building.
The Design & Building Practitioners Act (DBP Act)
The DBP Act 2020 imposes obligations on builders to improve compliance with the Building Code of Australia. It requires each step of construction to be documented and compliant with the intention of improving the culture and competence of the industry.
This relatively new legislation remains untested in practice, especially managing defects post-settlement. A criticism is that it works to the standards of the Building Code but many high-quality apartments are specified to much higher standards. Builders are supposed to lodge details of 'variations' from original plans but there are few details on what qualifies as a variation. Every project evolves as it is built. Both owners and builders worry that the increased compliance will delay completion of buildings.
Another criticism is that whereas the Home Building Act requires the owners to pursue the builder in the first instance, the DBP Act allows owners to make a claim on everyone involved, including contractors and smaller businesses as well as the larger builders and developers. A major dispute could bring many more parties into the room, adding complexity and legal costs to the rectification.
Nevertheless, there are some encouraging signs, with the NSW Building Commissioner David Chandler publicly identifying buildings with defects and handing out remedy orders. It includes the buildings on this list.
Many defects surface long after settlement with complex legal implications, and it will fall to the owners to identify and manage a lengthy legal battle.
Unfortunately, there are no friendly defect busters to call "If there's something strange in your neighborhood."
Thanks to Martin Davies for assistance with this article although errors remain mine. Martin provides advice to owners' corporations and developers on addressing building defects. He works with both sides as it is in everyone's best interests to sort out the defects before they become major problems. He can be contacted on strata.projects.au@gmail.com.