News
4 pot stocks to benefit from legalisation
The cannabis market is undergoing a rapid transformation fuelled by accelerating global growth and favourable regulations. Leading pot companies are bulking up their competitiveness through acquisitions, like the recent high-profile merger between Tilray and Aphria, and product innovation. While Canada and Europe are key market participants, all eyes are on the US marijuana's market, which is expected to see brisk expansion of legalisation of recreational marijuana under the incoming administration of President-elect Joe Biden.
While the competition is intensifying, growth opportunities continue to surge. The US is expected to account for 70 per cent of the world's US$93.8 billion ($124 billion) market by 2025, according to Euromonitor International. It is noteworthy, however, that while the industry is growing rapidly, it is also highly volatile. Experts recommend investors exercise caution, only assign a small portion of cannabis to their portfolio, and have some ability to roll with market gyrations.
Tilray
Canadian weed major, Tilray (TLRY) cultivates and sells medical and recreational cannabis primarily in Canada, but also sells CBD Products in the US and exports medical cannabis globally from its production facilities in Canada and Portugal. Tilray also has a joint venture partnership with AB InBev to develop cannabis-infused drinks.

The company recently announced a merger with Aphria to form the largest cannabis company in the world by revenue with a larger international footprint. The merger positions Tilray well to benefit from wider legalization of medicinal marijuana in Europe where "a partnership with pharmaceutical company Sandoz has the potential to augment its medical cannabis growth," says Morningstar sector director Kristoffer Inton, who puts the stock's fair value at US$14.

Tilray shifted its focus from medical cannabis to recreational cannabis in 2018 when the latter was legalised in Canada. As a result, medical cannabis now accounts for less than one fourth of sales, from 90 per cent previously. Morningstar forecasts roughly 12 per cent average annual growth for the entire Canadian market through 2030 and 15 per cent annual growth for the global medicinal market for the same period.
Aurora Cannabis
Canadian grower Aurora (ACB) considers itself a medical cannabis company first, but benefits from the legalisation of recreational cannabis in Canada. Recreational now accounts for nearly half of gross sales and has been rising.

In Canada, the medical market is expected to shrink due to recreational legalization. However, the company stands to benefit from the roughly 10% average annual growth for the entire Canadian market through 2030, driven by the conversion of black-market consumers into the legal market, says a Morningstar equity report.

Aurora has expanded its global medical exports, currently shipping to more than 20 countries. "The global market looks lucrative, given higher realized prices and the growing acceptance of cannabis' medical benefits," says Inton, who pegs the stock's fair value at US$34.

In the US, though, the company has limited exposure, centred on the market for hemp-derived CBD products through its acquisition of Reliva earlier this year. Therefore, Aurora would not benefit from a change in US federal law on THC cannabis, says Inton.
Curaleaf
American producer, Curaleaf (CURA) cultivates and sells medicinal and recreational cannabis in 23 states in the US. Unlike its Canadian peers, the company does not currently export into the global medical market, but is much more vertically integrated with over 20 cultivation sites, more than 30 processing sites, and over 135 dispensary licences.
Curaleaf Holdings
Curaleaf provides investors full exposure to the U.S. cannabis market, the fastest growing and largest potential market. "Curaleaf has developed its footprint focusing on states with large populations and limited licences, such as Massachusetts, New York, New Jersey, and Florida," says a Morningstar equity report.

"The US market has the highest total potential and offers the largest growth of any market," says Inton, who recently upped the stock's fair value from US$13 to US$15.50, prompted by impressive third-quarter results. While the U.S. regulatory environment remains murky, it is expected that federal law will be changed to allow states to choose cannabis' legality within their borders. Broader legalisation will fuel market growth benefitting producers like Curaleaf. Inton forecasts annual growth of nearly 25 per cent and 15 per cent for the US recreational and medical markets, respectively.
Canopy Growth
Canopy Growth (WEED) cultivates and sells medicinal and recreational cannabis, and hemp, with operations primarily in Canada. The company has distribution and production licenses in more than a dozen countries to drive expansion in global medical cannabis. Canopy is poised to expand its exposure to the fast-growing US market through its standing deal to acquire US multistate operator Acreage Holdings. Canada accounts for roughly 80 per cent of product sales.

Canopy also exports medical cannabis globally. "The global market looks lucrative, given higher realized prices and growing acceptance of cannabis' medical benefits," says a Morningstar equity report, noting that the company benefits from strict regulations that new entrants must pass.

Last year, Canopy reached a deal to acquire Acreage Holdings, a US cannabis company, immediately upon federal legalization. "Canopy paid a good price and acquired an attractive option for an accelerated entry into the US," notes Inton, who appraises the stock's fair value to be US$39.
Morningstar ratings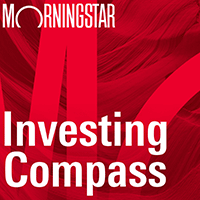 Listen to Morningstar Australia's Investing Compass podcast
Take a deep dive into investing concepts, with practical explanations to help you invest confidently.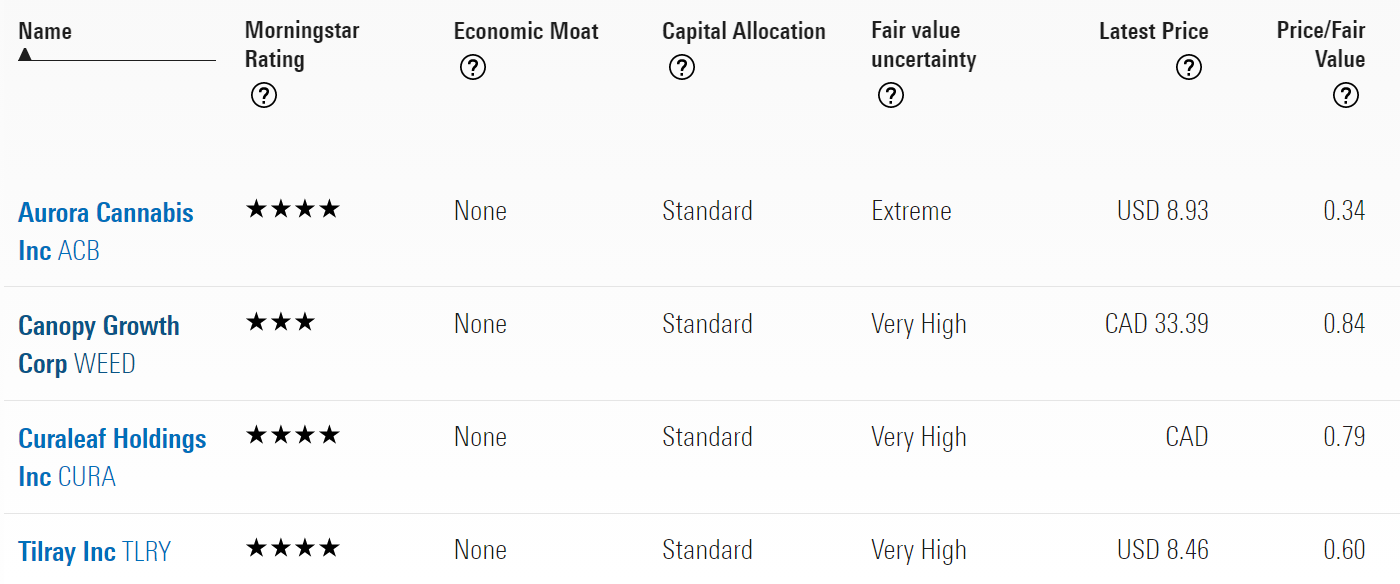 Source: Morningstar Premium; data as at 23 December 2020
Morningstar's Global Best Ideas list is out now. Morningstar Premium subscribers can view the list here.