News
Amazon set to cut short boom times for Aussie retailers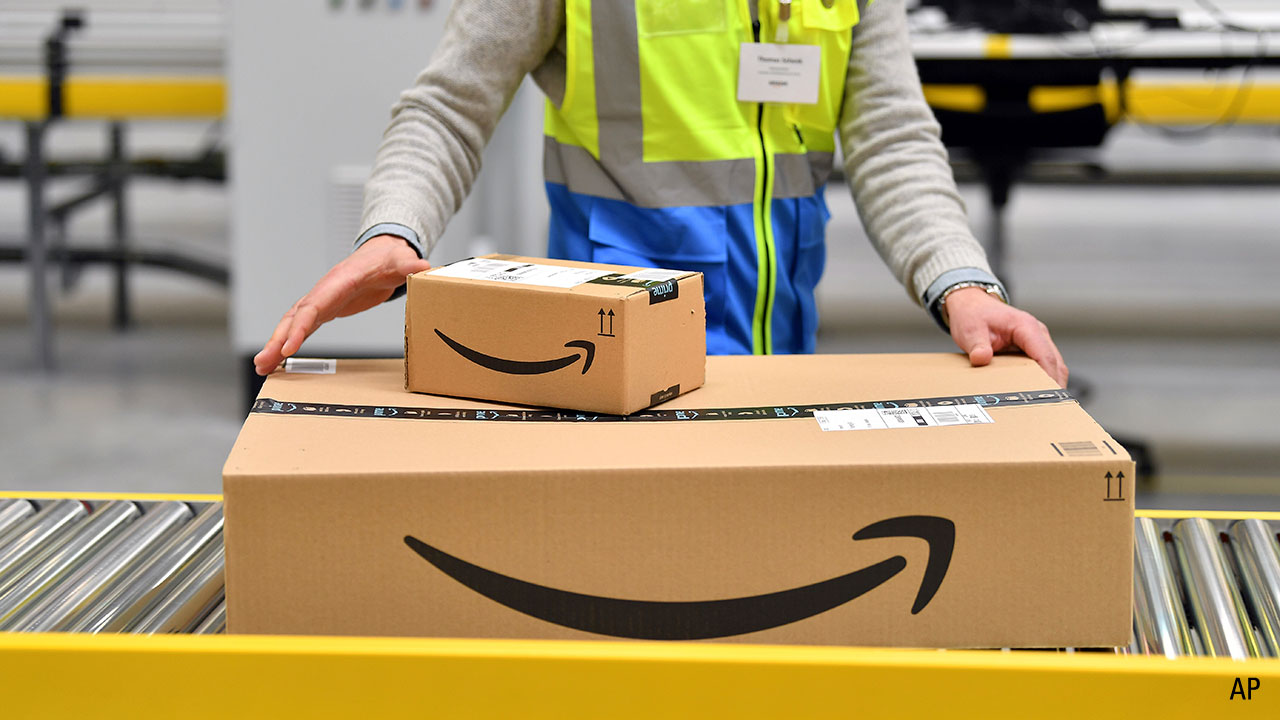 The stock prices of Australian retailers soared on a surge of lockdown-induced online shopping, but investors should brace for leaner times ahead as competition from Amazon intensifies.
Stuck at home, Australians spent more on goods and less on services—more TVs, fewer haircuts. But a bumper 2020 has obscured difficult times ahead for local retailers; following a quiet entry to Australia in 2017, Amazon (AMZN) is poised for expansion, says Morningstar director of equity research Johannes Faul.
"JB Hi-Fi, Harvey Norman, and Kogan share prices imply elevated sales will continue, rather than return to the long-term trend. These stocks offer little margin of safety."
"We estimate Amazon's Australian gross merchandise value grew about three times faster than JB Hi-Fi's and Harvey Norman's Australian sales in 2020," says Faul, "We expect Amazon to continue growing faster than the competition in the medium term."
JB Hi-Fi (ASX:JBH) closed Friday at $52.23, a 74 per cent premium on Faul's fair value estimate of $30. It's a similar story at Harvey Norman (ASX:HVN), which closed at $5.77, a 60 per cent premium on the fair value estimate of $3.60. Kogan (ASX:KGN) closed $13.30, above the fair value estimate of $11.50.
That said, 2020 was a good year for investors who chose retail stocks.
After a tough start to the year—JB Hi-Fi fell from $41.55 on Valentine's Day 2020, to $24.29 by the end of March—retail stocks have rallied. JB Hi-Fi finished 2020 up 26.85 per cent. Harvey Norman gained 13.83 per cent, while Kogan.com rose an eye-watering 155 per cent.
Tougher times ahead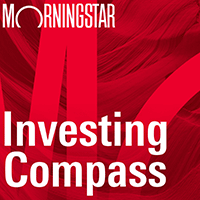 Listen to Morningstar Australia's Investing Compass podcast
Take a deep dive into investing concepts, with practical explanations to help you invest confidently.

But the stockpiles of savings accumulated during lockdown have increasingly been spent. From a peak of 22 per cent between March and June 2020, the savings ratio declined to 12 per cent by the end of 2020.
Over the longer run, sales growth will likely settle to a more sustainable level. Sales of consumer electronics and home appliances grew by 8 per cent in 2020, but long-term Faul thinks 3 per cent is a more reasonable figure.
Worse, some of this growth will be zero-sum for physical retailers like JB Hi-Fi and Harvey Norman. Even as online sales grow, Faul expects brick-and-mortar sales to decline by about 3 per cent a year.
The physical retailers have been making their stores an accessory to e-commerce by using them as click-and-collect fulfilment centres. In the US Amazon has actually been opening stores, with 29 across 17 US states.
But longer-term, Faul thinks the declining sales performance of physical stores will be a headwind on overall sales growth for JB Hi-Fi and Harvey Norman.
Enter Amazon
Amazon is still a small player in Australia. It's estimated to account for only 3 per cent of the consumer electronics market, compared to a fifth for Harvey Norman, and a third for JB Hi-Fi.
Faul expects that to change quickly, with Amazon claiming 13 per cent of the market and moving into third place by 2025. By 2030, he expects Amazon to account for 25 per cent of all Australian online retail sales.
The Australian consumer electronics market - 2025 forecast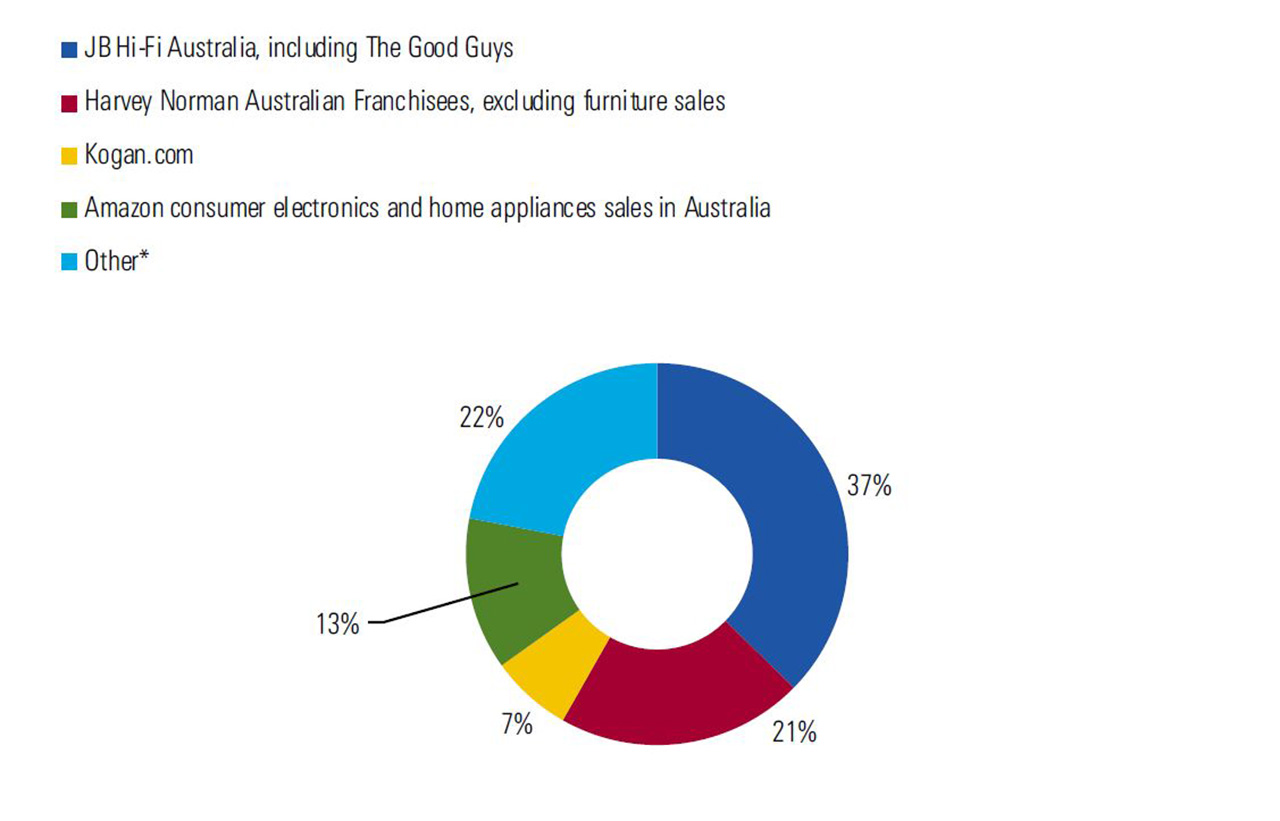 Source: Morningstar
In markets like Germany and the US, about half of all online retail sales take place on Amazon's platform.
Amazon is adding new fulfilment facilities in Melbourne and Sydney to make this happen. Fulfilment infrastructure is expected to be up 179 per cent in 2021. Amazon also has plenty of spare capacity: the utilisation of Australian logistics centre is about 60 per cent lower than the global average.
"The market's optimism for electronic retailers is at odds with Amazon's expansion plans," says Faul.
Morningstar's Global Best Ideas list is out now. Morningstar Premium subscribers can view the list here.