News
Earth Week: dip your toe into water investing with Ecolab
International Water Day, 22 March, came and went with little fuss. The events to raise awareness of global water scarcity were either cancelled or drowned out by the sound of the world washing its hands for longer than usual in a sustained bid to stem the covid-19 pandemic.It remains to be seen whether the same will happen to Earth Day, 22 April. But with that in mind, let's turn the focus to investment opportunities in water.
In this article, we'll examine Ecolab (XNYS: ECL), a company that is probably best known for its dominance in cleaning and sanitation products, but which is also a leader in water treatment and management.
We'll also touch on American Water Works and Xylem. Both names, along with Ecolab, appear in the top holdings of some water-related ETFs, which we'll also list.
Water, water everywhere …
Some water statistics are well known: 70 per cent of the world's fresh water is used for agriculture; and according to the World Bank, by 2025, 3.5 billion people will live in water-scarce or water-stressed areas, up from 1 billion in 2005. Then there are the lesser known numbers that underscore water's role in consumer staples and discretionaries. To produce a bowl of rice you need a bathtub of water; and 12 litres went into that pair jeans you're wearing.
Another pressing and more current statistic is the forecast rise in fresh water costs.
Morningstar equity analyst Seth Goldstein expects median fresh water costs to double between 2016 to 2030 in nominal terms. And companies that have industrial water management systems in place stand to benefit. One name that stands out here is Ecolab.
"Our research indicates that the value proposition of Ecolab's water treatment solutions will improve significantly in the coming years," says Goldstein.
Exhibit 1. Fresh water costs will continue to rise in real terms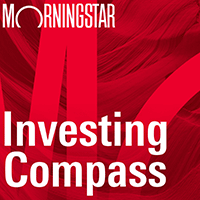 Listen to Morningstar Australia's Investing Compass podcast
Take a deep dive into investing concepts, with practical explanations to help you invest confidently.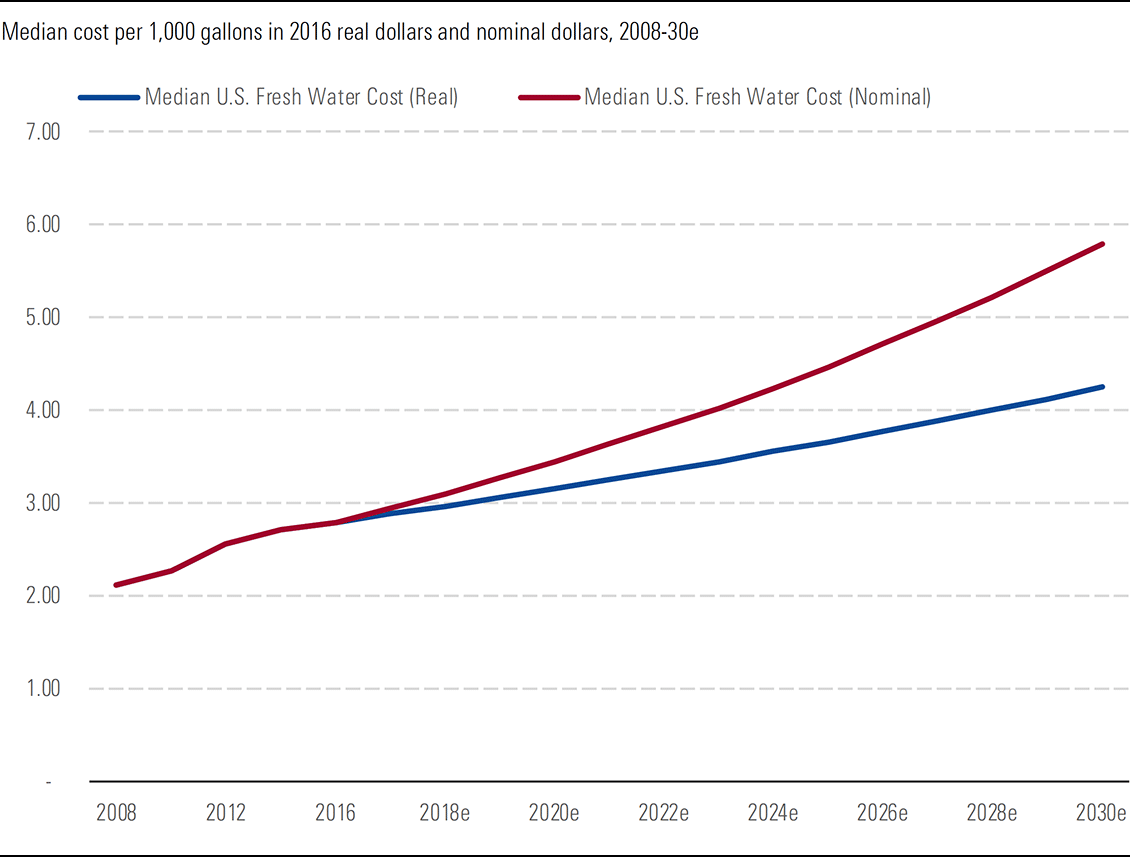 Source: Morningstar, US Department of Energy, Berkeley National Laboratory
Examples of Ecolab's efforts to help companies recycle water and save energy in the process include its BlueOcean, Aquabatch and AquaDrain filtration systems. According to the company, a recent survey of the use of such systems in the commercial laundries of five leading textile and service groups in Australia and New Zealand resulted in an annual saving of 445 million gallons—equivalent to the annual drinking water needs of 1.5 million people.
Ecolab also offers "Water Risk Monetizer", a free financial modelling tool, and "SMART WATER Navigator", an online assessment tool that rates a company's water practices and suggests how they can improve sustainability.
And, Goldstein adds, "in addition to a continual emphasis on reducing water, energy, and labour expenses, Ecolab now offers cleaning equipment that will automatically keep regulatory compliance records for its water treatment and manufacturing customers.
"This regulatory aspect allows Ecolab to act as a regulatory compliance consultant. In turn, this further strengthens the company's switching costs as customers would otherwise face increased regulatory compliance costs by choosing a competitor to replace Ecolab."
Ecolab entered the water management business with its acquisition in 2011 of Nalco Water. This was a shrewd move as it allowed Ecolab to seize on growing long-term demand for water management products, Goldstein says.
"The Nalco acquisition also allowed Ecolab to cross-sell other products and services. This enhances the switching costs that underpin our wide moat rating."
Goldstein expects the water treatment business to generate 40 per cent of the company's incremental profits over the next decade.
Exhibit 2. Ecolab expanded the Nalco Water business to serve new industries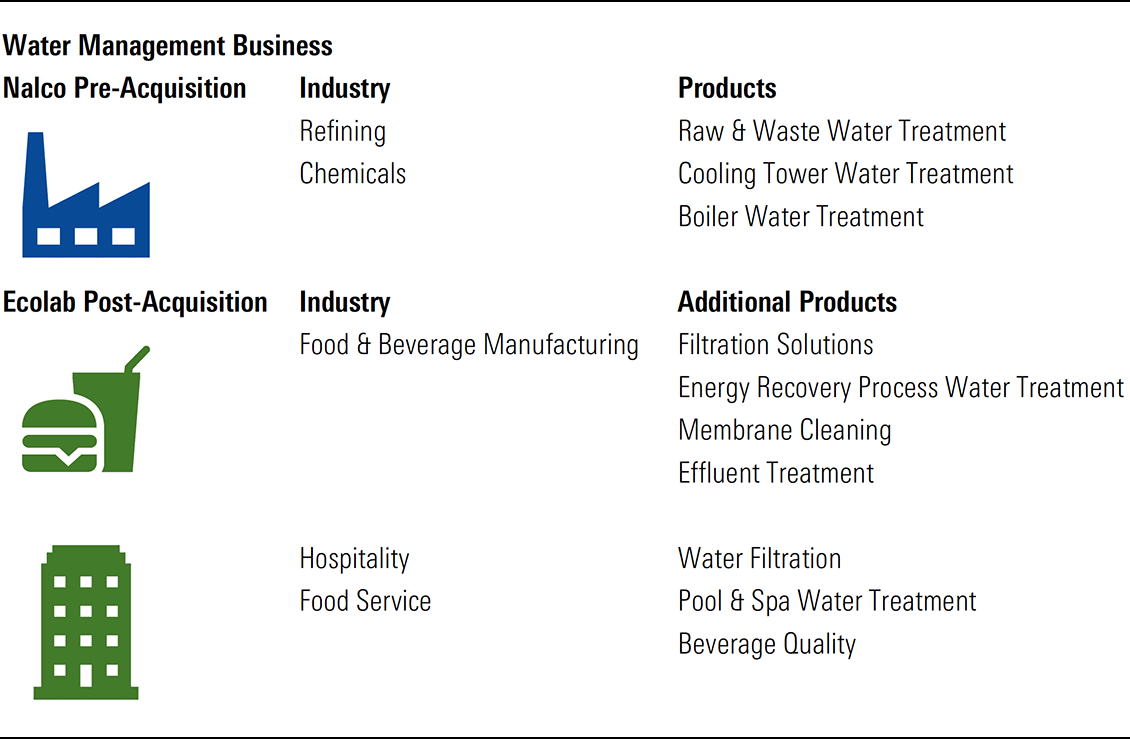 Source: Morningstar, Ecolab
Cleaning up
Ecolab is known as the global leader in the cleaning and sanitation industry. It provides products that help its hospitality, food-service, and healthcare customers do laundry, wash dishes, and maintain regulatory compliance. And in recent weeks, it has partnered with Carlton United Breweries to donate hand sanitiser to frontline medical staff fighting the covid-19 pandemic in US hospitals.
Ecolab's strength in sanitation is another key source of its wide moat status—or 20-year competitive advantage. Its scale in cleaning and sanitation dwarfs the competition: it controls roughly 11 per cent of the US$125 billion-plus global market and generates twice the revenue of its largest rival, Diversey.
Much of this advantage is due to its "razor-and-blade" business model whereby it provides cleaning equipment to customers that solely use its proprietary consumables. This arrangement cements Ecolab's competitive advantages and ensures customers are less likely to switch to another provider because of the cost and hassle this would involve.
"With its unrivalled scale and breadth of product offerings, the company is an attractive partner to global hospitality and food-service firms. We think it will continue to gain share from smaller players," Goldstein says.
Outlook
Ecolab is well placed to withstand the near-term damage of the coronavirus. And for investors with environmental, social, and governance concerns, Ecolab offers a way to invest in sustainable water reduction technologies sold to a number of manufacturing industries.
"Even during the latest downturns for many of Ecolab's restaurant and lodging or energy production customers, the company's returns on invested capital remained safely above its cost of capital. We think the company's consistent excess returns are likely to continue for at least the next 20 years," says Goldstein.
He anticipates a midcycle return on invested capital of about 22 per cent, which is well above the company's 7 per cent cost of capital.
"Even in our bear case, which assumes a continued downturn across many of Ecolab's end markets, we project the company to safely outearn its cost of capital and continue to generate positive economic profits."
Other names to consider
Founded in 1886, narrow-moat American Water Works is the largest investor-owned US water and wastewater utility, serving approximately 3.5 million customers in 16 states. It provides water and wastewater services to residential, commercial, and industrial customers and operates predominantly in regulated markets, which account for about 90 per cent of earnings. Its nonregulated market-based businesses provide complementary water and wastewater services for military bases, municipalities, oil and gas exploration and production companies, and other industrial customers.
Since its initial public offering in April 2008, American Water Works has increased earnings at a low-double-digit pace, topping most regulated utilities. The earnings growth has rewarded investors with a total return over 200 per cent the past six years, more than double the utilities sector and the S&P 500. (Travis Miller)
Narrow-moat Xylem is a global leader in water technology and offers a wide range of solutions, including the transport, treatment, testing, and efficient use of water for customers in the utility, industrial, commercial, and residential sectors. Xylem was spun off from ITT in 2011. Based in Rye Brook, New York, Xylem has a presence in over 150 countries and employs 16,200. The company generated US$5.2 billion in revenue and US$727 million in adjusted operating income in 2019.
After adjusting our valuation assumptions, including significantly lower near-term revenue growth and operating margin projections, we are lowering our fair value estimate for Xylem to $70 from $74. We are maintaining our narrow moat rating and we have left our midcycle assumptions largely unchanged, as we do not believe that the coronavirus outbreak will ultimately impair Xylem's long-term prospects. We viewed Xylem's stock as modestly overvalued in early 2020, but shares are now trading in 4-star territory after the recent sell-off. (Krzysztof Smalec)
ETFs
Ecolab, American Water Works and Xylem feature among the top holdings of exchange-traded funds focused on water. The Invesco Water Resource Portfolio ETF (NASDAQ: PHO) is the largest, with a US-centric basket of 34 stocks (as of April 2020), which comprises mid- and smaller-cap companies.
The iShares Dow Jones US Utilities Index ETF (NYSE: IDU) includes some water-related stocks. There are alternatives such as the Invesco Global Water Portfolio ETF (NASDAQ: PIO), which tracks the Nasdaq OMX Global Water Index, and the First Trust ISE Water Index Fund (NYSE: FIW).
These ETFs are outside Morningstar coverage.
See also Morningstar Guide to International Investing