News
Harnessing the EV revolution, part 4: next decade will be electric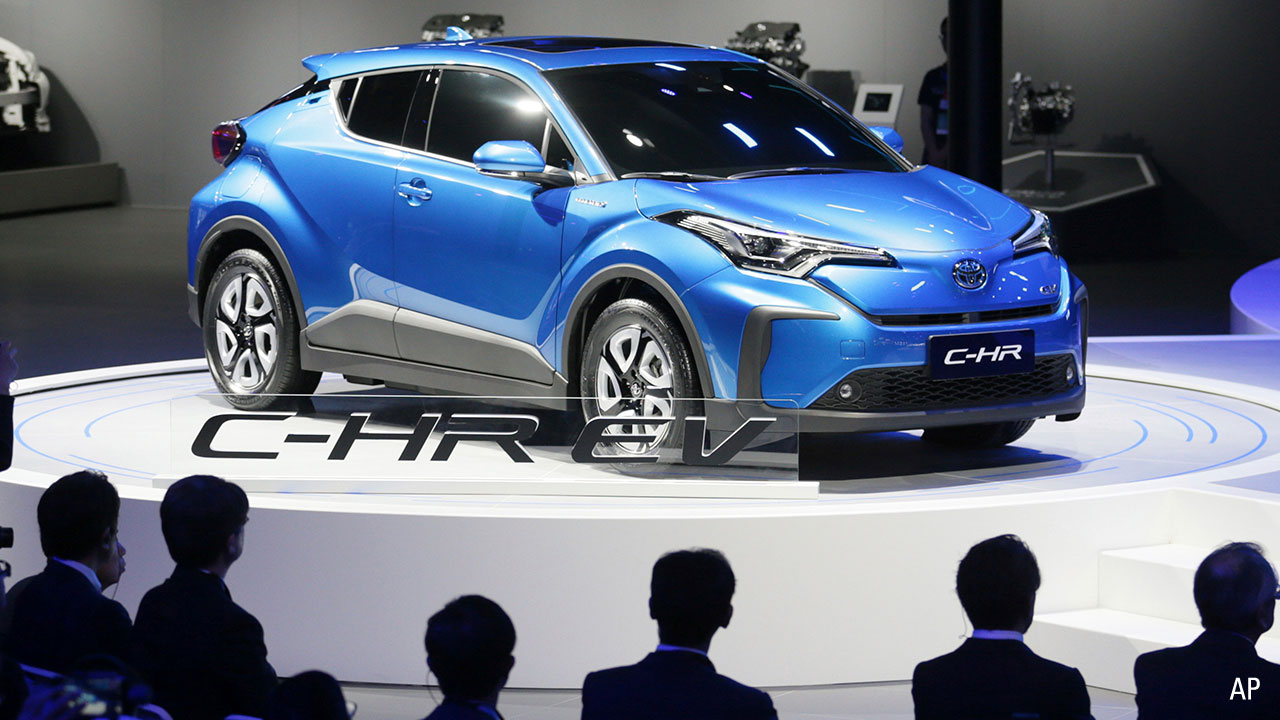 The immediate future of the global auto industry is electric as it's expected that in just 10 years' time, half of all cars sold will be electrified in some form.
And leading the charge is China: the Middle Kingdom currently leads the world in sales of electric vehicles. Morningstar analysis suggests that by 2030 EVs will account for more than a third of auto sales in the Middle Kingdom.
The country's electric vehicle fleet size is currently 3 million. A decade from now, this figure is forecast to hit 65 million, says Morningstar analyst Seth Goldstein.
In part four of our series on battery-powered cars, we outline Goldstein's forecasts for EV and hybrid vehicle adoption in China, the European Union and the US.
In short, China is leading the race; the EU is catching on; and the gas-guzzling US is yet to be fully converted.
"By 2030, we forecast that half of all new auto sales globally will be electrified in some form," says Goldstein, who also chairs Morningstar's Electric Vehicle Committee.
"We forecast EVs and hybrids – such as the Toyota Prius – will reach 20 per cent and 30 per cent of global penetration rates, respectively, by 2030."
EVs and hybrids will reach 50 per cent of new car sales by 2030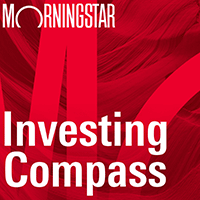 Listen to Morningstar Australia's Investing Compass podcast
Take a deep dive into investing concepts, with practical explanations to help you invest confidently.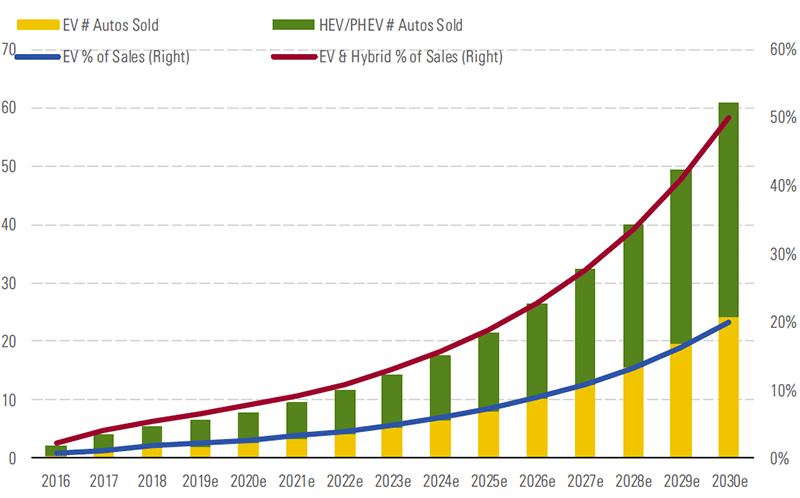 Source: Morningstar, US, EU ACEA, China People's Daily, International Energy Agency
Accompanying higher adoption of hybrids and EVs is the crucial network of charging points required to keep them rolling.
In China's case, state-owned utilities will build fast chargers on highways throughout the country, and local government will build chargers throughout the cities.
Currently China has less than eight EVs per charging point, which exceeds Goldstein's calculated EV adoption ceiling.
"China will have enough charging infrastructure in place to support its EV fleet, with its EVs per charger falling below our calculated ceiling of nine and 14 EVs per charger in 2025 and 2030, respectively," Goldstein says.
"As a result, charging infrastructure will help drive adoption in China."
China: Tougher regulation gives EVs edge on hybrids
EV adoption will outpace that of hybrids chiefly because of regulatory quotas under which carmakers must build more "zero-emissions vehicles", or ZEVs.
Standard hybrids such as the Toyota Prius are not included in this category.
In 2017, Beijing introduced a credit score scheme under which domestic carmakers gained higher scores based on the more electric and hybrid vehicles they sell.
Domestic car producers must get an EV credit of 10 per cent in 2019, rising 2 per cent a year until reaching 18 per cent in 2023.
Goldstein estimates a carmaker could meet the 10 per cent standard in 2019 if 2.1 per cent of its vehicles produced were EVs that have at least a 500km range and qualify for the energy efficiency multiplier.
But a carmaker would need to produce 6.5 per cent plug-in hybrids to meet the 10 per cent standard.
By 2023, these minimums increase to 4.1 per cent for long-range EVs and 12.1 per cent for plug-in hybrids.
European Union: on the road to conversion
The EU is currently second behind China in EV sales. With strict regulations driving adoption over the medium term, Goldstein expects a quarter of new car sales will be EVs by 2030.
Its EV fleet size will grow from about 1.7 million in 2019 to more than 23 million by 2030.
"Over the medium term, EV adoption will be driven by strong emissions regulations that require an carmakers' average vehicle to be comparable to a Toyota Prius by 2025 and a plug-in hybrid by 2030. An EU directive calls for a maximum of 10 EVs on the road per EV charger," Goldstein says.
He believes a combination of public-private partnerships and public grants for charging infrastructure will create a high-speed EV charging network throughout most of Europe.
Goldstein forecasts 2 million charging points will be in place by 2030, enought to support the size of the region's EV fleet.
US: fragmented adoption
Unlike China and the EU, the car-loving US will be a tougher nut to crack for electric vehicle makers and suppliers.
The US will continue to see fragmented EV adoption, Goldstein says, chiefly because of constant changes in regulations and "fragmented" investment infrastructure.
He expects 15 per cent of new auto sales will be EVs by 2030. And the number of EVs per charging outlet will not be enough to support the fleet.
Goldstein estimates the US fleet size will grow from about 1 million EVs this year to just under 15 million by 2030.
"Over the medium term, EV adoption will be driven largely in California and the 12 other states that have adopted ZEV regulations. However, the federal government may ultimately invalidate these regulations," he says.
"EV infrastructure will be fragmented. In ZEV states, charging infrastructure will be in place through a combination of public grants, private funding, and utilities. EVs per charger will be sufficient to support the EV fleet.
"In most non-ZEV states, EV infrastructure will be less prevalent and the EVs per charger will not be sufficient to support the EV fleet. We forecast 900,000 charge points in the US by 2030."