News
How stimulus buttressed housing optimism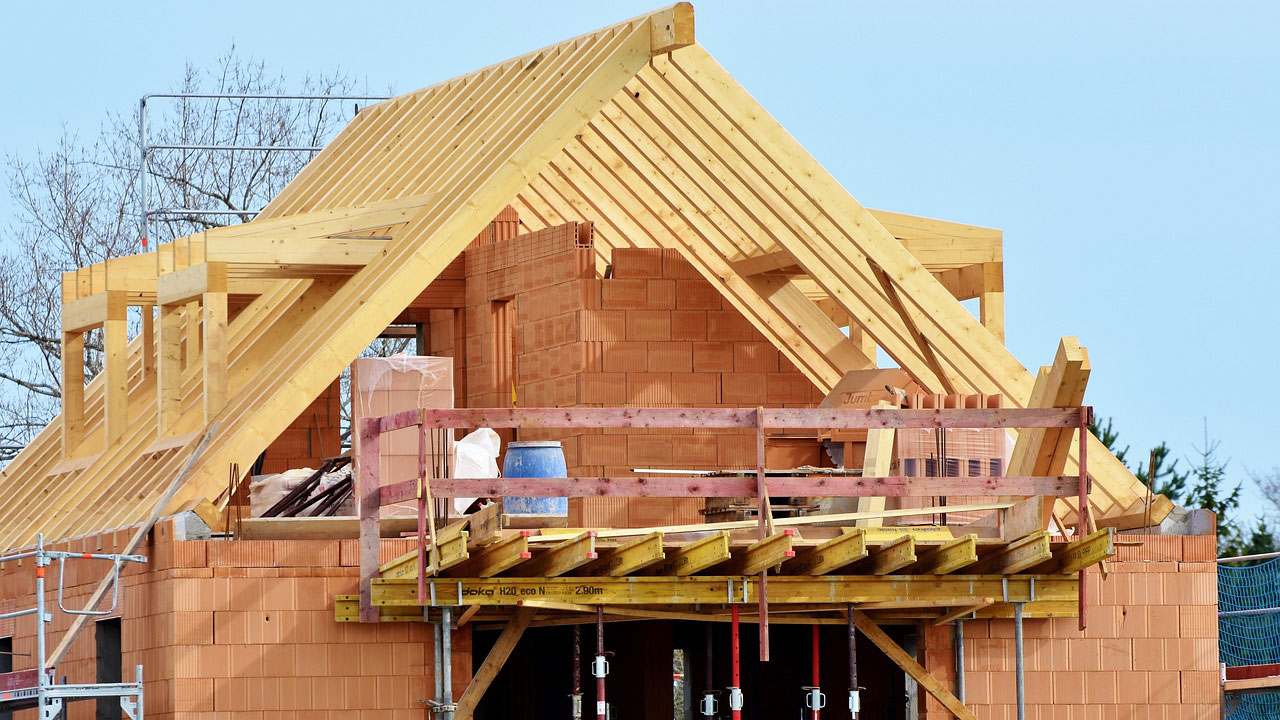 It's perhaps tempting fate, but in the end, covid failed to cut a swathe through Australia's residential construction sector. That's largely because of a historic injection of government subsidies that propped up both construction companies and households.
The HomeBuilder program was originally slated as a $680 million measure, with Treasury estimating modest adoption. And yet, the program has been so popular its cost has been upgraded to $2.5 billion and counting.
In the wake of the scheme, Australian construction companies built more, while households used the money to renovate and restore, says Morningstar equity analyst Grant Slade in a new report on the outlook for Australian housing. The industry is in rude health, with leading indicators of new homebuilding activity at historic highs in early 2021.
The record outlay caused investors to seize on housing stocks, which are consequently a little too hot to handle, according to Morningstar evaluations.
Construction heavyweights such as James Hardie (JHX), Boral (BLD), Fletcher Building (FBU), CSR (CSR) are in one-to two-star territory. So too is industrial waste removal company Bingo (BIN).
"Investors have cheered the drastic improvement in the near-term outlook for the housing cycle, pushing housing-related stock prices higher, Slade says.
"Housing-related stocks under our coverage are set to benefit from the recovery in fiscal 2022, boosting earnings and improving balance sheet metrics.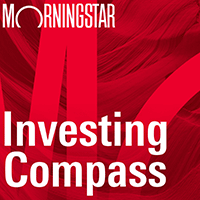 Listen to Morningstar Australia's Investing Compass podcast
Take a deep dive into investing concepts, with practical explanations to help you invest confidently.

"But with fiscal support for the sector now winding down, expectations embedded in housing-related share prices have gotten ahead of themselves, in our view."
Morningstar has upgraded its near-term outlook for housing commencements as well as alteration and addition activity (A&A). And Slade says the long-term outlook remains bright, especially once Australia's borders reopen, which should boost the long-term trend in population growth.
Opportunities to benefit from the sharp recovery in home construction activity are scant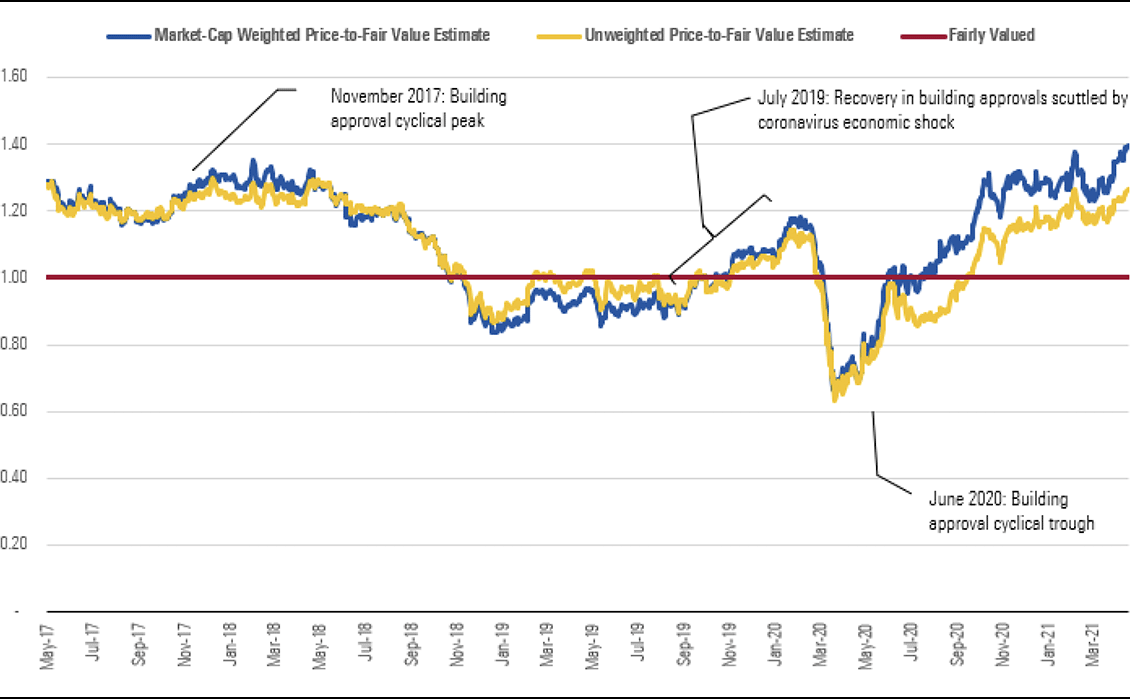 Source: Source: Morningstar estimates, Company disclosures
HomeBuilder provided targeted fiscal stimulus to the residential construction sector, by providing a $25,000 grant toward the building of a new owner-occupied dwelling or for the substantial renovation of an existing home.
The scheme had an original application deadline of 31 December 2020, but was extended and accepted applications up to 31 March 2021, albeit for a reduced grant size of $15,000.
Homeowners in Victoria and Queensland, the second-and third-most populous states, respectively, signed on with gusto, outpacing take-up in NSW. "With land prices highest in NSW, the program's cap $750,000 cap on property value was evidently prohibitive to take-up by NSW residents," Slade notes.
In response, investor optimism for housing-related stocks has soared and the medium-term earnings outlook for building materials and other housing-exposed names has improved materially.
"However," says Slade, "recent share price performance sees most of our coverage overvalued, with the market-cap weighted price/fair value estimate for our Australian housing-related coverage currently sitting at 1.4 times."
HomeBuilder 'nothing short of phenomenal'
Slade anticipates further strength in building approvals in the March quarter of 2021. But the positive shock to building approvals will taper in the wake of the 31 March 2021 deadline of HomeBuilder.
"The near-term impact of HomeBuilder on the outlook for residential construction activity has been nothing short of phenomenal, delivering a material increase to dwelling commencement expectations for 2021.
"We expect detached housing commencements and A&A activity in 2021 to jump 17 per cent and 6 per cent, respectively, relative to their covid-19-suppressed levels in 2020—a material upgrade relative to our prior expectations for a 4 per cent increase in detached house commencements and a modest 2 per cent fall in A&A activity.
Consequently, Slade expects detached house and A&A building approvals will ease throughout the rest of the year.
As building approvals ease from late 2021, so too housing commencements are expected to soften from 2022 as builders work through the pipeline of detached house and A&A approvals, fuelled by government stimulus.
When the virus hit, Australian house prices initially fell 1.7 per cent in the June quarter of 2020. But it didn't last long. Prices promptly returned to growth in the September quarter, fuelled by the historically low mortgage rates and a recovery in Australian economic activity.
Because of these factors and a mooted return to population growth once borders reopen, the outlook remains strong, Slade says.
"While we expect residential construction will take a breather medium-term, the long-term fundamentals for Australian housing demand remain bright.
"With the restoration of population growth toward its longer-term average of 1.6 per cent expected following the eventual re-opening of Australia's borders, we continue to anticipate an approximate 200,000 housing commencements at midcycle—about 10 per cent higher than the approximate 181,000 housing commencements during a COVID-19-impacted 2020."
Beyond 2021, Morningstar expects house price growth to decelerate back toward its midcycle expectations for about 4.7 per cent growth.
"The heady pace of house price growth in the first-quarter of2021—estimated at 5.8 per cent nationally by CoreLogic—has outstripped our prior expectations. With house prices tending to exhibit substantial momentum in the short-run, we lift our expectations for growth in nominal house prices during 2021 to 13 per cent, up from a prior forecast of approximately 5 per cent."
To find out which stocks offer value, Premium subscribers can access Grant Slade's full report here.