News
How the Morningstar Best Ideas list did in 2019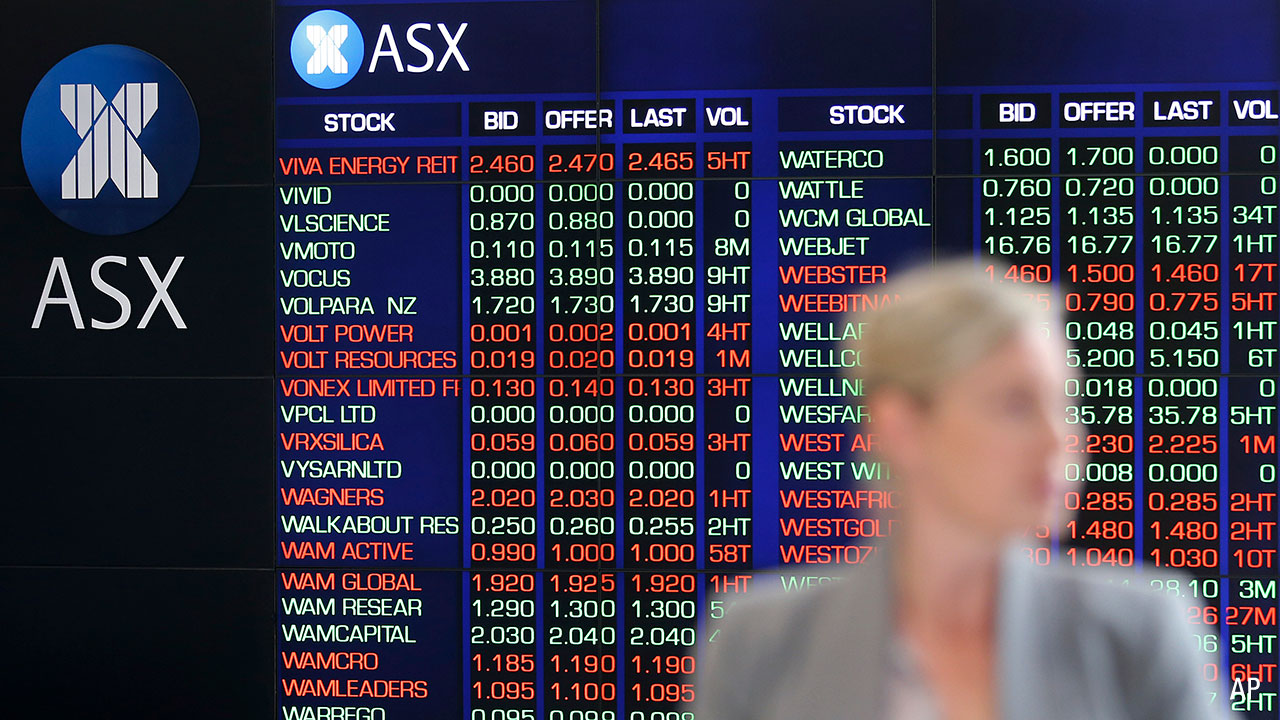 Morningstar kicked off the year by rolling out its
January 2020 Best Ideas list, unveiling the top stock picks from the 200-plus ASX-listed companies under coverage.
From Ardent Leisure (ASX: ALG) to Telstra Corporation (ASX: TLS), Morningstar analysts select names from a variety of sectors, and quality and risk characteristics.
"We identify our highest conviction investment ideas, trading at attractive prices," says Morningstar director of equity research for Australia and New Zealand Adam Fleck.
"The highlighted stocks trade at a discount to our estimate of intrinsic value, indicating our forecast for improved odds of capital appreciation above a level we view as required for the risk being taken."
Stocks are added to the list when an analyst believes the prevailing market price offers a suitable margin of safety for long-term investors, and removed when more attractive opportunities are uncovered, with greater margins of safety. Often, removal of a name follows a stock's price converging upon our fair value estimate, resulting in a 3-star rating.
When it comes to measuring the performance of the list in 2019, there are several criteria we can examine:
One-year performance
First, we can take a simplified approach – assessing the performance of all stocks featured on the Best Ideas list in 2019 against the performance of the ASX 200 Total Return Index (over the same period, per stock). This includes stocks that appeared on the list on 1 January but were removed throughout the year.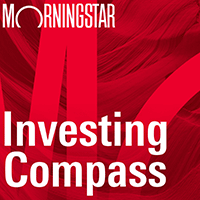 Listen to Morningstar Australia's Investing Compass podcast
Take a deep dive into investing concepts, with practical explanations to help you invest confidently.

Stock are excluded from the performance measure once they are removed from the best ideas list. Stocks that were added to the list prior to 2019 were given a listing date of 2 January for the purpose of measuring 2019 performance.
Morningstar Best Ideas list review – 1 Year
Measure of the total return of stocks listed from 2 January 2019, not annualised.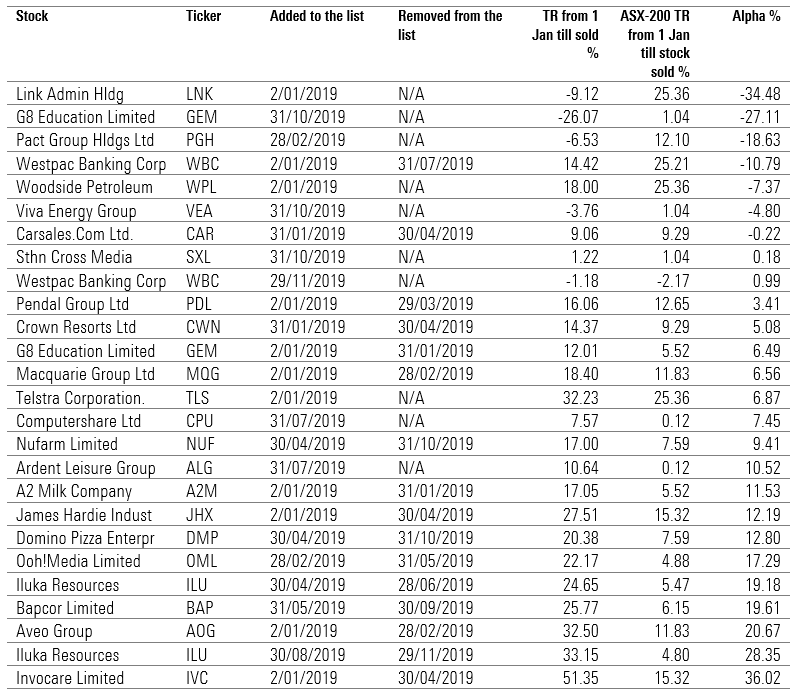 According to this approach, the list performed well. Out of the 26 stocks under review, 19 outperformed the index over the period under review - or almost 75 per cent.
Funeral, cemetery, and crematorium company InvoCare Limited (ASX: IVC) was the top pick, delivering 36.02 per cent above index returns. Iluka Resources (ASX: ILU) came in second, outperforming by 28.35 per cent between August and November.
This was Iluka's second entry to the list in 2019, after being listed between April and June.
But there were some disappointing performers on the list, chief among them superannuation administration service provider Link Administration Holdings (ASX: LNK), underperforming by -34.48 per cent. The company's share price was affected in May 2019 by a negatively received trading update.
Childcare operator G8 Education (ASX: GEM) also underperformed by -27.11 per cent since being placed on the list, after a profit guidance downgrade in November.
Stocks removed from the list 2019
However, one could argue that a one-year snapshot is a crude way of viewing performance. "Buy" recommendations may have been made before 1 January, so why should we be judging only a portion of the call?
Wouldn't it be better to measure the stock selection from the date it was first made, to the time a stock was removed from the list?
With this in mind, let's review the performance of the stocks that were taken off the Best Ideas list in 2019 from the date of their first listing.
Again, performance is measured again the performance of the ASX 200 Total Return Index (over the same period, per stock).
Morningstar Best Ideas list review – stocks removed in 2019
Returns are measured as total for the period listed, not annualised.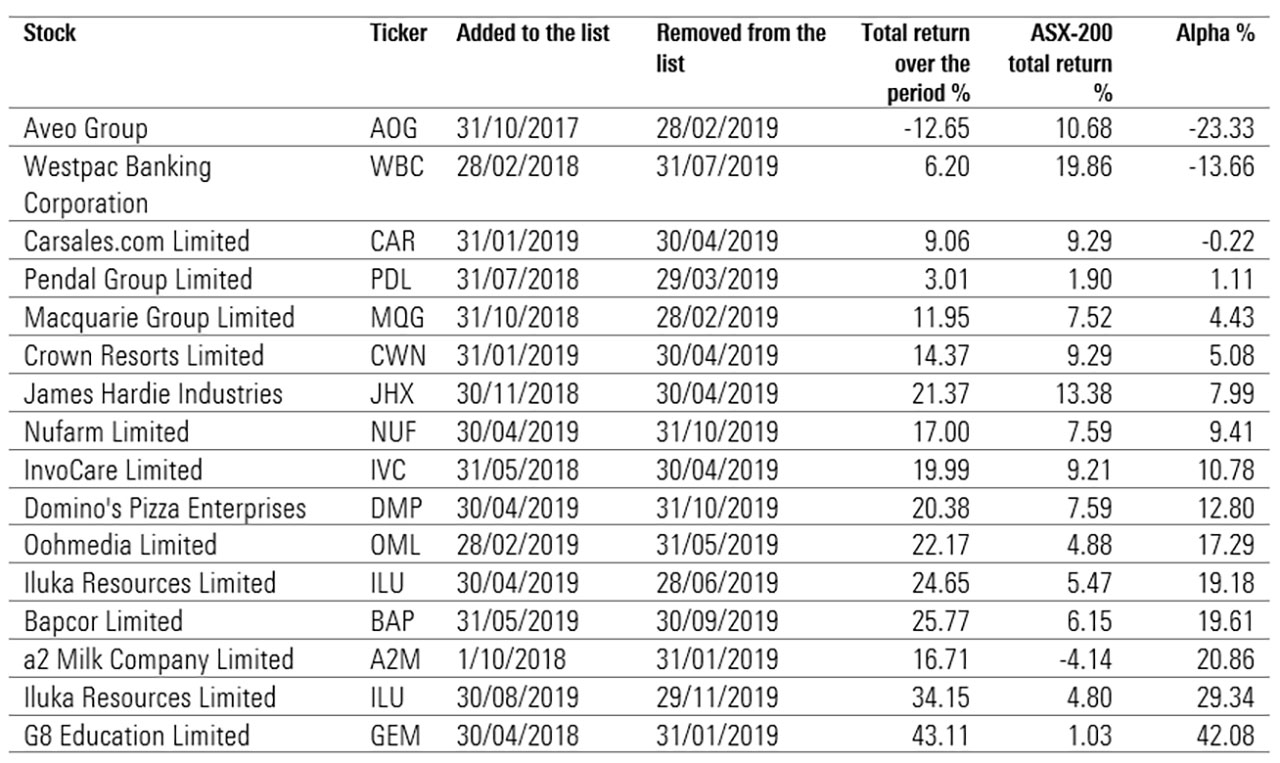 Under this review, over 80 per cent of stocks listed delivered above index returns over the life of the call, with the top spot going to G8 Education (ASX: GEM), up 42.08 per cent. Here some new names appear – infant formula giant a2 Milk (ASX: A2M) returned 20.86 per cent above the index, while Bapcor Limited (ASX: BAP) returned 19.61 per cent.
The worst performer was Aveo, at -23.33 per cent after the aged care provider was takeover by Canadian private equity behemoth Brookfield and suspended from quotation on the ASX.
Three-year performance
Fleck says the above two ways of measuring success and failure are valid for short-term analysis. But he says the Best Ideas list is not necessarily built to be used this way.
"We view the Best Ideas list, in its purest sense, as highlighting the best opportunities for long-term investment across our coverage list of 4 and 5-star (or undervalued) stocks," he says.
"Therefore, to measure the success of the list, you'd need to consider over a longer term than one year".
When Morningstar analysts place a recommendation or star rating on a stock, they expect the market price will converge on their fair value estimate within three years, providing of course that their base-case assumptions hold (although it is impossible to predict the exact time frame in which market prices may adjust).
For example, if you bought a company's stock at exactly its fair value estimate today, Morningstar's analysts would expect that you should achieve total returns in line with the assumed cost of equity (9 per cent for a company of average risk) for the next three years, absent a change in business prospects relative to their base-case expectations.
Crucially, when a stock is removed from the Best Ideas list, this is not necessarily a signal to sell. Rather, the list purely highlights undervalued names analysts believe are good multi-year investments.
"When we take a stock off the Best Ideas list, we're no longer highlighting a name that's undervalued," he says.
"However, when a stock reaches its fair value, we don't necessarily view this as a strong sell signal. This means that we now think it is at a level where it is priced appropriately to generate an appropriate risk-adjusted return."
To measure the performance of the best ideas list, Fleck rewinds three years to see how recommendations performed over a multi-year basis.
"It's great to see that our 2019 recommendations are off to a good early start, but we won't really have a good sense of how they performed until a couple years from now," he says.
With that in mind, let's examine how the names on the Best Ideas list in 2016 have performed since then. This measurement selects all the stocks placed on the Best Ideas list for the first time in 2016, adds three years to the date of purchase, and measures the total return (inclusive of capital gains and dividends) over that time to assess how the list performed in 2019.
Put another way – if I were to deploy all my capital in 2016 based on the new recommendations on the Best Ideas list, how would those picks look today?
Morningstar Best Ideas List Review – 3 Years
Returns are measured as total for the period listed, not annualised.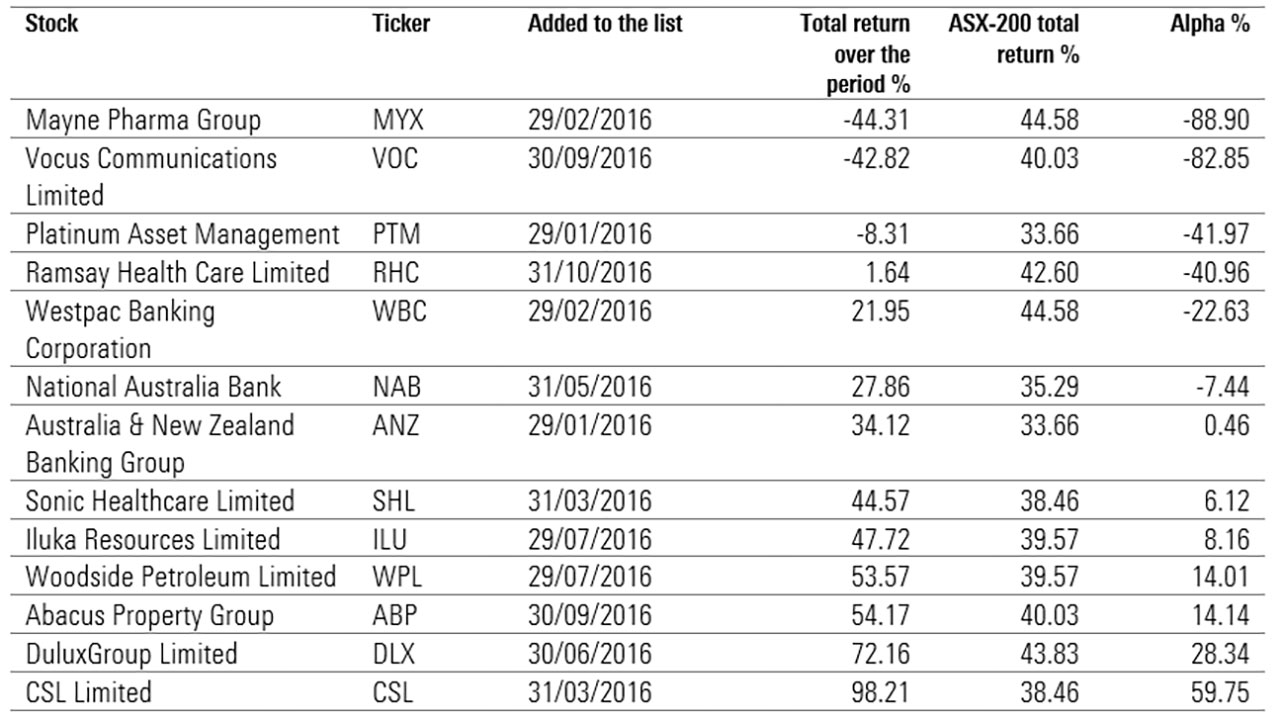 Overall, the results are mixed. Over 50 per cent of the stocks listed delivered alpha above the benchmark (over the period, per stock).
The results reveal the top performer was global blood products company CSL Limited (ASX: CSL), which has returned 59.75 per cent above the index. Analysts first recommended CSL in March 2016 at $101.44 per share. Three years later, the stock hit $194.94.
Australian paint manufacturer DuluxGroup Limited was also a top performer on the list, returning 28.34 per cent above the index. The company was taken over by Japan-based Nippon Paint Holdings in April this year, sending stocks to record high levels.
At the opposite end, the worst performer over the three years was pharmaceutical company Mayne Pharma Group (ASX: MYX). It dropped -88.90 per cent against the index. Mayne was followed by Vocus Group (ASX: VOC) (down -82.85 per cent).
Overall, Fleck says he is pleased with the list's long-term performance. "It's encouraging to see many of these picks surpass index returns over the long-term."
"Of course, seeing some of the list underperform the benchmark is disappointing, but we've also seen the market move from undervalued to overvalued over the period, per our average valuations, alongside a dramatic drop in interest rates."
Fleck suggests investors should resist the urge to see the best ideas list as a ready-made portfolio and instead use it in conjunction with analysts' long-term valuations.
"We hope that investors consult the list when they have capital to invest as a starting place," he says. "If investors chose to make investments in these names, it's good to keep in mind that our valuations are based on multiple year periods."
Turning his mind to the January 2020 Best Ideas list, Fleck says the coil is tightly wound, with several names trading at big discounts to their fair values.
Morningstar Premium subscribers can access the full list of Australian and Global Best Ideas January 2020
here.