News
IPO market tipped to stall as sluggish growth bites

IPO activity is expected to slow down in 2019 from last year's levels amid sluggish growth rates and expectations that tightening monetary policy will cap capital raisings.
There are some big-name initial public offerings expected in the US, but overall, the number is expected to decline.
Ride-hailing giant Uber Technologies is expected to go public this year and other Silicon Valley companies expected to list include short-term rental service Airbnb and workplace messaging firm Slack.
But falling share markets are expected to cap the number of capital raisings in Australia, according to Peter Warnes, Morningstar head of equities research. Most developed share markets ended 2018 lower and further price falls are expected, he says.
"Markets got a thumping and it's not over. All major markets on Christmas Eve were at their 2018 lows. There is too much out there that will negatively affect IPO activity such as quantitative tightening," says Warnes.
"Economic growth rates are falling in the EU, US and China and that is not going to turn around in 2019 and therefore this is not going to be a fertile environment for IPO activity given you really need to have share markets going up for people to want to put risk capital on the table."
Marcus Ohm, corporate and audit services at HLB Mann Judd, agrees. Given the recent market correction and a disappointing share price performance from IPOs in 2018, the challenge in some sectors such as technology is to see better offerings at more attractive valuations.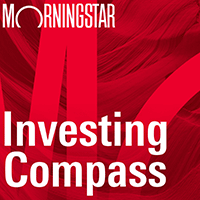 Listen to Morningstar Australia's Investing Compass podcast
Take a deep dive into investing concepts, with practical explanations to help you invest confidently.

"The IPO pipeline in 2019 is currently significantly subdued compared to the same time last year. There are a number of reasons behind this such as the current market conditions which have been weighing heavily upon the IPO market towards the end of 2018," says Ohm.
"Share price performance subsequent to listing has been underwhelming, with new IPOs, on average, underperforming the market, which was subject to a broader correction overall. This may impact negatively on sentiment towards IPOs going forward in the short term with the current wider uncertainties impacting the market," says Ohm.
2018 started strong, ended weak
In calendar year 2018, 132 entities listed, compared to 143 in calendar year 2017, according to the ASX Group Monthly Activity Report for December 2018. Total capital raised in 2018 totalled $98.9 billion, compared to $64 billion in 2017.
However, total capital raised in December 2018 was $8.2 billion, down 34 per cent on the previous corresponding period, reflecting the impact of weaker share prices.
The materials sector dominated activity, with less technology activity compared to previous years.
"The number of listings was down slightly, but amounts raised were up significantly primarily due to some larger listings such as Viva Energy (ASX: VVR), which occurred during the year," says Ohm.
"Successful IPO entrants were dominated by the materials sector, which has continued to strongly contribute to total listings. Technology listings held steady but were down on the peaks experienced in previous years. Subscription rates have fallen slightly relative to previous years."
ASX data highlights IPO achievements for 2018 compared to previous years, with the numbers of floats up from 2017, but steady compared to 2016.
Initial capital raised and new listings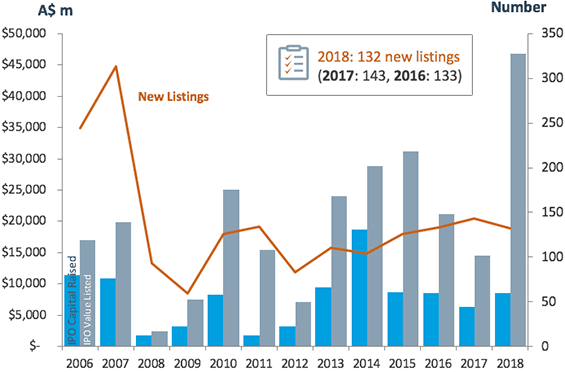 Source: ASX, 31 December 2018
Australia remained an active market overall for IPOs. It was the fifth most active exchange for IPOs globally, ahead of the New York Stock Exchange, London and Shanghai exchanges, according to the EY Global IPO trends for the third quarter of 2018, over the 2018 year to 30 September 2018.
Top 12 stock exchanges, by number of IPOs
Source: EY Global IPO trends, Q3 2018
According to the EY report, some sectors are expected to remain active this year. Technology and media and entertainment companies will continue to drive IPO markets in Asia-Pacific in 2019.
However, Morningstar's Warnes expects technology related activity to diminish on the ASX after the correction in 2018 in FAANG stocks (Facebook, Apple, Amazon, Netflix and Alphabet's Google) weighs on activity this year.
He is also critical of too many small companies listing on the ASX, as many will inevitably fail. "If you haven't got at least $50 million which you want to raise, then you shouldn't be listing on the stock exchange given the costs are high for smaller floats and many investors won't get a decent return," Warnes says.