News
Morningstar urges votes in favour of Woolies Endeavour demerger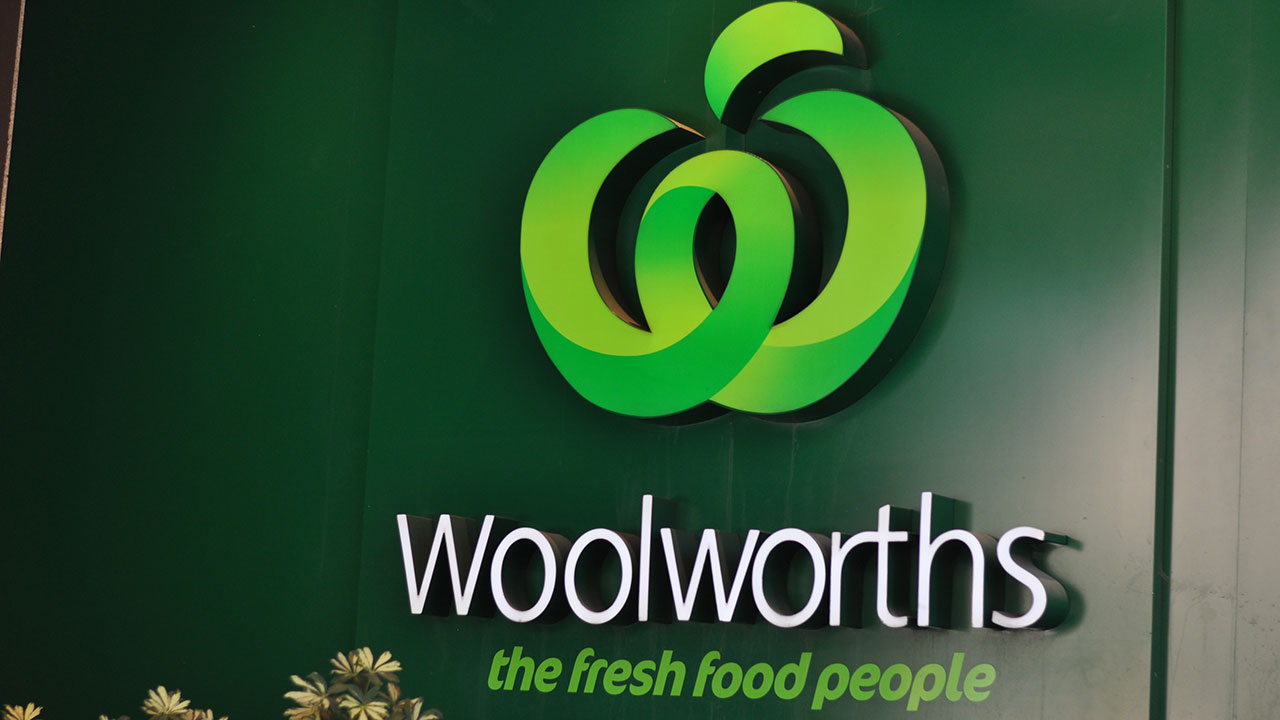 "Toast to the Endeavour Group and vote in favour". That is the advice Morningstar director of equity research Johannes Faul has imparted to Woolworths shareholders as the countdown to the decoupling of its $10 billion hotels and liquor businesses begins.
Faul expects investors will benefit from the separation of perceived environmental, social, and governance (ESG) risks attached to Endeavour Group's hotels and liquor business from the supermarkets business. This, he says, will give them the ability to adjust their exposure to each group and shield Woolworths from any potential negative screening bias by ESG-orientated investors. Endeavour will also benefit from more direct access to capital markets and independent long-term strategy implementation, Faul says:
"The demerger comes with disadvantages, but we conclude the long-term strategic rationale outweighs the one-off and ongoing costs of separation.
"Post-demerger Woolworths expects to have a much-improved balance sheet with pro-forma net cash of approximately $75 million and in a position to return $1.6 billion to $2 billion to shareholders while maintaining its investment-grade credit rating."
Woolworths Group (ASX: WOW) announced its plans to combine its retail drinks business Endeavour Drinks and hotels and gaming-focused joint venture ALH Group to create Endeavour Group in July 2019. The business would then be separated from the main supermarket business through a demerger. Shareholders voted in favour of the restructure in December 2019.
Separation efforts were postponed in March 2020 to prioritise the company's response to the covid-19 pandemic. On Monday, the company provided a briefing presentation on the demerger of Endeavour Group and scheduled a General Meeting for 18 June 2021.
Subject to shareholder approval, Woolworths shareholders will receive shares in the newly listed Endeavour Group and maintain their ownership in both businesses upon demerger. Woolworths will hold a 14.6 per cent interest in the Endeavour Group.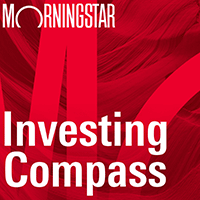 Listen to Morningstar Australia's Investing Compass podcast
Take a deep dive into investing concepts, with practical explanations to help you invest confidently.

Structure of Woolworths Group and Endeavour Group following the demerger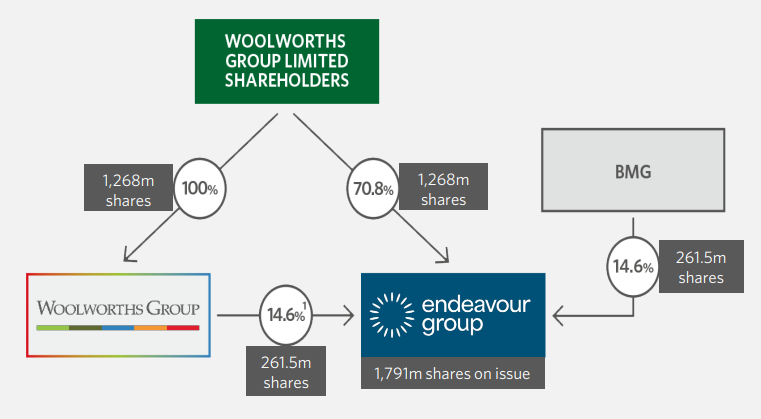 Bruce Mathieson Group (BMG). Source: Demerger of Endeavour Group - Briefing Presentation
Blow up the pokies
The divestment comes alongside mounting pressure from investors and activists for the Woolworths Group to distance itself from gambling activities. Endeavour Drinks includes major brands Dan Murphy's and BWS while AHL Group operates over 300 licensed venues across the country, making Woolworths one of Australia's biggest poker machine owners. At the time of the proposal to divest, the Endeavour and AHL groups made up about 30 per cent of Woolworths' consolidated earnings before interest and taxes.
Fund manager Australian Ethical (ASX: AEF), which holds Morningstar's highest assessment for commitment to ESG incorporation, has stated their opposition to investing in Woolworths owing to "its revenue from alcohol and gambling". Stuart Palmer, head of ethics research at Australian Ethical, wrote in a 2019 blog that the attractiveness of a demerged-Woolworths would depend on the size of the minority stake the company would retain in Endeavour and the relationship between the two companies.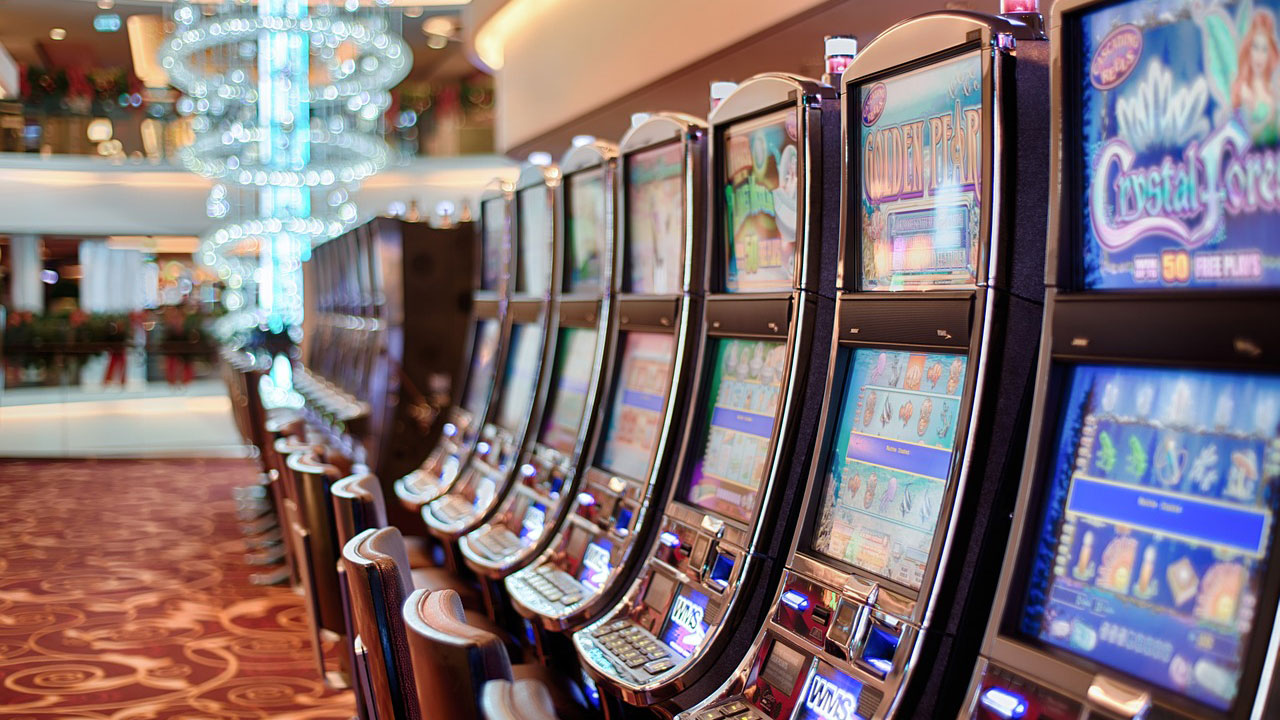 Today, Palmer says Australian Ethical will "have another look" at Woolworths as they expect post-merger revenue from alcohol and poker machines (less than 5 per cent) to fall below their exclusion threshold.
"We'll still need to review whether Woolworths meets our expectations for responsible retailing, including in relation to our criteria for sustainable options in their product ranges, and for labour relations and responsible human rights risk management in their operations and supply chains," he says.
"We will also look at the detail of the ongoing relationship/partnership with the demerged Endeavour, not just the 15 per cent shareholding but also the terms of cross-promotion arrangements and joint BWS rewards program."
"The key will be understanding what action Woolworths should be taking under the new arrangements to minimise the risk of harm from irresponsible consumption of alcohol and gambling through the demerged business."
Grossly overvalued
The demerger incurs incremental corporate and operating costs for Endeavour Group of about $47 million per year, with a further $25 million one-off costs to be incurred if the demerger is approved. Ongoing costs relate to the hiring of a separate executive team and board, insurance costs, stock listing fees, compliance, and administrative fees for Endeavour Group.
Faul says the proposed demerger will have no impact on Morningstar's forecasts for the combined group. He maintains his fair value estimate for Woolworths of $29. Today, narrow-moat Woolworths screens as materially overvalued at a 40 per cent premium.
"The market is pricing in significant improvement in operating profit margins for the core Australian food segment," Faul says.
"We do not expect Woolworths to widen its margins toward similar levels it had enjoyed prior to 2016, as the Australian supermarket sector has structurally changed with the reintroduction of the discount channel."
"We expect Woolworths to successfully defend its market share in food retailing at around 36 per cent in the long term against its key competitor Coles and other grocers, but this will be achieved by passing on efficiency gains to its customers, capping operating margins.
"Hence, Woolworths' duopoly-like margins, which had been at the top end of, or even above, a range of global peers, are unlikely to be restored."
Morningstar intends to initiate coverage on Endeavour Group prior to the commencement of trading on the ASX on 24 June 2021. The company is expected to be among the largest fifty by market capitalisation on the ASX.
Price Chart | WOW 3 Yr

Source: Morningstar