News
Population growth a window of opportunity for builders, waste managers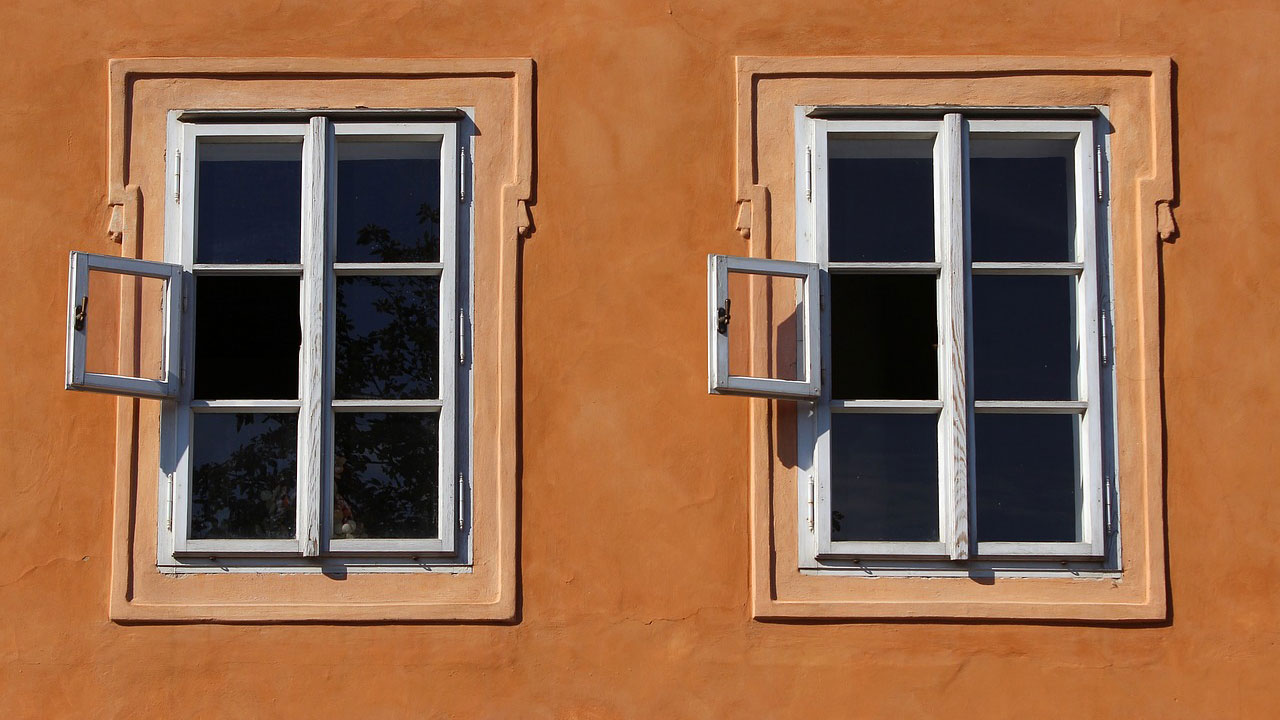 Value has emerged in the housing sector despite rising unemployment and falling population growth sapping demand for property and hurting housing material companies.
The Australian housing market and housing-related stocks have weakened markedly in response to coronavirus, a sharp rise in unemployment and an expected plunge in immigration.
With the limits on physical auctions and social distancing rules, housing sales have dropped. Property prices too are expected to fall by about 10 per cent this year, says Diana Mousina, senior economist with AMP Capital.
"I think that over the next month it will be quite challenging for the housing market. But after that, it all depends on how consumer incomes pick up and what happens to the labour market," she says.
"In Australia, we expect the unemployment rate to peak at around 10 per cent in the June quarter … In this environment it will be really difficult for house prices to rise."
But anaylsts say the housing dip is likely to be temporary, with underlying factors expected to support the housing sector over the long term.
Morningstar equities analyst Grant Slade says while the short-term outlook for the housing market is subdued, over the longer term, the market will be supported by reasonably strong population growth, which will feed the demand for housing.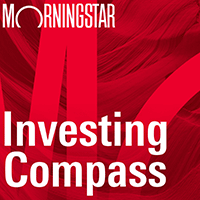 Listen to Morningstar Australia's Investing Compass podcast
Take a deep dive into investing concepts, with practical explanations to help you invest confidently.

"There will be a short-term hit, but we do know that the country's population will continue to grow and with it, the demand for housing over the long term," Slade says.
"COVID-19 is not a structural shock to the system and its impact will therefore be relatively short-lived. There are longer-term factors underpinning demand for housing.
"While population growth from migration will likely plummet in calendar year 2019, things will normalise again once Australia opens the borders to migration and there will be a catch-up in population growth from net migration making up for the slowdown this year. So longer term, net migration and population growth will normalise and the demand for housing will certainly be there.
"Our population is growing by around 390,000 people annually and that population growth will drive long-term demand for housing."
Looking at valuations, Slade says opportunities exist to pick up companies with strong competitive positions and balance sheets, which currently trade at attractive prices relative to the long-term opportunity.
Adelaide Brighton and Bingo
He cites building and housing material supplier Adelaide Brighton (ASX: ABC) and waste management company Bingo Industries (ASX: BIN) as being attractively valued. Both companies boast narrow economic moats with strong balance sheets.
Adelaide Brighton is most attractive, trading at a 42 per cent discount to fair value. Bingo is trading at about a 27 per cent discount
"As value investors, we look for companies with sustainable economic advantages," Slade says "They are both rated 4 or 5 stars, with their market prices trading well below their fair values."
Bingo is exposed to the housing market given when more housing is created, demand for waste services goes up.
"We continue to see a bright future for narrow-moat Bingo despite the near-term cyclical challenge presented by the coronavirus pandemic.
"With the COVID-19 shock to construction expected to abate from 2022, our long-term expectations for strong earnings growth remain unchanged."
Adelaide Brighton too has a positive outlook, in Slade's view.
"We expect COVID-19's impact to be short-lived and forecast a V-shaped recovery in construction materials demand in 2021. Therefore, Adelaide Brighton's earnings are anticipated to begin their recovery from 2021 off their cyclical low point in the current fiscal year."
According to Slade, the trough in residential housing construction has likely been pushed out to 2021, from 2020, with a recovery in construction from 2022. While total housing starts (for detached housing and apartments) sat at about 170,000 last year, that will shrink to a forecast 119,000 in 2020 and 110,000 in 2021, before beginning a recovery in 2022 to a forecast 120,000.
Housing stocks too could swing up with the eventual recovery. "We think the housing [sector] will be challenged in the short term but remain positive on the medium to longer term housing outlook," UBS analysts said.
"In our view, the Mining Services bucket is likely to underperform during this period and potentially after the virus due to the significant decline in the oil price."
The chart below shows the housing sector has performed in line with the S&P/ASX 200 while the mining services sector has dropped significantly.
Relative total return of buckets YTD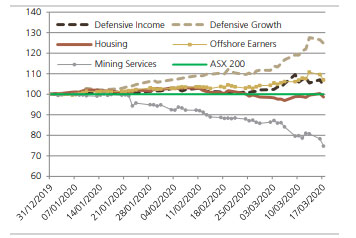 Source: UBS, Factset