News
Santos half-year earnings, dividend 'below expectations'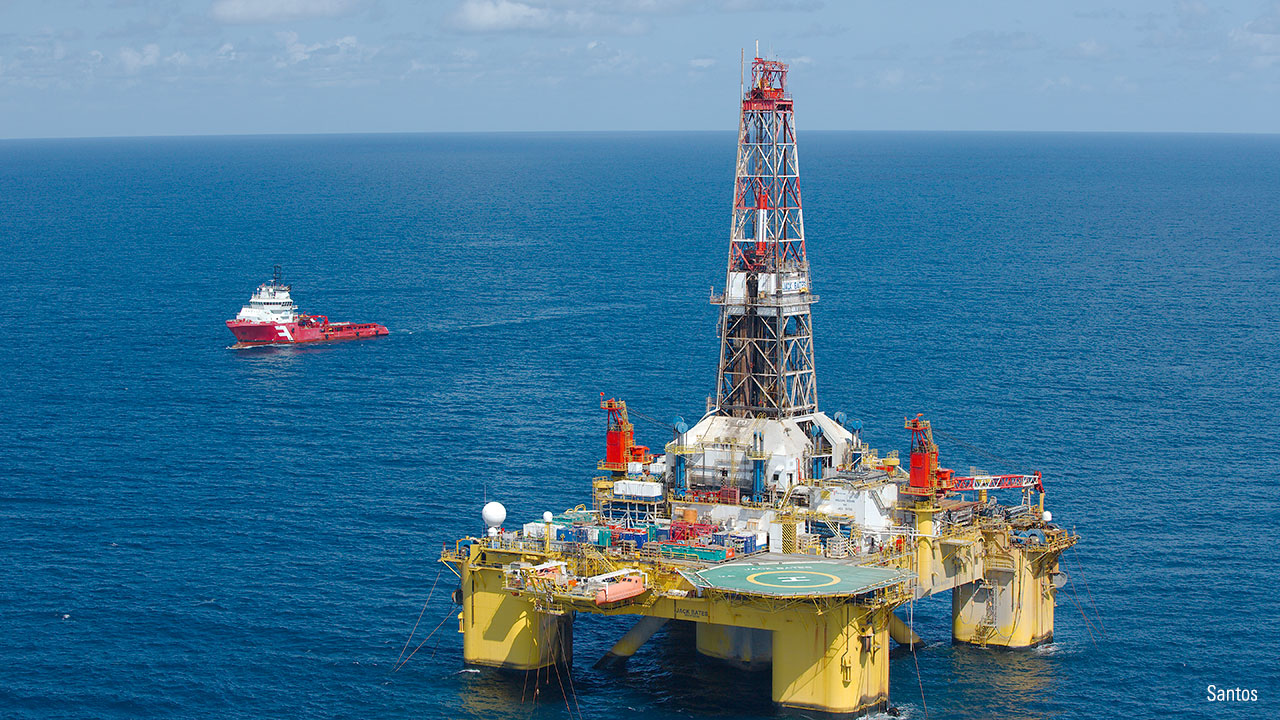 Santos has swung to a first-half loss on the back of weaker oil and gas prices, as coronavirus lockdowns globally hit demand for fuel products.
The South Australia-based energy producer reported a net loss of $US289 million ($402 million), compared to a $US388 million profit a year ago, after slashing the value of its Gladstone LNG project in Queensland.
Morningstar senior equity analyst Mark Taylor said the results were "a bit below expectations" but still solid and would not affect his longer-term forecasts.
Santos (ASX: STO) had last month flagged impairments of $1.1 billion, mostly on its GLNG project, owing to a more than 10 per cent reduction in its long-term oil price assumption. It also slashed capital spending and deferred an investment decision on its Barossa gas project.
Santos said its underlying profit for the six months to 30 June slumped 48 per cent to $US212 million, while sales slipped 16 per cent to $US1.67 billion.
Taylor said the underlying earnings were weaker than expected.
He said the company had talked a lot about cost-reduction initiatives and despite reporting a 6 per cent reduction in upstream unit costs, overall unit production costs actually edged up.
"Because you're in such a low-price environment the leverage of that on the earnings is quite considerable so the underlying was quite a bit lower than I was expecting," he said.
As a result, his full-year forecast for 2020 would come down a bit, with earnings per share of 20 cents instead of 23 cents previously.
For the six months ended 30 June, Santos' average realised prices for oil slid 34 per cent to $US47.83 a barrel, while those for liquefied natural gas dropped 14 per cent to $US8.57 per metric million British thermal unit (mmBtu).
It expects oil prices to stay at $US45 a barrel for 2020 and rise to $US49 a barrel in 2021.
"Covid-19 and the low oil price has presented a challenging time over the past couple of months," chief executive Kevin Gallagher said.
"Santos remains confident that when prices and demand recover, our projects will be better placed than those in our competitor countries to leverage the opportunities that will inevitably re-emerge," he said.
Santos (STO)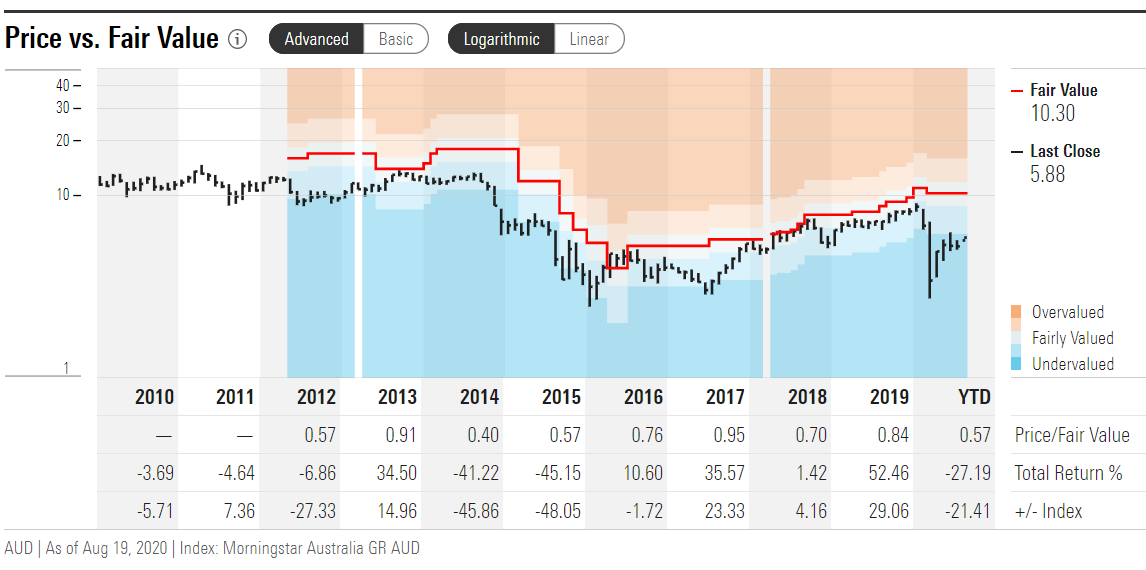 Source: Morningstar Premium
The company posted record production volumes in the first half with free cash flow of $US431 million, a 32 per cent drop from a year ago.
It is targeting a free cashflow breakeven oil price of less than $US25 per barrel in 2020, down from $29 per barrel in 2019.
Morningstar's Taylor said net operating cash flow was strong and in line with expectation, and Santos had a fair chance of achieving its lower breakeven price.
"Given Kevin Gallagher's track record for delivering on his promises, I wouldn't have any doubts about it," he added.
The oil and gas producer declared an interim dividend of 2.1 US cents per share, far below last year's payout of 6 US cents.
Taylor attributed this to the company taking a conservative route because of covid-19 and the uncertain environment.
"Dividend is well lower than I was expecting because the earnings are a bit low, but then they also went to the extreme low end of the range of their target payout ratio of 10 to 30 per cent of underlying free cash flow," he said.
Santos shares are trading at $5.60 each, representing a more than 50 per cent discount to Morningstar's fair value estimate of $10.30 a share.
Taylor said he would not change the fair value estimate and attributed the gap to the difference in the longer-term assumptions of oil prices, with the market marking down valuation based on the current slump, while his estimate assumes a longer-term recovery to around $US60 a barrel.
This article is part of Morningstar's Reporting Season 2020 coverage. The calendar will be updated daily to connect you with our equity analysts' take on the financial results.