News
Steer clear of Tesla, look at semiconductors, says American Century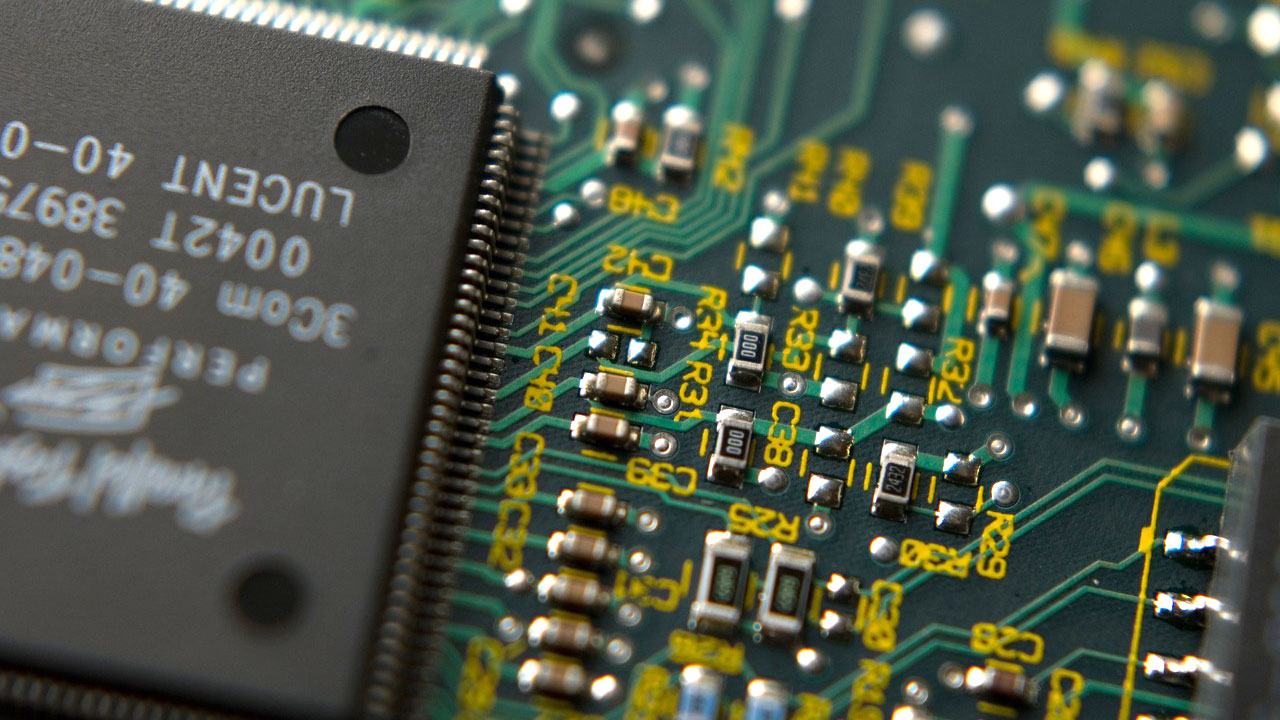 Tesla is a "horrible way" to tap into the electric vehicle theme and investors may instead wish to consider component suppliers such as Aptiv, NXP Semiconductors and Cree, says American Century Investments.
The twin themes of electric and autonomous vehicles are in their infancy and offer great potential, said Brent Puff, senior portfolio manager of American Century Investments' Global Concentrated Growth fund, in a webinar on Tuesday.
"The electrification of the vehicle fleet has a lot of legs because we're still very early," Puff said. "I was looking at the numbers today. Hybrid and electric vehicles as a percentage of total sales in 2020 are still below 5 per cent globally.
"The rate of penetration accelerated in 2020 but we're still at really, really low levels and if you look at what's going on in the world, traditional OEM (original engine manufacturers) are accelerating the introduction of electric vehicles like they haven't really ever, so there's going to be a lot more availability, a lot more choice. Electric vehicles, we think it's a great theme in large-cap land."
However, Puff said his global equity fund had eschewed the Elon Musk-led vehicle maker Tesla (TSLA) because the risk didn't match the reward.
"We think Tesla is a horrible way—it doesn't really fit our process, and I say that because risk-reward and valuation is part of our process. And the valuation of Tesla to us makes very little fundamental sense, so we don't own Tesla.
"We think vehicle electrification is a great theme to have exposure to; it's early in its adoption curve and there are lots of different ways to play it. Tesla is not our preferred vehicle."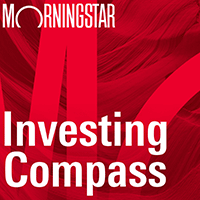 Listen to Morningstar Australia's Investing Compass podcast
Take a deep dive into investing concepts, with practical explanations to help you invest confidently.

The Global Concentrated Growth fund, which is outside Morningstar coverage, has returned 14.50 per cent in the past ten years, outpacing the MSCI ACWI by 5.38 per cent.
Morningstar sector strategist Dave Whiston agrees that Tesla is overvalued and that investors are chasing momentum. "We believe the stock trades on the option value of what it may look like years from now rather than on fundamentals and free cash flow generation, so we think investors should consider the upside and downside risks should they want to chase momentum," Whiston says.
Other key obstacles for Tesla are competition and price. "Tesla has a chance to be the dominant EV player in the long term and is a leading autonomous vehicle player as well as a vertically integrated sustainable energy company with energy generation and storage products," says Whiston. "But we see immense competition this decade. Tesla's product plans for now do not mean an electric vehicle for every consumer who wants one, because the prices are too high."
American Century's Puff singled out three stocks to consider when looking for exposure to the electrification themes. The stocks he named were suppliers of components, particularly semiconductors, used in the manufacture of electric vehicles.
The companies he named are Aptiv (APTV), NXP Semiconductors (NXPI), and Cree (CREE).

Source: Morningstar Direct; data as at 3 February 2021
Aptiv (APTV)
Aptiv's Signal and Power Solutions segment supplies components and systems that make up a vehicle's electrical system backbone, including wiring assemblies and harnesses, connectors, electrical centres, and hybrid electrical systems. The Advanced Safety and User Experience segment provides body controls, infotainment and connectivity systems, passive and active safety electronics, advanced driver-assist technologies, and displays, as well as the development of software for these systems. Aptiv's largest customer is GM at roughly 13 per cent of revenue, including sales to GM's Shanghai joint venture. North America and Europe represented about 38 and 33 per cent of total 2019 revenue, respectively.
American Century Investments' take:
"Aptiv's business is geared to two things: autonomous vehicles and vehicle electrification," says Puff. "Those are the two best names you could be levered to possibly if you serve the automotive market. Their business is doing very well; they're poised to materially outperform global vehicle production for the foreseeable future because their patent-per-vehicle is going to grow every year for the foreseeable future.
Morningstar take: Aptiv is however overvalued, according to fair value estimate of Morningstar equity analyst Richard Hilgert. "We think Aptiv's solid performance throughout the pandemic has demonstrated resiliency, substantially outperforming the market while generating solid profitability," Hilgert says. "However, the market already recognises Aptiv's growth potential, with the shares trading at a 52 per cent premium to our US$94 fair value estimate for a 2-star rating. Consequently, we view the shares as overvalued relative to our estimates for revenue growth and cash flow generation."
NXP Semiconductors (NXPI)
NXP Semiconductors is a leading supplier of high-performance mixed-signal products. The firm acquired Freescale Semiconductor in 2015 and now has significant market share in the automotive market, where it supplies microcontrollers and analogue chips into automotive clusters, powertrains, infotainment systems, and radars. NXP Semiconductors also serves industrial and Internet of Things, mobile, and communications infrastructure.
American Century Investments' take:
"The automotive market is NXPI's largest end market," Puff says. "They also are geared towards vehicle electrification and autonomy; and if you look how the semiconductor content per vehicle in internal combustion engines versus an electric or a battery-powered vehicle is in the vicinity of six to seven-fold higher. So basically as the fleet becomes more electric and NXPI in its semiconductor is going to grow at a very healthy rate."
Morningstar take: NXPI is fairly valued, according to Morningstar senior director Brian Colello, who earlier this month raised his fair value estimate for the narrow-moat semiconductor supplier, citing optimism over near-term revenue assumptions. "We believe NXP Semiconductors warrants a narrow economic moat rating due to its development of intangible assets in analogue chip and microprocessor design as well as customer switching costs in some of its key end markets," Colello says. "We believe the firm's expertise and suite of solutions in the automotive market, where the company has a leading market share position, helps to ensure that it is able to benefit from rising electronic content in the automotive market. We view NXP's position in the automotive market as solid and incrementally improving from an already strong base. The fact that existing customers would struggle significantly to try and switch to competing products gives us confidence in NXP's ability to derive returns above the cost of capital over the next decade."
Cree (CREE)
Cree Inc, which is outside Morningstar coverage, is a US-based maker of wide bandgap semiconductor products for power and radio-frequency applications, lighting-class light-emitting diode products, and lighting products. It operates in two reportable segments: Wolfspeed and LED products. The Wolfspeed segment's products consist of silicon carbide and gallium nitride materials, power devices and RF devices based on silicon and wide bandgap semiconductor materials. The LED products segment, which is the key revenue driver, consist of LED chips and LED components. Geographically, the company conducts business in the US, China, Europe, and other areas.
American Century Investments' take:
"Cree make semiconductors out of a material called silicon carbide rather than traditional. The reason you might want to use a silicon carbide chip is because the electrical properties of silicon carbide are materially more efficient than a semiconductor used with regular silicon, and that's important in an electric vehicle application if batter life is super important, which it is."
10k growth of TSLA, APTV, NXPI, CREE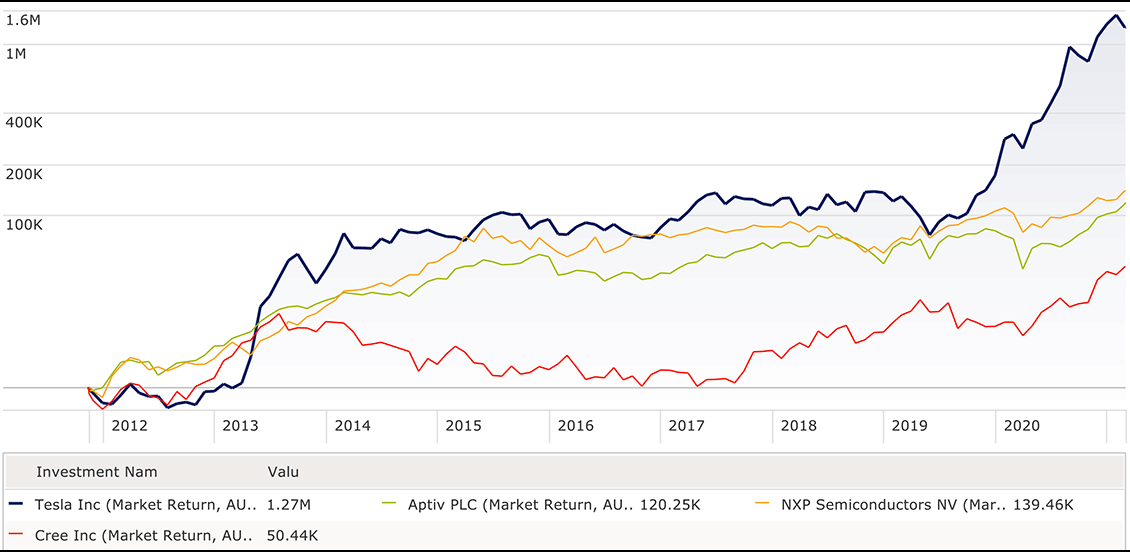 Source: Morningstar Direct; data as at 3 February 2021
Morningstar's Global Best Ideas list is out now. Morningstar Premium subscribers can view the list here.