News
Swiss companies caught behaving badly in ESG survey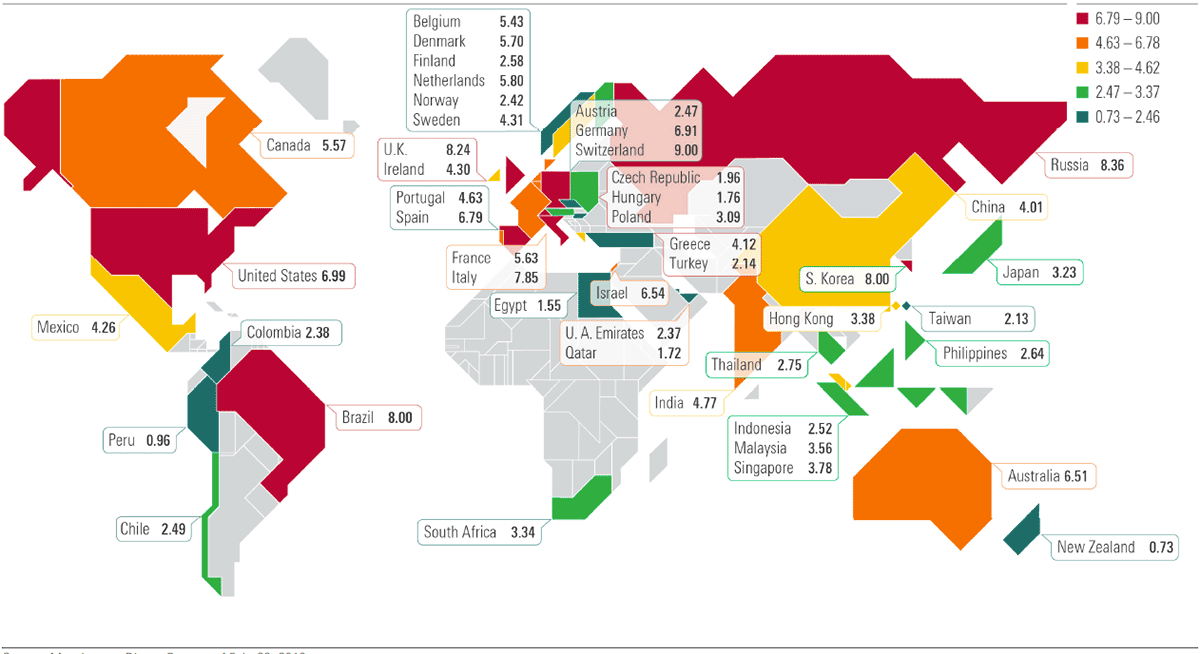 Switzerland has slumped in a global survey of company ethics, dragged lower by two of its leading companies, who face accusations of misleading information on baby formula, deforestation, and funnelling money to a disgraced former aide of Donald Trump.
Brazil also stood out for the tragic mine disasters that have racked the country in recent months.
Portugal, at the other end of the spectrum, shone thanks to the exemplary practices of oil and gas producer Galp Energia and utility EDP.
Switzerland ranks 12 out of 46, in the Controversy category of the Morningstar Sustainability Atlas 2019 – a global survey of equity markets based on how individual companies within the coverage universe fare in terms of environmental, sustainability and governance criteria.
The report was compiled by Valerio Baselli, an editor with Morningstar in Italy
Swiss multinational Nestle has been implicated in several ethical dramas in recent years, including making misleading claims about the nutritional value of its infant milk products, as reported by The Guardian last February.
The food and confectionary company lost the right to claim it uses only sustainably sourced palm oil last June when it was suspended from global certification body the Roundtable on Sustainable Palm Oil, according to Australia's ABC News.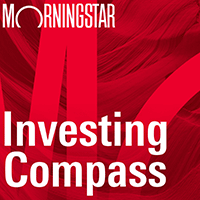 Listen to Morningstar Australia's Investing Compass podcast
Take a deep dive into investing concepts, with practical explanations to help you invest confidently.

Swiss pharmaceutical company Novartis was last year found to have made payments to US President Donald Trump's disgraced former lawyer, Michael Cohen, ahead of the 2016 US presidential election.
Brazil ranks in the bottom half for sustainability because of controversies from some of the country's largest companies, including mining giant Vale. The company has been involved in several tailings dam collapses that have killed more than 300 people and led to the arrest of at least five of the mining giant's workers and contractors.
Morningstar Country Indexes' Controversy Scores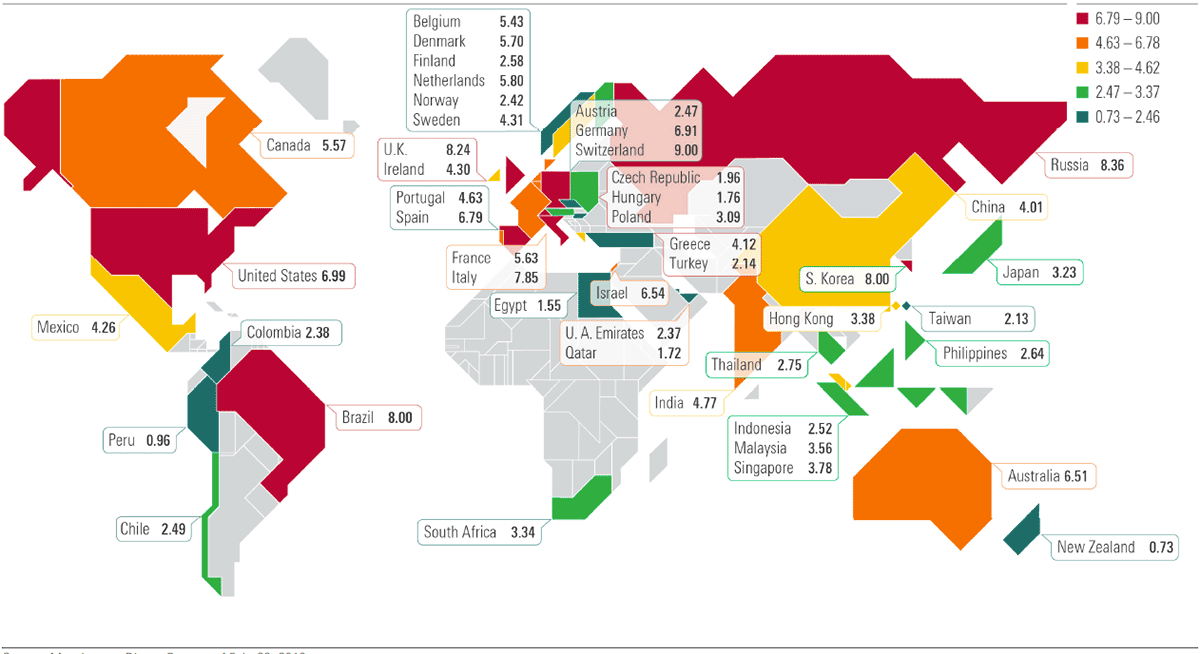 Source: Morningstar Direct. Data as of Feb. 28, 2019
Sustainalytics, which Morningstar engages to assesses companies' exposure to major controversies or incidents, notes other large global companies with controversy ratings include German car giant Volkswagen and Korean electronics powerhouse Samsung.
Volkswagen was implicated in a diesel-emission scandal alongside other carmakers including Daimler and Volvo-Renault by an ongoing European Commission investigation, as noted in April by Morningstar US senior equity analyst Richard Hilgert.
Former Samsung chairman Lee Kun-Hee was in 2017 found guilty of bribery, perjury and embezzlement as part of a political corruption scandal, said Dan Baker, Morningstar director of equity research for greater China, in a September 2017 report.
Each country's performance is reflected in the Index Portfolio Sustainability Scores generated by the study. These are weighted aggregates of company-level scores across the 46 indexes that are members of the Morningstar Global Markets Index.
In addition to controversy and environment, the study generates separate scores for the following categories within the broader ESG framework:
Social – which covers product safety and labour standards, including freedom of association, working conditions, discrimination and diversity
Governance – considers corruption, board independence and business ethics
Carbon intensity – measures fund portfolios' carbon footprint by examining underlying companies' total greenhouse gas emissions per millions of dollars of revenue
Carbon risk – assesses the extent to which company and shareholder value is threatened by the global shift to lower carbon intensive emissions.
Portugal tops environment category
The Environmental Score includes assessments of carbon emissions, waste management and energy usage. The category is led by European markets. Portugal is the top performer largely because of oil and gas producer Galp Energia, which Sustainalytics views as having strong management of emissions, effluents, and waste.
Portuguese utility EDP was also a standout due to its significant investment in wind power across Portugal, Spain, and the US.
New Zealand is the only non-emerging country to rank in the bottom quintile of the environment category of Morningstar's global study of environmental, sustainability and governance practices.
The bottom rung in this category is occupied entirely by emerging markets in Asia, the Middle East, and Eastern Europe, with the exception of New Zealand. Alongside Singapore, it was one of the lowest-scoring developed markets across the environment metric.
European companies clean up on ESG
Within the combined measure of the scores for environment, sustainability and governance, Singapore's performance was somewhat surprising since it scored well in the carbon intensity component. New Zealand's lower score may also be partly attributed to lower levels of available data on its companies' carbon risk exposure.
European countries comprise the entire top quintile, led by the Netherlands, while emerging markets from Asia, the Middle East, and Europe occupy the bottom quintile, with the exception of New Zealand.
The Netherlands scored 65.02, followed by Denmark, Finland, Sweden, Norway and Belgium.
Some of the major companies driving the strong results across European countries are Denmark's Novo Nordisk - a leading pharmaceuticals business and France's Total, Sanofi and BNP Paribas.
Sustainalytics, which provided the sustainability assessments, considers Germany's SAP, Allianz and Siemens to be global ESG leaders in their respective industries.
From the United Kingdom, which ranked in the second quintile for ESG, oil and gas giant Royal Dutch Shell and pharmaceutical company GlaxoSmithKline were outperformers.
The US posted a middling ESG Score, with mixed results for some of the largest companies. Cisco, Hewlett Packard, and Johnson & Johnson were some of the country's top ESG performers.
Conversely, Netflix, Starwood Property Trust, and Liberty were some of the worst.
China ranked last within the category, as technology company Lenovo was the only company in Morningstar's China Index considered an ESG leader. The biggest detractors from China's score were China Resources Gas, JD.com and PetroChina.