News
Tabcorp demerger: New dividend stalwart to hit the ASX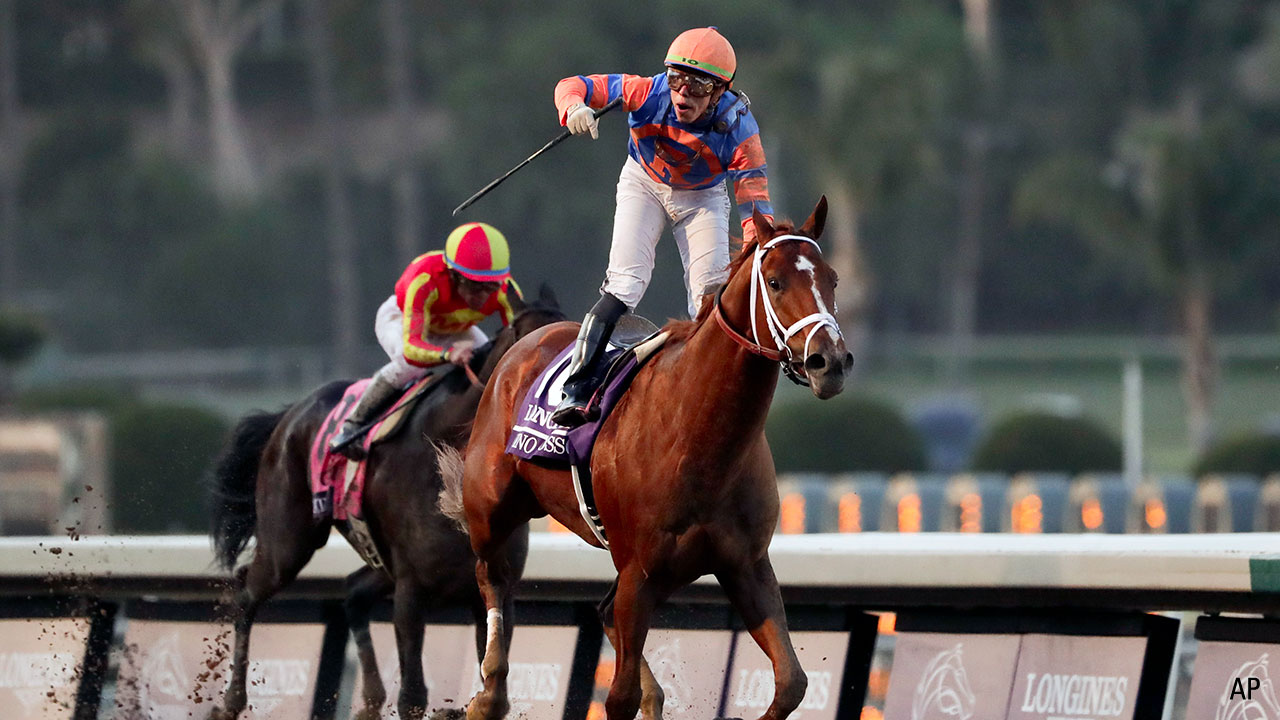 A wide-moat steady dividend payer is joining the ASX next week and Morningstar analysts like what they see.
Tabcorp shareholders voted overwhelmingly to demerge the company's lottery business last Thursday. The newly formed Lottery Corporation, with flagship products like Powerball and Oz Lotto, will give investors Tabcorp's "crown jewels" as a standalone business when it hits the board on 24 May, says Morningstar equity analyst Angus Hewitt.
Lottery Corporations will pay steady defensive dividends thanks to its near-total lock on Australia's multi-billion-dollar lottery business and its prime position in the online market, says Hewitt. The separation also lets investors exit the increasingly fraught wagering business Tabcorp will retain including Sky Racing and TAB.
"Until now, the lottery business hasn't been able to shine," says Hewitt. "We think the business can better realise the value of its long-dated licenses across all of its regional Australian markets and become a strong dividend payer once unshackled from the beleaguered wagering business."
Morningstar hiked Tabcorp's (ASX: TAH) fair value by 31% to $5 to reflect Lottery Corporation's difficult-to-assail market position and cheaper access to finance. Lottery corporation's standalone fair value of $4 implies a 4% dividend yield in fiscal 2023. Hewitt expects it to be fully franked.
Tuesday's separation is the latest in a long line of acquisitions, bids and takeovers across the Australian gambling sector. The merger of Tabcorp and Tatts in 2017 brought Australia's regional retail wagering businesses under one roof alongside lotteries and Keno. Pandemic restrictions lashed the struggling wagering businesses while lotteries outperformed. Amid shareholder disquiet and bids for its wagering and gambling services businesses from private equity outfit Apollo and overseas rival Entain, management commissioned a strategic review in early 2021 and recommended hiving off the more successful lotteries business.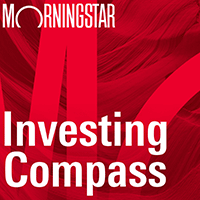 Listen to Morningstar Australia's Investing Compass podcast
Take a deep dive into investing concepts, with practical explanations to help you invest confidently.

Tabcorp will retain the embattled wagering business, which includes TAB, Sky Racing as well as its gaming services business MAX. Lottery Corporation will control Keno operations as well as lottery businesses like NSW Lotteries, Golden Casket and Tatts.
The businesses that makeup Lottery Corporation constituted 56% of Tabcorp's fiscal 2021 revenue from roughly 8.3 million customers playing across more than 7,000 venues.
Existing shareholders will receive one Lottery Corporation share for every Tabcorp share.
Once listed, Lottery Corporation is targeting a dividend payout ratio between 70% and 90%.
Tabcorp shares closed 3.2% higher on Thursday following shareholder approval.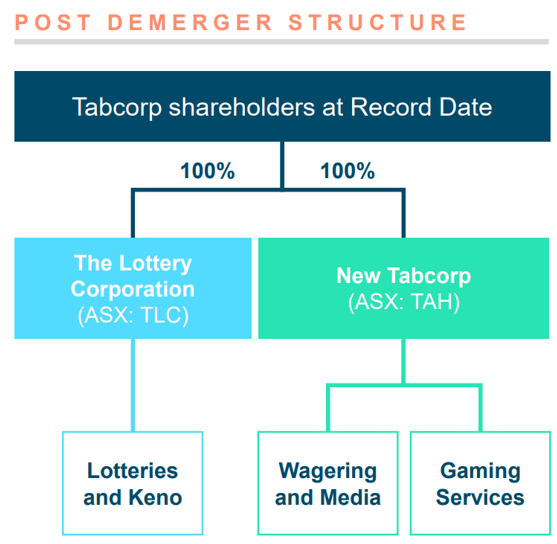 Source: Demerger of the Lottery Corporation, Briefing Corporation, 31 March 2020.
A near-monopoly
Australia's only televised lottery company, the Lottery Corporation will be protected from competitors by decades-long licensing agreements with state governments, some of which are exclusive.
The average duration of Lottery Corporation's licenses is 31 years for lotteries and 24 years for Keno, according to Morningstar calculations. Licenses in New South Wales and South Australia are exclusive until at least 2050, giving the company a "near monopoly" on the industry Hewitt says.
Competitors have long struggled to break into the market and Lottery Corporation's three digital-only competitors, of which Lottoland is the largest, are sitting on a combined market share of roughly 5%. New entrants are also burdened by convoluted regulations and unfamiliarity with consumers.
"We do not expect any significant changes in regulation due to government and community dependence on Lottery Corp tax revenue," says Hewitt.
As the newsagents that once facilitated lottery sales slowly disappear, Lottery Corporation is pivoting to higher-margin online sales and alternative retailers like petrol stations, says Hewitt.
Roughly a third of sales were online in fiscal 2021, almost double the figures from fiscal 2019.
Ailing wagering business
The future is more precarious for the no-moat portfolio of wagering business to be retained by Tabcorp following next Tuesday's demerger.
Pandemic lockdowns have accelerated a shift away from in-person gambling. Online-only entrants such as Ladbrokes and Sportsbet are luring customers away from Tabcorp's 4,000 plus brick and mortar wagering locations that were once a competitive moat source for Tabcorp.
"Retail outlet exclusivity has little value when punters can simply place bets with competitors from their phones inside so-called TAB exclusive venues," says Hewitt.
Revenue from retail wagering peaked in fiscal 2018, the year of the Tabcorp and Tatts merger. Online betting is a fierce market and dozens of competitors are fighting for a portion of Tabcorp's roughly 1.9 million wagering customers.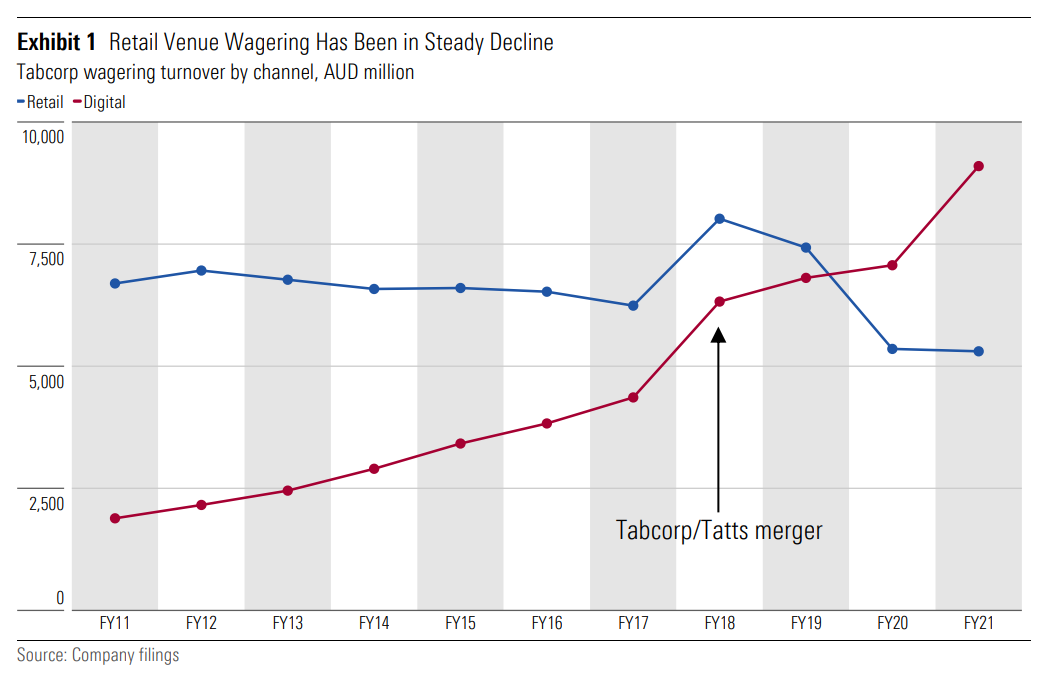 Lottery Corporations is likely to come with less environmental, social and governance (ESG) risk than comparable gambling companies, says Hewitt.
Compared to other forms of gaming, lotteries rely on less on problem gamblers. The bulk of revenue comes from small-denomination ticket sales spread across millions of customers.
"Lotteries are mostly removed from conversations around problem gambling because individual losses are much smaller," says Hewitt. "We think tighter regulation around gambler harm minimisation specifically targeting lotteries is unlikely."
For the full special report see here