News
The week that was: a covid-plagued reporting season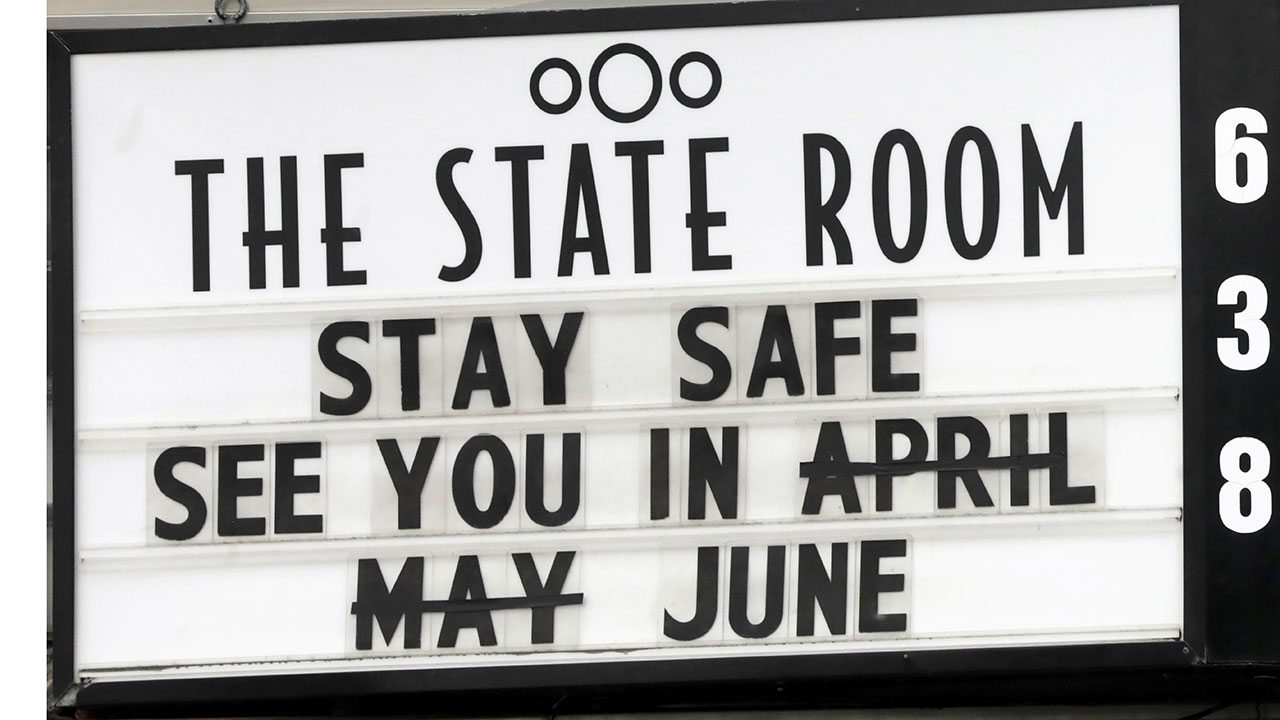 Depending on your viewpoint, it was either the "not as bad as expected" season, or the "reporting season from hell".
Our nation's commercial property operators, airlines, tollways and advertisers sunk under the sheer weight of the economic fallout, while those tied to the work-from-home economy – online retailers, tech firms, streaming platforms, homewares, essential services and the like – soared. Miners also shone, aided by higher global commodity prices, particularly gold and iron ore.
A conga line of retail investors who entered the market during the March lows have experienced some of the best returns they're likely to see in their lifetime. The market plunged almost 40 per cent and rocketed back up 35 per cent within the space of a few months. To put things in perspective, the best monthly ASX 200 return in 2019 was 5.2 per cent.
Despite this, the recovery still leaves the S&P/ASX 200 Index down for the year, with a capital loss of 8.9 per cent.
The ASX clocked its best August since 2009 on Monday, up over 2 per cent, thanks to big gains from technology and consumer discretionary. The August lift marks five consecutive months of improvement for the main indices.
S&P/ASX 200 sector indices, price return 02-08-2020 to 29-08-2020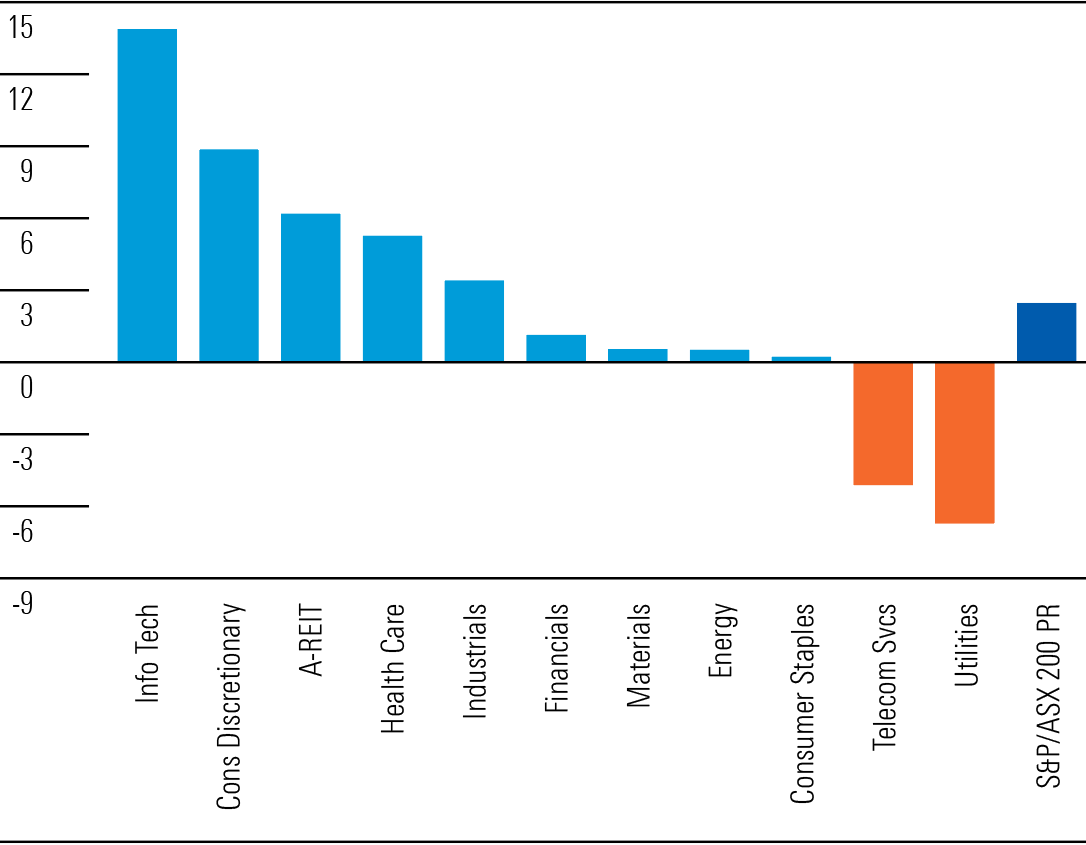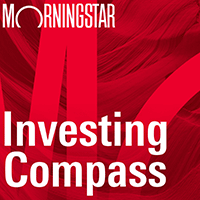 Listen to Morningstar Australia's Investing Compass podcast
Take a deep dive into investing concepts, with practical explanations to help you invest confidently.

Source: Morningstar Direct
As lockdown measures eased, pent-up demand helped the recovery. But the latest Victorian outbreak has refocused attention on a more realistic and more unsettled outlook. Morningstar's latest economic update suggests corporate Australia is navigating its way through the recovery, but at the same time giving investors few signs of certainty.
"At the moment, the consensus view among forecasters remains that 2021 will see a recovery in both the global and domestic economies, which could see the sectors previously most affected by COVID-19 lockdowns regain some lost ground, but risks remain tilted to the downside," Morningstar says.
"Portfolio protection through extensive diversification and more defensive sectoral choices will have to remain a priority."
Morningstar head of equity research Peter Warnes will deliver his take on the August reporting season in a special report this week, and seek to illuminate investors on what lies ahead as Australia's historic stimulus measures approach their potential expiry date.
Before we get there, let's look back at the companies who closed out reporting season 2020.
Week 5
Fortescue Metals Group Limited (ASX: FMG) - Monday 24 August
G8 Education Ltd (ASX: GEM) - Monday 24 August
Blackmores Limited (ASX: BKL) - Tuesday 25 August
Scentre Group (ASX: SCG) - Tuesday 25 August
Afterpay Ltd (ASX: APT) - Thursday 27 August
Avita Therapeutics Inc (ASX: AVH) - Thursday 27 August
Flight Centre Travel Group Ltd (ASX: FLT) - Thursday 27 August
Link Administration Holdings Ltd (ASX: LNK) - Thursday 27 August
Ramsay Health Care Limited (ASX: RHC) - Thursday 27 August
Woolworths Group Ltd (ASX: WOW) - Thursday 27 August
The final week kicked off with a trio of upbeat results. Crowd favourite Fortescue Metals (ASX: FMG) rode the high iron ore price to a strong fiscal-2020, delivering net profit after tax of US$4.7 billion – up nearly 50 per cent on the year prior. Super Retail Group's (ASX: SUL) exceptionally strong sales in May and June have continued into fiscal-2021, aided by lockdowns as consumers switch to online shopping, while NZ telco infrastructure provider Chorus (NZX: CNU) drowned out the coronavirus blues.
READ MORE: Fortescue at peak after record full-year profit, higher dividends
The good news didn't last with sales of vitamins maker Blackmores' (ASX: BKL) disappointing despite the increase in demand for immunity products. Management attributed the weak performance to weaning the business off heavily discounted sales at the financial year-end.
oOh Media (ASX: OML) also suffered during lockdown. Morningstar analyst Brian Han says the 81 per cent slump in 2020 first-half underlying EBITDA (pre AASB 16) to $11 million "reveals only half of the damage caused by the coronavirus". "The group is likely to have suffered a substantial operating loss in the June quarter when revenue was decimated by 62 per cent, as both audiences and advertisers abandoned outdoors during the height of the pandemic," he says.
Hotly awaited results from market darling Afterpay (ASX: APT) and Flight Centre (ASX: FLT) came through Thursday. Despite Afterpay's rapid expansion overseas and underlying sales more than doubling to $11.1 billion, Morningstar analysts prefer to skip the buy now pay later party for now.
"Afterpay certainly benefits from the shift to online spending, and consumer aversion to credit cards. But we see near-term downside risks to its credit quality and merchant margins," analyst Mark Taylor says of the 1-star stock.
"We don't think Afterpay can sustain historical underlying sales growth over the medium term and expect growth in active customers to moderate over time to about 10 per cent by fiscal 2025."
READ MORE: Afterpay halves loss, doubles revenue
Flight Centre swung to an underlying loss before tax of $510 million, stunning analysts despite the damage forecast two weeks prior. However, Han believes the $700 million injected by shareholders in April and May 2020, and the recent $200 million increase in debt facilities will see the travel agent through. He also applauds management's "swift response" to the pandemic, which he says has "resulted in an ultra-lean cost base".
"Forecasting Flight Centre's earnings is akin to nailing Jell-O to a tree in the current environment," he says.
"However, even at 10 per cent of pre-COVID total transaction volume levels, we see the no-moat-rated group as having enough liquidity to last 14 months, before any government assistance such as JobKeeper ($10 million benefit in July 2020)."
Westfield owner Scentre Group (ASX: SGG) and mall owner Vicinity Centres (ASX: VCX) both had their narrow moats stripped from them last week as coronavirus lockdowns force a reassessment of property use. Relentless competition from e-commerce players has eroded their competitive advantage, says Morningstar REITs analyst Alex Prineas. This trend, he says, has been accelerated by the coronavirus shutdowns – leading to a reduction of in-person shopping and placing question marks around the future of historically high rents. However, Scentre and Vicinity should nevertheless remain dominant in the physical retail space.
READ MORE: Listed mall owners downgraded in Morningstar moat shake-up
To top off the week, US reserve chair Jerome Powell told the Jackson Hole symposium the central bank may continue efforts to prop up the economy even if inflation rises above the Fed's target level of 2 per cent.
Investing ideas for volatile times
Within last week's results there were plenty of investing ideas for Spring. Morningstar analyst Gareth James was surprised to see G8 Education's (ASX: GEM) share price fall initially by 11 per cent following childcare provider's "better-than-expected" result.
"Several metrics exceeded our expectations and the underlying performance was good," he says.
"However, the result was significantly distorted by a range of factors, and the huge reported loss may have concerned some investors. At the current market price of 92 cents per share, we still believe the stock is materially undervalued.
READ MORE: Outlook upbeat for G8 Education despite big first-half loss
Morningstar analysts also have their eye on spray-on-skin maker Avita Medical (ASX: AVH) and are forecasting the biotech to reach 40 per cent market penetration by 2024. "Pivotal clinical trials are underway for the use of the RECELL system in paediatric scalds and vitiligo," director of equity research Adam Fleck says.
"We anticipate Avita successfully completing these trials and sales to commence in these markets from fiscal 2023." At current levels, the stock is significantly undervalued at a 62 per cent discount.
Two companies under coverage will report on the final day of reporting season:
Event Hospitality and Entertainment Ltd (ASX: EVT) - Monday 31 August
IOOF Holdings Limited (ASX: IFL) - Monday 31 August
Visit Morningstar's Reporting Season 2020 coverage. The calendar will be updated daily to connect you with our equity analysts' take on the financial results.